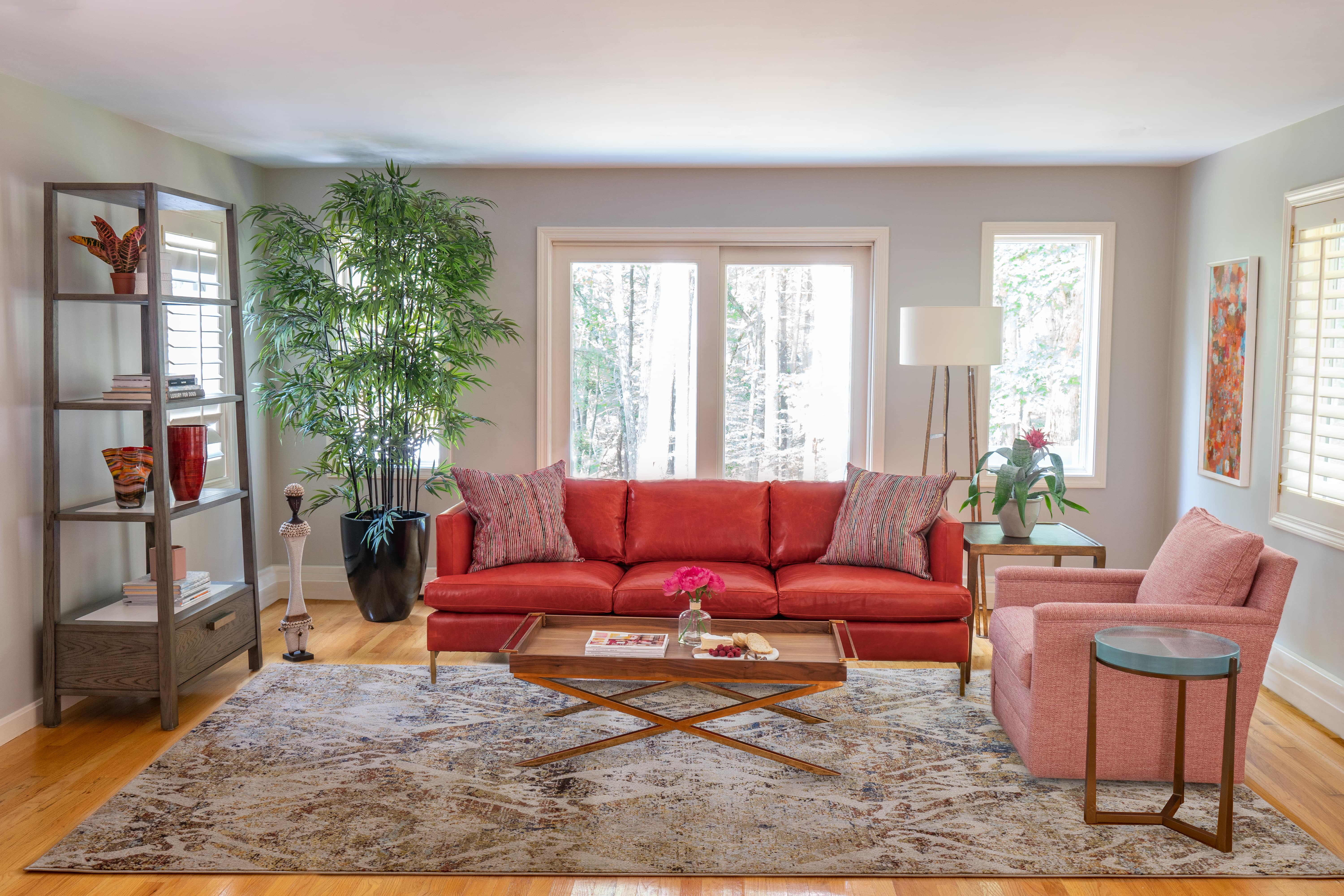 A new collection is always an excuse to celebrate. And this one even more so, as it's inspired and named by the city where Circle Furniture began. The Cambridge Collection is exclusive to Circle Furniture and is a modern collection of timeless styles at a great price point. As someone with a newfound love for mid-century modern furniture and an affinity for jewel tones, this collection speaks to my design aesthetic. Peggy Burns describes, "I'm very excited about the collection first and foremost because it's the most extensive exclusive collection that Circle Furniture has embarked on, available only in our stores." Heather Chiapperini, the manager at our Cambridge showroom, is also excited about this collection, "The designs are on trend but offer a timeless appeal and customers are already loving the look when they walk in our store." We're excited to introduce you to every piece in the Cambridge Collection, but first, let's learn about the inspiration behind the collection.
The inspiration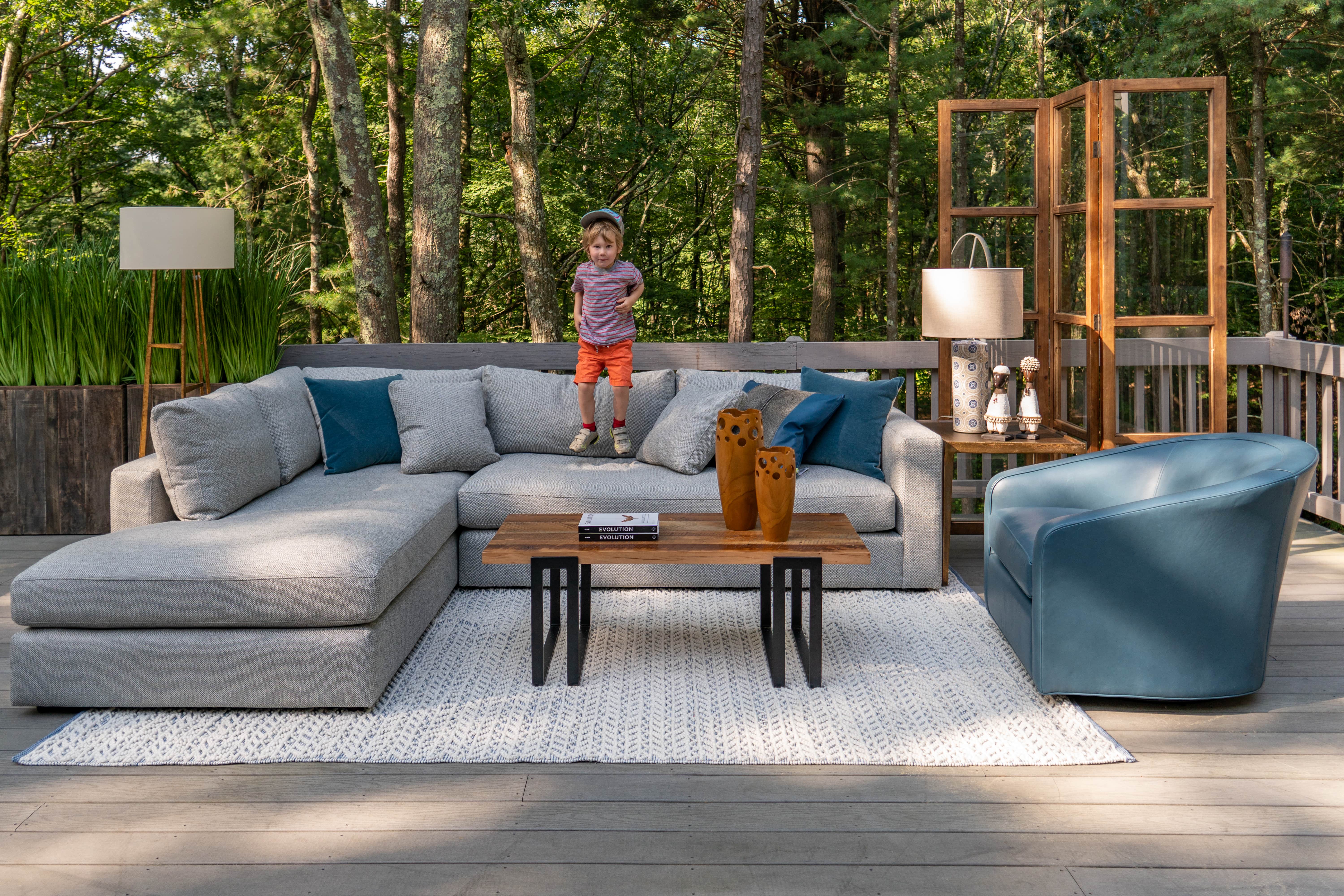 Putnam Sectional in Seagull and JB Swivel Chair in Bayou
The inspiration to create this line started with our customers in mind. Peggy explains, "The pieces have a modern design with slender silhouettes." This makes the collection perfect for any home, whether you live in a spacious home or a small apartment in the city." The collection is similar to the furniture we offer in that it is designed to be highly customizable. These pieces will fit into your home decor whether you're a lover of modern, clean lines, a traditional look, or somewhere in between. The designs are featured in rich colors that prove that neutrals aren't always the way to go. Brian Bechard, our Visual Merchandiser, says, "I love the saturated colors that the collection offers. We have refreshing emerald green, rich navy tones, turquoise, coral, and blush. In addition to the gorgeous colors in the leathers and fabrics, the sofa and chair frames have interesting clean lines and the frames sit well. The scale allows them to have a comfortable depth without over taking a room." Brian sums up the Cambridge collection, saying, "Comfort meets style and sophistication with this collection."
Porter Sofa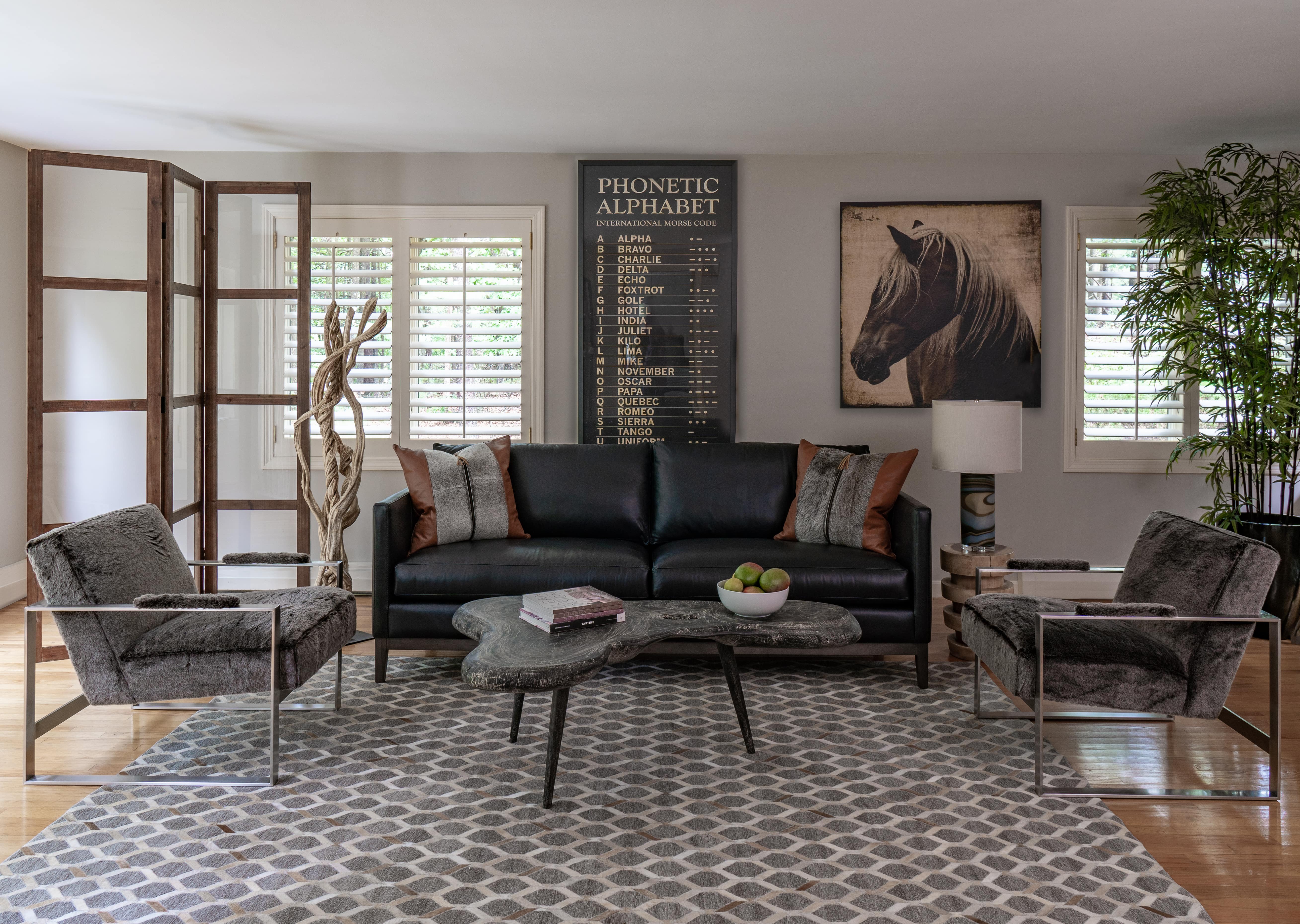 Porter Sofa in Lagoon and Inman Chairs in Wilder Mink
The Porter, featured here in black leather, is a beautiful, classic tuxedo style sofa with clean lines. It's featured in both metal and wood options, the wood base offering a more traditional look and the metal base a contemporary feel. The Porter is available in a sofa, sectional, an apartment sofa, a chair, and a matching ottoman. It's customizable with multiple leather and fabric options. The sofa is a firm favorite of both Heather and Brian. In fact, Brian loves it so much he ordered it for himself! He explains, "I love the comfort, narrow track arm, and wood plinth base. A timeless look that I will have for decades in my living room. I can always switch out the area rug, accent pillows, and occasional pieces over time, but the sofa stays!"
Kendall Sectional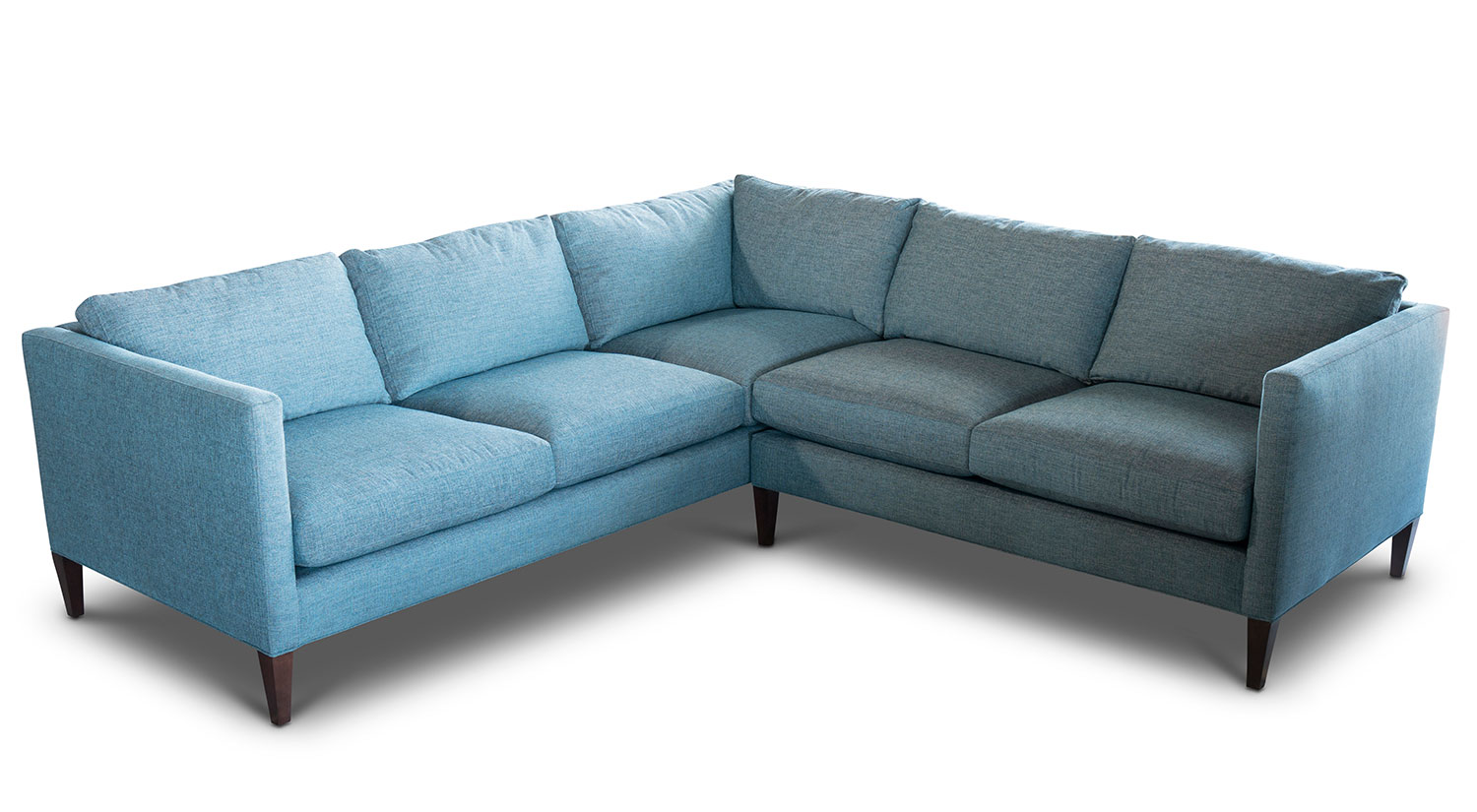 Kendall Sectional
The Kendall is a tuxedo style sectional with a deep, comfortable seat. It has numerous fabric options and is offered at a great price point. It's available with multiple leg options depending on the style you're going for: wood, matte steel, or brushed brass. It's also available in a sofa and a chair.
Beacon Chair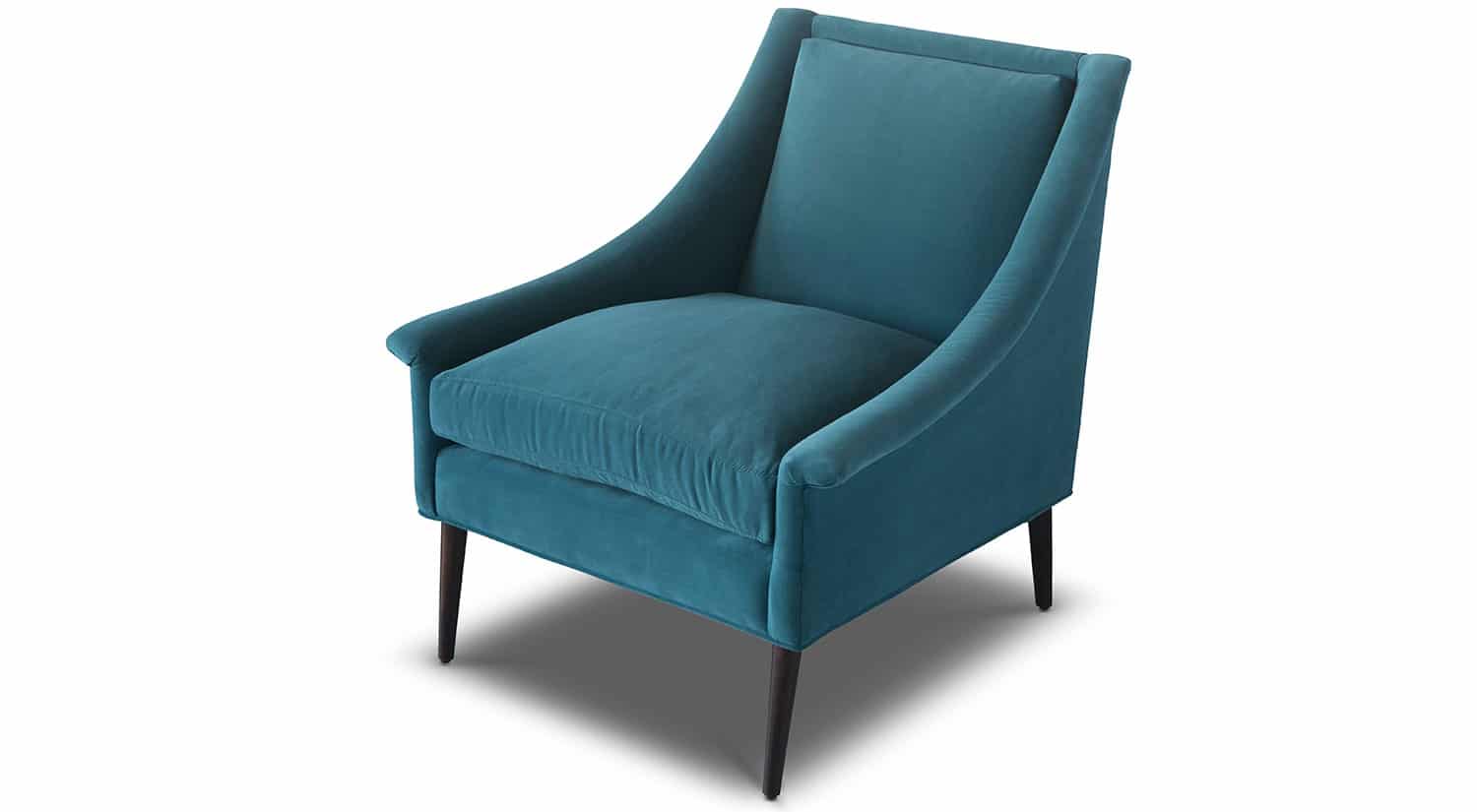 Beacon Chair in Peacock
The Beacon is a beautiful contemporary chair with soft lines and swooped arm. It has an attached back cushion for easy maintenance, no pillow fluffing required! It's available in multiple wood finishes, and fabric or leather options.
Brattle Sofa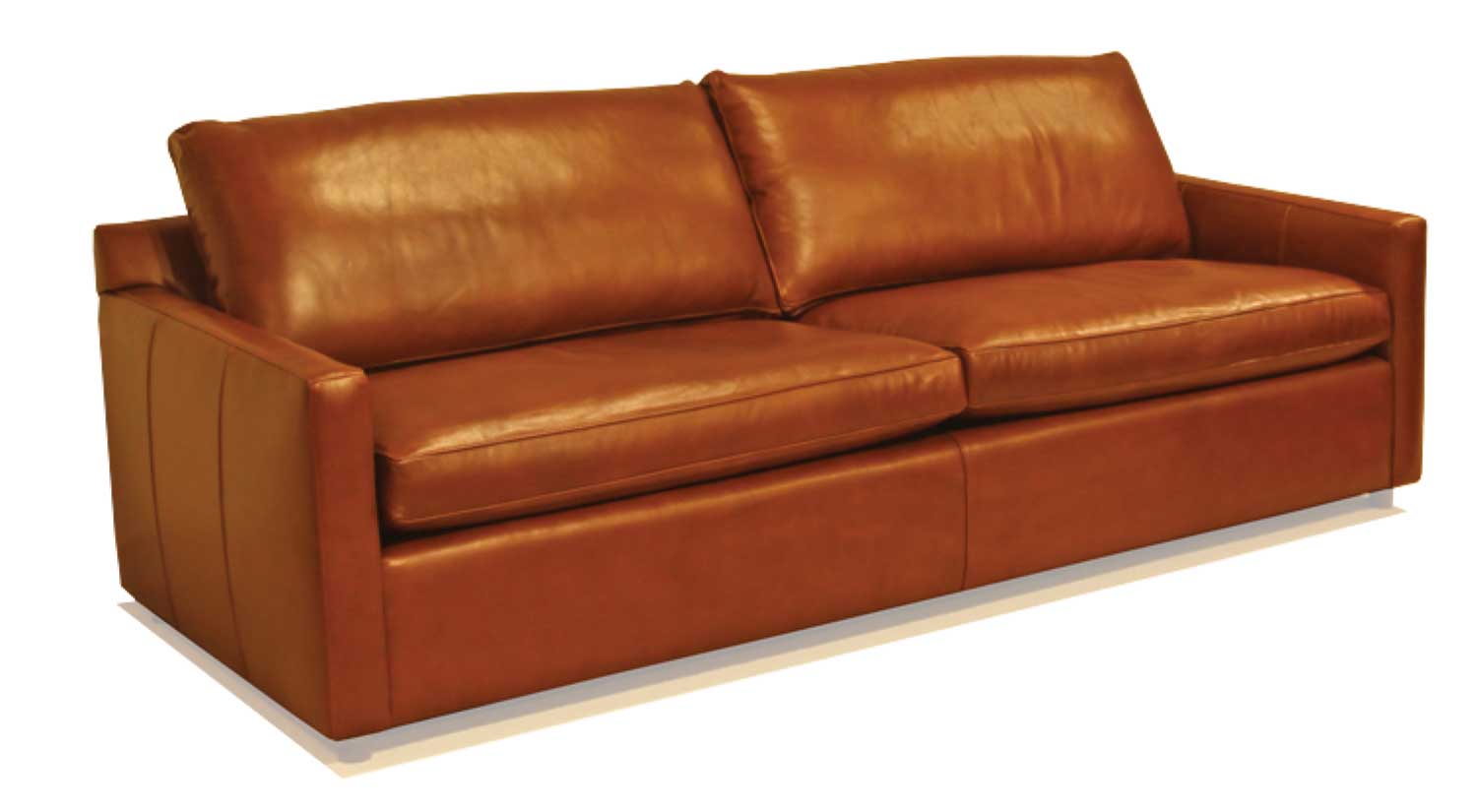 Brattle Sleeper
The Brattle is a multi-purpose sofa that comes in a sleeper, a sleeper sectional, a sofa, and a chaise sectional with multiple configurations. It's a great option for a home office, guest room, or anywhere you need to save space.
Charlie Ottoman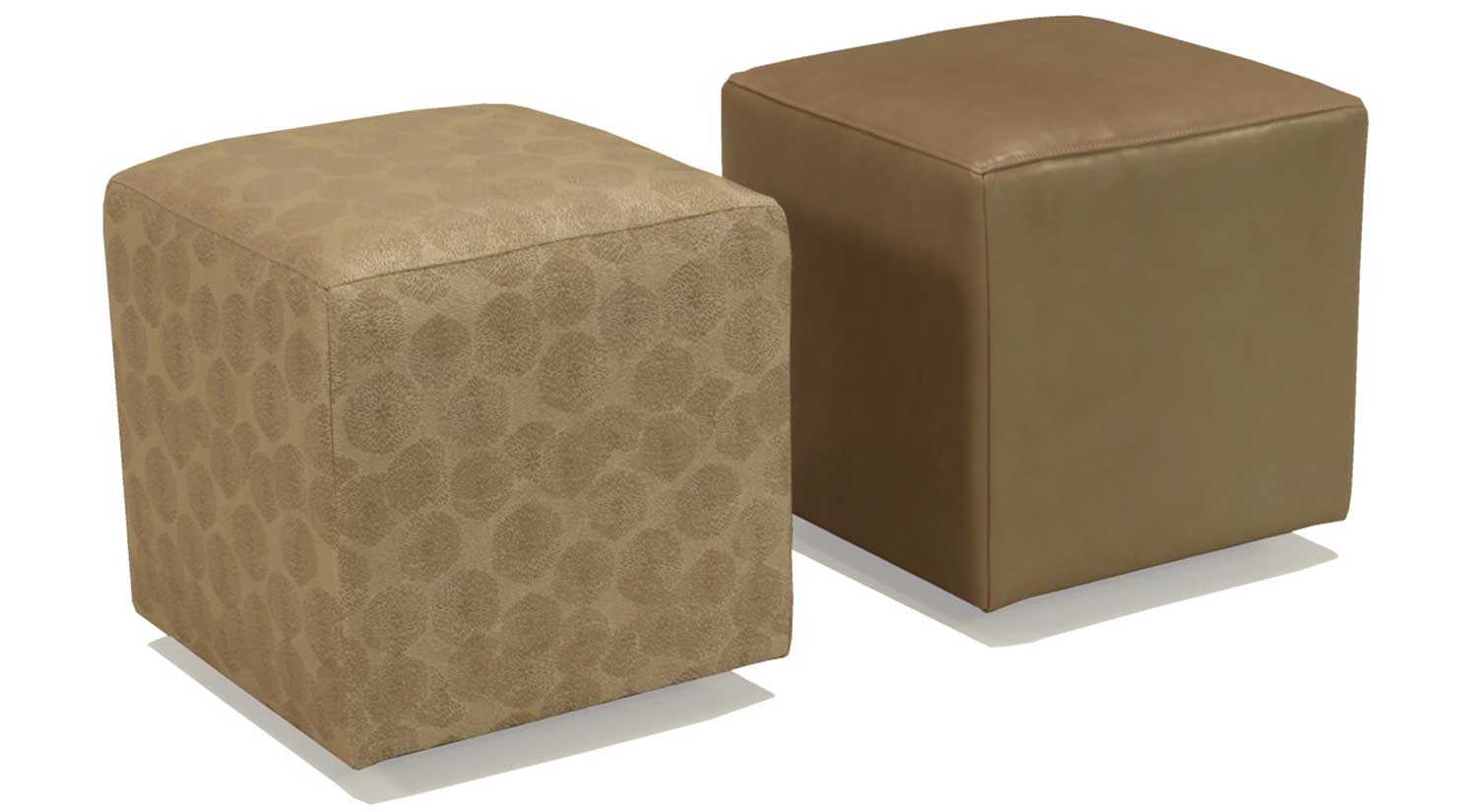 Charlie Ottoman
The Charlie Ottoman, featured here in hair on hide leather, is a versatile ottoman that can also be used as a coffee table, or as additional seating when you have guests. It has wheels for easy mobility.
Davis Sofa and Chair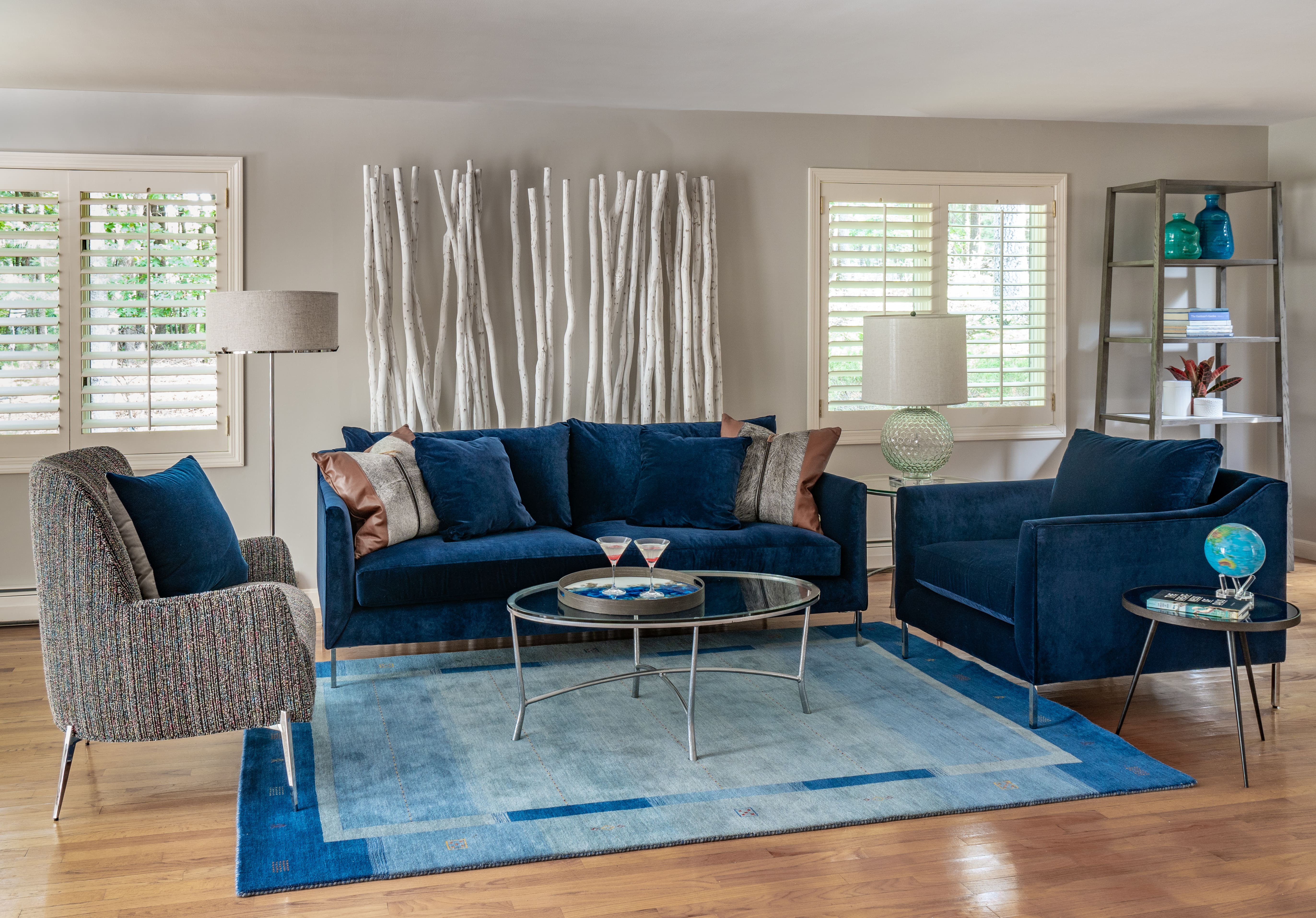 Davis Sofa and Davis Chair in Indigo
The Davis is a modern sofa, featured here in rich indigo velvet. "It's visually stunning," Heather explains, "Plus customers have been loving the comfort of the sofa." It comes in a variety of rich jewel tones and neutrals, like magenta, tangerine, and moss. It has a comfortable, not too deep, seat. Peggy loves the Davis, saying, "The Davis has a beautiful, curved profile and a bit of a contemporary look with the polished chrome legs." The legs are also available in brushed brass, and it comes in a sofa, apartment sofa, chair, and matching ottoman. Heather appreciates the look of the sofa and the chair together, "They're so pretty together as a matching set."
Inman Chair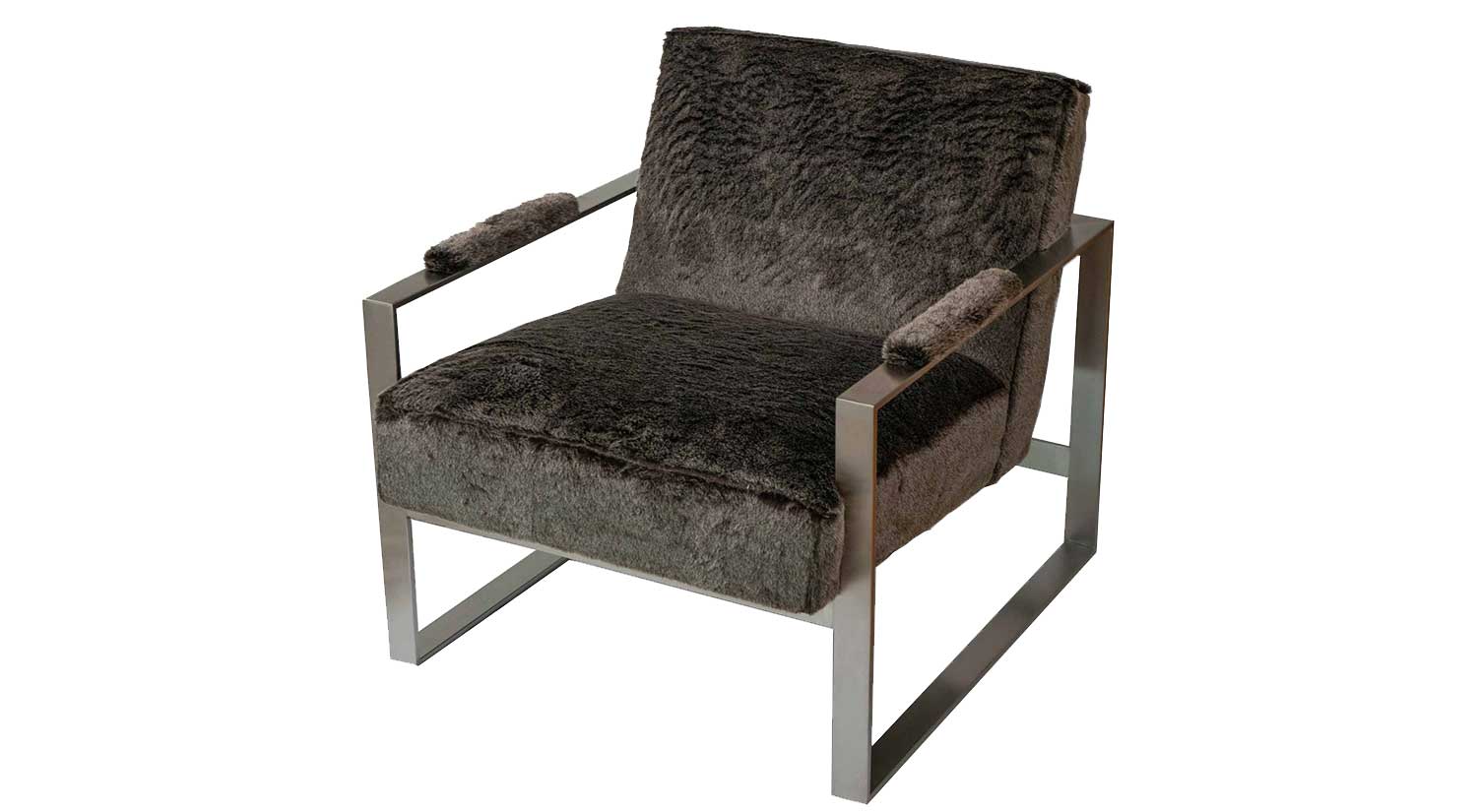 nman Chair in Wilder Mink
The Inman Chair is an edgy, contemporary option, featured here in Wilder Mink. It's available in leather and fabric options and has a modern, clean look with a twist. It's available in a brushed brass or matte steel finish, offering a beautiful contrast against the seat.
Harvard Sofa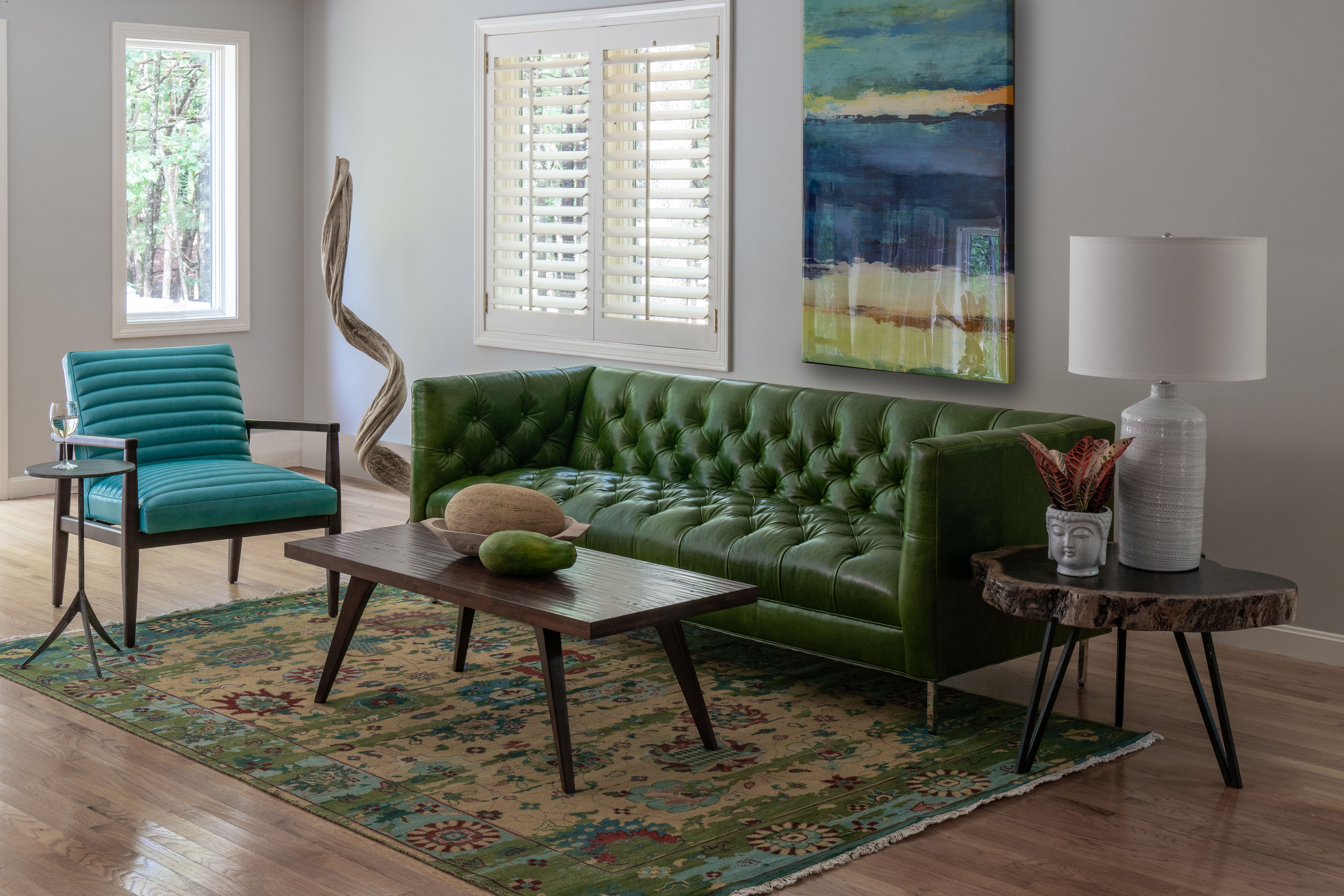 Harvard Sofa in Evergreen and Avon Channeled Chair in Caribbean
The Harvard Sofa is a stunning tufted sofa with a modern flair, featured here in a rich green. Peggy says of the sofa, "My favorite piece has to be the Harvard. It's a modern take on a Chesterfield sofa with a more modest scale. I also love the rich pesto colored leather we chose for the floor. It really gives a hip library feel." The Harvard is available in a sofa, apartment sofa, sectional, chair, and matching ottoman or cocktail ottoman. It's offered in beautiful rich tones in both leather and fabric.
Masie Swivel Chair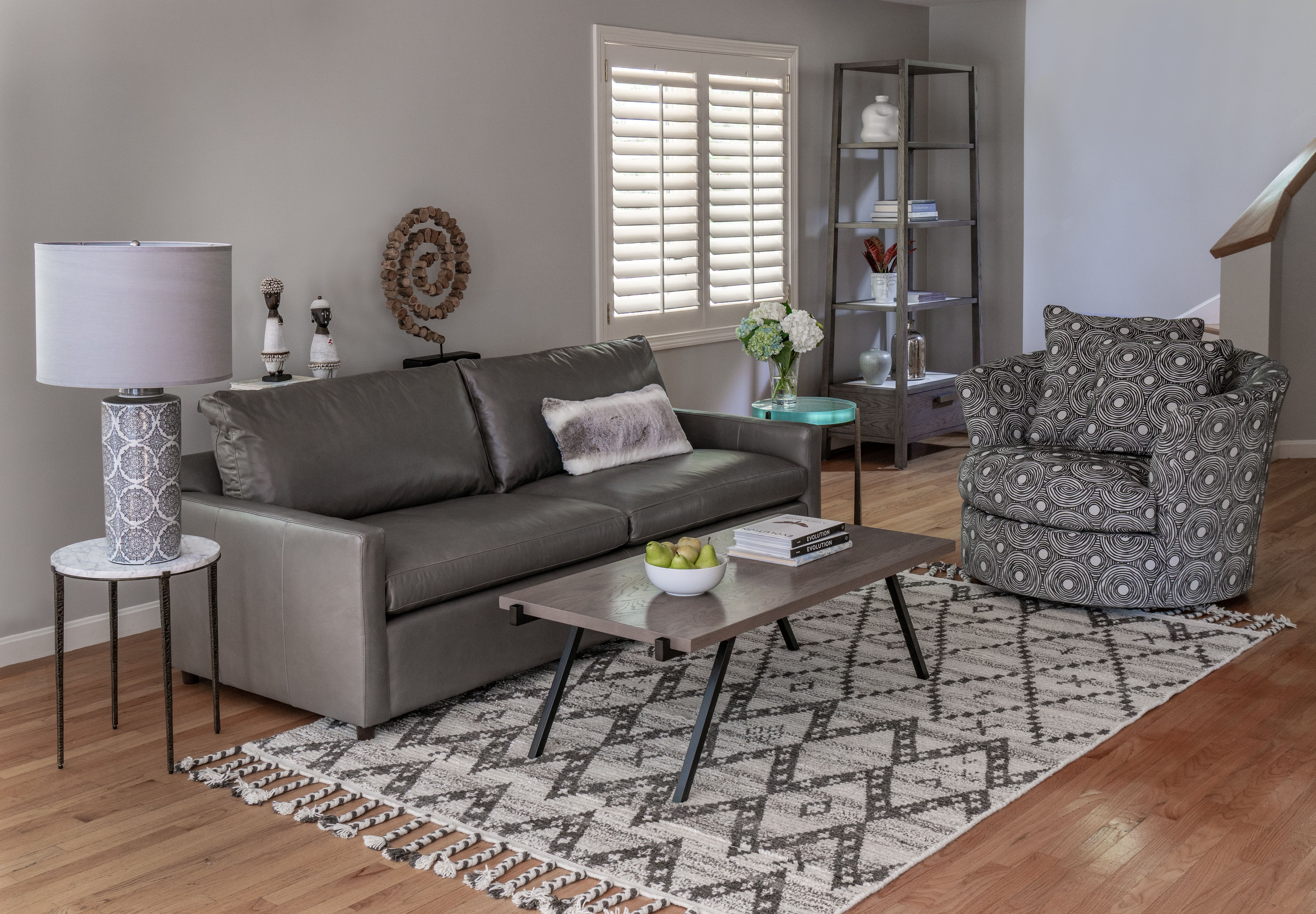 Masie Swivel Chair in Spin City and Brattle Sofa in Smoke
The Masie is a stylish, oversized swivel chair that's perfect for cuddling up and reading. It's available in beautiful fabric options. Heather says of Masie, "If I had room for it in my house, this is what I'd get."
Avon Chair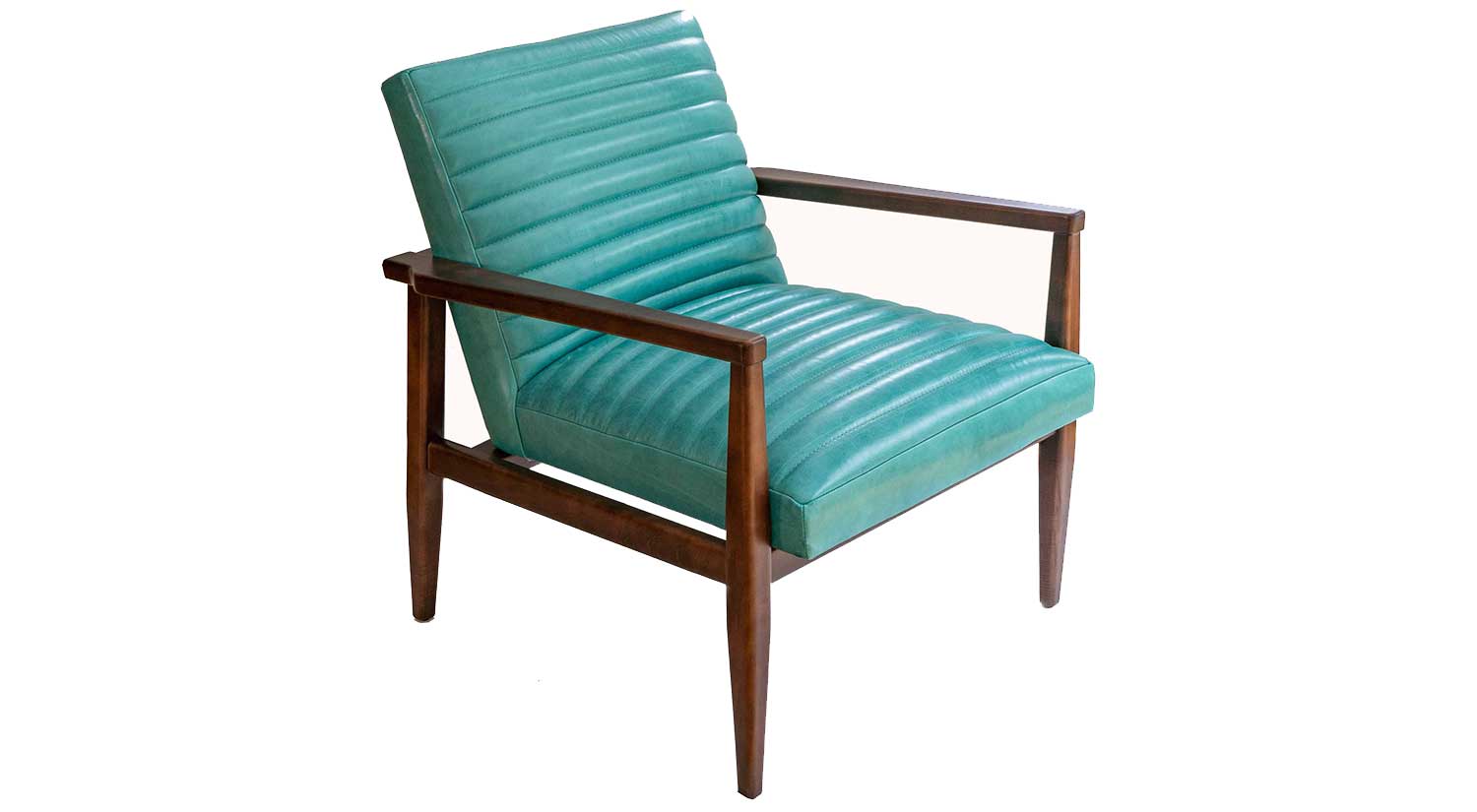 Avon Channeled Chair in Caribbean
The Avon is a wood framed chair with a mid-century modern flair. It's available in both a standard and a channeled style. It comes in a selection of stunning, rich-toned leathers and fabrics, and is featured here in Caribbean blue. It's available in a settee, and a matching ottoman as well. The Avon chair is my favorite out of the collection. I love the texture of the channeled leather as well as the contrast of the simple design with the stunning modern colors. The Caribbean blue color is my favorite by far. It's even more beautiful in person.
Concord Sofa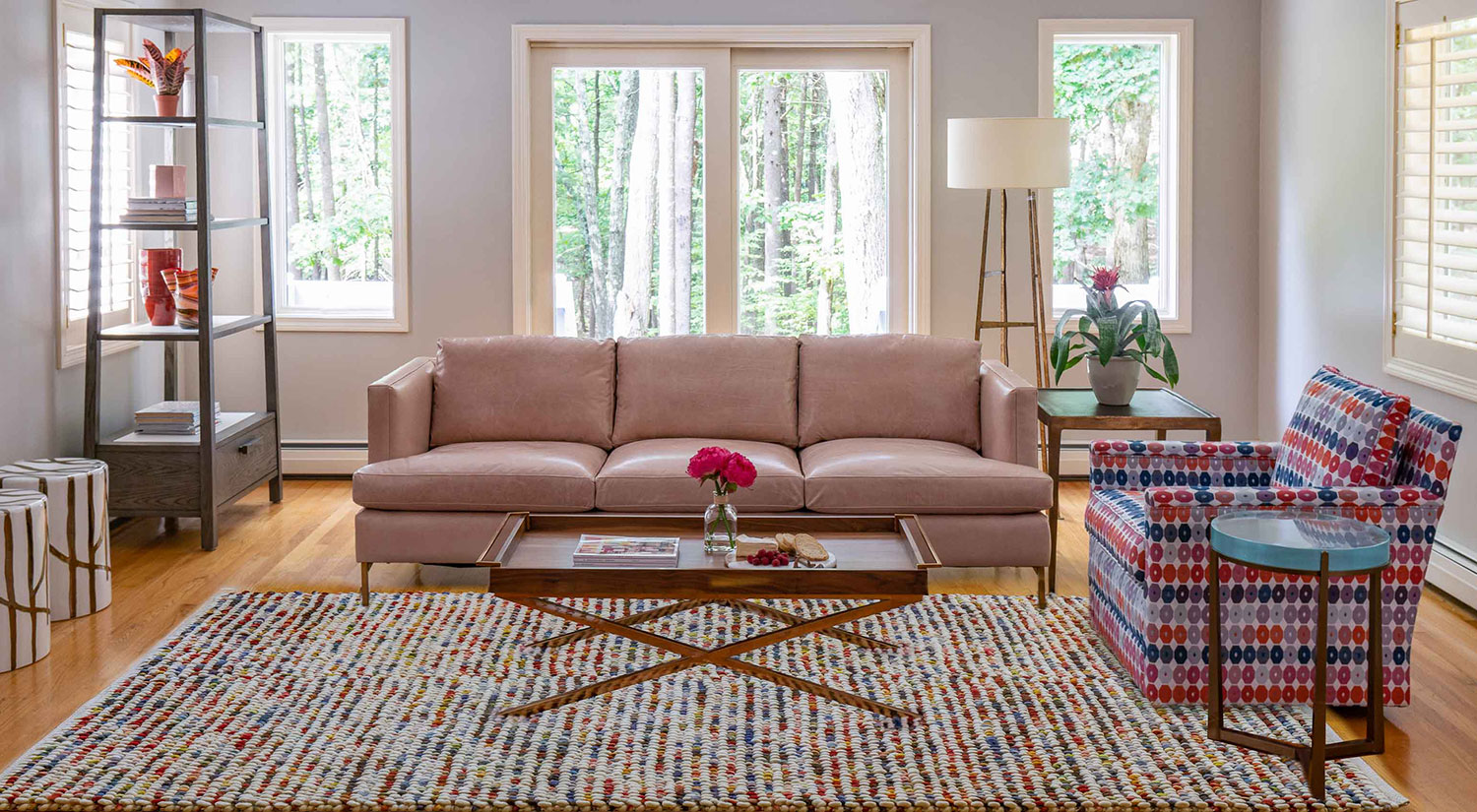 Concord Sofa in Blush
The Concord sofa is a beautiful classic sofa, available in multiple size options as well as a chair and matching ottoman. It combines a classic, traditional feel with modern metal legs and beautiful contemporary colors. It's featured here in blush pink but is also available in coral, zesty citrine, and neutral tones.
JB Swivel Chair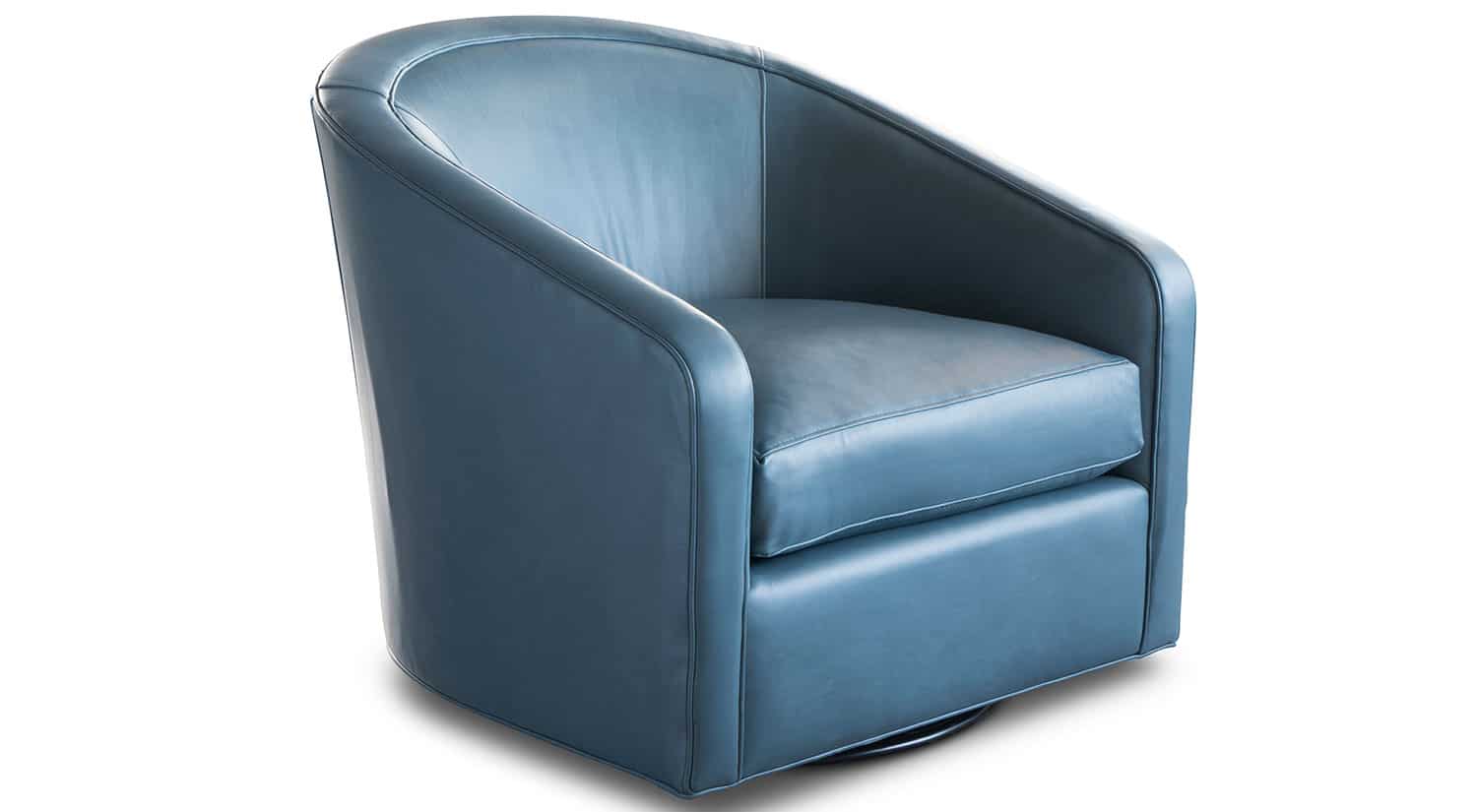 JB Swivel Chair in Bayou
The JB Swivel is a classic barrel swivel chair with a contemporary feel. It's available in multiple fabric and leather options and comes as a swivel or swivel glide.
Putnam Sofa and Sectional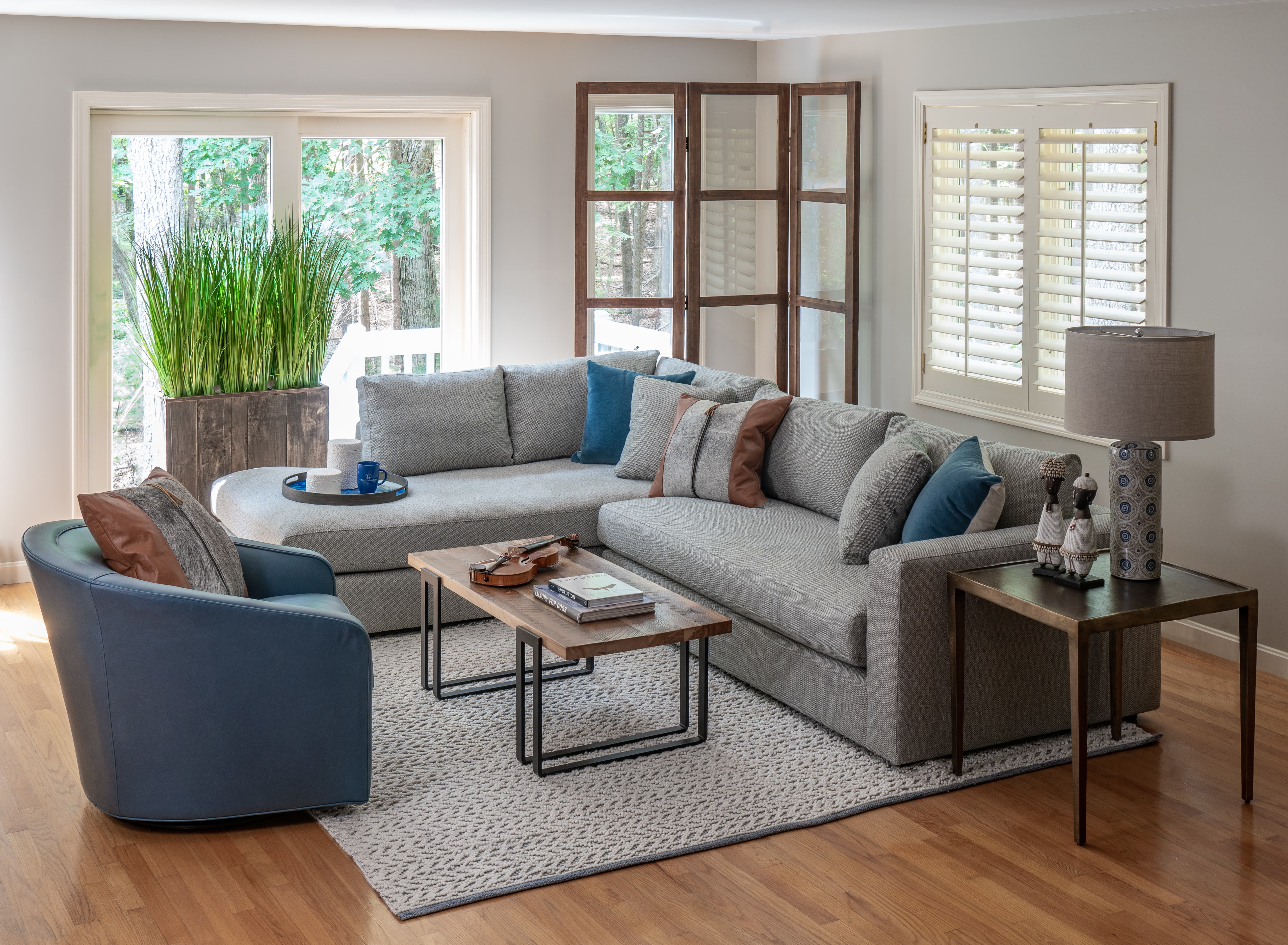 Putnam Sectional in Seagull
The Putnam is a cozy sofa, available as a sectional, a chair and a half, and matching ottoman or storage ottoman. The sectional is perfect for curling up with family and comes in family-friendly performance fabrics.
Final Thoughts
The Cambridge Collection is a versatile, stunning, modern selection of furniture and it's only available at Circle Furniture. Come into a showroom near you to find inspiration and chat with a designer. They can help you at every stage of the design journey, whether you're redoing a living room or looking for that one piece to liven up your room. Looking for more inspiration: