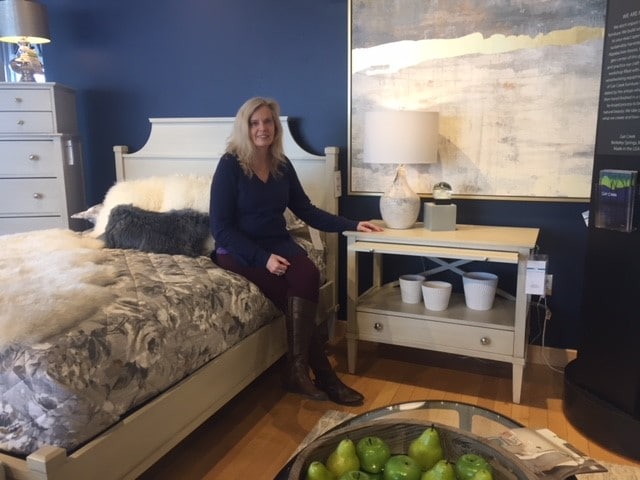 Catherine Willey, our Framingham manager, shares her favorite pick of the week, our new Monaco bedroom, specifically the Open Nightstand. It's a beautiful oversized nightstand with a pull-out tray and storage drawers on the bottom. "The tray is great if you want a little extra space because you do a lot of reading or you keep a glass of water on your nightstand. You could even use it as a vanity."
The craftsmanship of the nightstand sets it apart from others. Catherine explains, "Like many of our products it's made in the US, and has an all hardwood drawer. Each piece is signed and dated by the artisan in the factory that makes the piece." She also loves the versatility of the nightstand. "They do beautiful finishing and it's available in a variety of woods, stains, and paint colors. They have an opaque paint or a glaze for a more a sheer look." The details and workmanship are apparent in the nightstand, it features wood in the back paneling, a traditional English dovetail, and a soft close drawer. You can also choose your hardware to make it coordinate with your space. They also offer a 3 drawer that's a more traditional size, but Catherine loves the unique style of the open nightstand. "It has kind of a neoclassical influence with the X in the back. The style is versatile as well, depending on the finish we choose."
Love the style of the Monaco nightstand There are matching bed designs with multiple configurations, including storage options if you want a matching set.
Check out our collection of bedroom furniture!
Author: Julia Maiman
Julia is a writer, blogger, and believer in the smell of old books. She has been crafting stories since she could put pen to paper. She is also a lover of dogs, traveling, and Led Zeppelin.