Downsizing is a complicated transition; it requires letting go and embracing change. While it can be difficult, it's also incredibly exciting. It's a chance to start over, live in a more functional space, and design a home that's catered to your new lifestyle.
We had a chance to visit Betsy, one of our Design Consultants in Pembroke, in her new home in The Pinehills. She talked to us about her experience downsizing and how fun the design process was.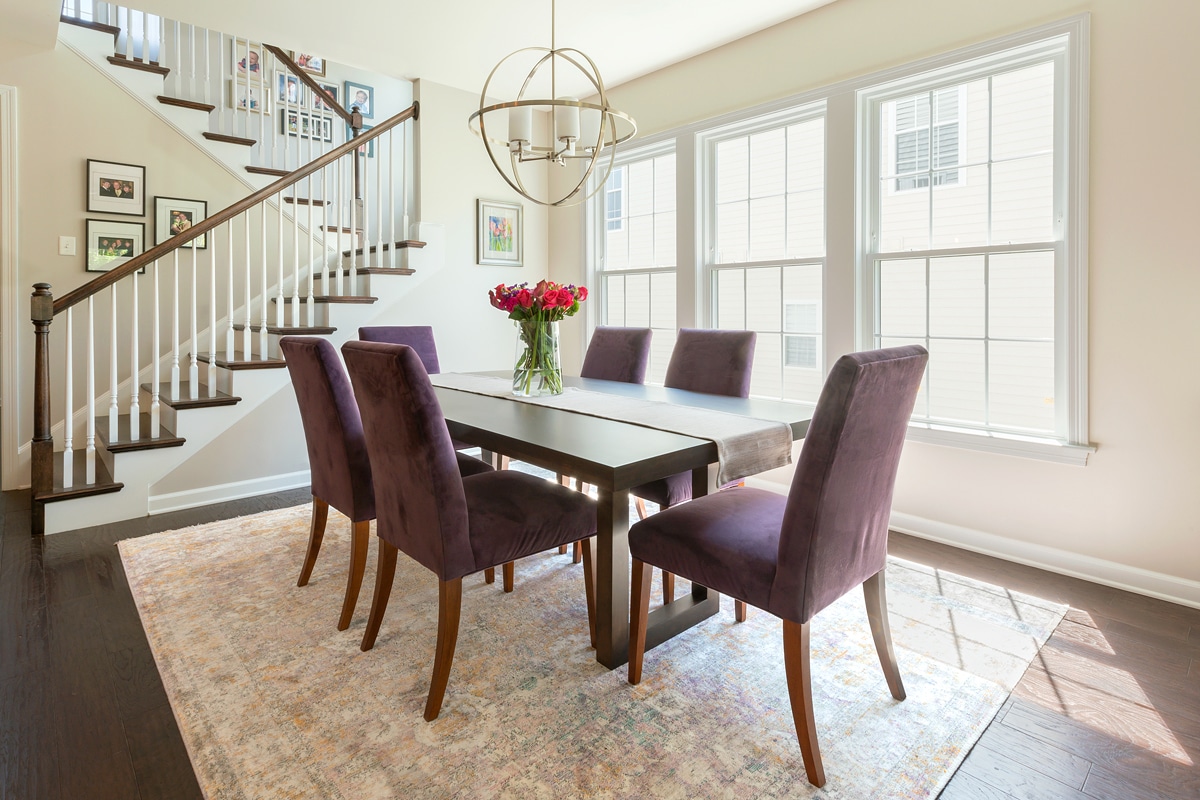 What is the Pinehills?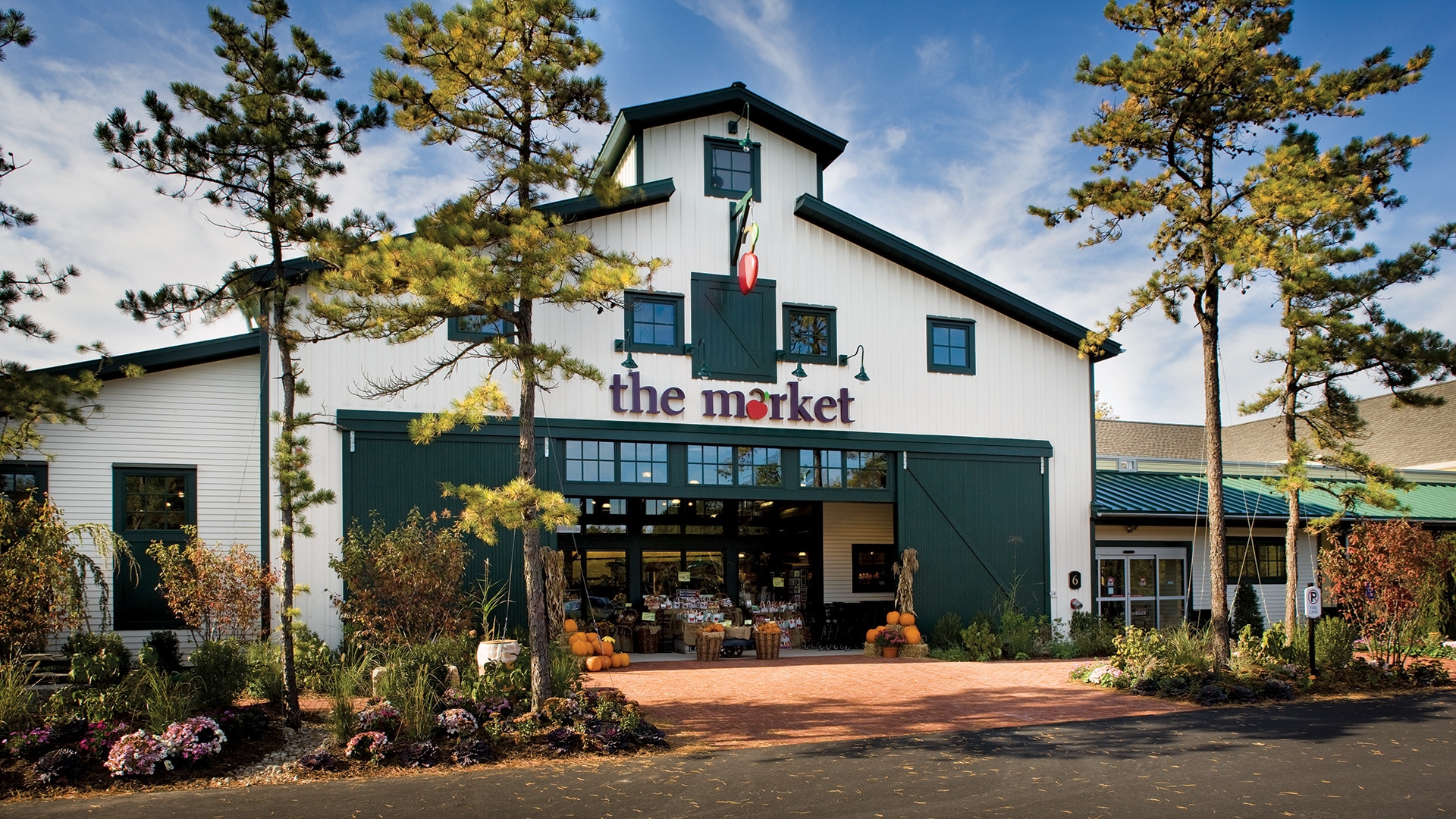 The Pinehills is, in their words, "a new take on the classic New England village, offering inspired new homes and daily adventure in Plymouth, Massachusetts." They have an emphasis on green space and offer individual homes of all sizes; condominiums, townhomes, as well as luxury apartments for rent.
Betsy describes her move to Pinehills, saying, "We recently moved here, downsizing from our big family home where we raised our children into this great area. We worked with a builder and designed our home."
Pinehills focuses on community, offering all of the amenities you might need (like a Post Office, a gas station, and a farm-to-table market) as well as a village green with shops and restaurants, a bank, and even a doctors and a dentist office. There is also a beautiful Inn and Spa, an acclaimed golf course, trails to hike and a pond to kayak on.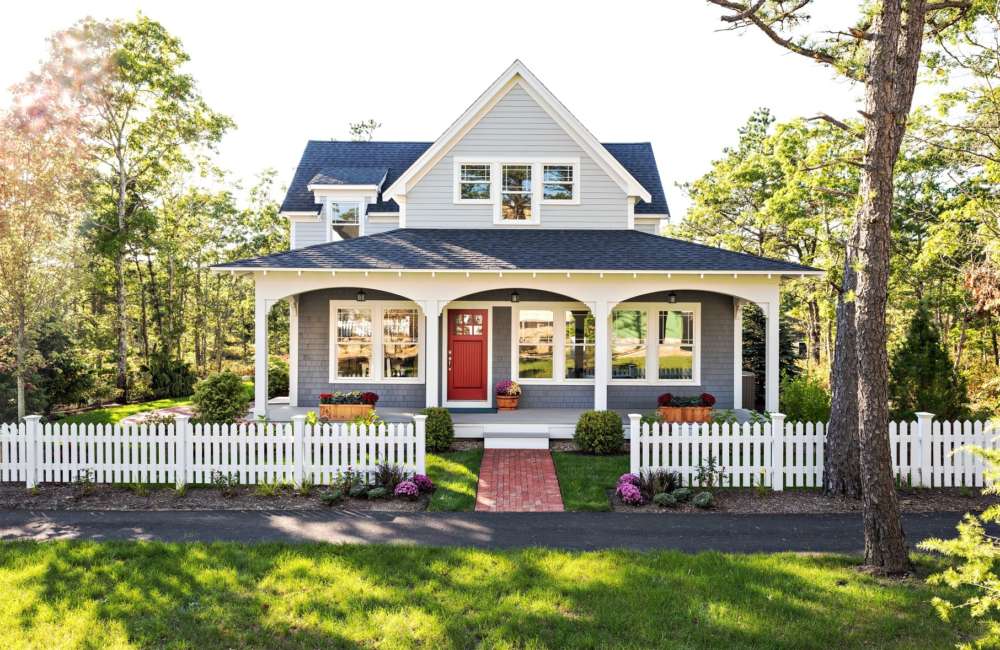 "We love that there are people of all ages and there are so many things to do within 10-20 minutes," Betsy says, "A big thing for us was being near the ocean, which is just about 10 minutes from here. In the Pinehills you are surrounded by green space including two beautiful golf courses. There are activities of all types going on everyday so you can do as little or as much as you would like. It' a great place to be and we're thrilled to be here at this point in our lives."
On downsizing
The Pinehills is a wonderful community if you're thinking about downsizing because there are options when it comes to housing and you're able to build your dream home""one that will suit a simpler lifestyle.
On downsizing, Betsy says, "My kids are grown and my husband and I were living in a 4,000 sq. ft. home, which was a little ridiculous. We looked for a house that was more manageable but also had room for my kids to visit or grandchildren to one day stay with us. We moved into a 2,300 sq. ft. home which is just right for the two of us."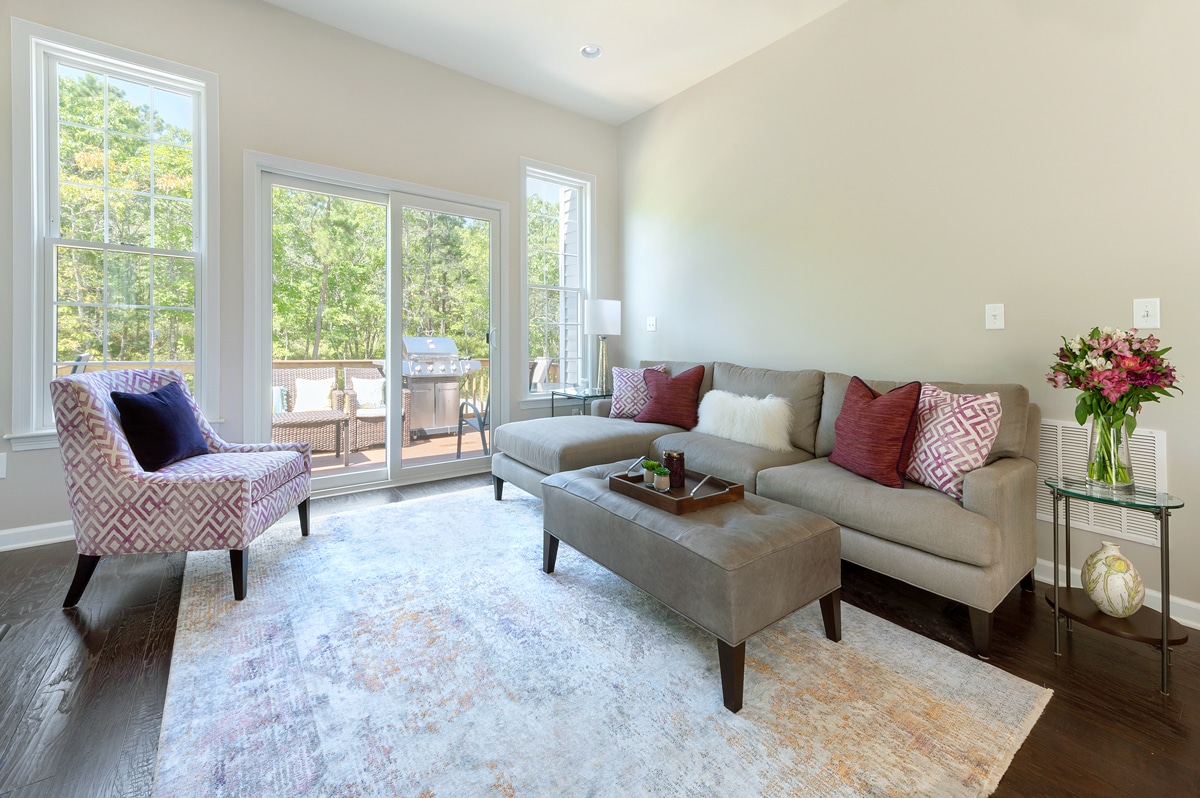 They designed an open-concept plan for the living, dining, and kitchen area, giving a spacious look to the smaller home. She says, "We have the master bedroom on the first floor which is an important feature moving into the future, and a guest suite upstairs."
When furnishing any new home, and especially when you're downsizing, it's important to consider function and space. Betsy explains, "My style is comfortable and inviting. We live here, we use our furniture and I don't want it to feel like we can't use or touch something. We're all about comfort and color."
Expert tips for your new space
Whether you're moving into a smaller apartment in the city or a New-England inspired all-inclusive community like the Pinehills, downsizing is a big undertaking.
We talked to Betsy about her top tips for downsizing so you can make the transition as smooth as possible.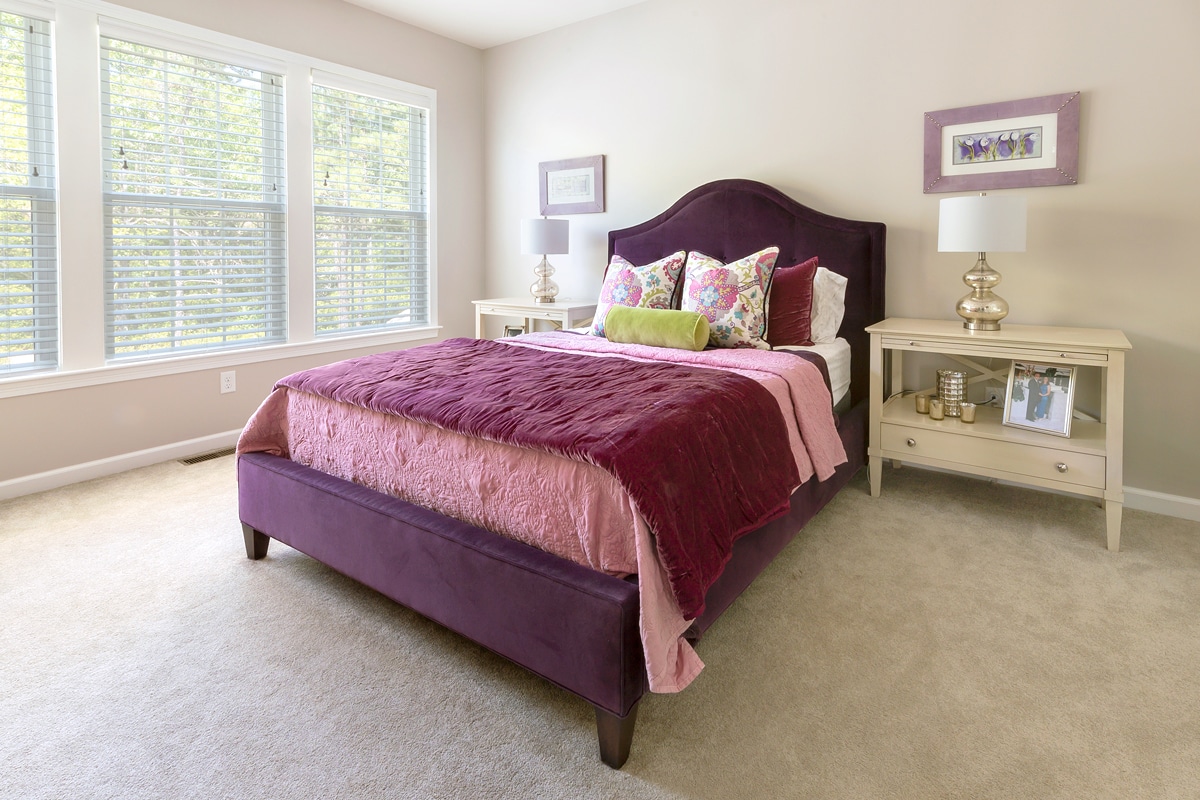 Start fresh
When downsizing it's important to take time to determine what you're going to keep, throw away, and donate or give away. Betsy says, "It's a lot to move out of a house that you lived in for 17 years. We had a lot of furniture and we chose to give away or donate most of it. I wanted this to be a fresh start."
Regardless of whether you choose to keep furniture or start with a completely blank slate, buying and decorating a new home is an opportunity to start fresh. She explains, "It feels really good to have new furnishings and none of the clutter that had been accumulating in our home for decades."
Read More: Spring Cleaning: 5 Tips for a More Organized Home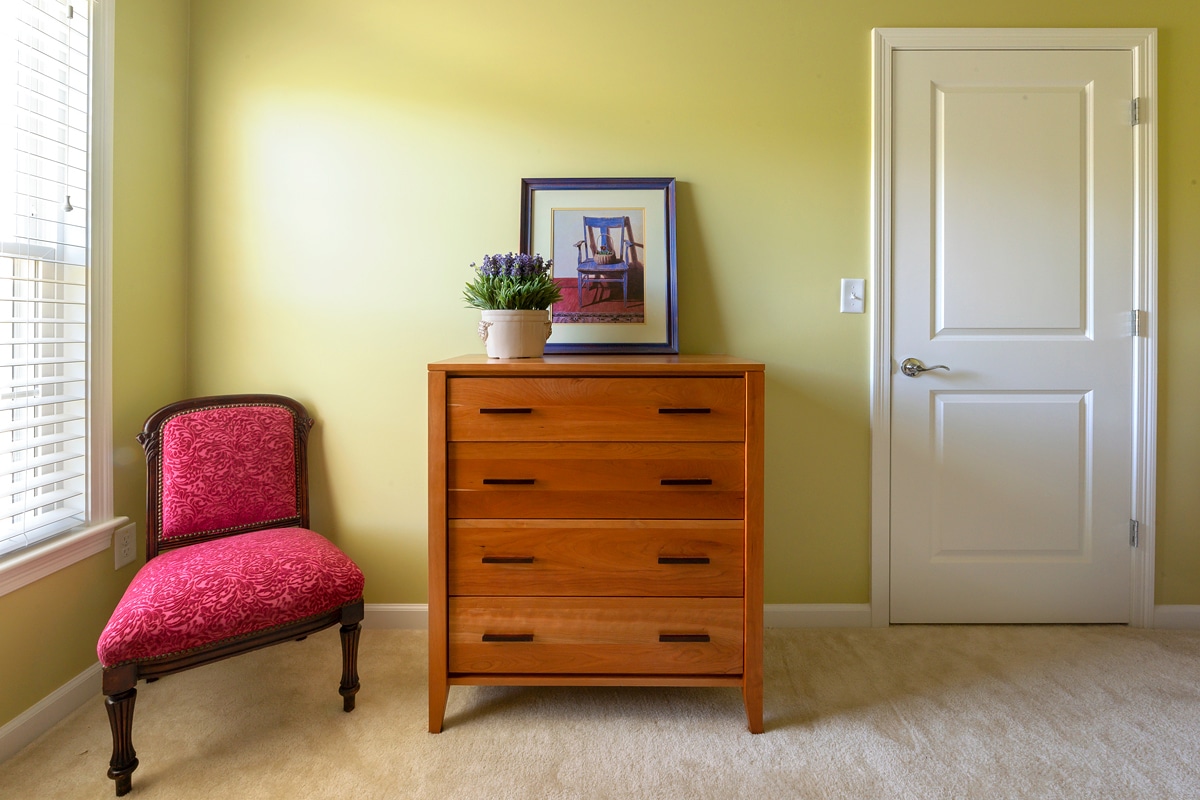 Consider your space and your lifestyle
As with any design project, it's important to be mindful of space planning. Especially when downsizing, you want to introduce furniture that's scaled correctly to the room and won't crowd it. Betsy chose the Mia Sectional because it "fit just right" in her open-concept living room, deep enough to be comfortable but it didn't cover up the floor vents.
These small details (like vents on the floor) should be paid attention to. After all, you want your home to be a functional space and one that you enjoy living in. She also recommends "using the most durable fabrics, like a Crypton, in the spaces that you use the most."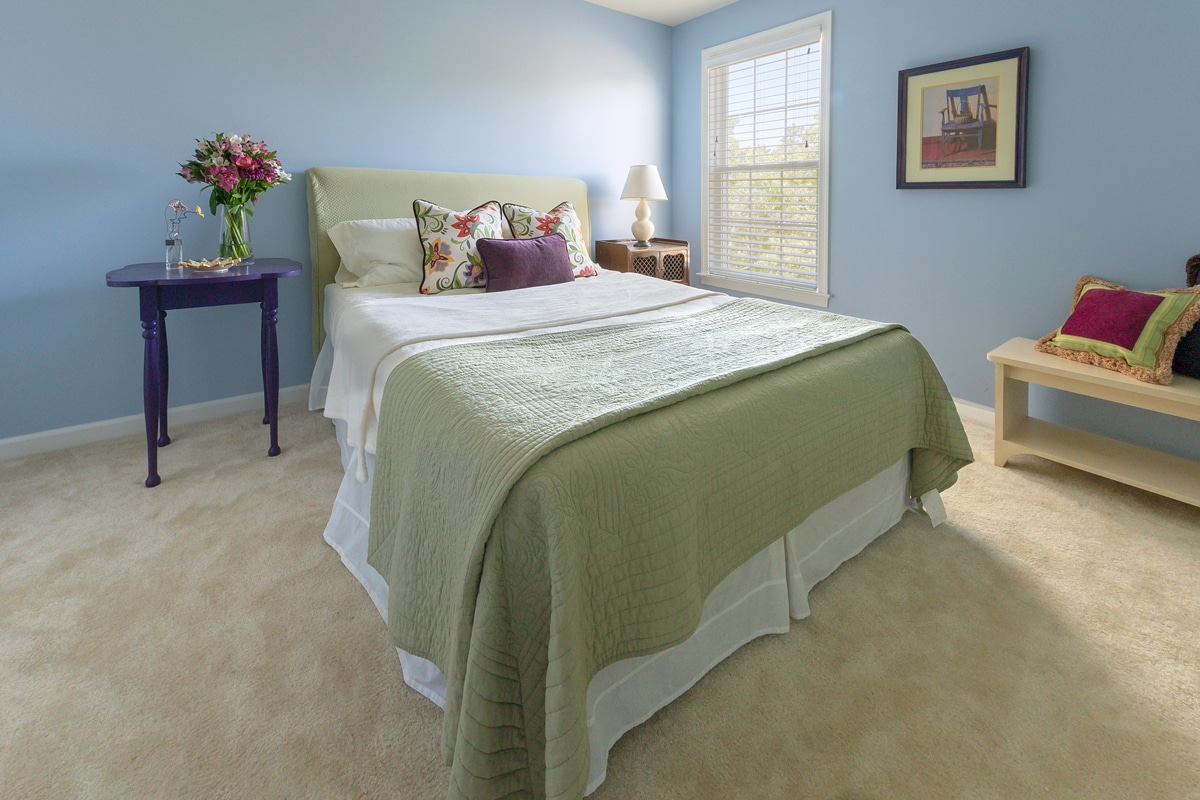 Create your dream home
Because downsizing is a chance to start fresh; take time to think about what kind of design will bring you joy. Betsy has a few top tips:
Keep your larger pieces timeless and not trendy; adding in trendy accessories""like a washed-out rug""that you can easily switch out.
Explore Pinterest, Instagram, and Home Decor magazines to discover styles that speak to you.
Live with the colors you love, don't worry about what's trending now.
Betsy says, "I'm a purple person so my whole home is purple. I think you should surround yourself with what you love."
Read More: 5 Steps to Start Your Home Decor Project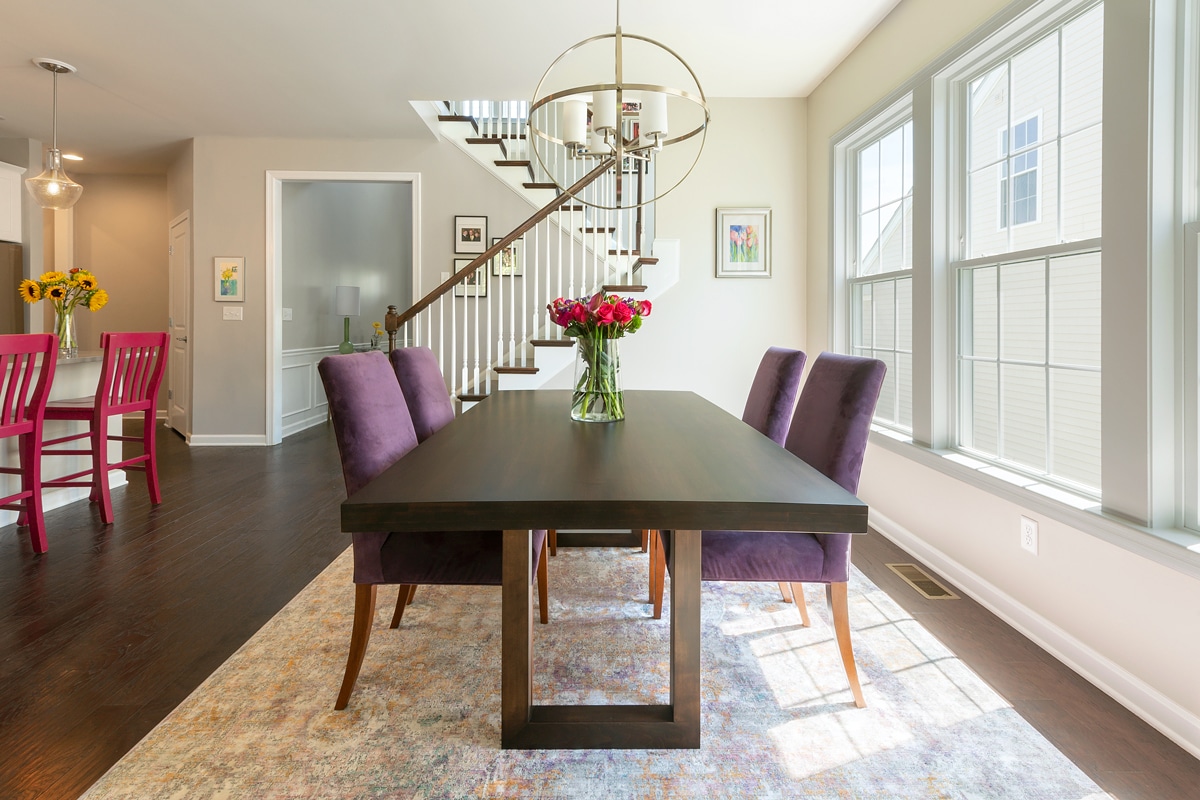 Talk to a designer
If you are downsizing or right sizing, talking to a designer whose opinion you trust is a great place to start. On choosing furniture for her new home, Betsy describes, "I've been with Circle for 20 years so choosing our furniture for my home was a no-brainer. Circle provides beautiful, quality furniture I want to surround myself with and live with."
Regardless of how you furnish your new home, consider what you want your lifestyle to look like and be sure to invest in quality pieces that will be both comfortable and functional for years to come. Our Design Consultants are always happy to help you at any stage of the process.
Visit the Pinehills website to learn more about the vibrant community and beautiful new homes.
Get to know our designers in Pembroke!


Author: Julia Maiman
Julia is a writer, blogger, and believer in the smell of old books. She has been crafting stories since she could put pen to paper. She is also a lover of dogs, traveling, and Led Zeppelin.