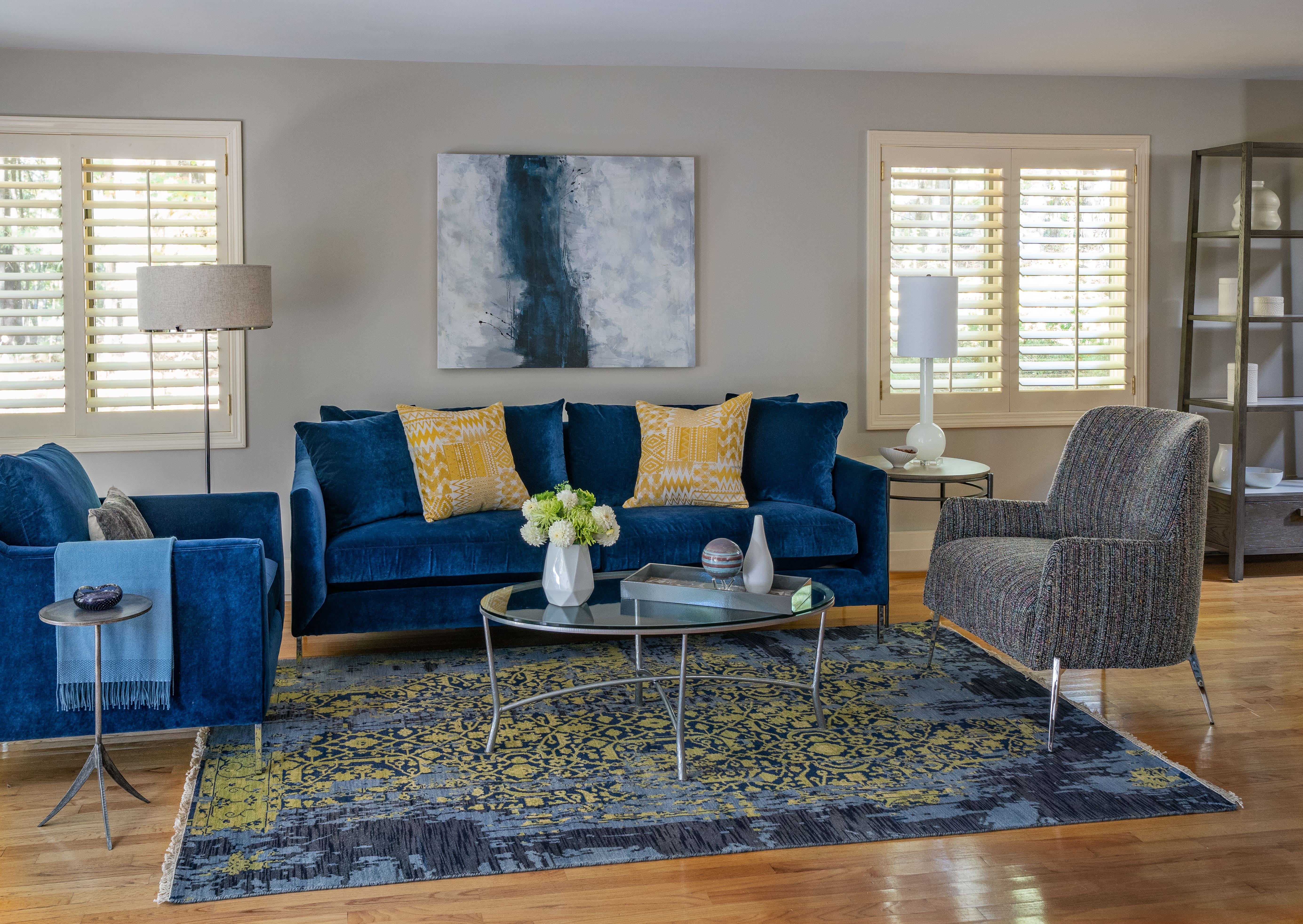 The merchandising team has returned from the Fall High Point Market in North Carolina with exciting new home decor trends. After visiting many showrooms, we found several common threads throughout. Here are some of the top trends we took away from this High Point Market visit.
Shades of blue
The first trend that was prevalent throughout Market was the color blue. As far as shades of blue, they varied, but navy in particular dominated. Blue is soothing, calming, creating an oceanic feeling, whether seen on furniture, wall coverings, or artwork. It's an easy color to bring into the home and looks beautiful contrasted against warmer, orange tones as well as weaved into a cooler toned palette. Our Davis sofa, featured in Indigo, is a lush, jewel-toned addition to any space.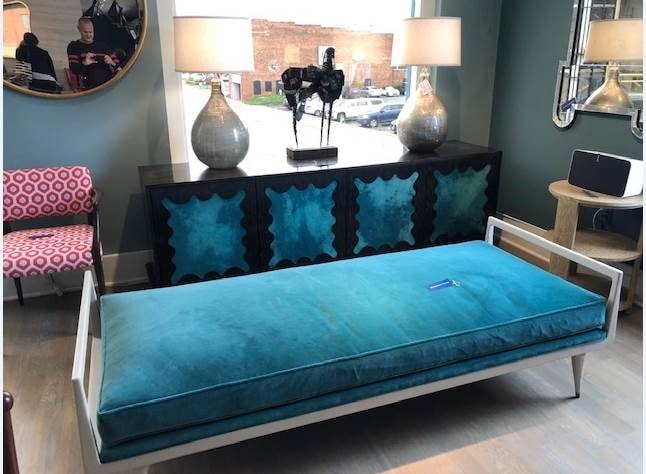 Spotted in the Julian Chichester showroom
Distinctive sofa bases
Sofa bases stood out this year. In particular, heavy, chunky bases, providing an interesting take on a mid-century modern sofa. These heavy bases were so popular that every showroom showed at least one. Another trend in sofas Plinth wood bases. Plinth bases add a modern detail to any sofa. We're right on trend with our new Porter sofa.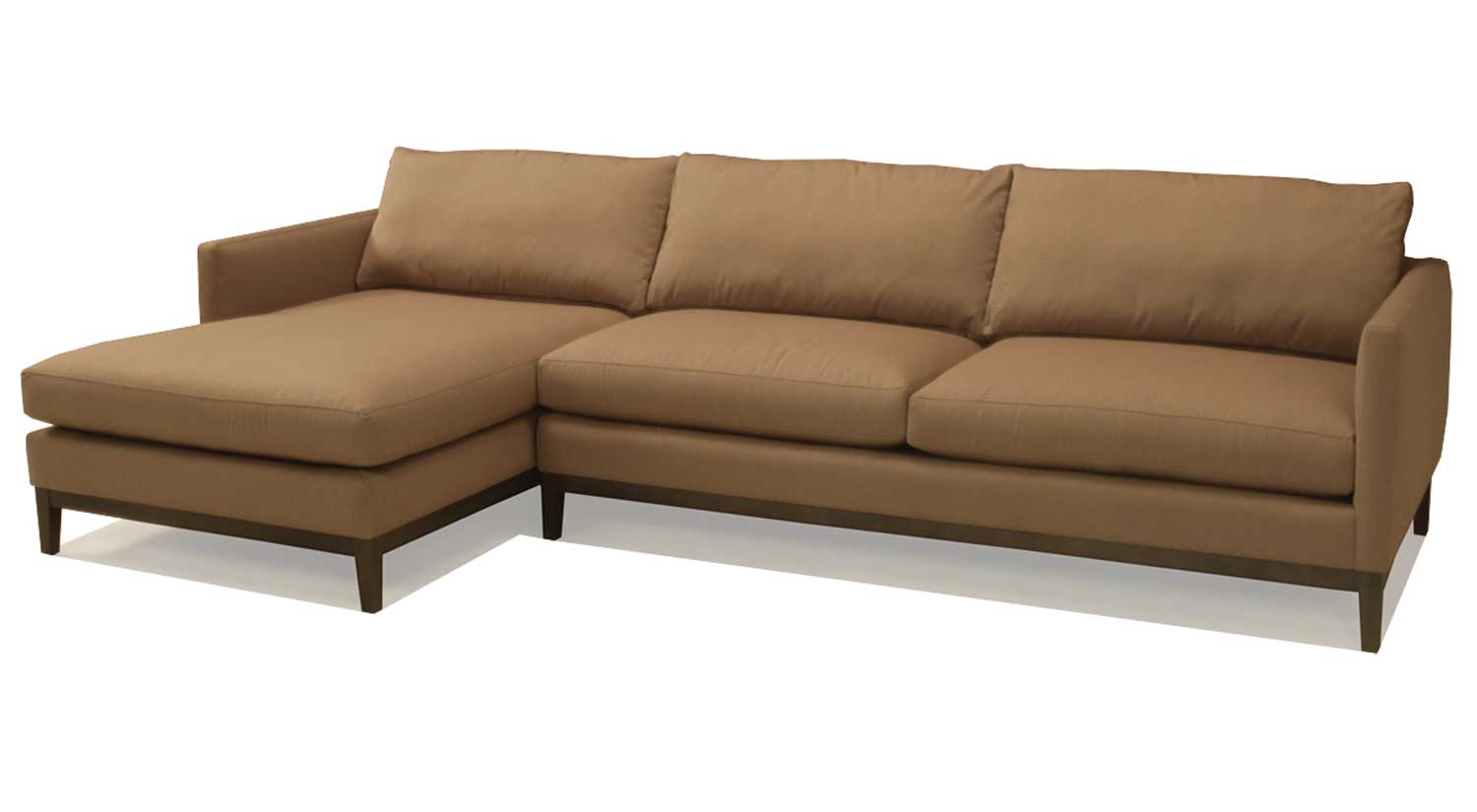 Porter Sectional with Wood Base
Unique Accents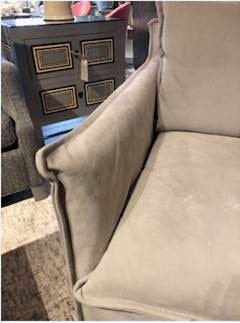 Certain accents showed up across the board at High Point. Flange pleats were one of them. They were seen applied to chairs, sofas, and pillows, adding dimension and interest to upholstery. As far as metal finishes, the trend here is similar to the trend in the jewelry world. Mixed metals! Mixing metal finishes is probably the simplest way to add a modern spin on any piece in your home.
Modern Rattan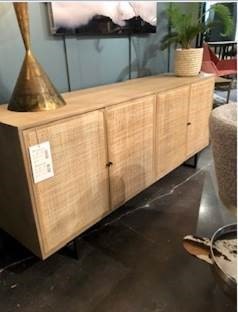 Media cabinets and accent pieces were seen in rattan. Despite its usual place on decks and porches, it added a fresh take to indoor vignettes. Brian Bechard, our visual merchandiser, describes, "This is a modern take on rattan, not your grandma's Florida sunroom."
Prints and Patterns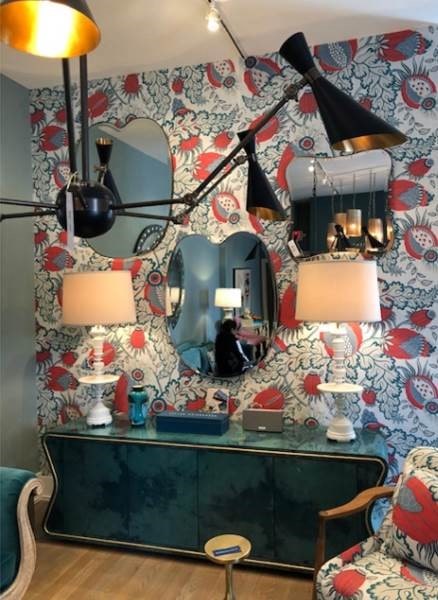 Spotted in the Julian Chichester Showroom
A modern take on plaid with a large pattern covered several frames at High Point. Brian says, "I also noticed a lot of plaid on men's blazers. Fashion and Interior Design running side by side."
It was "the bigger the better" when it came to patterns this season. Wallpaper is back on trend, and this time in large oversized prints. If you don't want to commit to full wallpaper, there are beautiful, on-trend removable wallpaper options available.
Area rugs were seen with traditional motifs deconstructed and modernized with bright pops of blue, pink, green, gold.
Floral prints are still in style, but this time in large patterns, seen on both transitional and clean line frames.
And finally, animal prints were all the rage at the Fall Market. Large artwork featuring animals, like the Apollo Canvas, are striking additions to the home.
Talk to a designer
Taking in new trends can be overwhelming. But there's no need to overdo it and add in all of the trends at once. It really only takes a few simple additions to update your home and add fun pieces that have a fresh take on color, pattern, and texture. It can be as simple as choosing one or two pieces that speak to you. Come into any of our 6 showrooms to get inspired, and talk to a designer about working some of these trends into your home. Check out our YouTube Channel for Interior Design Inspiration! Not done reading yet Check out these articles to get inspired: