With summer on the horizon, we're excited to introduce our new outdoor furniture collection!
There's something to be said about having a beautifully furnished deck or patio where you can enjoy the sun and fresh air. It's the perfect change in scenery after a long winter or if you just want to spend time outside.
No matter what the size of your space is, our collection gives you different options to create an outdoor experience for entertaining and every day lounging. On top of that, you'll have long-lasting furniture that will add both comfort and style to your backyard!
Teak Collection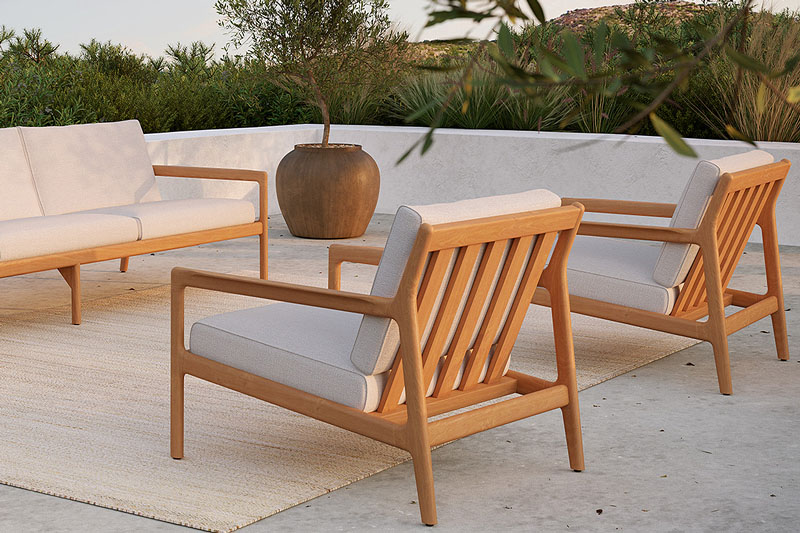 With the Teak Collection, you get a clean, minimalist design fit for any deck or patio. From tables and dining chairs to lounge chairs and a sofa, any idea you have can be brought to life.
Since teak is high-quality wood, you'll enjoy your outdoor furniture for years to come. Although it's meant to last, there are still things you can do to help maintain its quality:
Oil the wood seasonally

Immediately clean up spills

Use place mats and coasters to prevent marks

Dust off debris with a dry cloth or soft brush

To prevent water damage, don't let water sit on surfaces for long periods of time

Use a damp cloth and natural soap for cleaning (do not use soap that contains detergent or other chemicals as they could dry the wood and remove the oil protectant)
Fabrics in the Teak Collection we offer are made of 100% polypropylene, which is water-repellant, stain-resistant, UV-resistant, hypoallergenic, and more! To clean it, all you need is water and natural soap.
The Diva Collection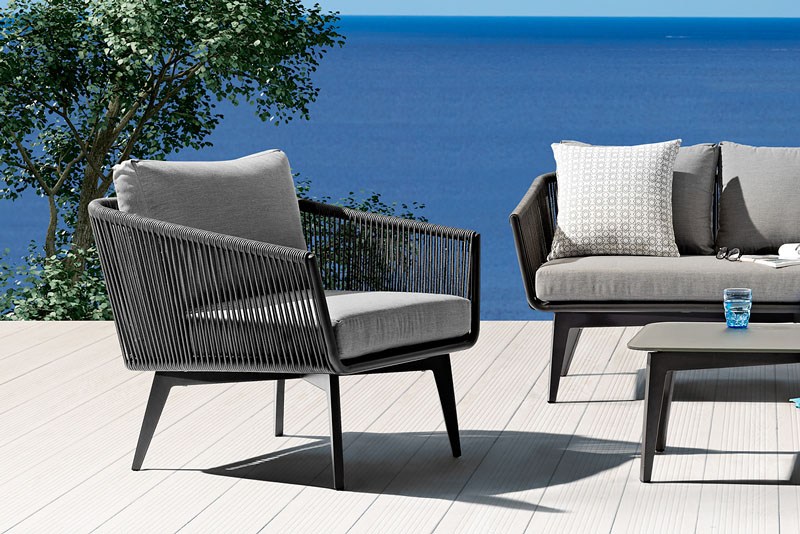 It's possible to make your outdoor space feel just as inviting as your indoor space! The Diva Collection allows you to create your ideal sitting area with a sofa, coffee table, and/or armchairs. Comfy cushions and durable structures ensure you get the most out of alfresco living.
The Diva Collection was designed to withstand the elements and changes in weather. Since each piece is made out of quality materials, maintenance is a breeze:
Use ordinary household cleaners on rope or cord

Wash ceramic-coated glass with a mild cleaner like Simple Green and a soft cloth
Diva cushions are made of Axvision, 100% blended polyester that's water and stain repellent and weather-proof. You can use a soft brush or sponge with a neutral PH detergent to clean it.
To protect your outdoor furniture from the weather and sun exposure as well as leaves, dirt, and other debris, it's recommended to use covers or store it inside.
Tips for entertaining outdoors
With the weather getting warmer, there's nothing better than hosting your friends and family outside. By replicating elements of your home in an outdoor setting, guests will feel comfortable and relaxed while enjoying a good time.
Give your space a homey feel with a few accent pillows and an area rug. If you're hosting in the evening, you can enhance the mood with lanterns, string lights, or candles. It also helps to have a sizable dining table so you can add or remove chairs depending on the number of people you're having over.
And of course, a vase of freshly cut flowers looks nice in any space!
Whether you want to update your current outdoor living area or create an entirely new scene, having that extra "room" will be the perfect addition to your home this summer. Visit a store and speak with one of our experienced designers to explore your options!
*Both Teak and Diva collections are displayed in our Middleton and Pembroke showrooms at this time.
Author: Marycatherine Karcich