The dining room has evolved over the years. Many people are opting for an open concept kitchen and shifting what "dining" means to them. However, the dining room is by no means extinct. The idea of a separate dining room to host family on holidays is still idealized and loved by many. Or perhaps you don't have the budget for a major renovation. Either way, we're here to help you design a modern dining room. Whether you're starting from scratch or updating an older room, everything you need to bring a little contemporary flair into your dining experience can be found here.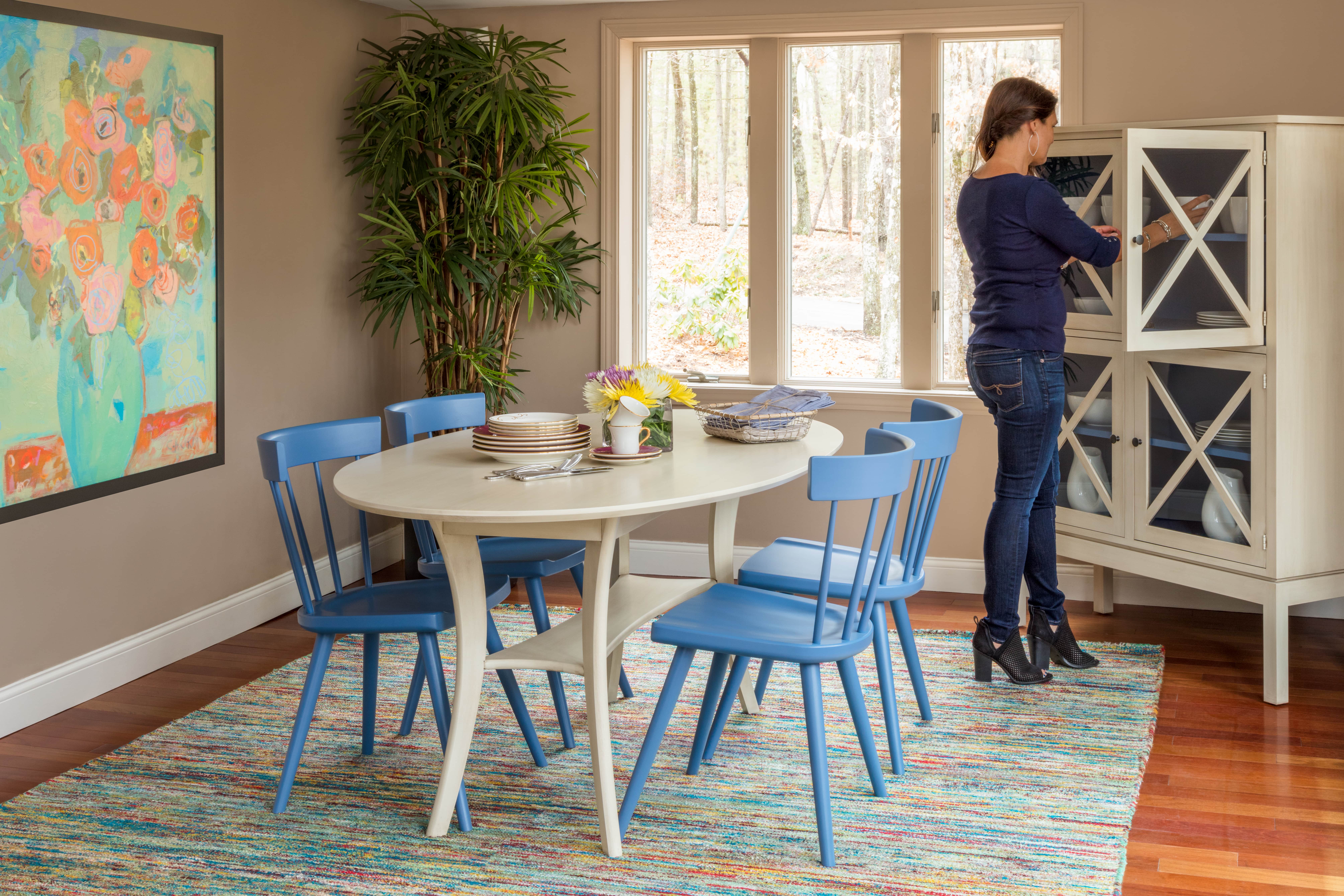 What is a modern dining room
Where a traditional dining room is defined by formality and rigidity, a modern dining room is defined by flexibility. Forget about the strict rules of a traditional dining room, and leave behind the idea that everything has to be, as Gary, our Director of Sales puts it, "matchy-matchy." A modern dining room is also defined by practicality. Whereas combining a library and a dining room would have seemed ludicrous decades ago, people are now designing stunning multipurpose dining spaces with bookcases lining the walls.
Play with light, texture, and color
Light
The first thing to think about when updating a traditional dining room is light. Dining rooms can tend to have a closed-off, dark feeling. Bring light to the dining room with airy, light elements, and a lighter color scheme. Simple changes like opting for a buffet without a hutch will make a big difference if you want to visually open up the space. Change the trim on your walls to a lighter, brighter color. And if there isn't enough natural light, bring in ambient lighting fixtures where needed.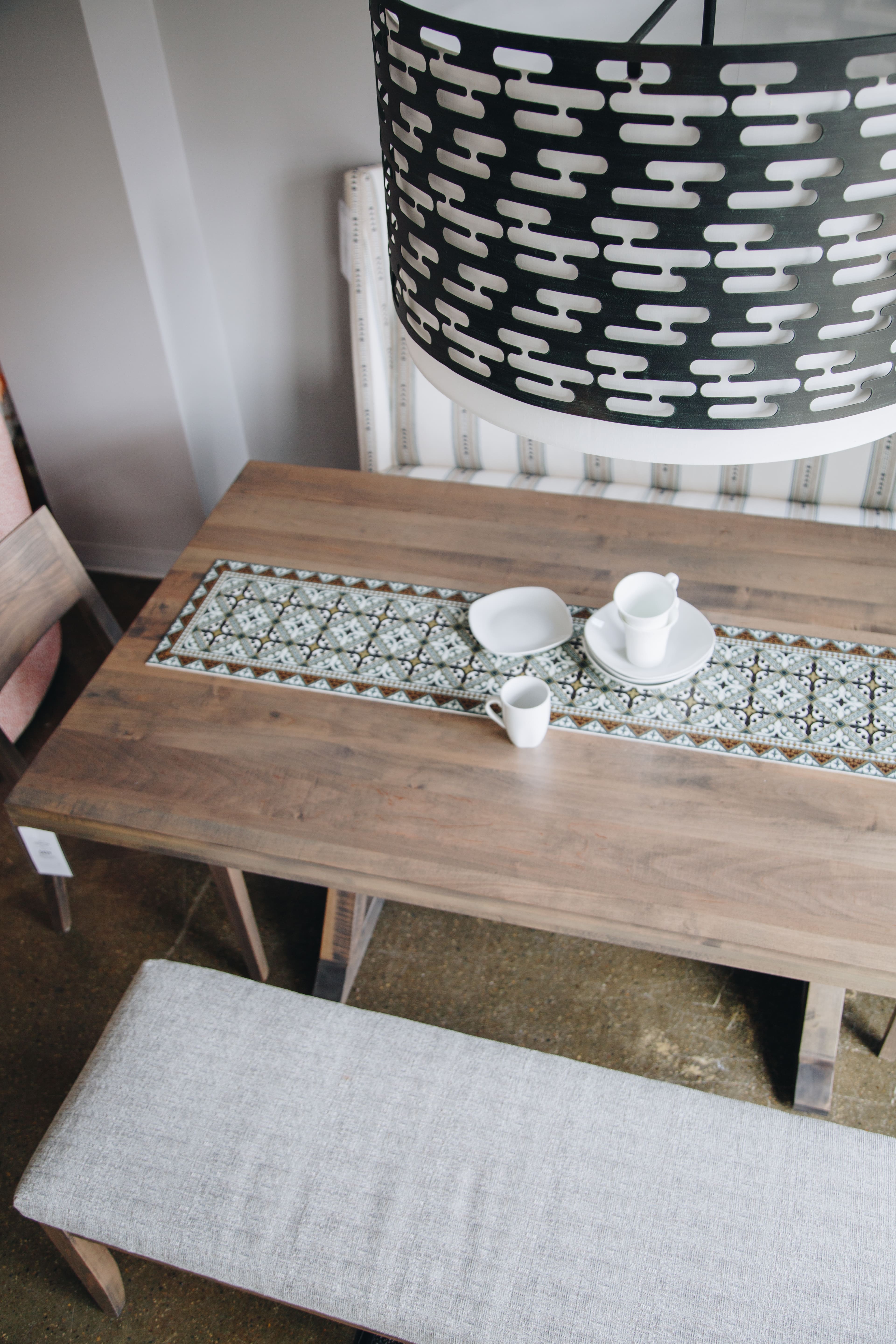 Texture
The next step when considering a modern take on the dining room is to add texture. A traditional dining room might feature a set of cherry furniture with cabinets in the same color. A modern update would incorporate metal, glass, and different tones of wood. Mixing in different textures and colors will add depth and dimension to your dining room. An easy way to start is to incorporate metals along with your wood accents and consider using a fun, textured fabric on your chairs.
Color
When choosing between wood tones, if cherry doesn't suit your fancy anymore, consider grey or ashy toned wood, and a more tonal color scheme. If you have silver accents, consider updating them to copper or brass for a more modern look. Finally, be creative with color! The dining room can be just as fun an environment as the living room. Gary suggests thinking outside the box and placing, for example, "a chartreuse seat on the chair with a grey rug and a navy dining set."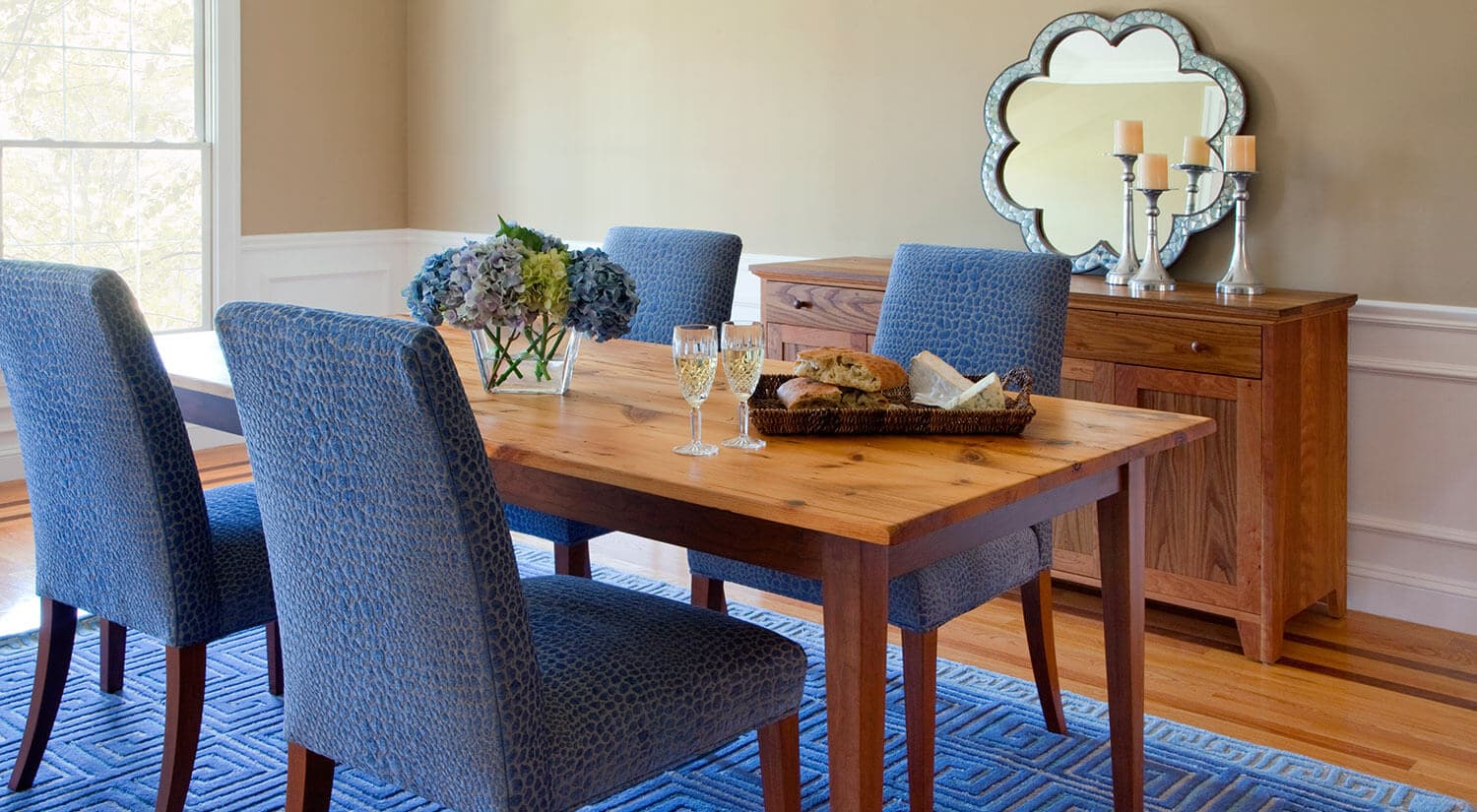 Update the old
You may not have the budget for an entirely new dining set. Or maybe you inherited a family heirloom and you're not ready to part with it. There are so many ways to update your dining room without letting your beloved furniture go.
Paint your dining set! Deep jewel tones like royal blue or navy will transform older furniture.
Keep your traditional armchair, but change the fabric on the seat. Try something unexpected that contrasts the chair, like leopard or cheetah.
Update your table by adding upholstered chairs at the head of the table. Or alternately, remove chairs on one side and place a bench in their place. Mixing textures in your chairs will give your dining room a new look.
If your chandelier is too traditional for your taste, update the look by hanging 3 chandeliers at different heights.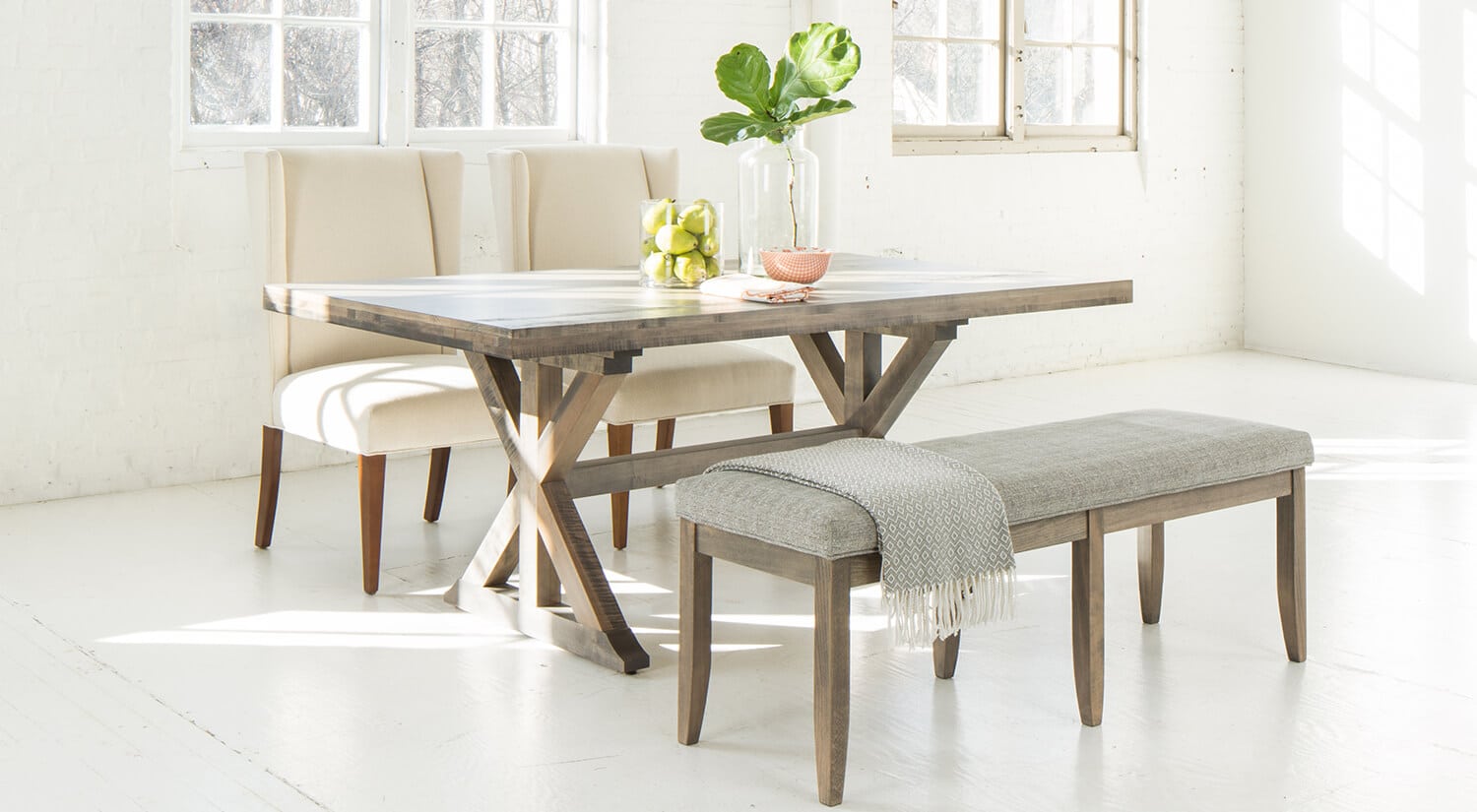 Soho Chairs featured with the Weston Table
Bring in the new
Potentially the most fun part about updating your decor Bringing in new pieces! Here are some elements to bring in that will quickly modernize your dining room.
If your oriental rug reads too formal, replace it or layer it for a modern look. Depending on your color scheme, you could opt for a neutral rug or a bright statement.
If a new dining table is in the cards, consider a live edge, raw and rustic table like the Fairfax Dining Table. You could also go the opposite route and opt for a sleek, modern design. For a complete guide on how to choose the perfect dining table for you, read more here.
As opposed to a high hutch that matches your dining set, invest in a buffet or bar cart and place a large mirror over top to stylize it.
As far as window treatments, Gary says, "Take off the long draperies and go cleaner with roman shades that cover just the window." This will help open up a smaller room.
When in doubt, Gary suggests, "Buy one new piece of furniture that funks the room up." Another really great and simple way to keep your dining room looking fresh and modern is to set up a tablescape. Place a variety of vases down the table and combine natural and man-made elements to bring your design to the next level. Read More: Current Trends in Home Decor: Spring 2018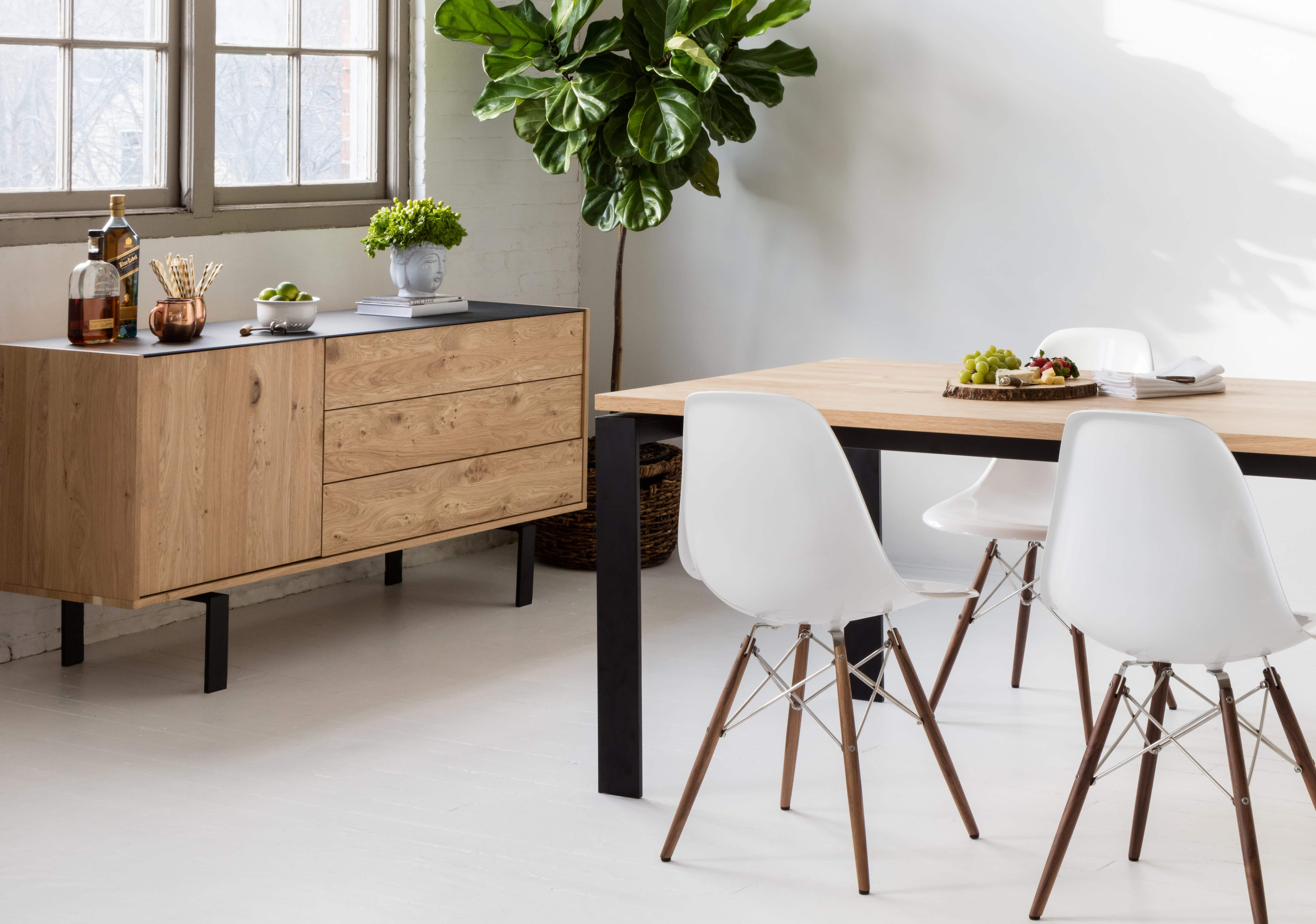 Final Thoughts
How you choose to design your dining room will greatly affect how you feel when you're sitting down for dinner or gathering during the holidays. You want your dining room to feel like you, whether that means a traditional space, an eclectic mix, or a sleek and modern design. Ultimately, it's about having a dining space that serves your needs and brings you joy. Updating your dining room, whether you start with small changes or a large overhaul, will transform your dining experience. Through simple additions of color, light, pattern, and texture, and a reworking of your old furniture, your dining room can become new again. The best place to start any design project is by talking with one of our talented designers. Meet them here and then come into a showroom near you! Curious about cost Read: How Much Does it Cost to Furnish a Dining Room Are you the friend that hosts all the parties Do you want to be Read our guide on how to decorate your dining room to host the best parties.