Community
We are part of your community.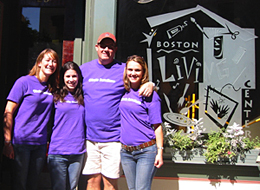 We believe in supporting our local communities. Why? We live in your neighborhoods. We shop at the same stores you do. We eat at the same restaurants too. Our kids go to the same schools and our dogs go to the same dog parks as well! We want to strengthen our communities. How do we do that? By partnering with local businesses to host events and fundraisers. We use local vendors and manufacturers.
Let us know if you have an event or fundraiser you need help with hosting! We'd love to hear your ideas.
---
The Pan-Mass Challenge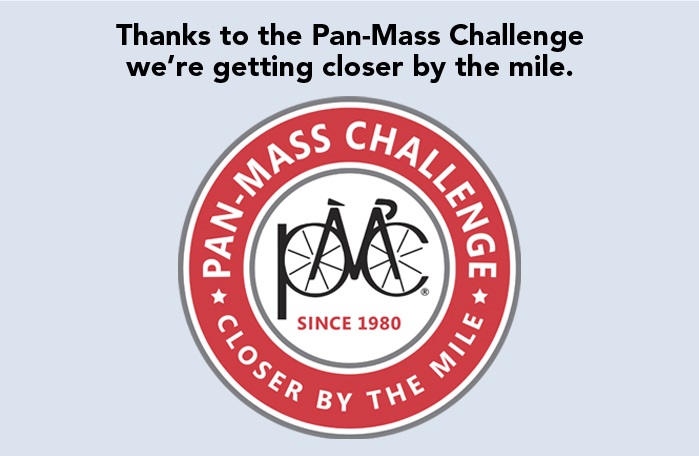 A member of the Tubman family has been riding or volunteering in the PMC since 2008. This amazing charity raises money for life-saving cancer research and treatment at Dana-Farber Cancer Institute through an annual bike-a-thon that crosses Massachusetts. Circle Furniture is proud to have had a team of riders and volunteers participating in this event over the past nine years. The 38th PMC will take place on August 5th and 6th with a goal of raising $47 million dollars.
---
A Bed for Every Child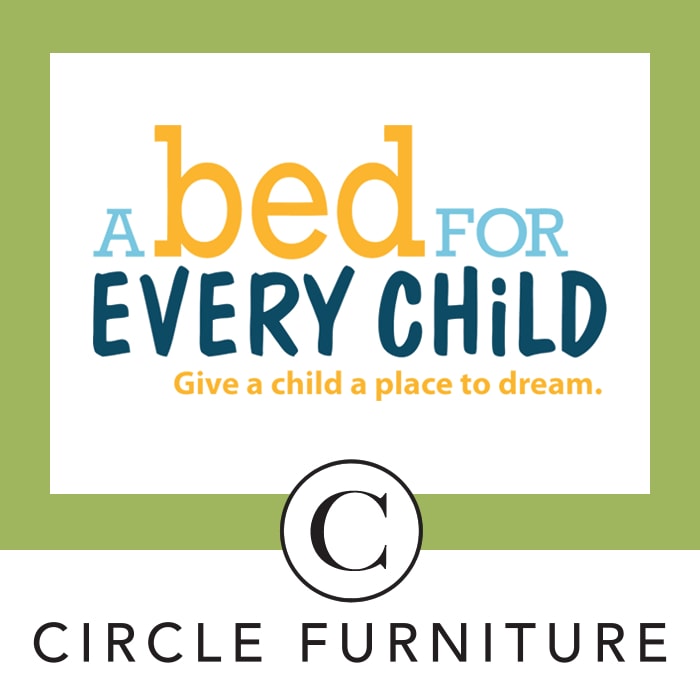 The Massachusetts Coalition for the Homeless works to eradicate poverty and homelessness in Massachusetts. A Bed for Every Child is one of the many programs of the Massachusetts Coalition. It was created in 2012 to provide new beds for children living in poverty.
It is hard for most of us to believe that there are children who don't have a bed to sleep in. Yet, that is the stark reality for thousands. It is simple – it is an economic issue. Their parents are just too poor to purchase a bed for them. A good night's sleep has a major effect on a child's ability to come to school prepared to learn; falling behind in school due to a lack of sleep can have negative long term consequences on a students education and future. A proven pathway out of poverty is to ensure low-income children receive an education that will allow them to graduate from high school. To do this, we have to give these children the tools they need to succeed. One of these tools is a bed.
Circle Furniture helps raise funds for A Bed for Every Child that will purchase a twin mattress, bed frame and linens for each student referred to us by our partners. A Bed for Every Child launched in 2012 and has provided 3,900 beds (and counting) to children throughout Massachusetts. This initiative has an immediate and positive impact on low-income children.
---
HGRM & Circle Team Up!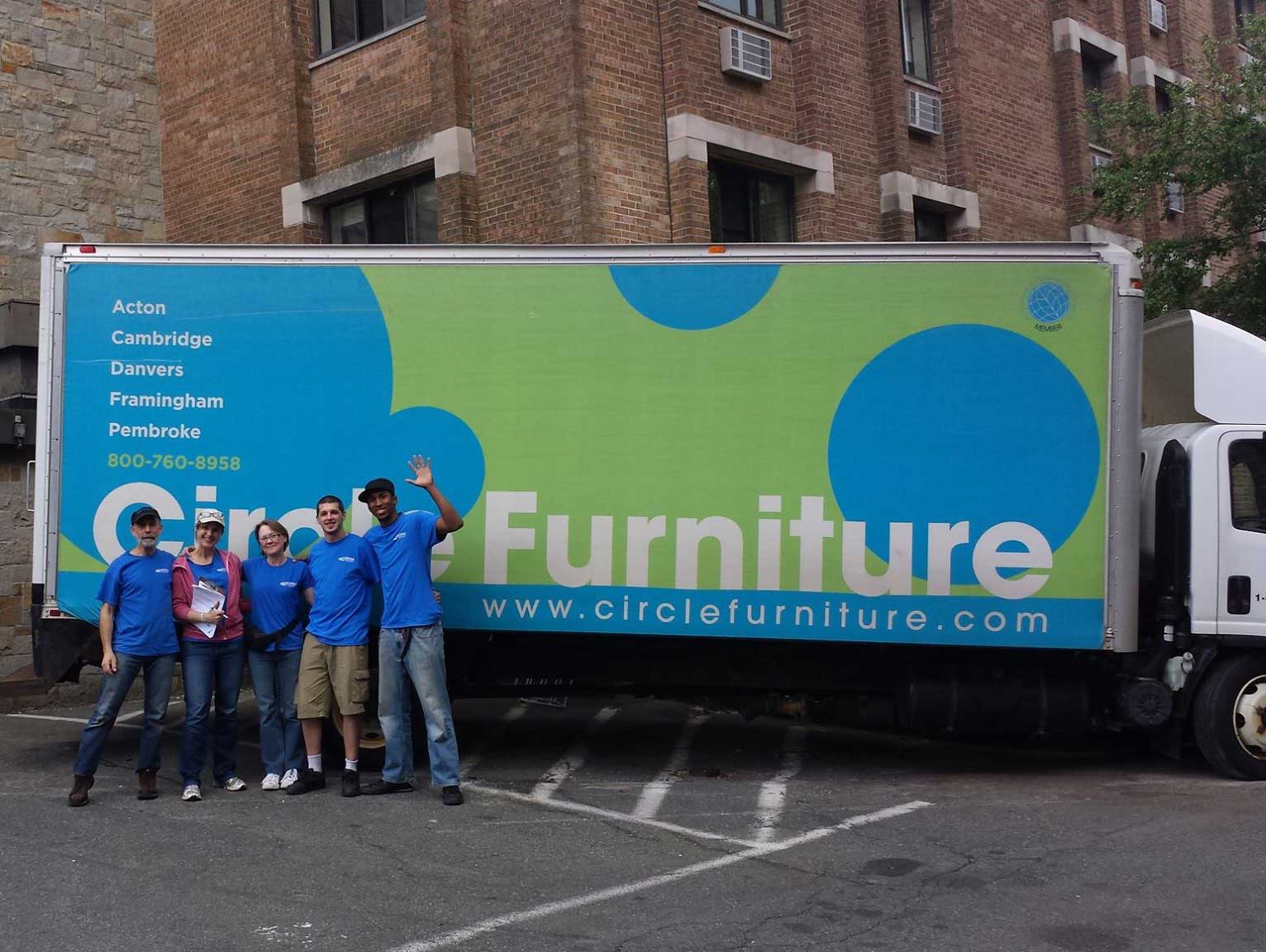 Circle Furniture teamed up wtih the Household Goods Recycling of Massachusetts organization to help collect thousands of donated items from Boston College. HGRM donates and delivers of items free charge to those in need. Read more about HGRM at http://www.hgrm.org/
---
Gobble Gobble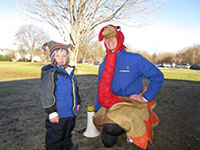 Hope everyone had a great weekend! We just hauled a truck load of food donations to Concord Open Table after a very successful Turkey Trot! Many thanks to the 600+ runners who came out on Thanksgiving morning to the Concord Turkey Trot. It was a great opportunity to get outside and walk or run with the family before we eat a large and thankful dinner, all in the spirit of giving back to our local community.
---
What's in a Bag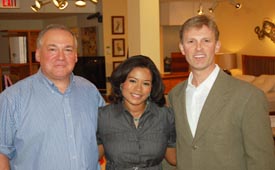 We were thrilled to host the What's in a Bag fundraiser on May 6th at our Cambridge showroom. The night included a silent and live auction of donated handbags, yummy martinis and delicious apppetizers. All proceeds went to the Mass Coalition for the Homeless. We had a terrific turnout and we were lucky enough to get Shiba Russell and David Brown from WCVB -TV, Channel 5 to be our live auctioneers! They were great. Thanks to all who came out to support this important cause, we appreciate it!
---
Pink Party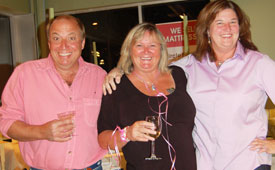 Once again we got out the pink and partied up a storm! Thanks to Panera for providing delicious desserts and Mix 104.1 for spinning the tunes, we had a successful fundraiser for The Ellie Fund. A big thank you goes out to the local artists who came out and donated their great works for our raffle drawing and to the Philip Ciampa Salon for providing salon services. Most of all... thanks to all of you who joined us to raise money and awareness for The Ellie Fund.
---
Libby Langdon Book Signing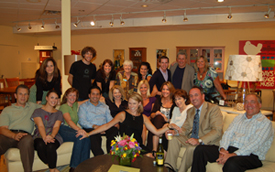 What a fun night we had as Libby Langdon, star of HGTV's, Small Space, Big Style, gave an inspiring presentation on decorating for small spaces. As we enjoyed a new wine called Patch Block, and nibbled on delicious snacks, Libby wowed us with her great secrets to making a room look and feel more spacious and inviting. Thanks to all who came and enjoyed the night. We really love celebrating design!
---
Danvers Art Opening - The Art of Decorative Placement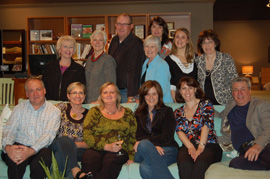 On Thursday, May 7th, the Danvers Showroom hosted a spectacular art opening. Christine Celucci, from Circle, picked local North Shore artists to display their artwork at the showroom in various furniture "vignettes". The purpose of the vignettes was to create a "life-like" room to showcase artwork so guests could appreciate how the art and the furniture balance each other and create a space that feels alive and refreshing.
---
UMass Night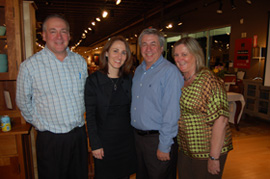 On April 29th we were proud to host a "Women of Umass Alumni Night" where we were treated to a talk on "How UMass Leads the Way: Preparing Students (and All of Us) for Careers in the Green Economy". Dr. Peggi Clouston spoke about an innovative project she has been working on where she and her team designed and constructed a timber bridge. "The purpose of this project was to conceptually design, construct and non-destructively test a full-size pedestrian timber bridge. The bridge project was a tremendous success. The bridge is currently being used as a trail bridge by the Amherst Conservation Commission." All in all, the night was fun and informative!
---
Jazz Brunch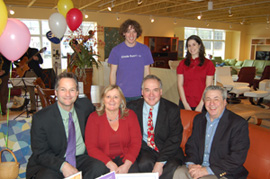 On Sunday, March 29th, we celebrated the grand opening of our newest showroom in Pembroke with a snazzy jazz brunch. The Patrick Mottaz Trio performed to a full house while our own Jonathan Boyle cooked homemade waffles for all. Local businesses partnered with Circle in order to raise money for Pembroke Youth Baseball's "Field of Dreams". Thanks to all who joined us in our celebration.
---
Pink Party
Our 3rd annual Pink Party was held on Thursday, October 16th at our Cambridge location. Our theme this year was "Girls Night Out" with free massages, makeovers, informal modeling and amazing raffle prizes. All proceeds went to The Ellie Fund, an organization that improves the health and welfare of women and their families undergoing breast cancer treatment in Massachusetts. Thanks to all who donated, attended and supported our night!
---
Rodman Ride for Kids, Foxboro MA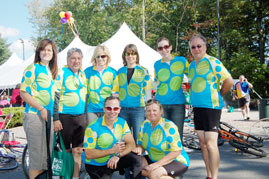 Since 2003, Team Circle Furniture has participated in the Rodman Ride for Kids, a bike ride raising funds for kids in need. Our team members rode either 100, 50, or 25 miles through Foxboro, MA. Members of 08 Team Circle Furniture include Sarah Cooney, Harold Tubman, Ellen Lowre, Paula Narenkivickius, Kate Springfield, Richard Tubman, David Blume and Peggy Burns.
---
"Green with Envy"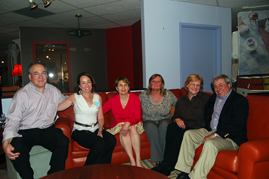 In celebration of Earth Day, Circle threw a party at the Cambridge showroom to showcase their eco-friendly furniture lines. Gail Ravgiala, editor of Design New England, spoke about the new "green" trends in design. Circle's own Martha Wells created an "eco-friendly" vignette for guests to walk through and learn about what makes these furniture pieces "green". Roberta Dehman Hershon, founder of Hope in Bloom, spoke about her foundation that provides gardens to anyone undergoing treatment for breast cancer.
Thanks to Whole Foods, our neighbor across the street, who provided delightful treats for the celebration. The Kunde Estate Winery, who we were introduced to at the Down to Earth expo last month, provided fabulous wine tastings. Taza, a local chocolate company, gave out samples of delicious chocolate.
Many local companies and individuals donated wonderful raffle prizes, with all the proceeds going to Hope in Bloom. Thanks to The Charles Hotel, The Chatham Bars Inn, Bella Sante, Maine Cottage, Winstons, jodi's jems, Finished Concepts, Gretta Luxe, Sorellina, MIchelle Madden and Christine Cellucci for providing such amazing prizes.
---
Home of the Year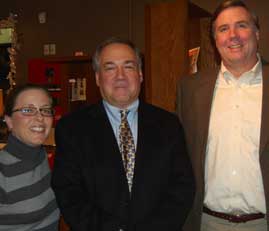 Circle celebrated Boston Globe Magazine's "Home of the Year" issue at a festive cocktail party held at the
Framingham showroom. Congratulations to Michael Doherty and Nancy Hackett who won the overall "Home of the
Year" award, taking home a $2500 gift card to Circle Furniture.

Andy Richards, Director of the Boston Ronald McDonald House, was on hand to receive a $3500 donation to set up a new and improved entryway area to the house. Circle designers are excited to donate their time and expertise to work their magic and create a warm and friendly reception area. Circle Furniture is proud to support the organization for their on-going efforts to improve the quality of life for children and families affected by serious illness.
---
Pink Party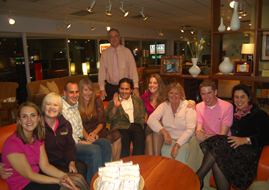 Thanks to everyone who made the 2nd Annual Pink Party such a success on October 25th at the Cambridge Circle Furniture showroom. The store was packed with people helping to raise money to support the Ellie Fund, a local cancer charity. The raffle prices included weekends in Vermont at The Wildflower Inn and the Inn on Park Street as well as tickets to the 2008 Red Sox season. The Boston Globe again partnered with us on this event. Mike FM was spinning great tunes to get everybody in the spirit. Circle Furniture loves to support local charities by hosting events in the store. If you have a charity/ non profit organization that needs a location for an event, call us. We'd love to hear your idea.
---
Boston Living Center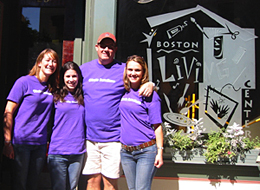 Circle Furniture participated in the Boston Living Center's Extreme Makeover in September/October 2005 by donating furniture. The Boston Living Center provides support for those living with HIV/Aids in the Boston area.
Circle Furniture employees dropped off some furniture
late September. Shown left to right: Erica Tubman,
Jessica Tubman, Jonathan Boyle, and Renee Rogers.
---
Hurricane Katrina Relief: Donation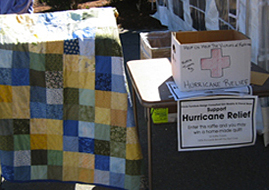 In September 2005 Circle Furniture donated furniture to two Tulane University professors misplaced after Hurricane Katrina who are now living in Cambridge, MA. In addition, Circle Furniture employee Erin and her friend Bean sewed a quilt. Raffle tickets were sold at our September Warehouse Sale and all proceeds were donated to the Red Cross.
Circle's donation included a dining table, dining chairs,
an upholstered chair, a sofa, an Ekornes Recliner, and an
entertainment center! This quilt was sewn by a Circle employee and her friend. All raffle proceeds were donated to the Red Cross.
---
Concord Library Donation, Concord, MA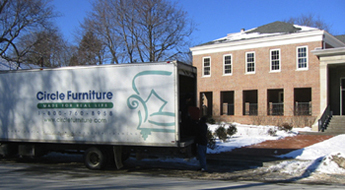 Circle Furniture donated furniture for several rooms at the Concord Public Library in Concord, MA, which opened its doors in February 2005 after an eight month renovation. Pieces donated included several upholstered chairs, game tables, storage ottomans, and occasional tables.
---
Ronald McDonald House, Boston, MA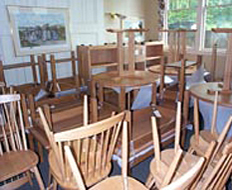 Circle Furniture supported the Boston area Ronald McDonald House in 2002 with furniture. The facility was furnished with beautiful, comfortable furniture for the many families that stay at the Ronald McDonald House. Thanks to partnering with several of our manufacturers, Circle Furniture was able to make this wonderful donation.
Circle Furniture donated lots of great New England-made
furniture, including chairs, tables, and more!