Circle Furniture sources and sells sustainably made furniture to support environmental health and help you feel good about what you buy for your home.
Our Green Commitment
Circle Furniture is proud to be a member of the Sustainable Furnishings Council, a non-profit coalition that promotes sustainable practices among manufacturers, retailers, and consumers. As a member, we commit to protecting our environment as well as the health and safety of our customers.
Local Partnerships
Part of our initiative as a green company is to work with craftspeople who share our dedication to the environment. We carefully research every manufacturer before they get the Circle seal of approval. By building these relationships with local vendors, we're able to reduce our carbon footprint and cut down on the use of fuel and packaging materials.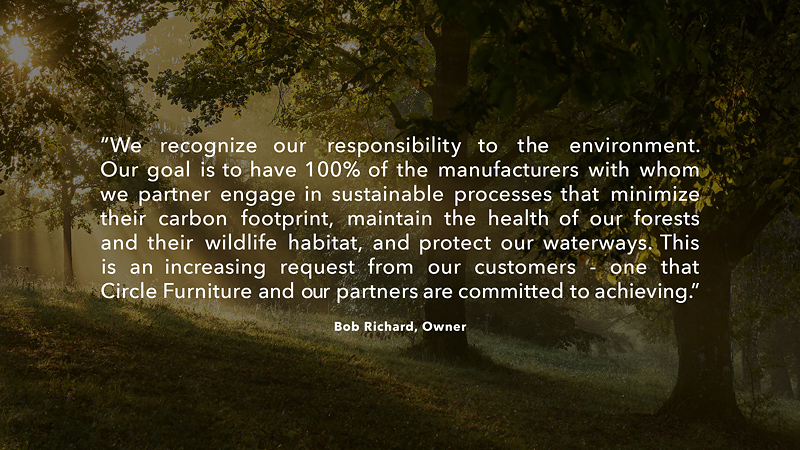 Forest Responsibility
Circle Furniture values responsible use of forest resources. We work with our suppliers on an ongoing basis to increase the amount of certified, recycled wood used. This means we don't accept the following:
Timber harvested illegally.

Timber harvested in violation of traditional or civil rights.

Timber harvested from areas where high conservation values are threatened by poor forest management.

Timber harvested from areas being converted from forests to plantations or for non-forest use.

Timber from forests where genetically modified trees are planted.
Eco-Friendly Upholstery
Our cushions and pillows are filled with post-consumer regenerated fibers, keeping plastic bottles out of landfills, plus the fill is inserted into a 100% woven cotton ticking. Additionally, some of our vendors use foam that contains 30% soy in their cushions to reduce the amount of polyurethane and other materials typically used in foam-making.
Being green means making conscious, ethically-driven decisions that won't negatively impact you or the environment. At Circle Furniture, we strive to inspire others to practice sustainability and help better our planet.