Sustainability
Go green!
Fire Retardant Free Upholstery Available at Circle Furniture
Circle Furniture wants you to feel comfortable about the furniture choices that you make for your home. We are committed to offering eco-friendly options, sustainably made and safer for our homes and environment. We are happy to share that almost all of the upholstery at Circle Furniture is Fire Retardant FREE. For more information please contact us at info@circlefurniture.com

Green Naturally

Circle Furniture is proud to be a founding member of the Sustainable Furnishings Council, a non-profit coalition of industry players created to promote sustainable practices among manufacturers, retailers and consumers. We carefully research every new manufacturer before we put the Circle stamp on it. The environment, our local economy, it matters to us. It's our world and we have to take care of it.
A healthy home starts with a healthy environment. That's why at Circle Furniture we partner with craftspeople that share our commitment to the environment. The woods used to make our wood products come from forests that are managed according to strict environmental, social and economic standards. Additionally, most of our wood products are made by craftspeople in New England. These are folks who truly care about the quality of the product that lands in your home. Gorgeous woods, thoughtfully made. Preservation and conservation are values that are important to us.

Eco-Upholstery made in the USA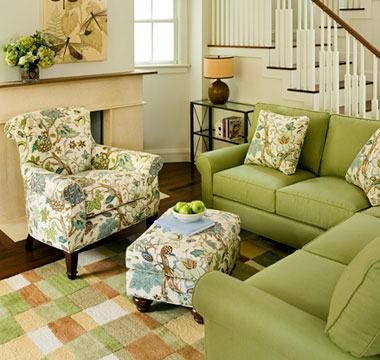 Circle Furniture offers upholstery with soy-based cushions and frames that are made from responsibly harvested hardwoods certified sustainable. The fill for seat, back and throw pillows is inserted into a 100% woven cotton ticking. Seat cushions are wrapped and back cushions and throw pillows are filled with post-consumer regenerated fibers keeping drink bottles from the landfill with each sofa purchase!
Learn More about Eco-Friendly Options
Check out our new Solar Panel array on our Acton Warehouse and live dashboard to track our energy production.