Furniture Protection Plan
Rest assured with Furniture Protection. You've chosen just the right furniture for your home. Now, keep your investment safe guarded from accidents with our 5 year premium Furniture Protection Plan.
What is a UNITERSPure Protection Plan?
A UNITERSPure Protection plan is a simple and cost effective way to ensure that you continue to enjoy your new furniture even if you encounter one of life's messy moments.
What accidental damage is my furniture protected from?
All accidental stains, rips, tears, burns, and punctures in upholstery and leather. Gouges, chips, dents, and scratches that penetrate hard surfaces are covered as are water marks, or rings.

The Rug Plan covers accidental stains or damage, (excluding accumulation defined as a gradual buildup of dirt, dust, body oils and perspiration that cannot be attributed to a single occurrence) accidental rips, tears, burns & punctures, and accidental damage to fringe.
When does accidental protection begin?
Accidental protection begins on the day of delivery.
What damage is covered by the Extended Structural Warranty?
Structural or component failure due to a defect in workmanship
Checking, cracking, bubbling, or peeling of the coating on finish or hard surfaces
Loss of silvering in mirrors
Mechanical and electrical failures
Breakage of frames
Breakage of glass and mirrors
Breakage of mechanisms

When does the Structural Warranty begin?
The Extended Structural Warranty component extends the manufacturer's warranty to a total of five years. For example, if the item you purchase is covered by a one year manufacturer's warranty, years two through five would be covered by your Extended Structural Warranty.
Can I view the Terms and Conditions for the protection plan?

UNITERSPure Balance 5 Year Protection Essentials Terms and Conditions

Can I view the Terms and Conditions for the Rug Protection Plan?
Area Rug 5 Year Protection Essentials Terms and Conditions

How is the price of the Protection Plan calculated?
Your plan price is based on qualifying items purchased. Below is a price table on how your plan price is calculated.

What is included in the free UNITERSPure Gift Bag?
With the purchase of furniture protection you will receive a free gift bag that includes all-natural products to protect wood, and safely remove accidental stains from leather and fabric. The natural and environmentally friendly products are: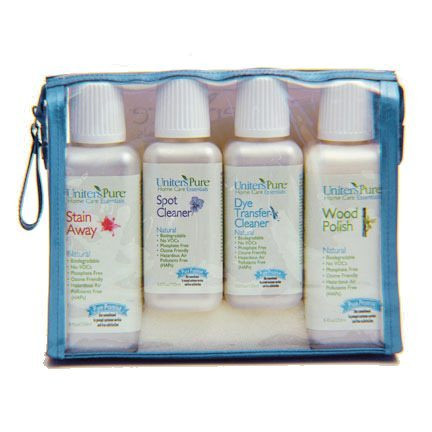 Biodegradable
Contain No VOCs
Phosphate Free
Ozone Friendly
Free of Hazardous Air Pollutants (HAPs)
Recyclable Bottles with child-resistant caps
Soy-based Sponge

How do I file a claim?
If you purchased furniture protection prior to June 2015 call 800-686-5559
If you purchased furniture protection after June 2015 a claim can be filed by app (iTunes & Android), phone, website, or by calling 866-213-6702