Circle Furniture Pembroke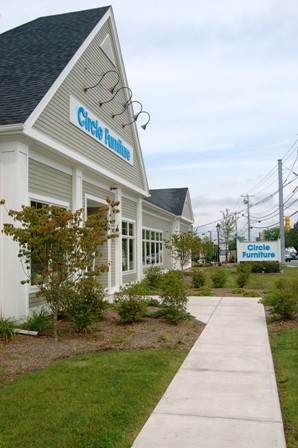 Circle Furniture Pembroke, formally Circle Furniture Hanover, has been serving our south shore and Cape Cod clients since 1995. Our current location at 85 Washington Street opened in 2009. The showroom offers a wide selection of New England crafted wood furniture plus American made sofas and chairs. The Pembroke showroom also has a great selection of painted cottage and cape style furnishings for your home near the sea or inland.

Circle Furniture also offers complimentary in-store and in-home design services for our customers. Our design team will leverage their expertise to meet your needs whether you are furnishing your primary residence or a rental property.
When you visit our showroom you will be able to choose from a large selection of fabrics and patterns for the perfect sectional sofa and accent chairs plus the essential accessories, area rugs, and occasional tables! If you are looking for durability, make sure you check out our stain and sun resistant Sunbrella fabrics.

If you are about to move into that house on Cape Cod that you've always dreamed of then you should plan on having some guests. Our Comfort Sleepers are the most comfortable sleeper you can buy and your guests will thank you.
Do you need some additional room at your dining table for a growing family or a smaller table to fit into a downsized space? Our dining room tables, side chairs, and arm chairs come in a variety of options from hardwood to upholstered. Come on in and meet our talented Pembroke design team!
Check out a store tour:
Find Us:
Circle Furniture Pembroke is located just off Route 3 on MA-53 South right at the intersection of MA-139. Complimentary parking is available in the rear of the building.
Visit Us:

10 to 6, Mon-Weds
10 to 8, Thursday
10 to 6, Fri - Sat
12 to 6, Sunday

Give us a Ring:

781-826-2728

Drop us a Line:
Did you know?
Circle Furniture offers local delivery rates to the Cape!
Circle Furniture offers a breadth of high quality products made right here in New England!