Some of you may have a vision for your home. It's the place you turn to for comfort and where you spend time with loved ones, so wanting to achieve a certain look and feel makes sense. That vision, whatever it may be, is attainable - you just need to know how to get there.
When you work with us, you can choose our at-home design services to really hone in on your goals. One of our Design Consultants will visit your home, measure your space, and create a floor plan that aligns with your vision and lifestyle.
Cheryl Harrington, a Senior Design Consultant in Pembroke, is no stranger to at-home visits. These projects allow her to form relationships with her clients, getting to know them on a more personal level so she can really understand what they want to accomplish.
"You want to click with that person; you want that person to have full confidence in your abilities to design their home," she said. "Once you have that connection, then I try to make it fun."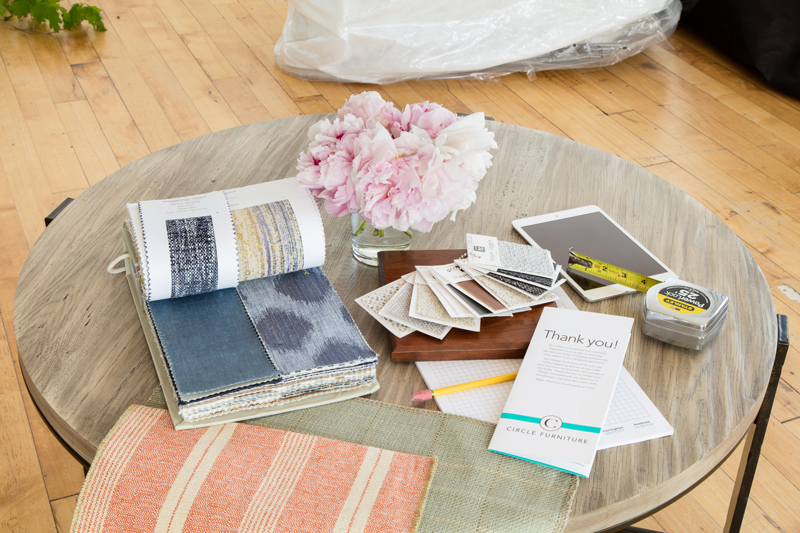 What do our at-home design services involve?
Knowing whether or not you like what we offer is important, which is why Cheryl recommends visiting one of our design centers before diving in. If you're looking for something specific, like a cozy sofa to sink into or a relaxing recliner, we'll help you find your perfect match.
Before a home visit actually happens, Cheryl likes to chat about budget and costs, including delivery charges, to give you an idea of your total spend so there aren't any surprises.
Once you've made your selection and decide to move forward with a visit, your Design Consultant will set up a time to come to your home so they can see how the furniture is going to look. For the second appointment, you'll come back to go over the floor plan they've come up with and then make your purchase.
Depending on the scale of your project, a house call can take anywhere from 10 minutes to 2 hours. During this time, your Design Consultant will gather information. Cheryl likes to learn about your lifestyle, how you want the space to feel, and how it's going to be used. She'll take measurements and use templates to provide a visual idea of how much space your new furniture is going to fill while accounting for every detail, from ceiling height, wall plugs, and doorways to paint color, natural light, and scale.
Additionally, she likes to know if there's anything you want to keep with the new design, whether it's artwork you love or a family heirloom.
There isn't much you need to do to prepare for a home visit; you can leave everything to your Design Consultant.
"I'd really like them to just sit back and relax and I'm going to do all the measuring, and then I'll sit down and talk to them," Cheryl said. It's her passion for design that motivates her to help you feel comfortable and happy in your home.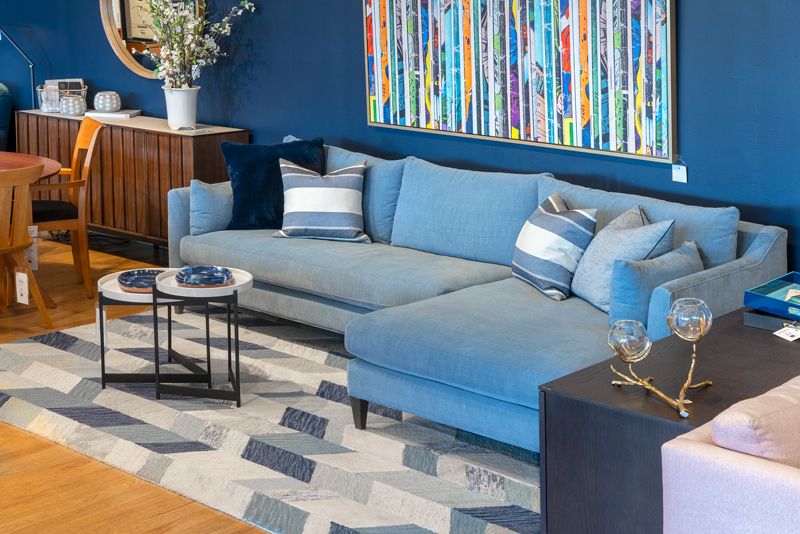 Benefits of our at-home design services
Home visits make it easier for our Design Consultants to to come up with a floor plan that makes sense for your space (after all, every home is different). They can also guide you in a different direction than what you may have originally intended.
Cheryl visited a client's home to see how the Addie Sectional* would fit in their living space. As she was leaving, Cheryl noticed a dedicated yoga room at the front of the house. She suggested flipping the two rooms so guests would walk into the living room instead. It changed the flow of her client's home, aligning the living area with the kitchen and dining room while creating a more secluded yoga space.
"This was a new home for her," explained Cheryl. "She hadn't lived in it for very long so I helped her see how she can utilize the rooms in the best way possible."
*Note: At the time of publication, the Addie is no longer available as a sectional.
Feeling hesitant?
If you feel uncertain about a home visit, we understand. It's similar to having company over when you want your home to be spotless and mess-free. Our Design Consultants try to help you feel at ease about the process, and they also get that messiness is just a part of life. As Cheryl put it,
"Everybody's house is lived in, and you want a house that's lived in."
Another thing to keep in mind is you don't need to go big right away. You have the option to start your design project and complete it over time, buying as much or as little as you want.
"I'll show them a presentation of everything they can do," Cheryl explained. "They don't have to buy everything right away, but they can work towards a plan. They can start with the sofa or sectional and then maybe get an accent chair down the road."
When you're done with one room, you may decide to move on to another and we'll be happy to help you with those needs as well.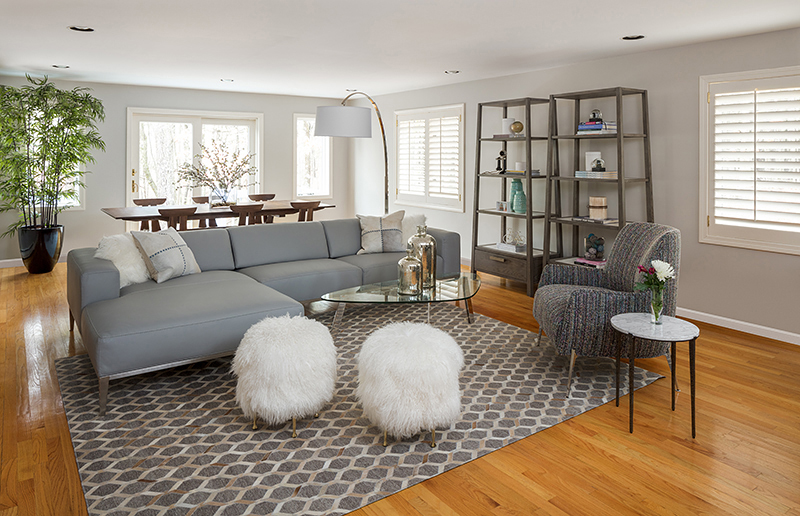 Schedule an appointment with Circle Furniture
Cheryl framed it perfectly: "Life's all about stages." No matter what stage of life you're in, we're here to help you design the space you've been dreaming about.
Before deciding on whether or not you would like to set up an at-home visit, stop by your nearest design center location and see if there's anything on our floors that you would love to have in your home.
Author: Marycatherine Karcich