How Much Does a Fabric Couch Cost
Buying a couch can be a daunting process. Before you can get to the fun stuff "" picking one out and loving it in your home "" it's probably best to turn to your finances"¦ how much does a couch actually cost We know there's a lot of conflicting information out there. The good news We're here to help! Here at Circle Furniture, sofas are kinda our thing. In fact, we have over 40 years' worth of knowledge about what's in them, what's on them, and how to best buy them. Additionally, we consider ourselves pros at navigating the furniture-buying process, so we bet we can help you answer this question.
So, how much does a sofa cost
The short answer: it absolutely depends on how you plan to use your sofa and what you're willing to spend. We've identified four key price brackets:
$400-$900 for low-end

$1000-$1500 for mid-range

$1500-2000 for mid to high-end

Over $2000 for high-end luxury couches
You can expect quality, longevity, and customization to change with each price jump. One more thing: to keep it simple, let's assume we're talking fabric sofas rather than leather.
The
cheapest
sofas are in the $400 - $900 range
A sofa in this price range won't hold up to a lot of use, and therefore isn't suitable for a high-traffic living room or as your primary seating option. It may be perfect for a college dormitory, or in a formal living room where it may only be used for the occasional cocktail party.
What's inside a cheaper sofa
Frame: the frame will probably be particle board or cardboard.

Cushions: low-density or chopped foam.

Seating suspension: thin sinuous coils or no coils. (Curious about seating suspension

Read more here.

)

Matching throw pillows: chopped foam, may not be well-tailored.

Coverings: your fabric choices will probably be limited, and will probably be poor quality. Think along the lines of "˜what you see is what you get.' Lower quality fabric may wear faster than other types.

Tailoring: you may see some uneven seams, crooked welting, or uneven skirts.
Your mid-range sofas will be between $1000 and $1500
Sofas in this price range will probably have some quality features, and will definitely last longer than a cardboard sofa. You will lose some longevity but you are primarily sacrificing style, fabric choices, and customization options.
What's inside a mid-range sofa
Frame: the frame will probably be particle board, plywood, or perhaps solid-wood frame construction.

Cushions: higher-density foam. Sometimes cushions are down wrapped.

Seating suspension: generally sinuous coil construction.

Matching throw pillows: will be well-tailored and usually have zippers.

Coverings: You may still not have a wide selection of fabrics. This may be okay for you if you like solids and neutrals, but if you have your heart set on a particular fabric, this may not be the best sofa for you. Patterned fabrics will not usually be matched either, and customization may be reserved to changing the fabric.
Some other things to consider:
Mid-priced sofas are generally less labor-intensive to make. They may have no cushions, legs instead of skirts, or be smaller scale. A plus if you're environmentally conscious and want to use less lumber or fabric.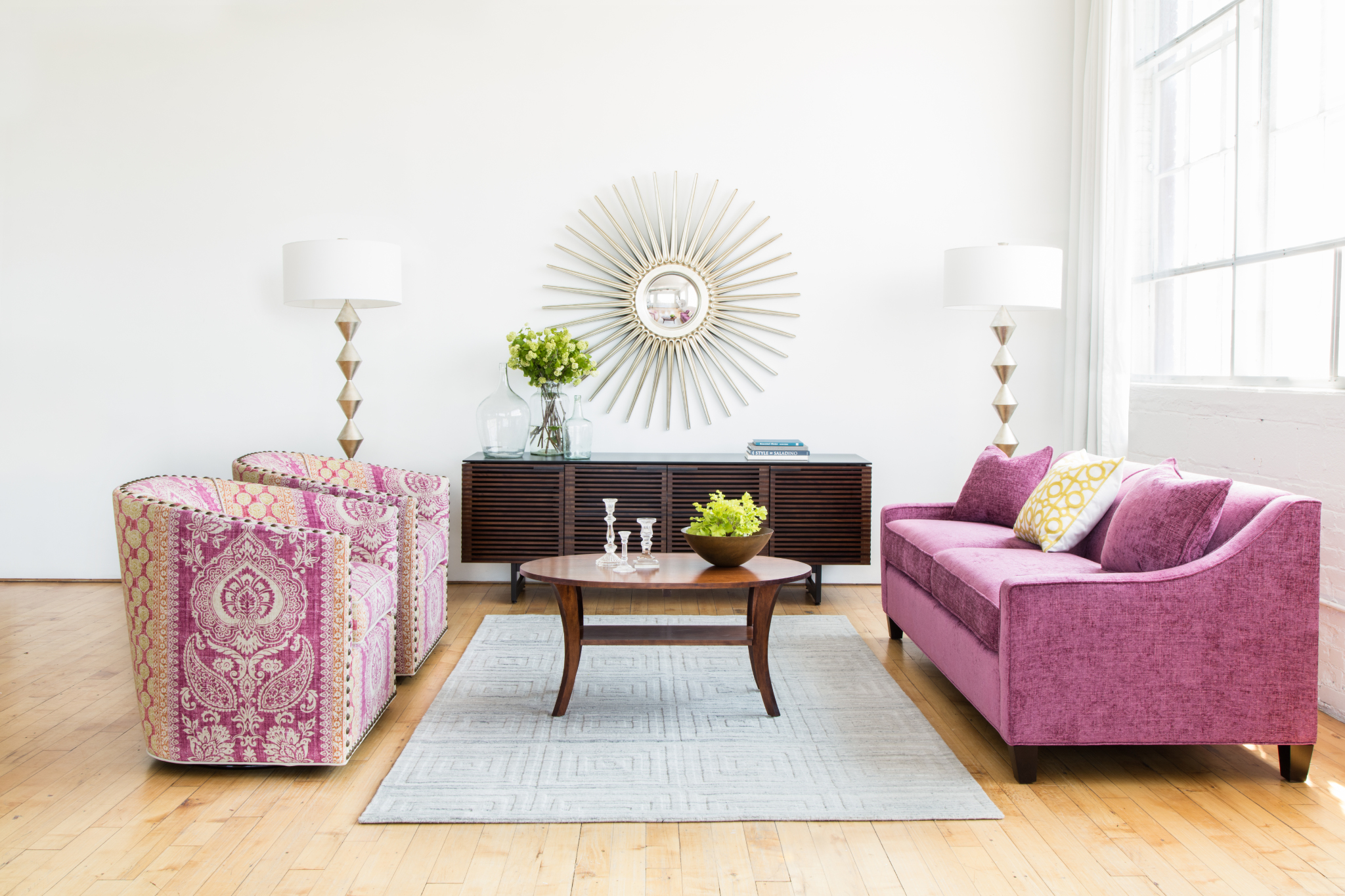 Circle Furniture - Blake Sofa with Sally Swivel Chairs
Your mid- to high-range sofas will cost you between $1500 and $2000
Sofas in this range are good quality and should hold up over time. Another plus You still get some customization options to make it your own. (A win for you!)
What's inside a mid- to high-range sofa
Frame: solid wood or plywood. Double-check - it may not be hardwood or kiln-dried.

Seating suspension: sinuous, webbed, or even 8-way hand-tied.

Cushion: the cushion-fill in this section can be difficult to decipher. Make sure to ask your sales associate.

Matching throw pillows: high quality fabric, but again, double-check on the fill. (Mid- to high-range can be tricky!)

Coverings: you'll find some matching of patterned fabric and the most fabric choices thus far.

More customization. You may be able to change your leg finish, add nail-heads, or change the seat cushion core to your comfort preference.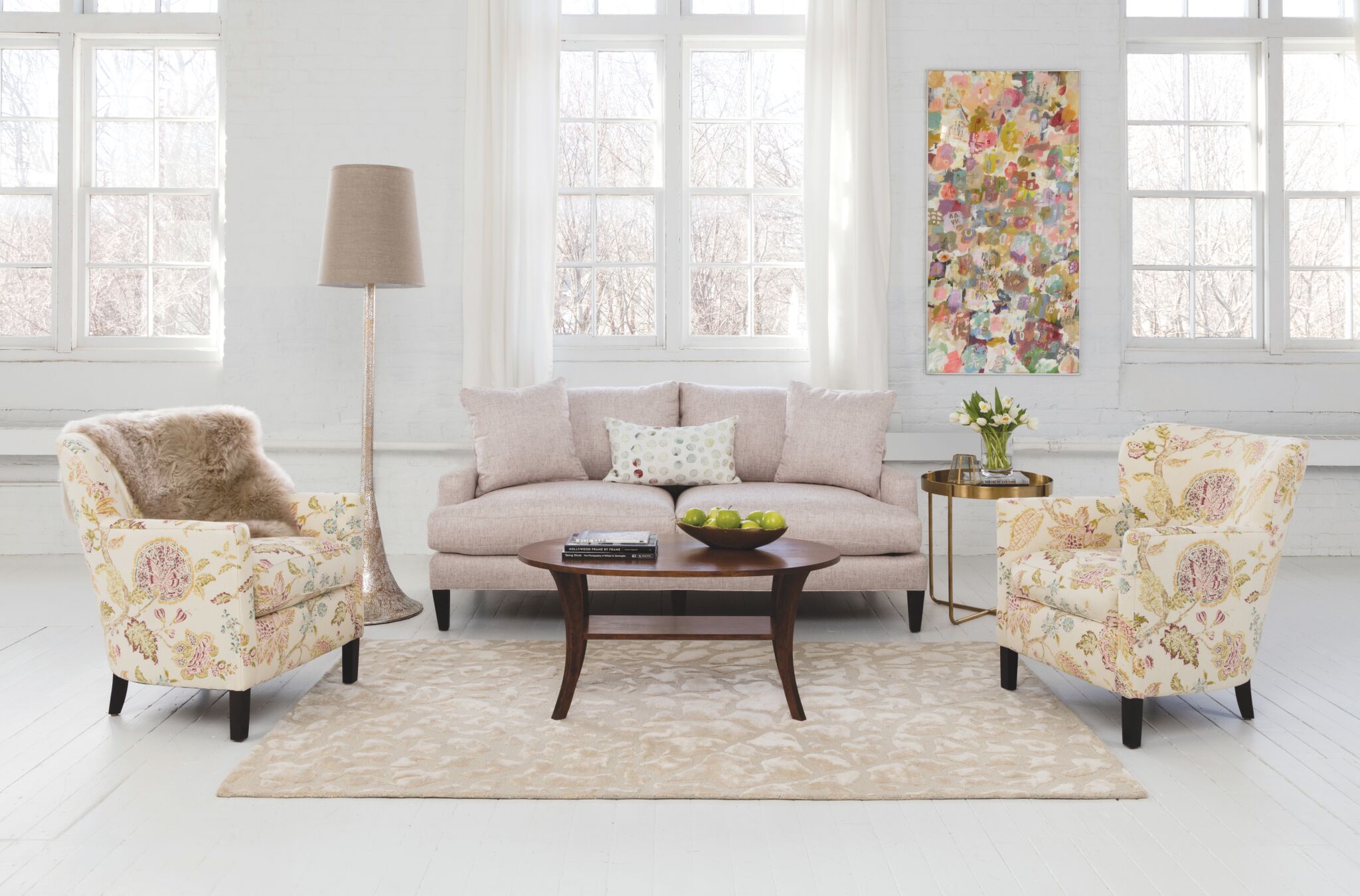 Circle furniture - Mia Apartment Sofa with Jolie Chairs
A high-range sofa will cost you more than $2000
Sofas in this price range are usually heirloom quality and with the right care, can last many years.
What's inside a mid- to high-range sofa
Frame: kiln-dried solid hardwood or hardwood plywood frames. The back will be solid and well-supported with lumber or springs, and the arms will be luxuriously padded.

Cushions: Almost entirely up to you. You can even change seat cores.

Seating suspension: sinuous, webbed, or 8-way hand-tied.

Matching throw pillows: down-filled with zippers.

Coverings: customization, customization, customization! Sometimes thousands of fabric choices. The fabric will be flow-matched over the entire piece, and you may be able to cover it with a high-performance fabric.

Tailoring: Perfection. The seams will be straight and even, and so will the skirts.

More customization. You will be able to add nail-heads, change the legs or the wood finish, add a contrast trim, welt, or fringe. The sofa itself may even come in many different sizes.
Wrapping it up
As you can see, there are many different sofas available on the market in the price range that's right for you. If you only need to keep your sofa for a couple of years "" if you know that office/lounge will turn into a nursery, for example! "" then a $600 sofa may be right for you. Something to keep in mind, however, is that the more use a sofa gets, the more important it is to get the best quality you can afford. Especially if you're interested in a piece that will transition well (and age even better!) in the midst of ever-evolving styles, it may make more sense to splurge on one piece instead of having to replace a cheaper model every few years. Other factors to weigh include your eye for detail and your desire for something unique. If tailoring matters and you fell in love with a specific fabric - go for the splurge and know it will last.
Can you buy an eco-friendly sofa at a low-price point
Right now, companies sourcing high-quality, often sustainably-made raw materials typically fall in a mid to high range price point. If this is important, simply ask - what's it made of
Where does Circle Furniture fit in
Circle Furniture proudly sells sofas in mid-, mid- to high-, and high-ranges. We're confident that you should be able to find something that is well-made, sustainably-made and sourced, and that looks great in your space. Check out our selection of sofas here.