When you're decorating a kid's bedroom you have the opportunity to inject some whimsy into the design. Their bedroom should reflect their style, interests, and hobbies.
However, it's also important to choose quality furniture that will stand the test of the time and grow with your children. We spoke with Cheryl Harrington, from our Pembroke showroom, to get her expert tips on how to design a fun and functional children's bedroom.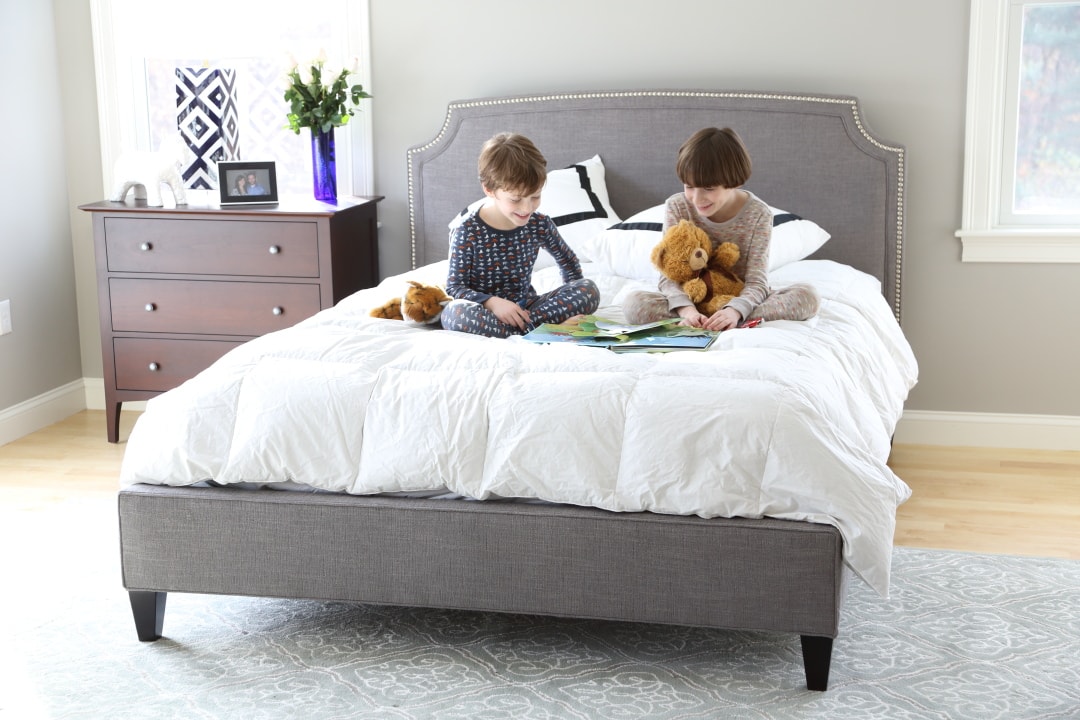 Go classic and neutral
Setting the groundwork for a kid's bedroom is all about choosing pieces that will carry them through their childhood and possibly into their adulthood.
Cheryl explains, "Kids change their minds constantly about their favorite color and their interests. It's a great idea to have a neutral wall color and timeless furniture and then you can bring in switchable accents like rugs, pillows, bedding, and art."
When it comes to the bed, Cheryl recommends a classic bed and dresser set, if you have room for it. A full-size bed is great because they can grow into it, but bunk beds are another wonderful option and can be turned into two twins down the line.
She says, "I love an upholstered bed. You can change the look to be masculine or feminine depending on the fabric, and it really softens the room. You can also do them in performance fabric." A storage bed is a great option if you need to maximize space in a smaller room.
Although Cheryl recommends a classic, ageless bed, if your child is dead-set on a racecar bed, there's no need to take it off the table! Just know that you'll have to replace it in a few years.
To add a childlike feeling to a neutral dresser you can change out the knobs for something a little more quirky and colorful. As far as color goes, Cheryl recommends keeping it classic. "A navy dresser you could grow into, whereas pink would be more difficult. Or keep it simple with a wood finish."
Watch: How to Identify Quality Furniture: 5 Features to Look For


Impermanent Accessories
Although creating a groundwork of neutral pieces is practical, it's nice to let your child have a say in the decoration. In fact, Cheryl herself knew she wanted to be a designer when she had the opportunity to choose the wallpaper for her bedroom as a child. What did choose "I had flower power in the back behind my bed, and stripes on three other walls."
Point being, there are so many opportunities to have fun and to let their personality shine.
Cheryl says, "You can add personality and color in the bedding, lamps, rugs, and artwork. I love world maps, framed chalkboards, and easels in a kid's room. It wonderful to incorporate pieces that will allow them to be artistic and inspire creativity."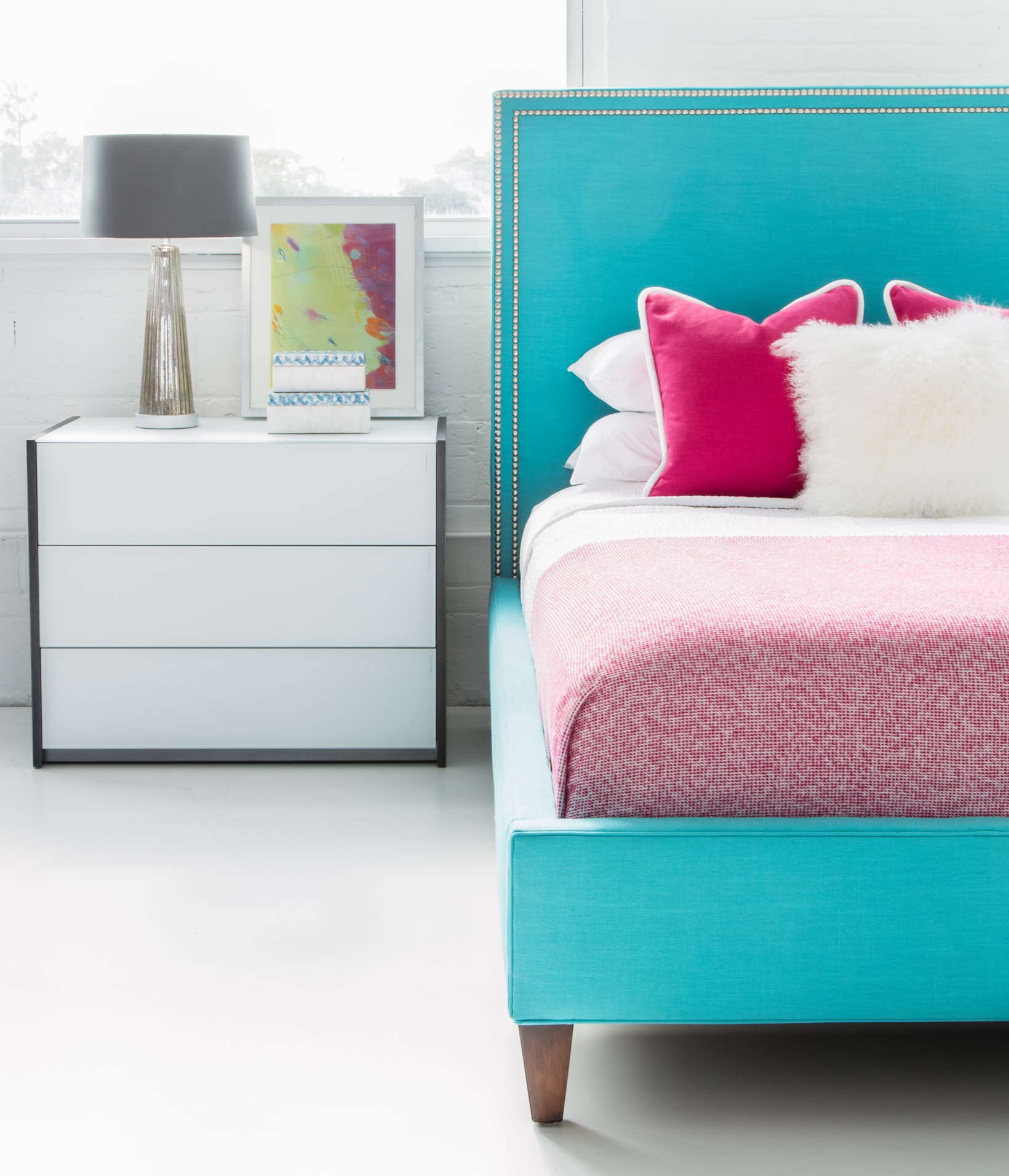 Another top tip from Cheryl Make use of wall decals. "They're so sweet for a kid's bedroom." She says. Whether they want a life-size athlete, a Disney character, or something more design orientated, they're a great way to add your child's personality into the room.
"My son had a life-size decal of Kevin Garnett. The feet didn't fit on the wall but he loved it. Plus, you can peel them off and they won't ruin the paint."
Some more fun ideas to accessorize a child's bedroom:
Frame their artwork.
Let them pick a shag rug in their favorite color.
Add a beanbag or fun chair.
Create an area for them to do arts and crafts with a small table and chair.
Lean a giant, life-size ruler against the wall to measure their height as they grow.
Read More: Bedroom Design Tips: Best Height for a Nightstand and More
Design Tips
How you choose to design your children's bedrooms is really a personal choice. Above all, we recommend investing in high-quality pieces so they'll last decades and you won't have to replace them.
Cheryl explains, "You can go for heirloom or moderate pricing, but quality is key. There's furniture out there that may not be a safe option for your home. You don't want to take a risk and blind-buy furniture that could end up being tippy or carrying harmful chemicals."
When it comes to wall paint, if your child is dead set on a bright color, an accent wall is a great option for a fun pop of color. Wallpaper is another great option, although you should be aware that your child may take up peeling off the wallpaper as their new favorite game.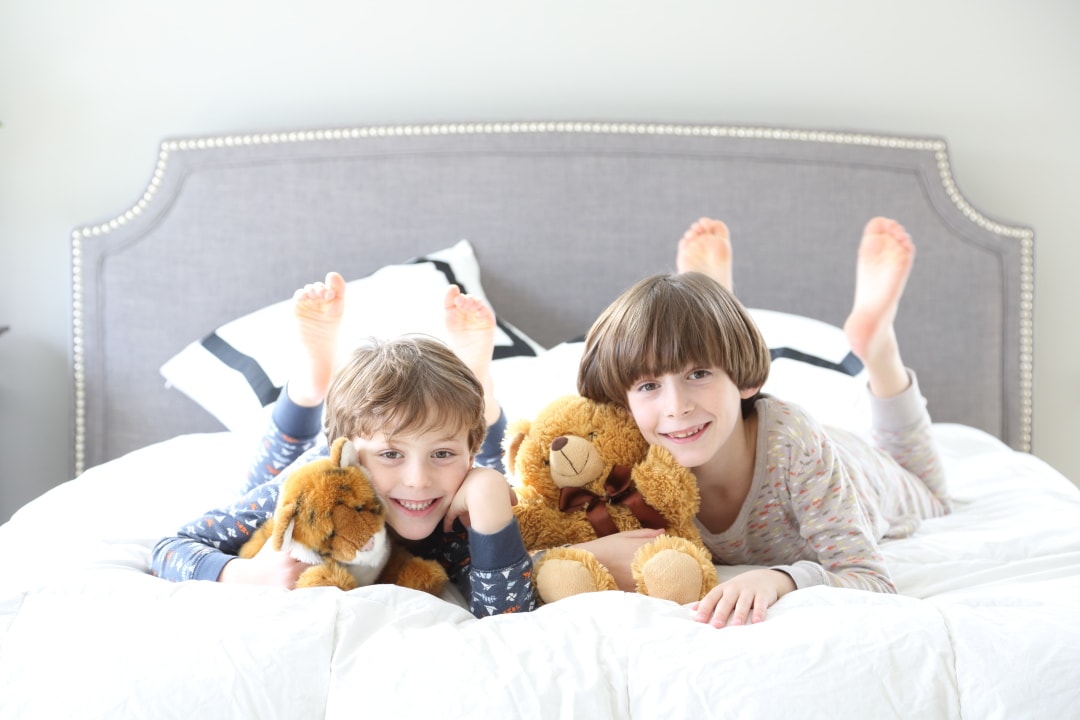 Talk with a Designer
Unlike a master bedroom, a kid's bedroom has a sense of impermanence""it will change and grow along with your child. So have fun with it! Cheryl describes, "The sky's the limit, and it's whatever your budget allows. Buy good quality furniture that'll last until they leave and have fun with the accessories and bedding."
If you're stuck and need help, or you're just looking for the perfect nightstand, come into a showroom and chat with a designer. They have years, sometimes decades, of experience in design and will help get to the bottom of what you need.
Still have bedrooms on the mind Check out these articles:



Author: Julia Maiman
Julia is a writer, blogger, and believer in the smell of old books. She has been crafting stories since she could put pen to paper. She is also a lover of dogs, traveling, and Led Zeppelin.