When it comes to furnishing a dining room, finding the right chairs to place around your table is an important piece of the puzzle. Your dining chairs will dictate how comfortable you are when you sit down to eat, plus they can blend seamlessly into the design, soften the look, or bring color into the space.
A question you may ask yourself when selecting dining chairs is whether you should choose wood or upholstered ones. To help you decide, we're giving you the information you need so you can design a beautiful dining space that's comfortable and accommodating for you and your guests.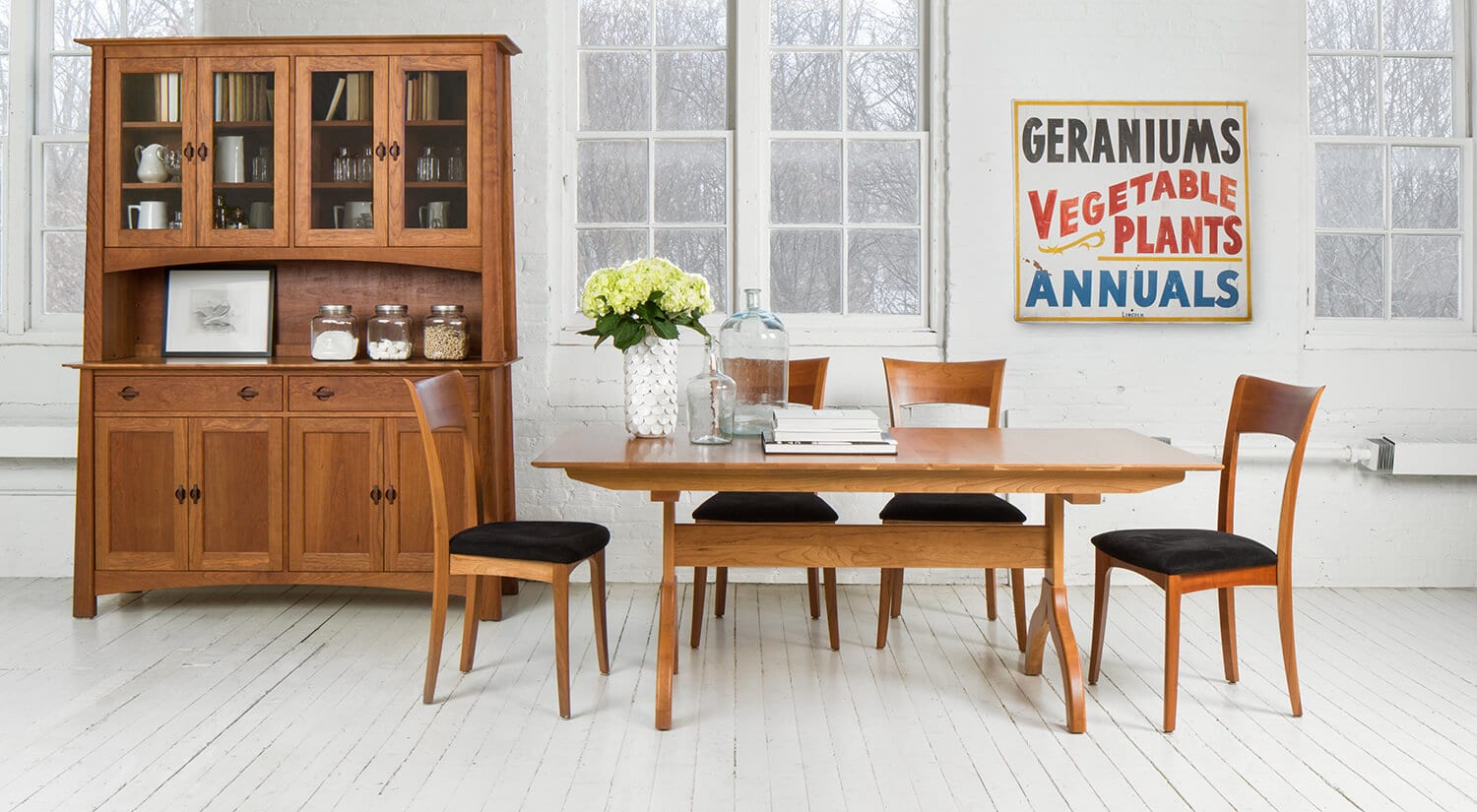 Why choose upholstered dining chairs?
Upholstered dining chairs are beautiful additions to a dining table, whether you choose to anchor one on each end or all around. They offer comfort for those who love to host or sit down for long dinners. They also have a sound-absorbing quality, which makes them ideal for an open-concept kitchen or a room that feels empty and echoic.
When it comes to style, upholstered chairs allow you to play with color and texture.
"If everything in your dining room is wood or metal or glass, it can start to look stark. Adding upholstered chairs softens the look," explained Catherine Willey, our VP of Stores.
Coordinating your chairs with your dining room's wall color, area rug, or accessories can tie everything together and add to the overall design aesthetic. Something like a beautiful gold tone on your accessories can be brought into a pattern on your chairs.
"Adding a little glimmer to the dining chairs adds a touch of elegance," said Catherine Willey. This will really help elevate the room's design if you feel as though something in your dining space is missing or it's a little plain.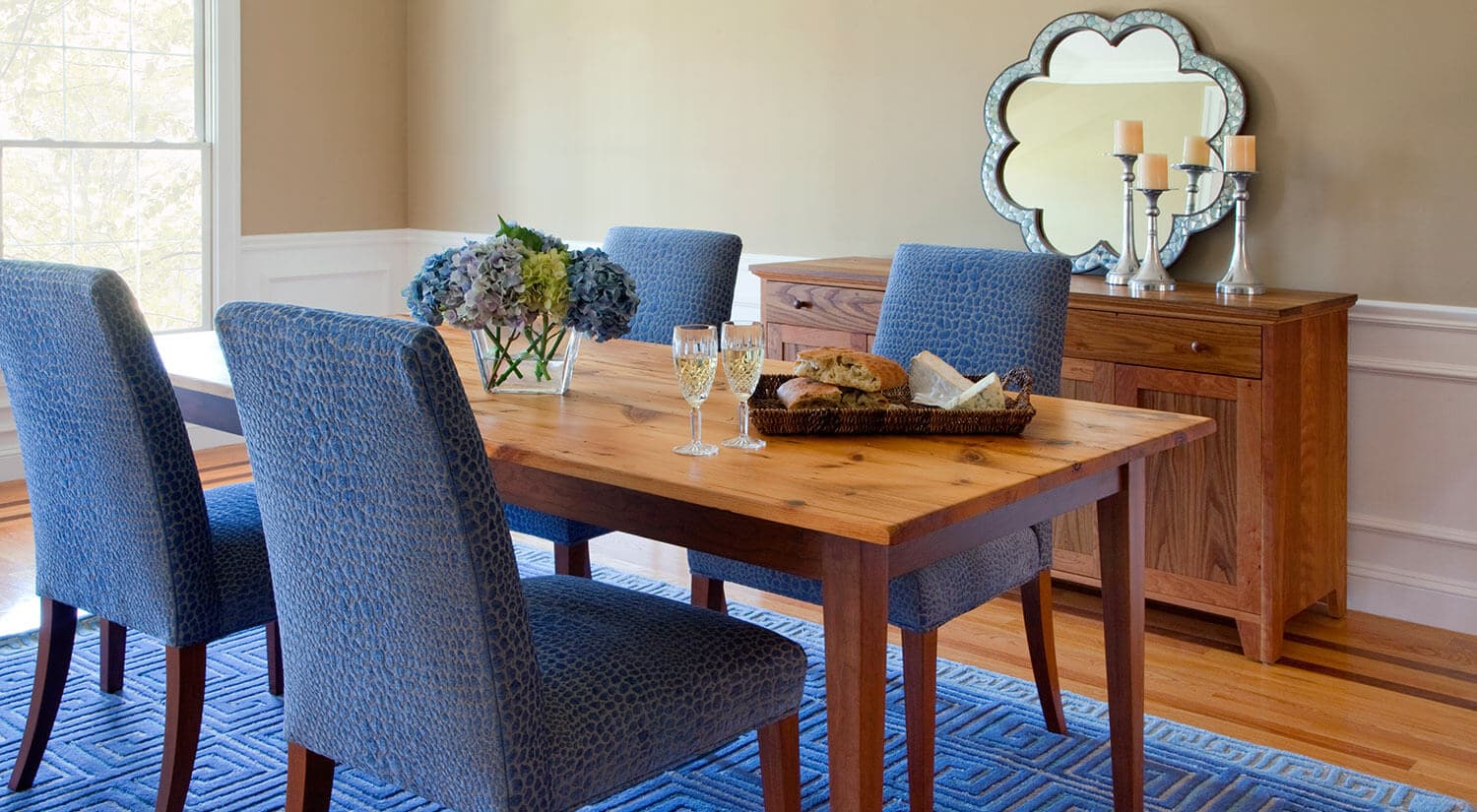 Read more: How to Pick the Best Fabric for Your Upholstery
Why choose wood dining chairs?
A huge benefit of a wood dining chair is if it's built with solid construction, it will have excellent durability and longevity. Solid wood dining chairs can be in your home for generations if treated well. They're aesthetically beautiful and they'll enhance the look of a wood dining table. Since they're versatile in style, they can also easily transition with the look of your dining room if it changes over the years.
The same applies to wood dining chairs with upholstered seats, which can be redone if you want to give them a refresh or decide your dining room needs a different look. You wouldn't have to bother with buying an entirely new set of chairs.
Read more: Homeowner's Guide to Natural Wood in Furniture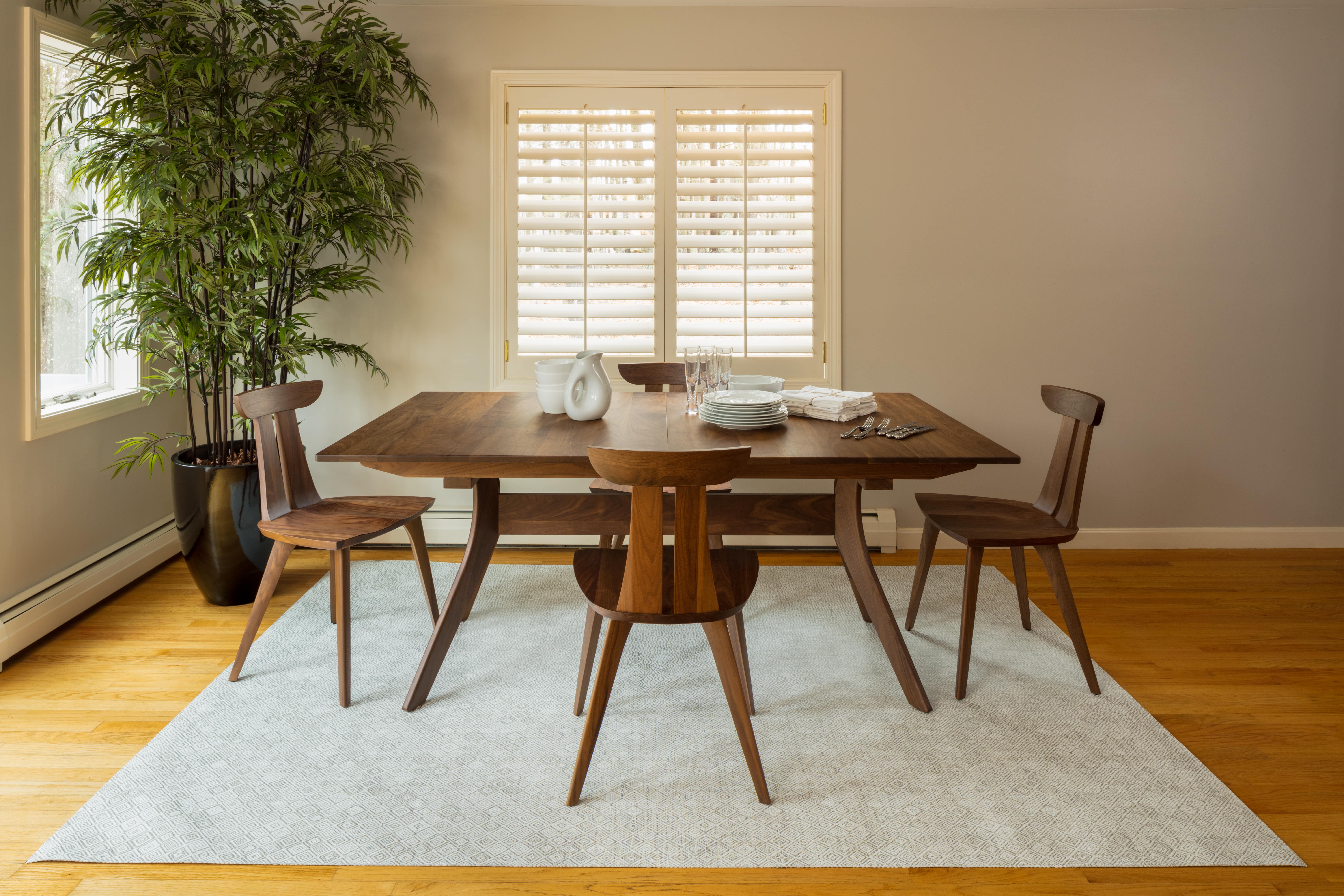 What to consider before you buy
Comfort and appearance
As you search for dining chairs, think about how you want your dining room to look as a whole based on your taste.
"It's all about creating a personalized look," said Catherine. It may be that you love consistency in your finishes and want your table, buffet, and chairs all in the same wood. For a softer look, upholstered dining chairs would be the way to go.
There's also the formality of the room to think about, whether you want a more casual or polished look. In general, upholstered chairs read more formally.
"We frequently use upholstered chairs in the dining room versus the kitchen because they can lend an air of formality," Catherine said. While this may be the case, there are variations of wood and upholstered dining chairs. A Windsor chair, whether straight-backed or bow-backed, is a casual approach to wood dining chairs. A contemporary, stylized option tends to appear more polished. On the other hand, a slipcovered upholstered chair has a casual feel whereas a Parsons style with a wooden leg is dressier.
While appearance matters, so does comfort! Something to consider about wood chairs is, as Catherine noted, "They're comfortable for just so long, depending on the shape of the chair." If your heart is set on having wood chairs for your dining room, look for ones that have scooped seats as opposed to those with flat surfaces.
With all that being said, don't forget that comfort generally comes down to personal preference. The most important thing you can do is try out different wood chairs before you decide to purchase them.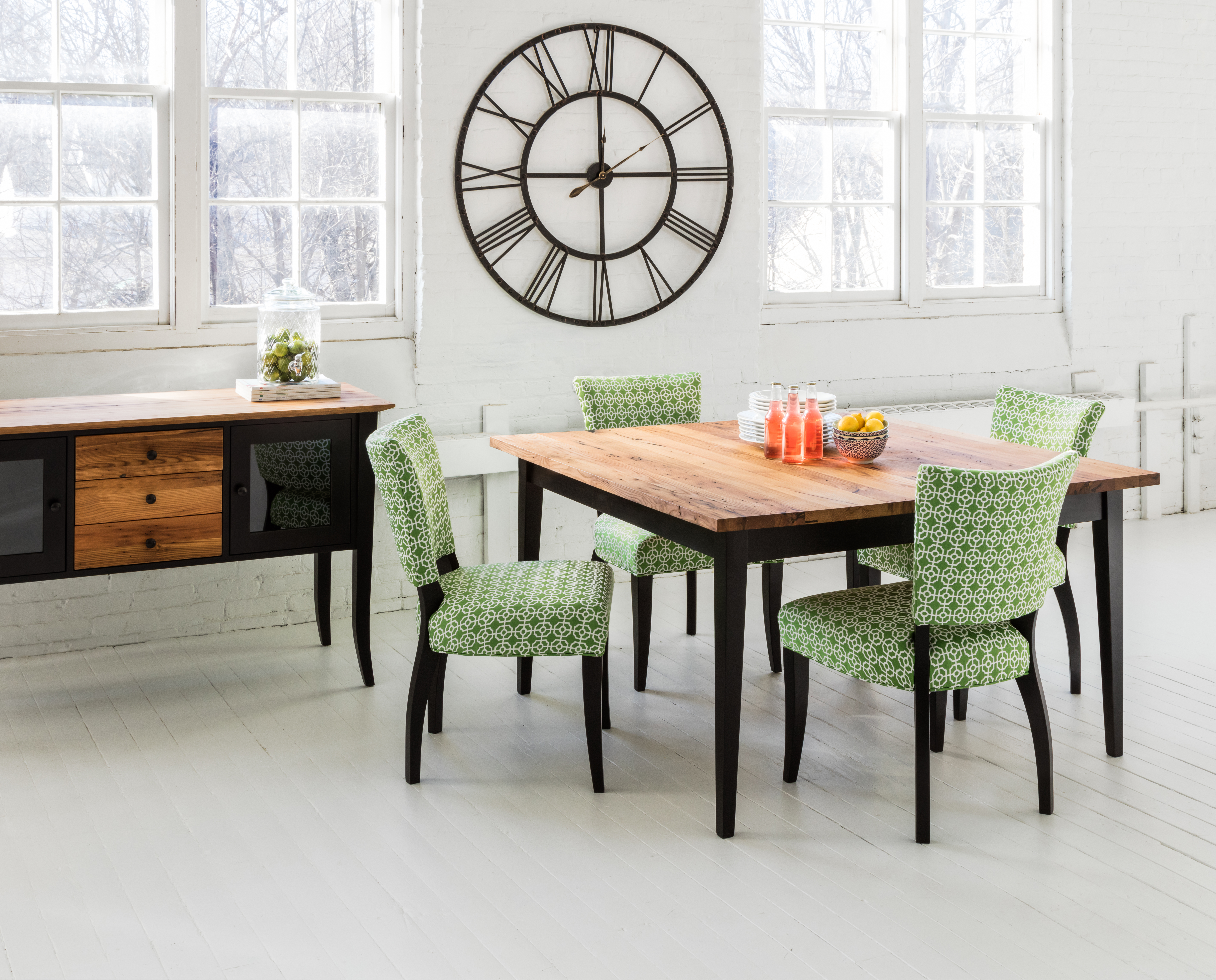 Lifestyle
Finally, you'll want to consider your lifestyle, how often the room might be used, and by whom.
"Upholstery can be a tougher cleaning situation for a young family," Catherine explained. If you have kids, it might be worth thinking about how this will affect your upholstery. Fortunately, there are great performance fabrics that can make the upkeep a lot easier.
Of course, we understand you may not want to worry about upholstery maintenance, which is completely fine! In that case, wood dining chairs might be the better choice for you.
Read more: Dining Furniture: A Conversation with a Local Craftsman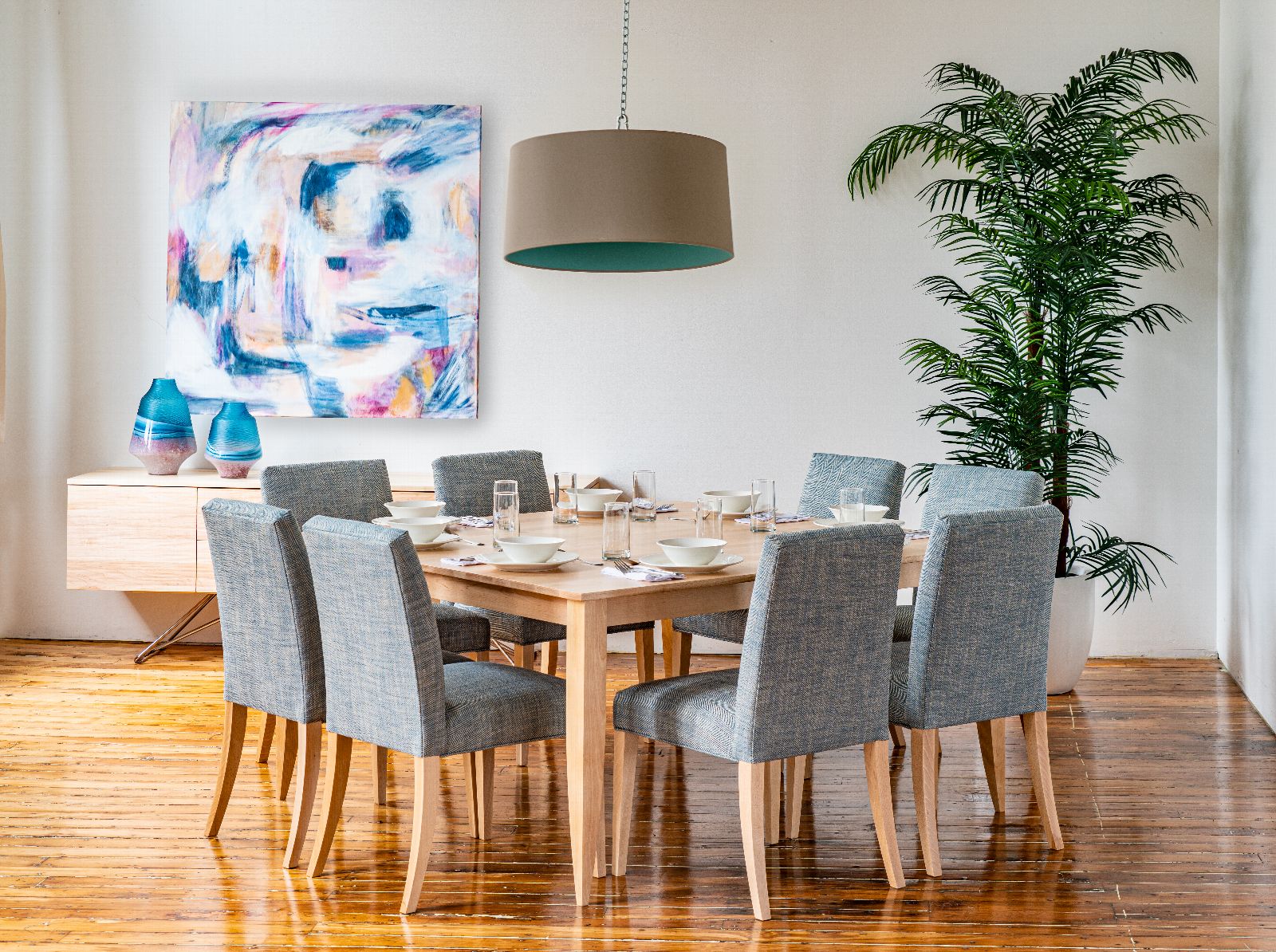 Talk to a designer
Deciding between upholstered or wood dining chairs is going to come down to what you like and how you want your dining area home to look. The best place to start your journey is by talking to a designer. Our Design Consultants will guide you through the buying process by asking the important questions to help you choose dining chairs that suit your needs and preferences perfectly. When you're ready to start browsing, come into a design center near you.