Have you ever heard of the term "fast fashion"? It encourages people to shop whenever a new trend hits the racks, satisfying the desire to keep up with what's popular. The problem is that these clothing items are typically inexpensive and made of poor quality, and you can easily dispose of them as those new trends arise.
A similar idea applies to furniture, allowing someone to purchase whatever they need at that point in time and being able to toss it within a few years. For them, it gets the job done.
Understandably, fast furniture works for some people because it's cheaper and usually serves an immediate purpose. It's no secret that furniture buying can cost a pretty penny, but there's something to be said about a well-made dining table or sofa that you can have in your home for years.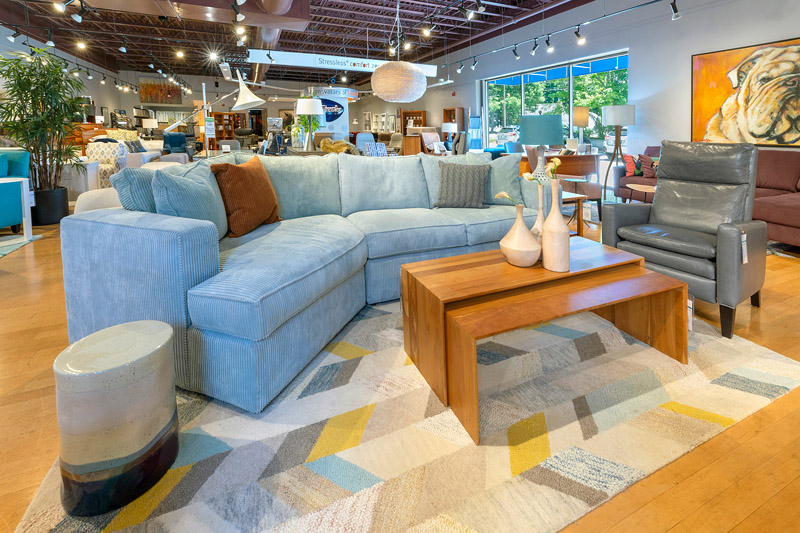 Read more: The Value of Quality, Sustainably-Made Furniture in the Home
How fast furniture impacts the environment
Fast furniture fulfills two needs: instant gratification and the desire to spend less. While this seems like a good thing, it's really only a short-term benefit.
Companies are able to keep furniture prices down by opting for materials of lesser quality, but this shortens the furniture's lifespan because it's difficult to repair or even donate. The more fast furniture people buy, the more waste ends up in landfills and oftentimes, those materials are harder to break down. Any chemicals used can be harmful for the planet and even our own health and wellbeing.
Something else to keep in mind is that all the money spent on fast furniture could go towards long-lasting pieces that are better for your home and the environment. Instead of going through the same cycle every few years of buying and then throwing away, you'll save yourself time and money.
Ways to make more sustainable decisions around your furniture
Shop with eco-friendly retailers
There are a number of furniture manufacturers whose core values center around sustainability. As you're researching these companies, you can check to see how this fits into their business model. Their production process could look something like:
Sourcing wood that's been certified by the Forest Stewardship Council

Recycling waste and materials

Using low-VOC (volatile organic compound) paints and finishes
These companies are taking part in what's referred to as "slow design," focusing on handcrafted furniture that's built with a lot of care. Furniture retailers will partner with them to offer customers quality furnishings, and although it typically involves spending more, you'll have furniture that's safer for your home and meant to last more than a couple of years.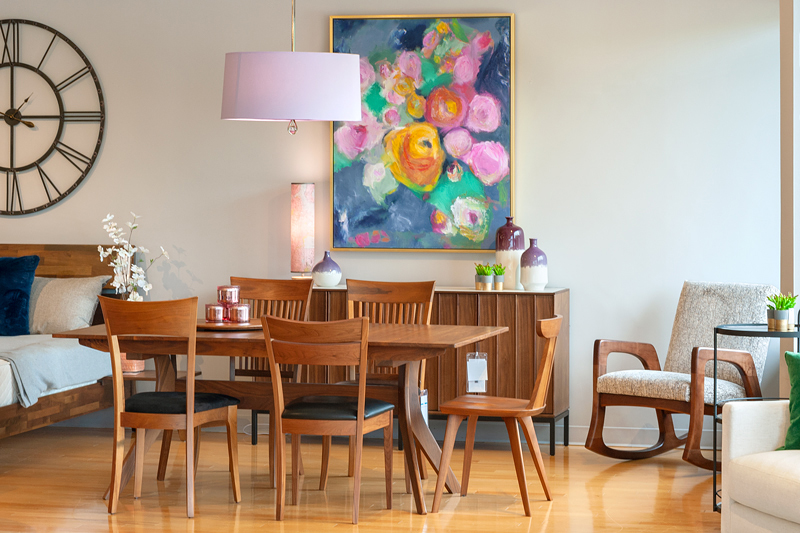 Upcycle
Upcycling furniture means repurposing an old piece that you might be thinking about throwing away. Maybe you put an accent chair in a different room or take an old sewing machine table and use it as an end table. Either way, you get to be creative with what you already own and how it will serve a new purpose in your home.
As we mentioned earlier, a piece of furniture that's built to last can be passed down from generation to generation (or to someone outside of the family). And while eco-conscious manufacturers make sure their paints and finishes contain low VOCs, used furniture is a way to avoid them altogether:
"New furniture releases the highest concentration of volatile organic compounds (VOCs) in the first year of its life, so buying second-hand is not only good for the planet, but good for your health," explained writer Katie Treggiden.
Upcycling captures the true meaning of "one man's trash is another man's treasure," helping to prevent more waste and giving someone the opportunity to put their own spin on your old furniture.
Purchase items you love
If you're buying furniture you don't love (fast furniture), then there's a good chance you'll end up throwing it away rather quickly because you didn't love it in the first place. By investing in pieces you're excited about, you'll end up having them for the long haul and, of course, help keep waste out of landfills.
At the end of the day, our decisions matter whether we realize it or not. Furniture may not be something you think of when it comes to your own health or the health of the environment, but in reality, it should so that you feel confident about the purchases you make for your home.
Author: Marycatherine Karcich