There's always excitement as the holiday season approaches. Getting your home ready for this special time of year can be really fun as you unpack boxes of lights and decorations, but doing it for winter and the holidays can be a tricky task. When setting up your home for both occasions, how can you make sure it remains cozy and festive, even after the holidays are over?
Decor for the winter and holiday seasons
Focus on the warm and cozy
Holidays or winter, coziness is something we all want in our homes. To achieve this, you can bring in textures on your throw pillows and blankets to help create an inviting, comfortable space for you and any guests who may be coming over.
Color is another element that can influence the theme of a space and represent the season. As Jennifer Wing, our Acton Store Manager, put it, you can use color to bring in some of that holiday cheer without getting too literal, an important aspect in designing your seasonal room.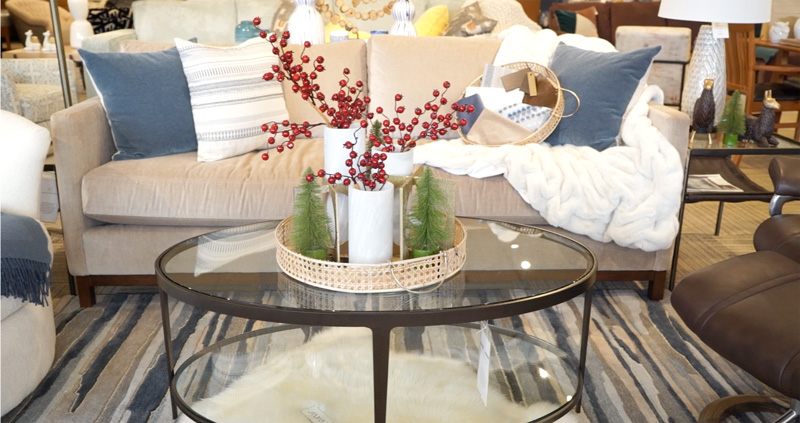 "We used natural winter colors and textures as a guide when decorating our vignette," Justin Martel, a Design Consultant in Acton, explained. "Blues, grays, browns, and white set the tone for a winter theme. Festive trees add subtle holiday flair while faux fur invites a soft, comfortable, and inviting touch. The wood shelf behind our Stressless chair made a big impact, adding another layer of texture and warmth to the space. Picture frames lining the shelf remind us that the most important part of the holiday season is our friends and family."
Now brown may not always be a color you gravitate towards, especially for the holidays or even winter, but "wood tones cause us to think about fireplaces, leather boots, and leather gloves - things that we associate with being warm," said Jennifer.
Rethink your color scheme
Speaking of color, red and green likely come to mind when you think of the holidays, but you don't have to opt for bright tones. Instead, Jennifer suggested hunter or sage green and red with pink undertones for a softer or darker look that still represents the holidays.
If you'd prefer something non-traditional, turn to nature:
"My winter color inspirations are the warm browns you find in bare trees and dormant grass, icy blues, snowy whites, and the cool shades of gray found in a winter sky," shared Justin. By leaning into these more natural colors, you can keep your decor up all through the season.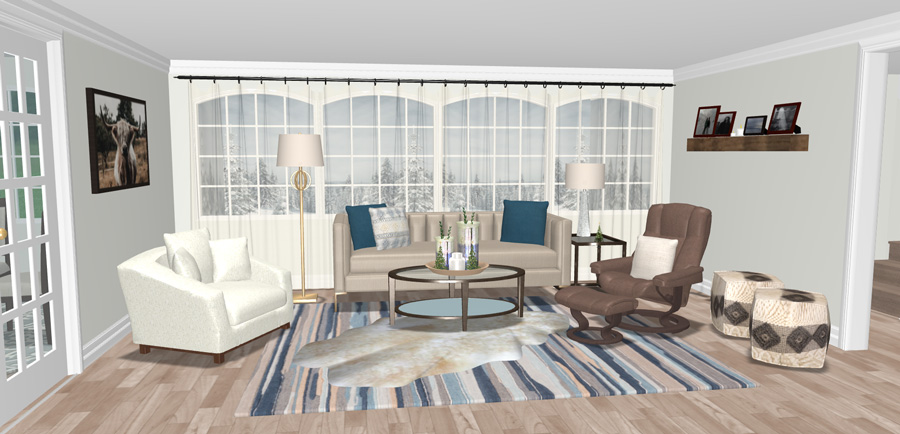 For those who celebrate Hanukkah, blue and white are traditional colors that also represent snow and cold weather. Once the holiday has passed, you can bring in some of that brown, whether it's on a chair or a few accessories, to balance the blue with a warmer tone.
Go from holiday to seasonal with ease
As you begin decorating for the holidays, you can make it easy so your future self doesn't have to start from scratch once they're over (aka your seasonal decor will still be there). The key here is having the flexibility to make quick changes.
"You can use your existing wall art as holiday decor by wrapping it in seasonal wrapping paper and bows then putting it back up where you had it! How is that for a holiday hack?" said Justin.
"Throw pillow covers are another great way to switch it up for the holidays without having to store extra pillows," he continued. "Using a collection of different sized candles as a centerpiece on the dining table or coffee table is another easy switch you can make during any season just by swapping out the candle holders to fit the theme."
Layering also allows you to add and remove different items for both the holidays and winter. Just like you would layer your clothes, you can do the same in a room using pillows, blankets, and even a faux pelt on top of your existing carpet or rug - just as you see in the vignette.
"If you want to go more holiday, you can bring in holiday-themed blankets and pillows, and then you can just pack those away after," said Jennifer.
You can also incorporate subtle touches that are still reminiscent of the holidays as opposed to obvious patterns like Santa or elves. Justin recommended wood or metal reindeer silhouettes or cone shapes that resemble trees. This approach would be ideal for someone who doesn't want to take their decorating to the extreme or wants to keep things tasteful.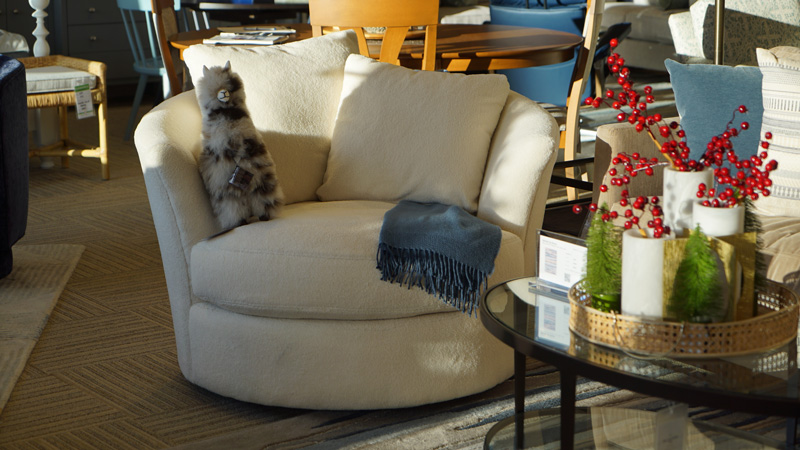 Keep the holiday magic
For families with young children, there's a desire to capture some holiday magic your kids will love. Depending on your tastes, you can achieve this without feeling like it's over the top or by keeping it simple so you can still transition from holidays to winter season.
"One of my favorite holiday crafts as a child was the paper chain that counted down the days to Christmas," shared Justin. "We hung it up on the wall and I snipped one chain every day until Christmas. You can choose whichever colors you like for the paper chain and hang it however you like: vertical or horizontal. And it's gone by Christmas day!"
If you're like Jennifer, you can stay consistent with one theme to maintain a cohesive look throughout your home:
"When my kids were younger and we would decorate the tree and things like that, I always selected Christmas ornaments that had the same feeling as the rest of the space," she explained. "If I was doing a red and green flow in the house, I would select red and green that matched. If I was doing something more in the winter vein, I would do white, silver, and blue ornaments and decorations for that year. We would get snowmen and snowflakes as opposed to Santa Claus and reindeer."
Read more: What We Love Most About Our Homes During the Holidays
Come decorate your home with us this holiday season
If you're looking to prepare your home for the holidays so that your decor lasts all season long, we'd love to help! Stop by one of our design centers in Massachusetts and New Hampshire to see us and we'll help you create a cozy winter oasis.
Author: Marycatherine Karcich