Open sight lines have become a common 'must-have' when people are searching for a house. This open concept way of living allows for connection in the home, making conversations easier and bringing everyone together.
Since an open floor plan means there's one flow throughout the entire house, there may be less of an intimate feel. And who doesn't enjoy an element of coziness in their home, especially during the cold winter months?
Store Manager Linda Taylor and Design Consultant Anne Bugatch, who both work in our Boston - Back Bay showroom, offered their insight to help you achieve intimacy within your home's open floor plan.
Read more: Cozy Living Room: How to Add Warmth to Your Decor
Intimate spaces in an open floor plan: Starting from scratch or repurposing your space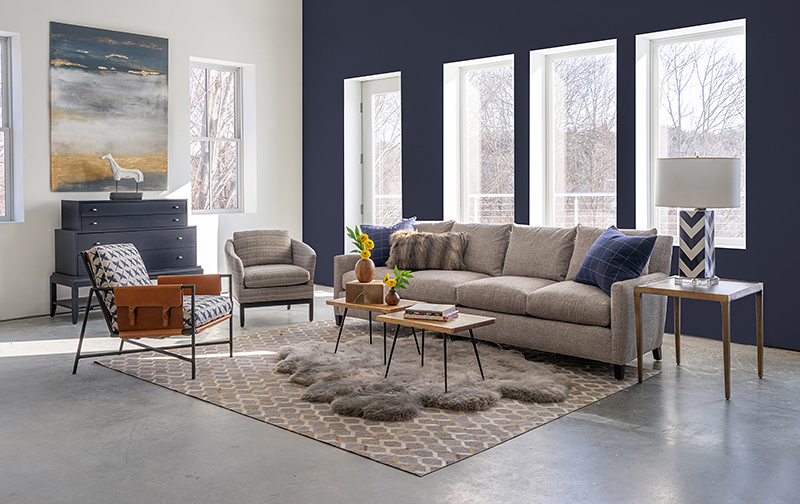 If you're starting with a blank slate, aka buying a home with an open floor concept, furnishing and designing for those intimate spaces may be a bit easier.
But what should you look for?
Linda suggested visual divides like screens or open bookcases. The latter can work efficiently if you need a separate office:
"The openness of the bookcase allows for you to see into the space, but create separation," Linda said. Something like the Semblance by BDI can do this while giving you the flexibility to customize whatever you look you want with its adjustable open shelves and cabinets.
Additionally, purchasing area rugs can help define each space within your floor plan to differentiate your cozy corner from the rest of your home.
Now say you've lived in your house for a number of years, but you want to give it a more intimate feel. How can you repurpose what you already own?
Anne recommended flipping the location of different rooms:
"Some open floor plans do not designate a living room or dining room. So being creative with the placement of furniture can help with creating coziness," she explained.
"Maybe the dining table was too small for the "dining area," but when it was moved up to a window in a smaller part of the open floor plan it gave the dining table a more proportionate space to reside in."
Design elements that will help create intimate spaces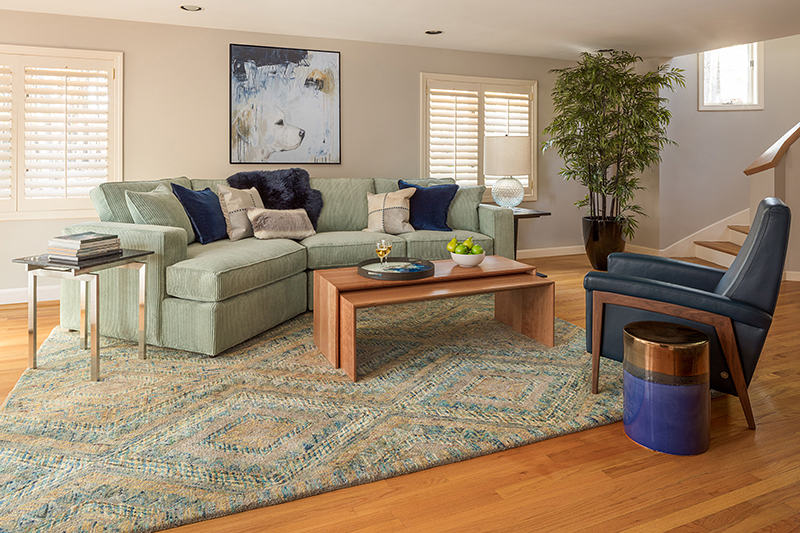 Once you've defined intimate spaces in your home, it's time to start creating the mood. You can do this by representing your senses:
"A room takes shape not just from what furniture is placed in the room, but what the atmosphere is like," Anne explained. "That's where our other senses come into play. Are there interesting objects or art to look at? Are there good scents? Are there good sounds?"
For those cozy vibes, you can use things like:
Soft lighting
Candles
Music
Plants
Layering is another way of creating intimacy. Color, texture, rugs, and accessories all make up the layers that contribute to the coziness of a space. Linda recommended soft textures like real or faux sheepskin and an earthy color palette.
While an intimate space offers comfort and relaxation, you don't want to overcrowd it. You can place your furniture strategically within your home to give each piece room to breathe. Less is more may also help you keep accessories to a minimum so the space doesn't feel cluttered.
Get in touch with a Design Consultant
There's nothing like having a cozy corner you can retreat to during the winter or when you just need some quiet time. If you want to create that intimacy in your home, get in touch with one of our Design Consultants and they'll work with you to bring this vision to life!
Author: Marycatherine Karcich