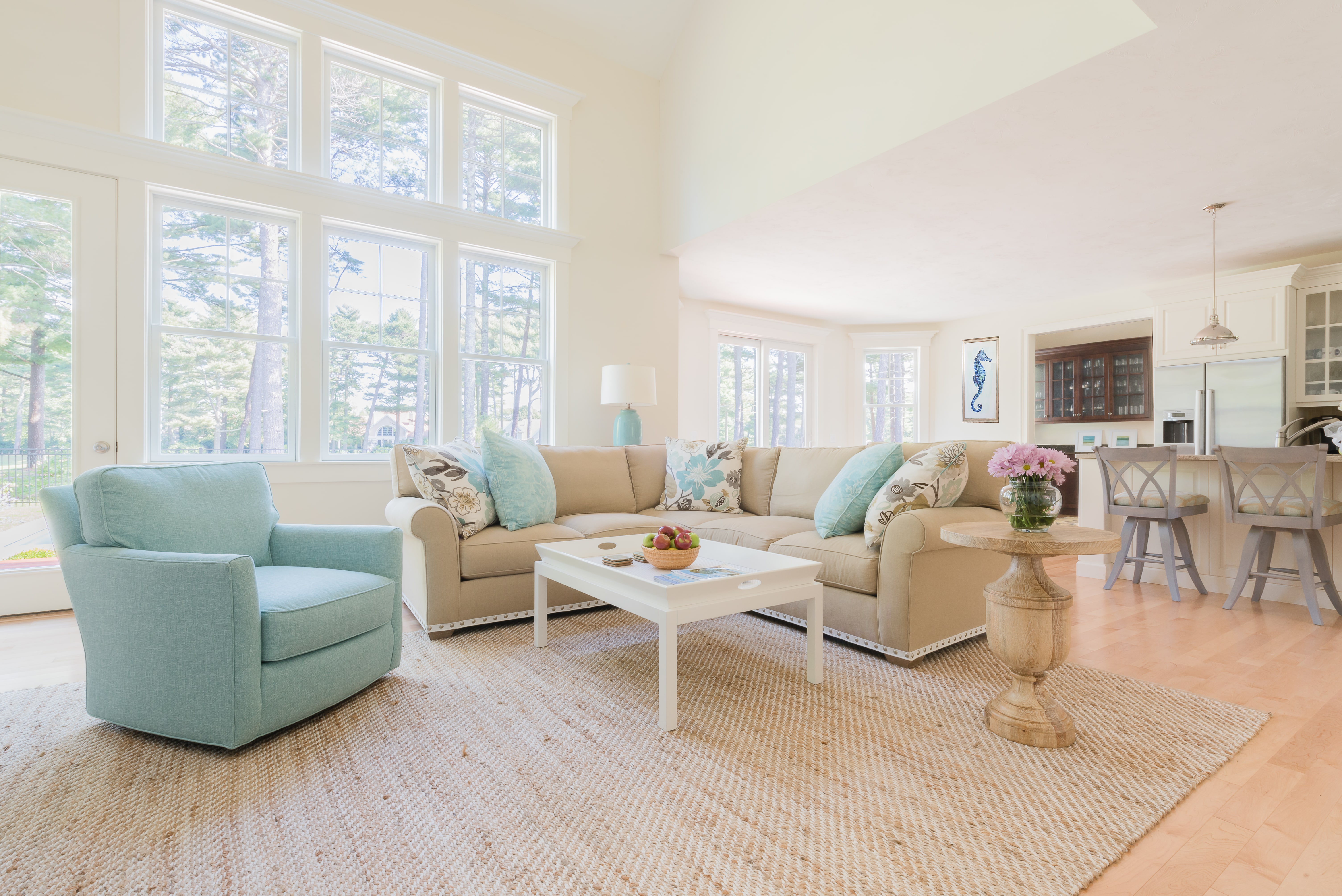 Open floor plan living areas are incredibly beneficial to the flow of a house. They're great for entertaining, they invite conversation, and they allow you to easily transition your decor from one space to the next. They do, however, provide somewhat of a challenge.
The best way to make a open floor plan work is to differentiate the spaces in your home, like a kitchen and living room, so that they're both functional and beautifully cohesive.
We're taking you through everything you need to know to make your open floor plan work for you.
Define your space
Determine how you're going to define the two areas. Placement of furniture is key, and it becomes more important the larger the area is.
Generally, the easiest way to do this is to float your furniture. This may mean placing a sectional or a sofa facing away from the kitchen, with two upholstered chairs beside it.
It could also be a case of using your dining table as a divider. If your open floor plan will be used as a dining space, then it's important to place your table as close to the kitchen area as possible, being sure to leave 2 feet on all sides for traffic flow.
In the living room area, it's best to design around a focal point, whether it's a TV, a fireplace, or a window. Your largest upholstered piece, like a sofa or sectional, should face the focal point, and then you can place upholstered chairs around it to create a conversation area.
Cindy, our store manager in Middleton, advises, "An easy way to ground the living room area is to place an area rug situated underneath the conversation area."
Considering the amount of space you have, you can place a buffet, open bookcase, or a low table behind the sofa to distinguish the two spaces further.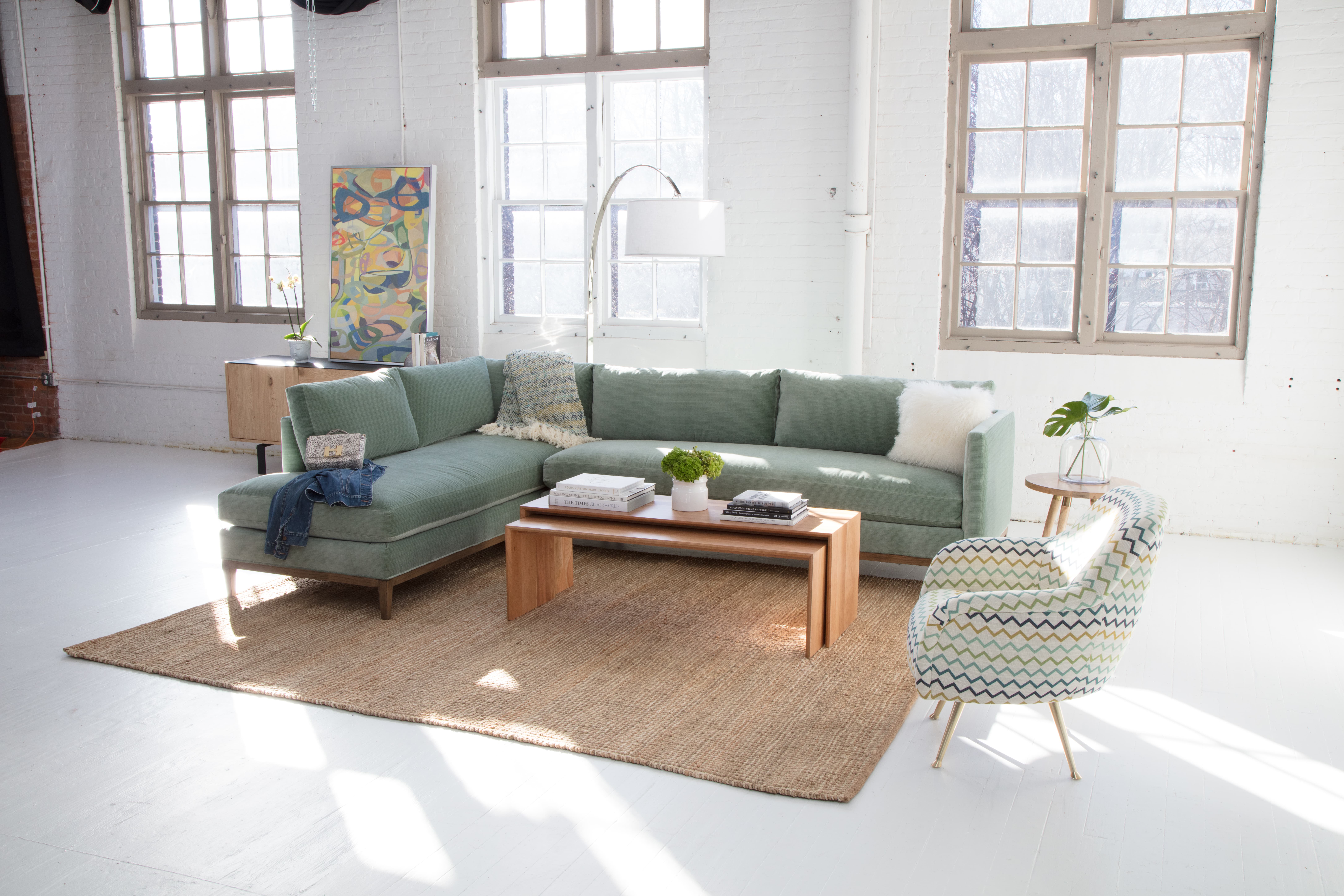 ---
---
Coordinate
Equally as important as defining the two areas is coordinating them. However, this doesn't necessarily mean everything needs to match! A simple way to ensure there's cohesiveness in the space is to keep the wall color the same throughout, and tie the design together by using coordinating accent colors in both areas.
For example, coordinating a pop of color in the living room with the same color in your tiled backsplash in the kitchen. Whether it's a color palette or a theme, like travel, it should be carried into both spaces.
If you're starting from scratch, choose a piece with colors that inspire you and pull your color scheme from there, whether it's a patterned sofa or an area rug. From there you can bring in contrasting tones, pops of color, and textural elements.
Read More: The Ultimate Guide to Space Planning
Keep it cozy
If you're not careful, an open floor plan can read cold. Especially if it's a larger space. Fortunately, there are a few simple changes you can make to ensure your home still feels cozy and inviting. Here are some ideas to consider:
Floating your furniture is the first step in ensuring the space feels cozy. If all of your furniture is pushed up against the walls, your space may start to feel like a grand ballroom - and not in a good way.
Use the space to your advantage! Place a bar cart in the corner for entertaining, or a media cabinet for extra storage.
Pull in warm tones in your decor, like gold, red, or a deep taupe grey.
Bookcases on either side of a fireplace or a TV instantly warm up a room.
Add in textured pillows, a fuzzy ottoman, candles, and warm throws.
Use your wall space for artwork, pictures, and mirrors.
Dark paint on the walls generally makes a room feel cozier. It does, however, tend to make spaces feel smaller, so it's a matter of personal preference.
Read More: Cozy Living Room: How to Add Warmth to Your Decor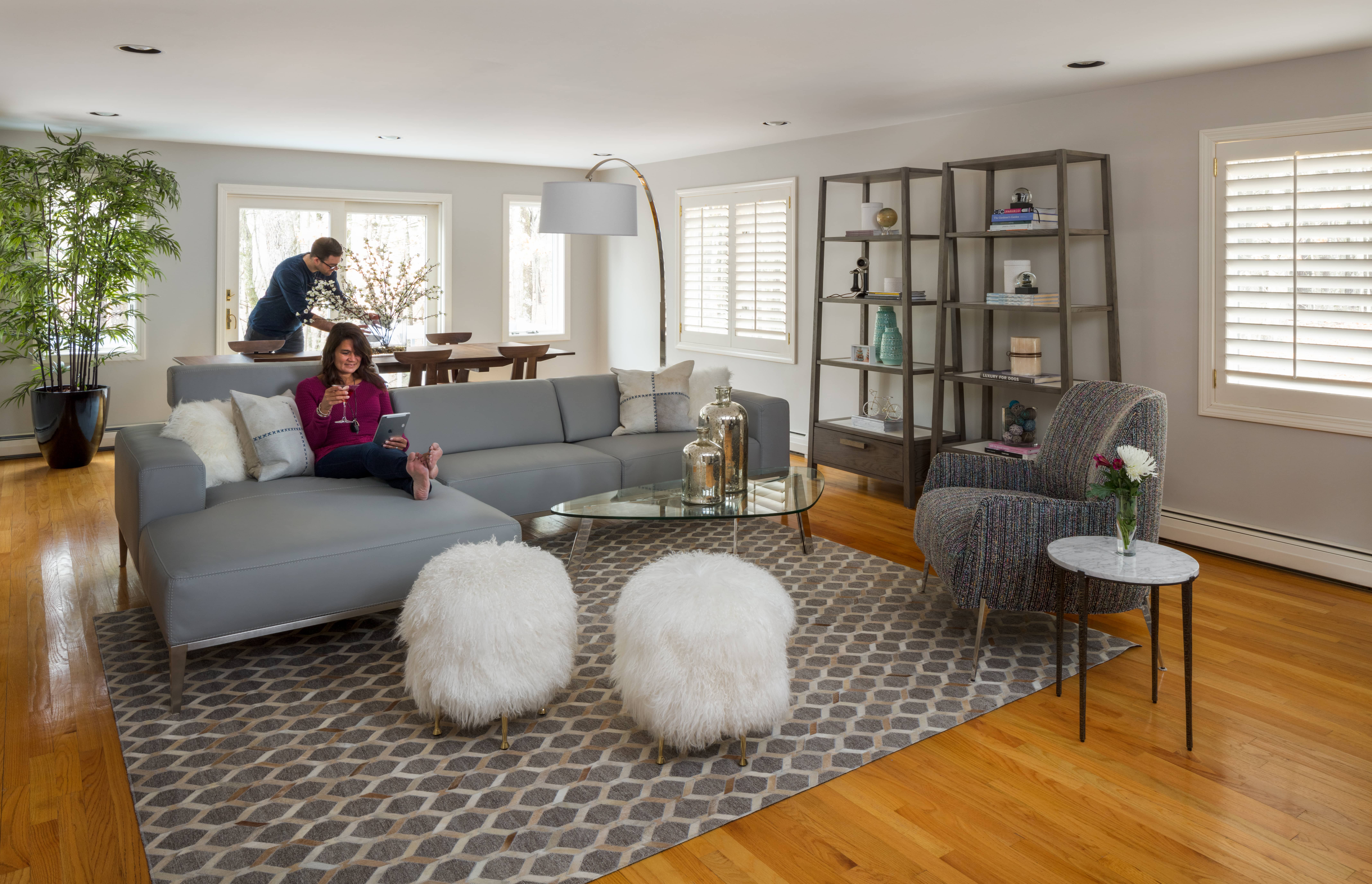 Final Thoughts
Decorating an open floor plan is about defining what the two areas are being used for, while at the same time coordinating your decor and incorporating your color scheme throughout the space.
It's important to consider traffic flow and create a floor plan before you begin decorating. Finally, bring in cozy elements to tie the room together and add warmth. Whether you're just starting the design process or you're looking to fill out your space with accent pieces, our designers can help.
Come into a Circle Furniture showroom and explore our customizable range of beautiful furniture. Meet our designers!