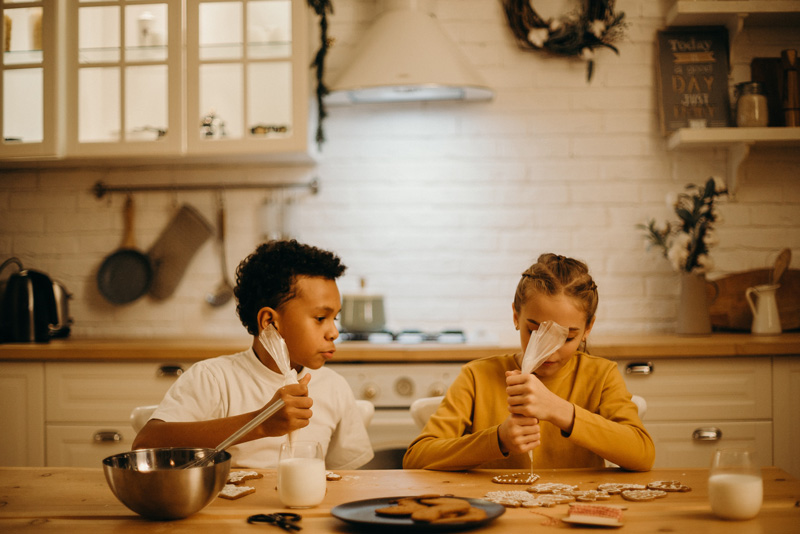 When the weather gets chillier, I always seem to find myself mixing up a delicious dish in the kitchen a little more often - whether it's a batch of breakfast biscuits or a filling autumn vegetable soup for dinner. Making the kitchen your own is key to feeling comfortable and happy in your space while capturing the essence of hygge.
Sometimes it can feel like a challenge to switch things up for the seasons. If your kitchen is primarily decked out in whites and neutrals, giving you a uniform canvas to work with, how can you bring out the feelings of fall and winter?
Luckily, small tweaks can take your kitchen from breezy to cozy, all while letting you personalize the design options along the way.
Consider how any one of the following updates or changes could bring warmth and charm to your winter-time cooking area. What's more is that any of these modifications will only add to your home's appeal if and when it comes time to sell and buy a different home. Many of them will be accent options you can take with you to your next home!
Swap in Cozy Wood Toned or Plush Stools at the Kitchen Counter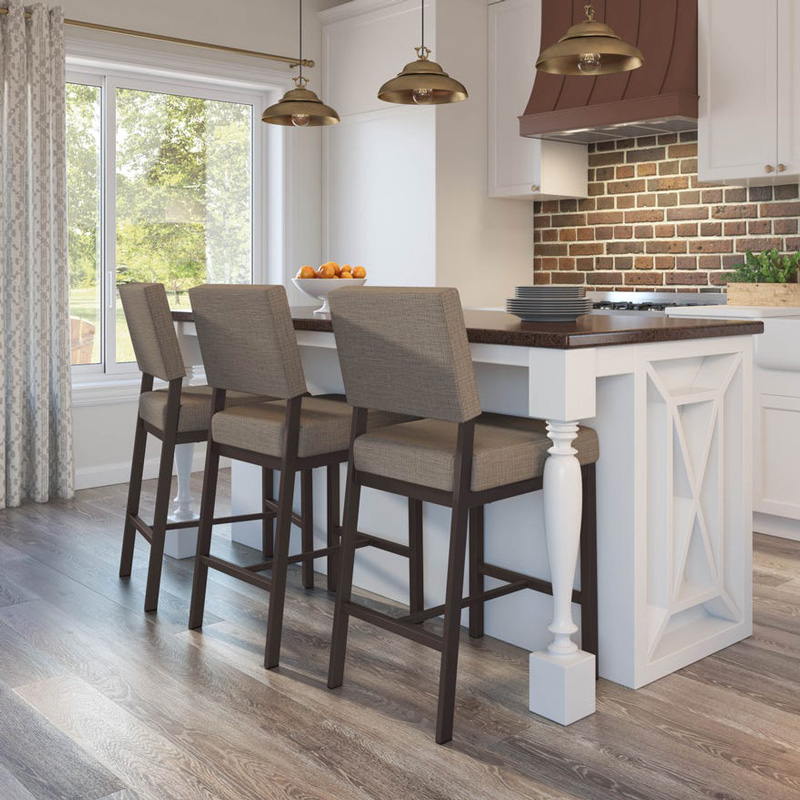 If you've had a set of metal or other modern kitchen stools, bear with me here. Consider whether your cozy look would be heightened by switching to wood toned or plush bar stools. Nothing says "settle in with your cup of hot cocoa" like a soft, cushioned bar stool with a back. A child can perch there and tell you about school while you cook or clean, or a friend can sip a glass of wine while you catch up and laugh - it's really a move toward kitchen-based comfort and connection.
A silver-edged, blue, or white cushion can look great in the winter if you aren't much for all-out red-and-green, but still want to honor the season.
Create a Cozy Dining Area of the Kitchen with a Farmhouse Table
There's something deeply cozy about a wood table with bench-style seating. If your kitchen is open to the dining area, adding a farmhouse table and benches creates a new feel for dining and lends a general comfort to the whole space, kitchen included. Even better is pushing one of the benches against a wall, if available, and adding some autumn toned cushions or throw pillows in dark reds and oranges. For the tablescape itself, aim for candles, green and silver table runners and placemats, or even a little holly to create a festive winter atmosphere.
Enjoying family-style dishes at the farmhouse table is an old-fashioned tradition, which makes for a pretty nice feeling when cozying up at home during the cold months. If winter holidays are all about togetherness, scooting down a bit to fit one more person at the table is a great way to bring everyone a little closer.
Consider Open Shelving for Seasonal Decor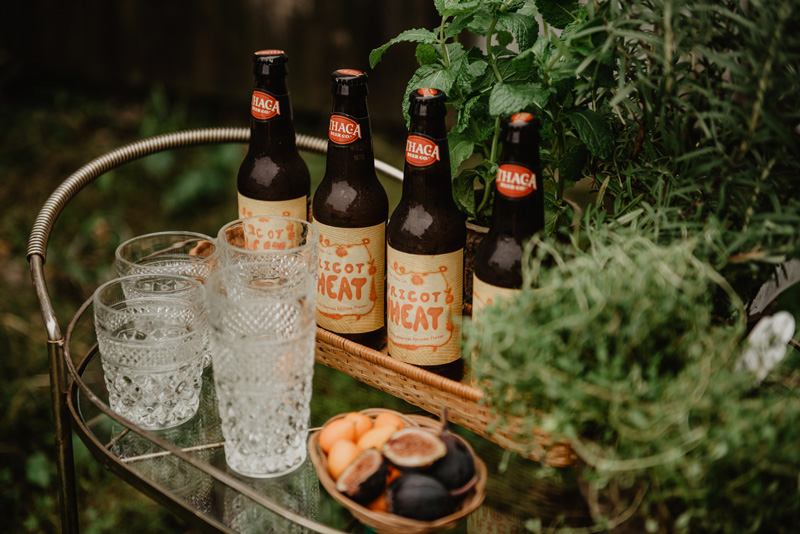 Some must-have items for making your kitchen or dining room seasonally themed are open-shelf units like hutches, bar carts, or sideboards. No matter which piece you have in your home, displaying red, orange, and yellow pottery gives it a totally different look than pastel-colored decor for spring or vibrant garden tones for summer. In the winter, we suggest combining greys, silvers, and light blues with a little bit of nature, be it an evergreen branch or even a fluffy fake snow if you're feeling that look!
Additionally, any drawers on a hutch can easily store dishware you're not currently using or displaying for easy rotation each season.
Add Warm Light and Greenery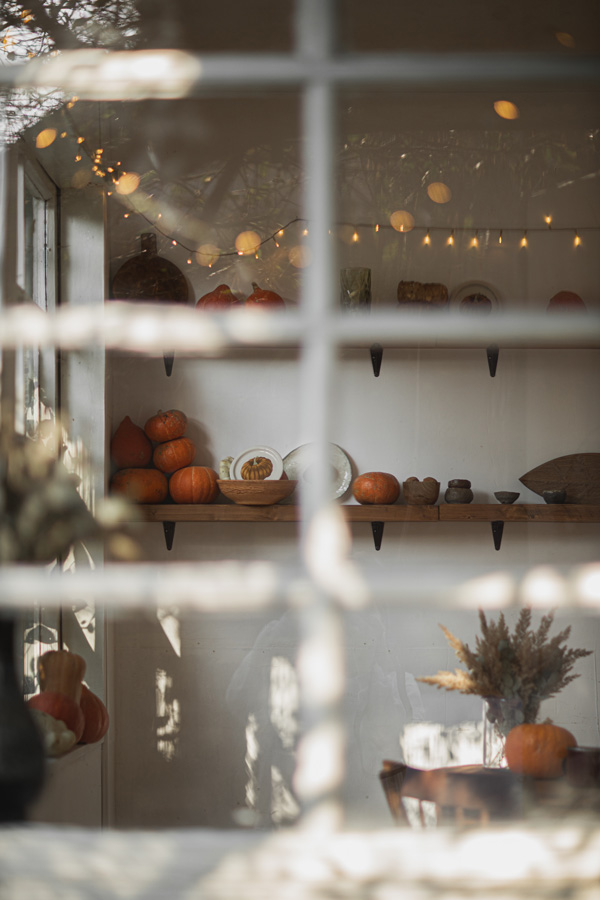 Two additional sources of coziness for your kitchen are lighting and greenery. When you switch out bright white bulbs for warm yellow ones or opt for pendant lights with lower brightness, you bring a soft glow to the space that's quite unlike anything else. If you want easy options, consider installing dimmer switches on your typical lights so you can have bright light when you need it and dim light when you're entertaining on a cold winter's night.
Greenery can also create coziness, especially evergreen branches or wreaths. Winter plants, like poinsettias, or year-round plants, like indoor vines and bushes, can make your kitchen feel comfortable and at ease. At the same time, live plants purify the air. If you only have silk or faux plants, a nice benefit is you don't have to worry about wilting.
Remember that making your kitchen cozy should take advantage of all the beauty your current kitchen has to offer. The elements you choose to add should be ones that will inspire you to settle in with a hot mug of tea or coffee and soak up the atmosphere yourself.
For even more home trends and tips, check out HomeLight's recent Top Agent Insights report. Enjoy!
Laura Leavitt is a Freelance Writer with a passion for real estate, home improvement, and personal finance for those big life choices.