As a local New England company, we're proud to say that many of our vendors are based right here in Massachusetts, Vermont, and New Hampshire. We partner with furniture makers that take their craft seriously and, of course, make beautiful, handmade furniture.
We talked to Peggy Burns, Co-owner and Queen Bee of Circle Furniture, to highlight a few New England furniture makers we love.
Maple Corner Woodworks
Maple Corner Woodworks is a small woodworking shop based in Calais, Vermont. Peggy explains, "We've been working with them for over 30 years. It's the fine attention to detail that sets them apart; the pieces they create are a work of art that you can only find at a small woodworking shop."
They're known for their Shaker look as well as pieces with gentle curves and Asian influence, as seen in the Pagoda bed below.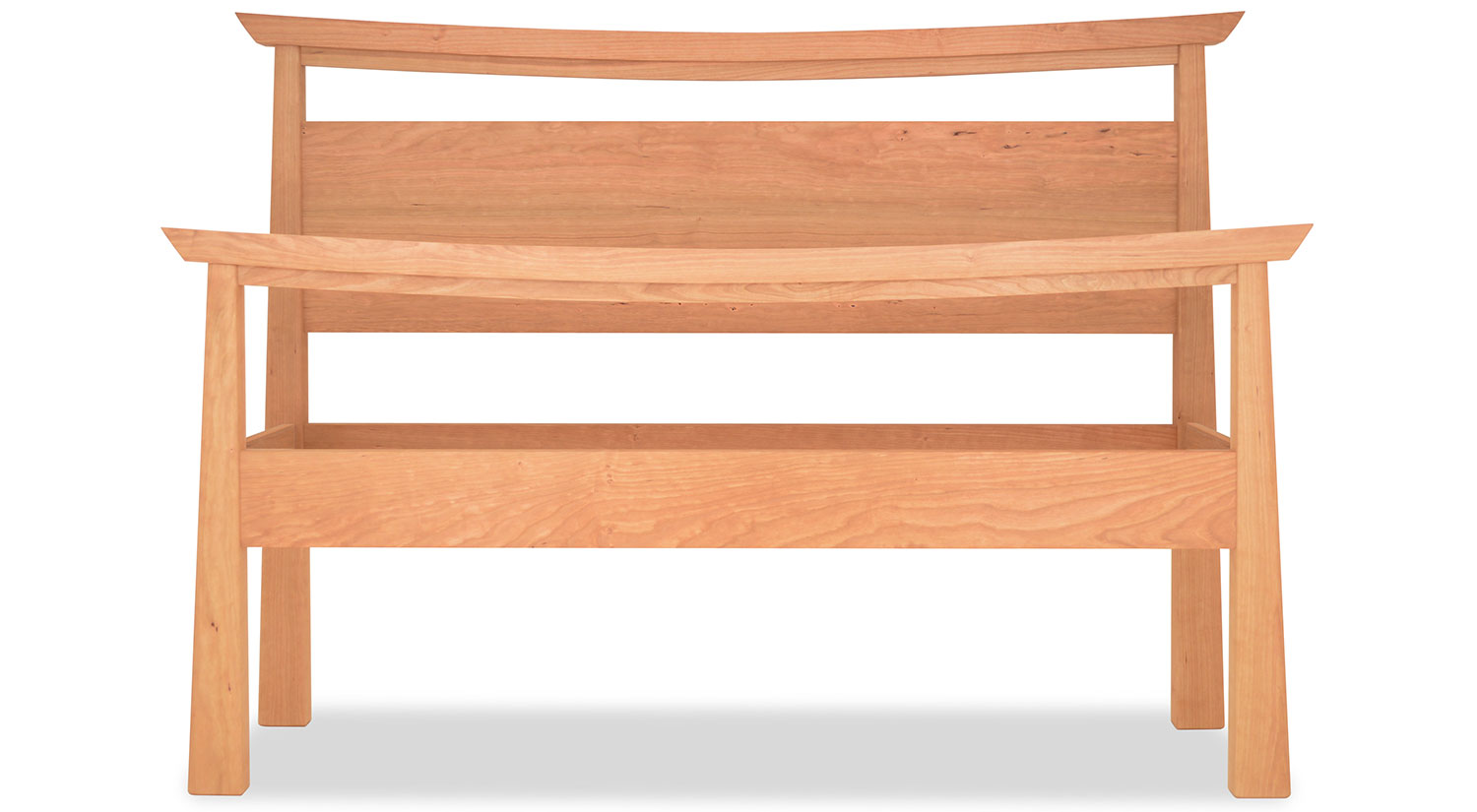 Peggy says, "Working in cherry has always been their strong suit, but when walnut became popular several years ago, they introduced that as well."
Check out our Maple Corner collection here.
Lyndon Furniture
Lyndon furniture, another Vermont-based shop, specializes in customization. Peggy explains, "They're willing to customize orders to fit your needs – which is great if you need a table in specific dimensions. They can do any size."
We also love Lyndon for their green practices – right down to the sawdust they give to farmers. "These guys have sustainability down, and they've been doing it way before it became popular. It's a way of life for them," Peggy says.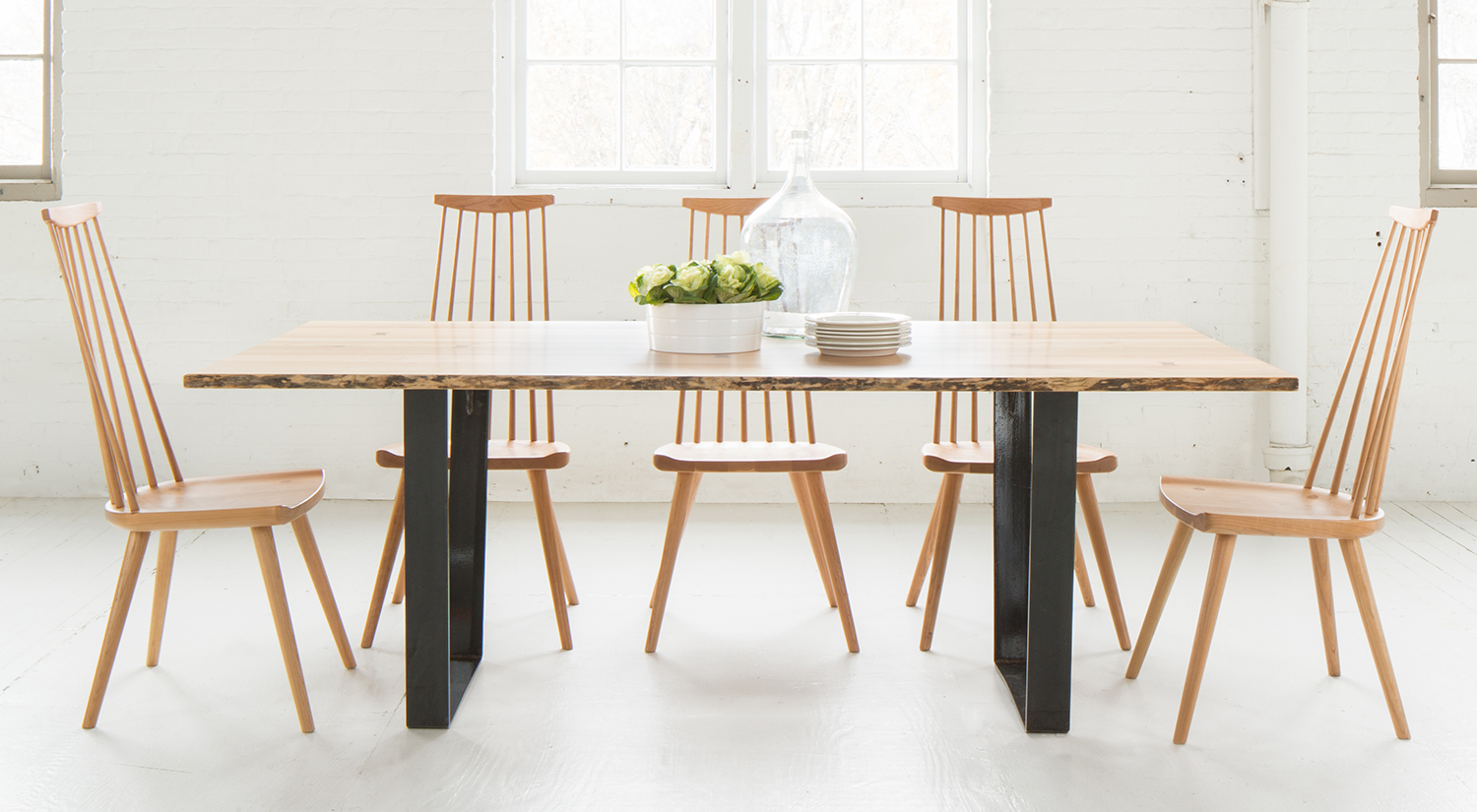 They work in maple, cherry, walnut, and some oak. She adds, "Oak is making a comeback! It's a very hard wood that can take on a beautiful appearance with a stain."
Check out our Lyndon collection here.
Copeland Furniture
Copeland is a major, high-end manufacturer in Bradford, Vermont, with an impressive factory. Of their sustainability practices, Peggy says, "They're an extremely green company. They were the first winners of the Sage Award, which recognizes commitment to sustainable business practices."
They have a modern look with beautiful, clean lines and use cherry, walnut, and some ash. "They're very thoughtful in their production, and that's why we continue to work with them, "Peggy says.
Check out our Copeland collection here.
Woodforms
Woodforms is a small woodworking shop in Foxborough, Massachusetts. "We've known them for years and have a close partnership with them because they're our neighbors – they're just a drive away," Peggy says.
"They deliver a beautiful quality shaker look at a more affordable price, and they've continued to be a favorite of our customers for their simple, clean lines and natural cherry tones."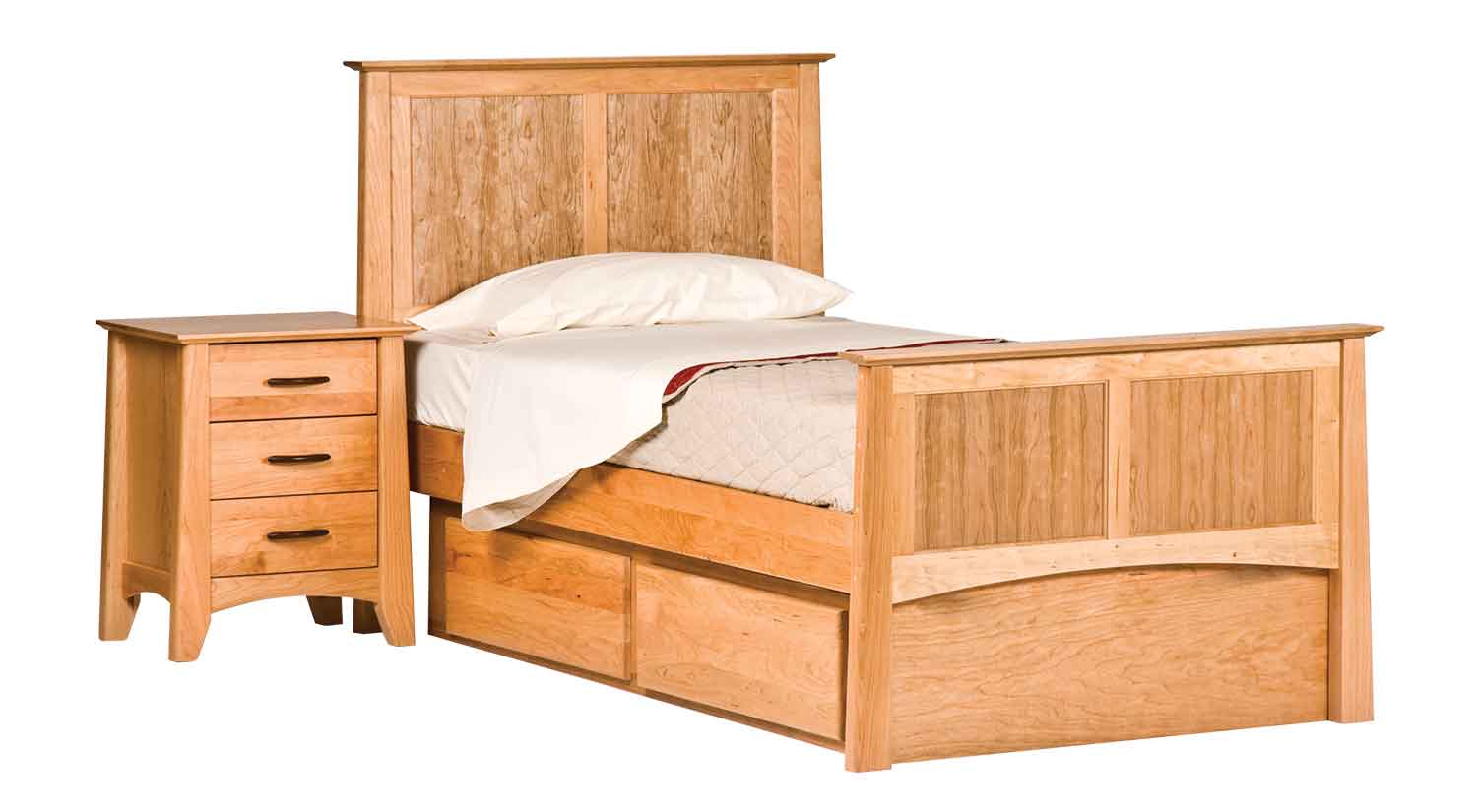 Check out our Woodforms collection here.
Read More: Handmade Furniture: A Tour of a Local Woodshop
Saloom
Saloom furniture is another Massachusetts-based furniture maker. Peggy says, "They have a beautiful mix of both contemporary and more traditional styles. They can suit both styles."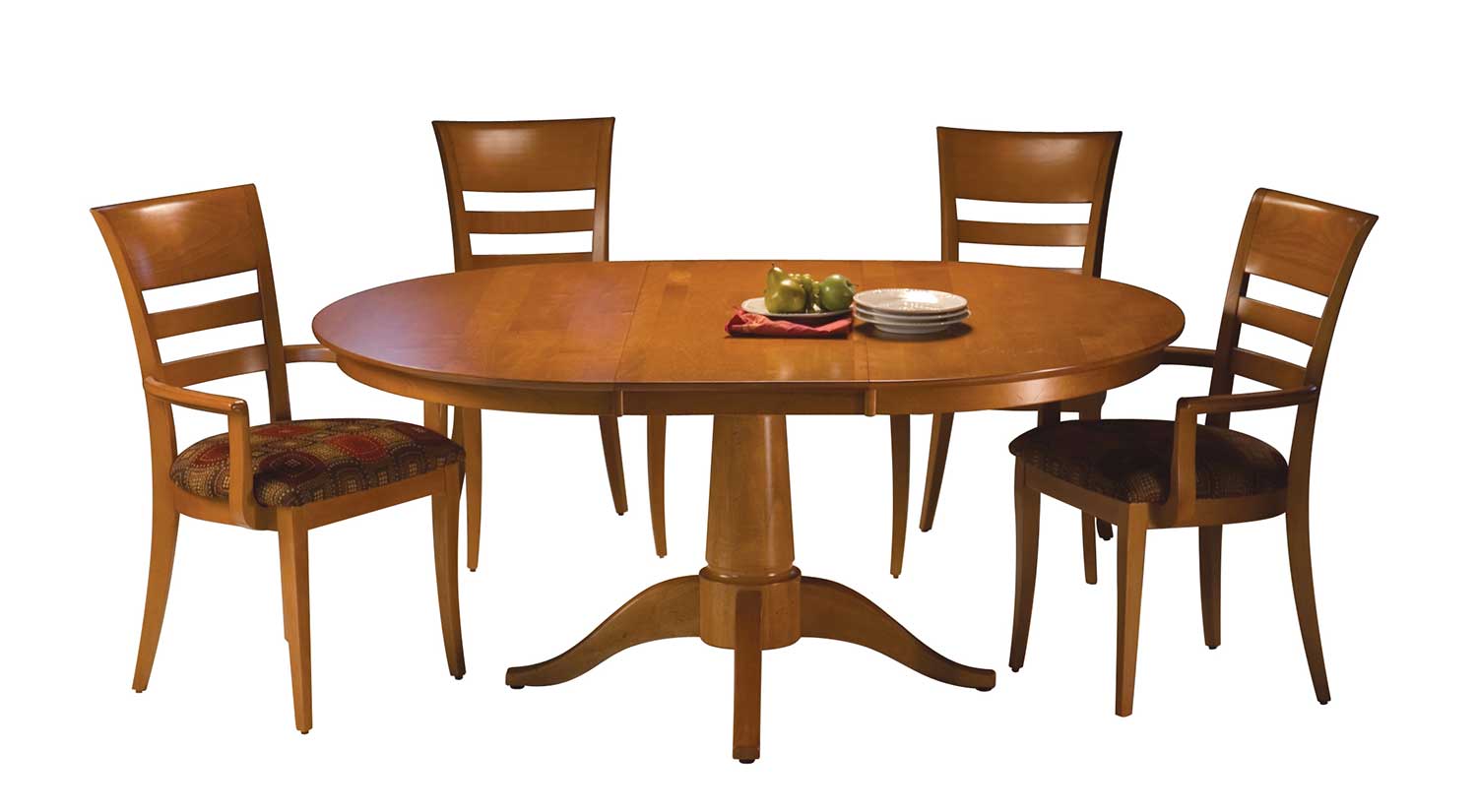 "They're local, quick-to-deliver, and a family-owned business just like us."
Check out our Saloom collection here.
Revolution Furnishings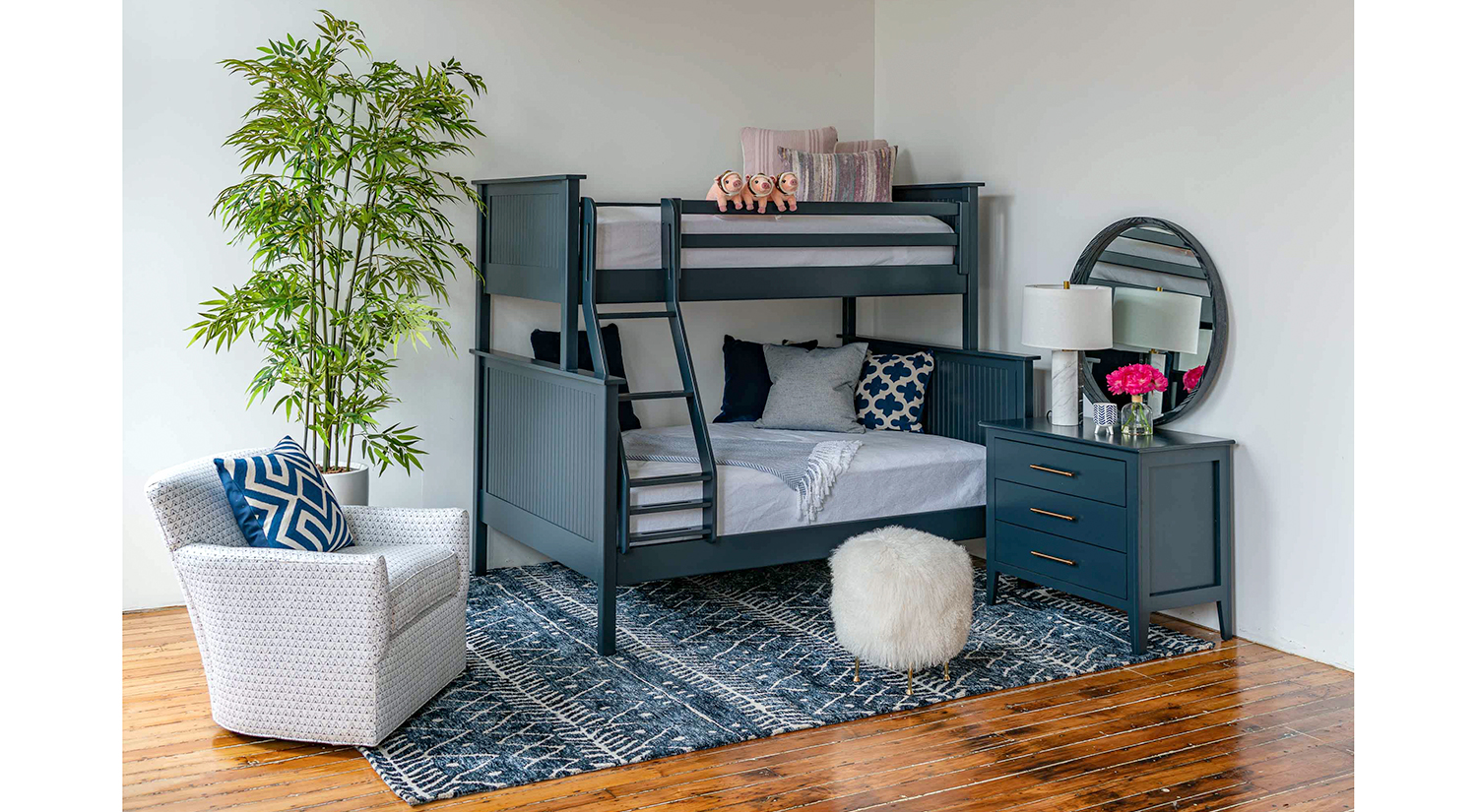 Revolution furnishings is a family-owned shop in New Hampshire. "We recently partnered with them. They do beautiful custom wall units and bookcases, in any size."
"They're fairly new to us, but our experience has been off the charts. Recently, a customer had a custom wall-unit that wasn't able to fit up the stairs. The owner of Revolution went to the customer's house and re-measured everything and is taking the time to fix it. They go the extra mile."
Check out our Revolution Furnishings collection here.
Why we partner with local furniture makers
We partner with local companies for so many reasons. "I think it's important to shop local," Peggy says, "We cut down on delivery and shipping material, minimize our ecological footprint, and we have a close partnership and relationship with the owners."
We're so grateful to work with local companies that align with our core values of craftsmanship, quality, and sustainability. To learn more about where we get our beautiful, hardwood furniture from, watch our Meet the Makers videos on YouTube.
Have questions? Reach out to us or come into a showroom to see our local, handmade furniture in person.
Author: Julia Maiman
Julia is a writer, blogger, and believer in the smell of old books. She has been crafting stories since she could put pen to paper. She is also a lover of dogs, traveling, and Led Zeppelin.