Today, we're introducing you to two new products that we're excited about: The Thayer Chair and the Camden Sofa. We met up with Stephanie Birchenough, our Merchandiser, to hear about the features, pros, and cons so you can get to know the products and decide if they're right for you.
Thayer Chair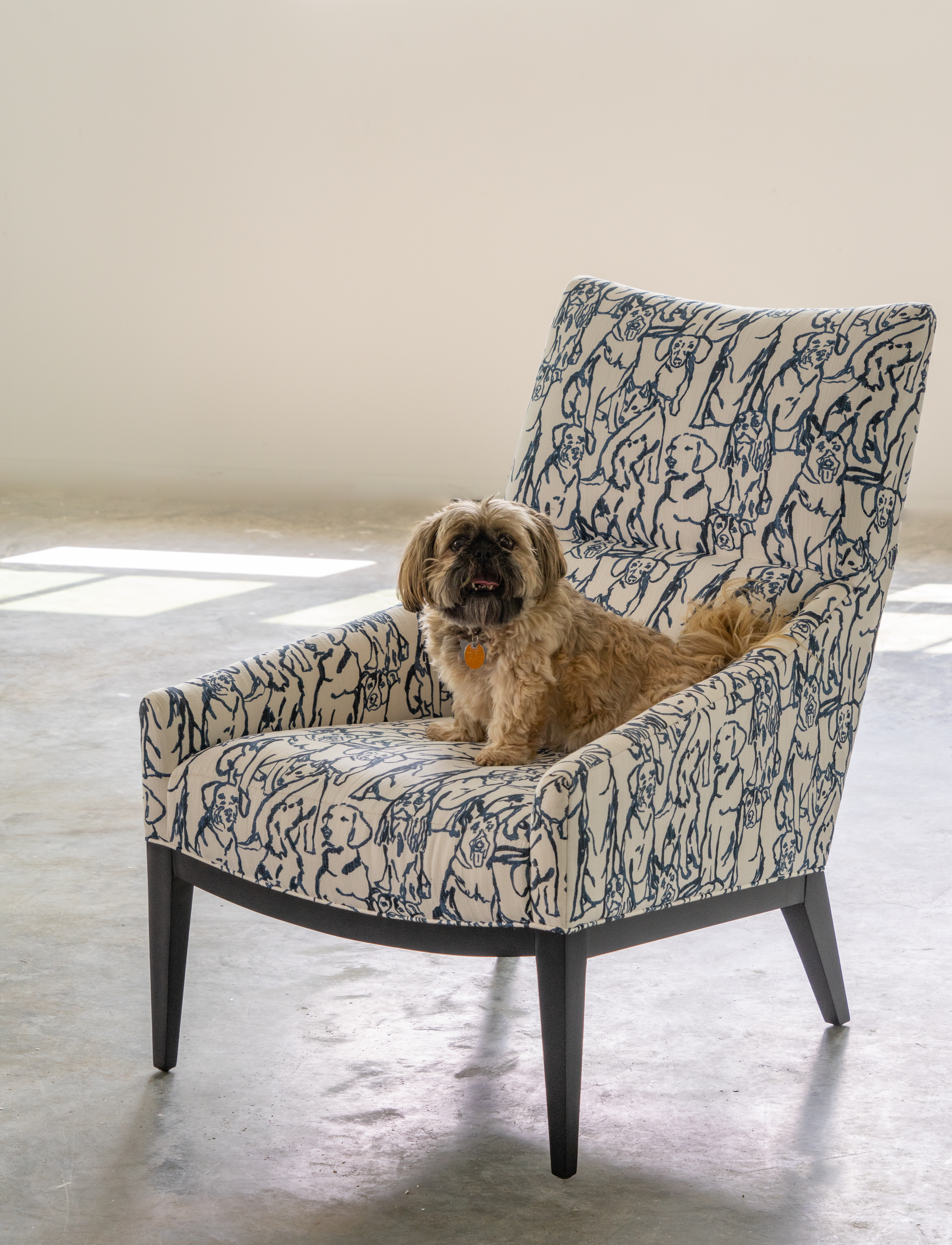 The Thayer Chair is a new style that we're really excited about. It has a tight-seat and a tight-back which means there are no loose cushions. "The benefit of a tight-seat," Stephanie explains, "is that it always looks neat because there's nothing to fluff."
The chair has a low arm that slopes down which Stephanie says is "part of the charm of the chair." As far as style goes, it leans mid-century modern but is a timeless frame that can fit into any decor with the right fabric.
"It has a nice wood base that comes in a variety of finishes," Stephanie says, "and it's available in fabric or leather."
One of the unique benefits of this chair is that it's "lightweight and easy to move around." Some upholstered chairs can be really heavy, so if you have a habit of moving around your furniture, a lightweight chair is a bonus.
Stephanie specifically loves the chair in the pattern shown, "We have this lovely pattern and I love that you can really see it. That's the nice thing about a tight back; you can really see the pattern as it runs and it makes an "˜out-there' pattern look more subdued."
When it comes to downsides, "It's a little deep, so a shorter person may not be able to put their feet down. And because it's a tight-seat and tight-back you might not find it as cozy as something you can really sink into."
The Thayer Chair starts at $1,499 in fabric, and it's made in America in North Carolina.
Camden Sofa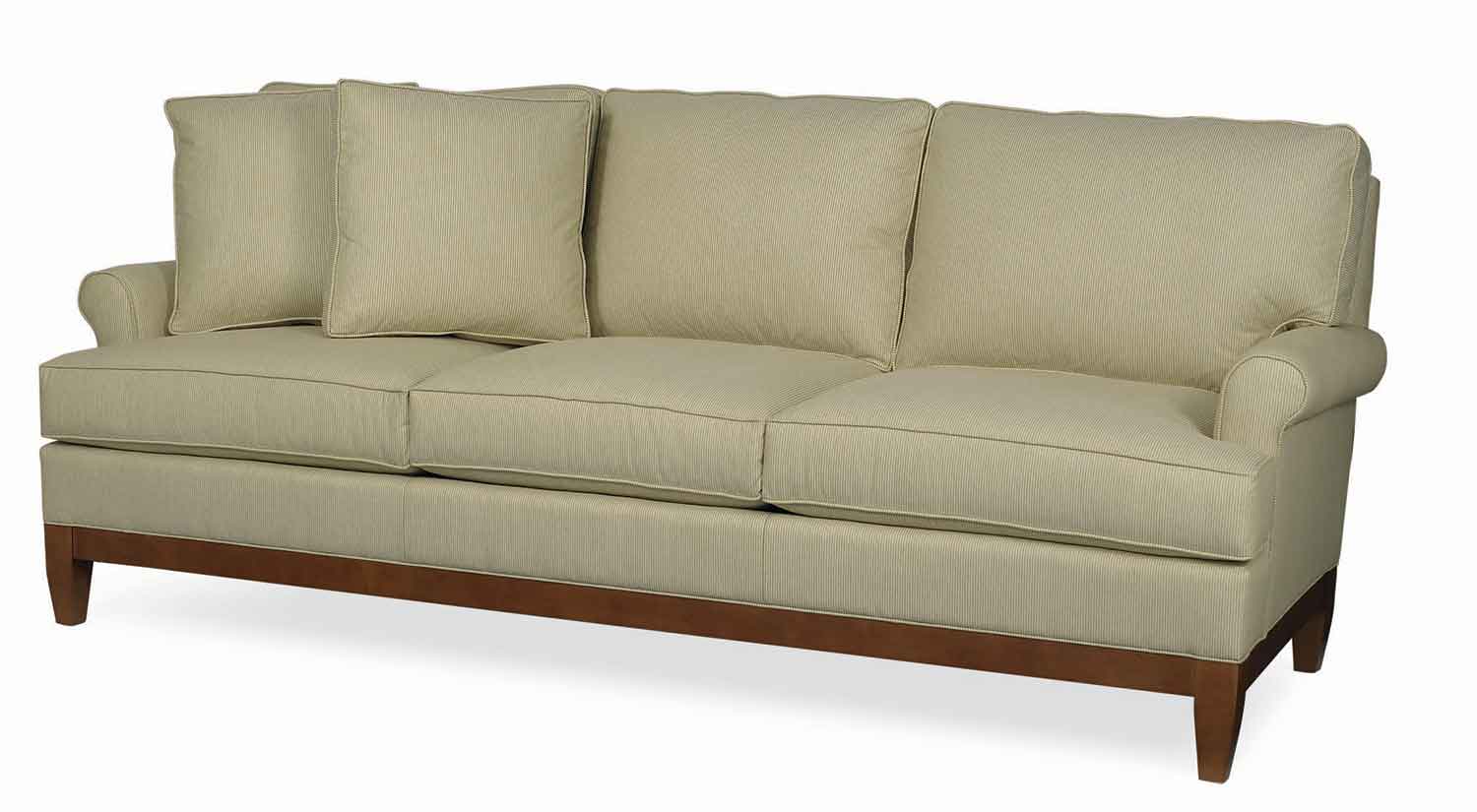 The Camden is a simple, rolled arm sofa with a loose back and loose seat. "It has more of a traditional look with the rolled arm," Stephanie describes, "but it has a wood base which it makes it a bit more transitional. A very traditional sofa would have straight legs or a skirt, so this base modernizes it a little."
She calls it an "updated traditional" and it comes in a sofa, apartment size, loveseat, chair, and ottoman. The sofa is made in America and is available in a large variety of fabrics, but not leather. The wood base comes in a variety of finishes.
Stephanie likes the fact that it has T-cushions saying, "If you don't have room for a full sofa, you can get an apartment size and still feel like there's room to lie down because of the extra cushion space. It's also really cozy because of the loose seat and loose back."
However, because of the loose cushions, it does require a little fluffing every now and again. So that's something to consider if you prefer a very neat look.
One benefit of the Camden is that it's part of a special program that will save you money if you choose the Camden in a select handle of special fabrics. And regardless of the discount, the Camden starts at $2,155 which is "a great price for a sofa."
Stephanie sums up her thoughts on the sofa, saying, "It's not an out-there style, it doesn't make a big impact. But it doesn't take up a lot of space, and if someone's looking for a comfortable, not-too-traditional sofa, the Camden is probably the answer."
Come into a showroom!
Whether or not the Thayer Chair or Camden Sofa are for you, we have a vast collection of upholstered styles for you to discover. We're constantly staying on top of what's going on in the design world and bringing in new, timeless pieces.
Come into a showroom near you to get inspired and chat with a knowledgeable design consultant.
Haven't met our designers yet Get to know them here!
Looking for more reading


Author: Julia Maiman
Julia is a writer, blogger, and believer in the smell of old books. She has been crafting stories since she could put pen to paper. She is also a lover of dogs, traveling, and Led Zeppelin.