If you're searching for a multi-functional sofa, the Monika Sleeper is a comfortable yet versatile option that can turn your living area into a relaxed sleeping space.
What it is: Features and functionality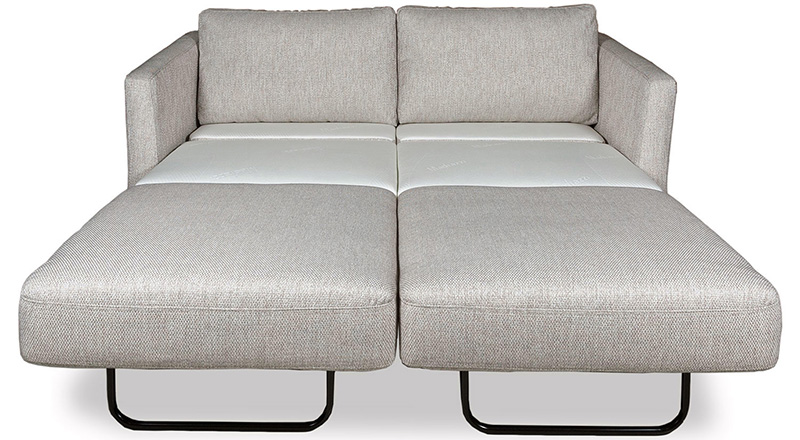 The Monika Sleeper isn't your typical pull-out sofa. Each side comes out individually to create a single bed or one large bed. Handles on the back of the seat cushions help you go from sofa to sleeper and sleeper to sofa with ease. On top of that, its foam mattresses ensure your guests are well-rested whenever they visit.
Pros of the Monika Sleeper
Thanks to the Monika, going from sofa to sleeper is convenient when you have friends or family staying the night. It's also nice when you're looking for some added comfort while watching a movie. Its small size won't take up a lot of space in your home, which is great if you live in an apartment and don't have extra bedrooms (goodbye, air mattress!).
Depending on the space you're designing and what you're looking for, the Monika comes in multiple sizes, from a single cot to a full, queen, or king with two beds you can pull out individually or as one. You can also choose from a variety of fabrics as well as a chrome or walnut finish for the legs.
Our Online Store Manager, Stephanie Birchenough, loves the versatility of the Monika:
"You can open just half of it, and I think it's pretty cool that you can have this little sleeper versus using the whole thing. Say if grandma had it at her house and her grandchild wanted to read a story at night - grandma can sit next to her."
Cons of the Monika Sleeper
As for cons of the Monika Sleeper, the style isn't for everybody. Its clean and contemporary look may not align with your vision if you enjoy something more traditional.
While the Monika is great to use when you have guests over, it may not be comfortable enough to use on a nightly basis. There's also a seam when you pull out both sides, but you can easily cover it up with a mattress topper.
Since there are only two options for the leg finish, you're limited in choices and neither the chrome or walnut may be what you're looking for.
Come visit a showroom
If you'd like to check out the Monika Sleeper, visit one of our showrooms to try it out for yourself and see how it goes from sofa to sleeper in a few easy steps!
Author: Marycatherine Karcich