A sectional can turn any room into a comfortable space while giving you freedom to customize and design based on your needs. It's a great gathering spot if you have kids or like to invite guests over, and it's perfect for the evening after you've had a busy day and need some downtime.
We asked our staff to share their favorite sectionals. See what they had to say!
Ryan Sectional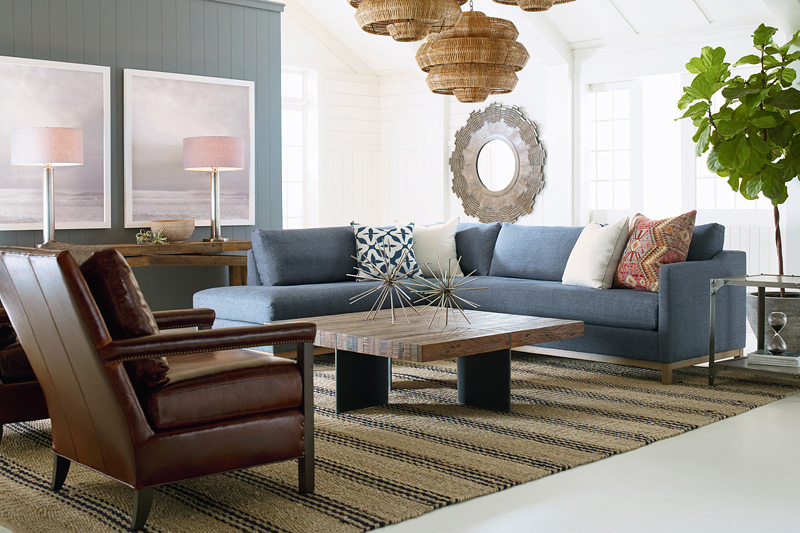 If you're searching for a functional sofa that would go well in any room of your home, you can't go wrong with the Ryan. Bench seats give it a clean, simple look that offers plenty of space for guests. You can also choose the type of wood finish you want for the frame as well as the fabric that best matches your style.
Design Consultant Kelly Bara described the Ryan "for someone who likes to really sit in their sofa. It has a generous depth while the cushion height helps support taller folks. The platform base is a great style touch. Last, but certainly not least, the bench seat is fabulous, but can also be customized with two cushions."
Alewife Chaise Sectional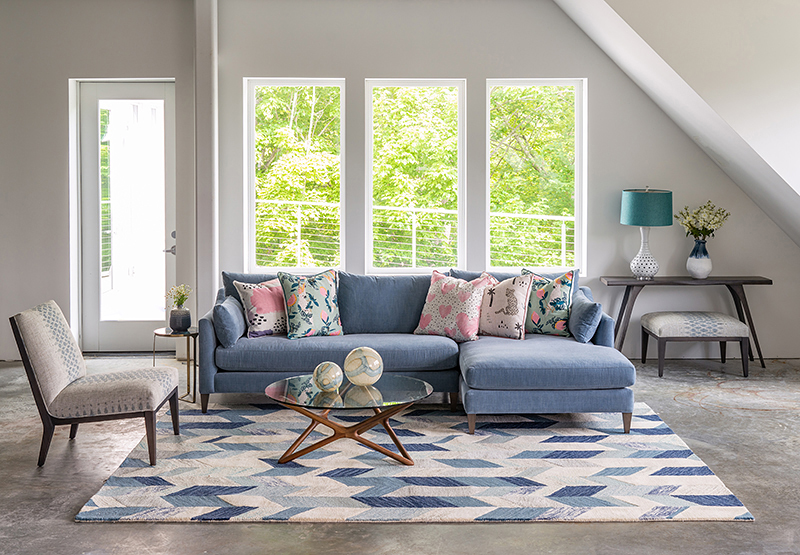 "Comfort and style" is one way to describe the Alewife Chaise Sectional. At least that's how our Design Consultant Shannon Hetherington does.
"The seat is deep and cushy, a perfect sofa to cozy up in!" she said.
In addition to comfort, this chaise sectional sits up off the floor exposing a tapered leg and features two small bolster pillows to accent its back cushions. You can choose which side to put the chaise on as well as what leg finish and fabric you prefer.
Addie Corner Sectional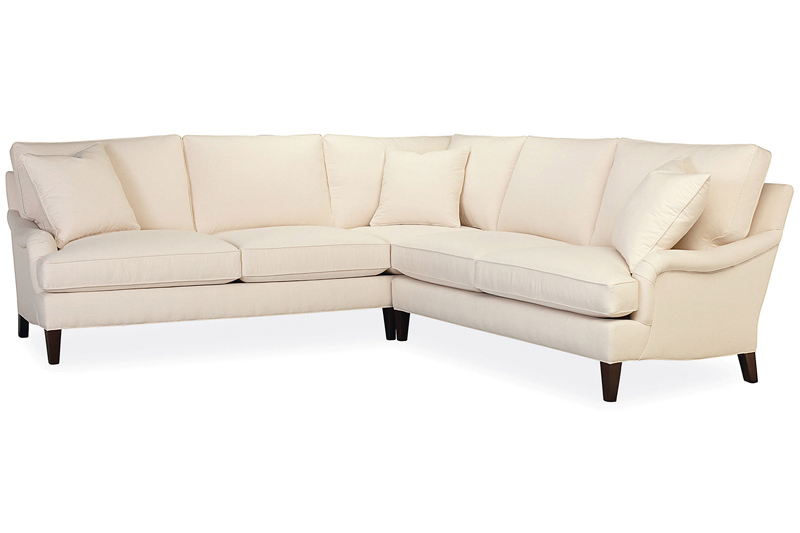 The Addie Corner Sectional is classic by design, making it a favorite for our Design Consultant Cheryl Harrington:
"The style can be dressed up or down. Formal or casual coastal feel. Slipcovered or fully upholstered nailheads can be applied all along the base for a little bling. Another option is contrasting welts and pillow fabrics. The options available are endless."
You'll find that the Addie's English arms complement its clean appearance while the sizable cushions offer plenty of support. You can also play around with different fabric colors and leg finishes to get just what you're looking for.
Linkin Sectional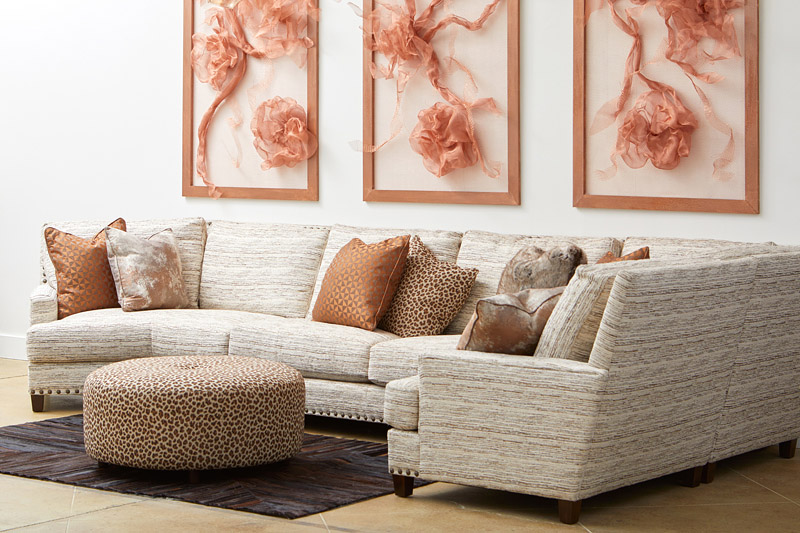 Whether you're watching TV or sitting down to read, the Linkin Sectional provides ample space and comfort. Our Pembroke Store Manager Lucia Ventura likes this transitional style sofa for its tall back and deep seats. She notes that it's "great for families since it comes in sectional pieces too."
You can adapt the Linkin however you'd like, depending on the room it's going in and what you're looking for, and customize yours with different fabrics and wood finishes. You can even add dome-shaped nailheads for a touch of flair!
Personalize It Sectional with Rolled Arm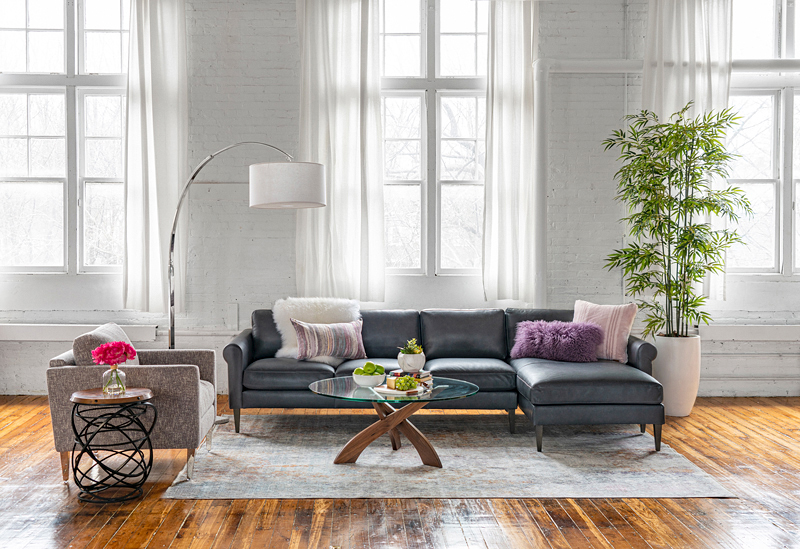 When it comes to versatility, the Personalize It Sectional Rolled Arm gives you endless possibilities. Just ask our Boston Store Manager Linda Maguire: "There are many style options as well as configurations...very comfortable...works with any decor from traditional to contemporary."
For your own Personalize It Sectional, you can pick from a handful of wood stains and your choice of leather or fabric. This transitional-style sofa also comes in three depth sizes - micro (34"), studio (38"), and grand (42") - so you can achieve your preferred level of comfort!
Milford Cuddle Chaise Sectional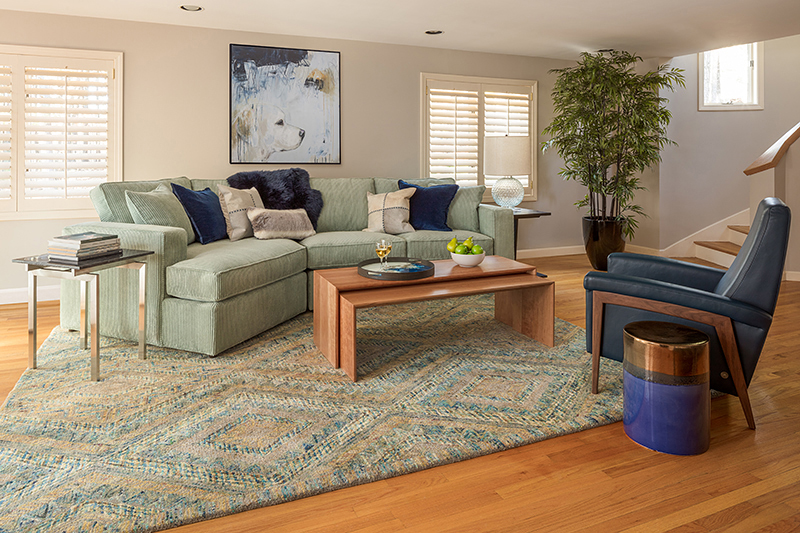 With 'cuddle' in its name, the Milford is a great piece for any home. This sectional invites you to stay a while with spacious seating and soft cushions. It comes in a variety of fabrics, and you can choose if you want the chaise on the left side or right.
It's no surprise that our staff loves this sectional, describing it as comfortable and cozy. Kara, our VP of Marketing, is certainly a fan:
"The Milford is a sectional that is built for cuddling up with a good book or in front of the fireplace. I'm tall so the deep seats and the high back provide ultimate comfort and I just feel enveloped by the coziness of the sectional."
As you can see, we're big fans of sectionals here at Circle Furniture!
Take a look at all of our sectionals or contact one of our Design Consultants for assistance with choosing the right one for your home.