Stressless recliners are known for their ability to seamlessly adapt to your body while you're sitting, making them some of the most comfortable recliners in the world. Not only are they a great choice for their comfort, but also for their versatility.
Our line of Stressless recliners is customizable down to the type of fabric or leather with countless colors to choose from. There are also five bases available so you can customize your chair to fit your lifestyle and design preferences: Classic, Signature, Power Leg and Back, Office, and Star.
When choosing a recliner, it's not just about the style; the base is an important factor and will dictate how your chair looks and functions. All Stressless bases are great for supporting a therapeutic chair, and we wanted to share with you the details, pros, and cons of each one. Let's take a look!
Stressless recliner base options
Classic Base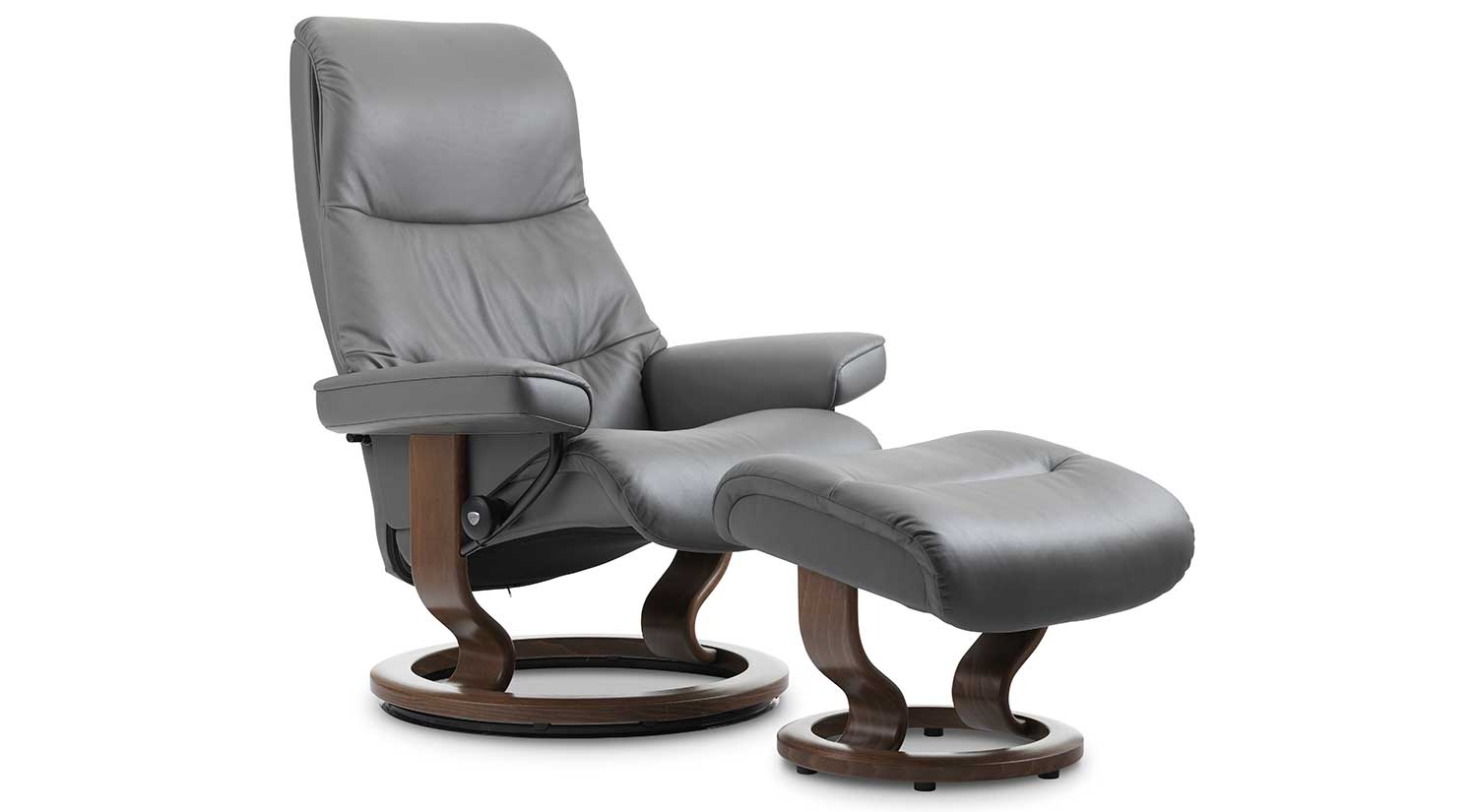 This is the original base that's been around the longest. It's the most affordable option and comes in all Stressless wood finishes.
The Classic Base is made of bent beech wood and swivels 360 degrees from the bottom of the base, allowing it to move with more ease when it has something to grip (like a carpet). While it can be used on any surface, we recommend purchasing Stressless's hardwood floor protectors for wood or tile surfaces to prevent scratching.
Signature Base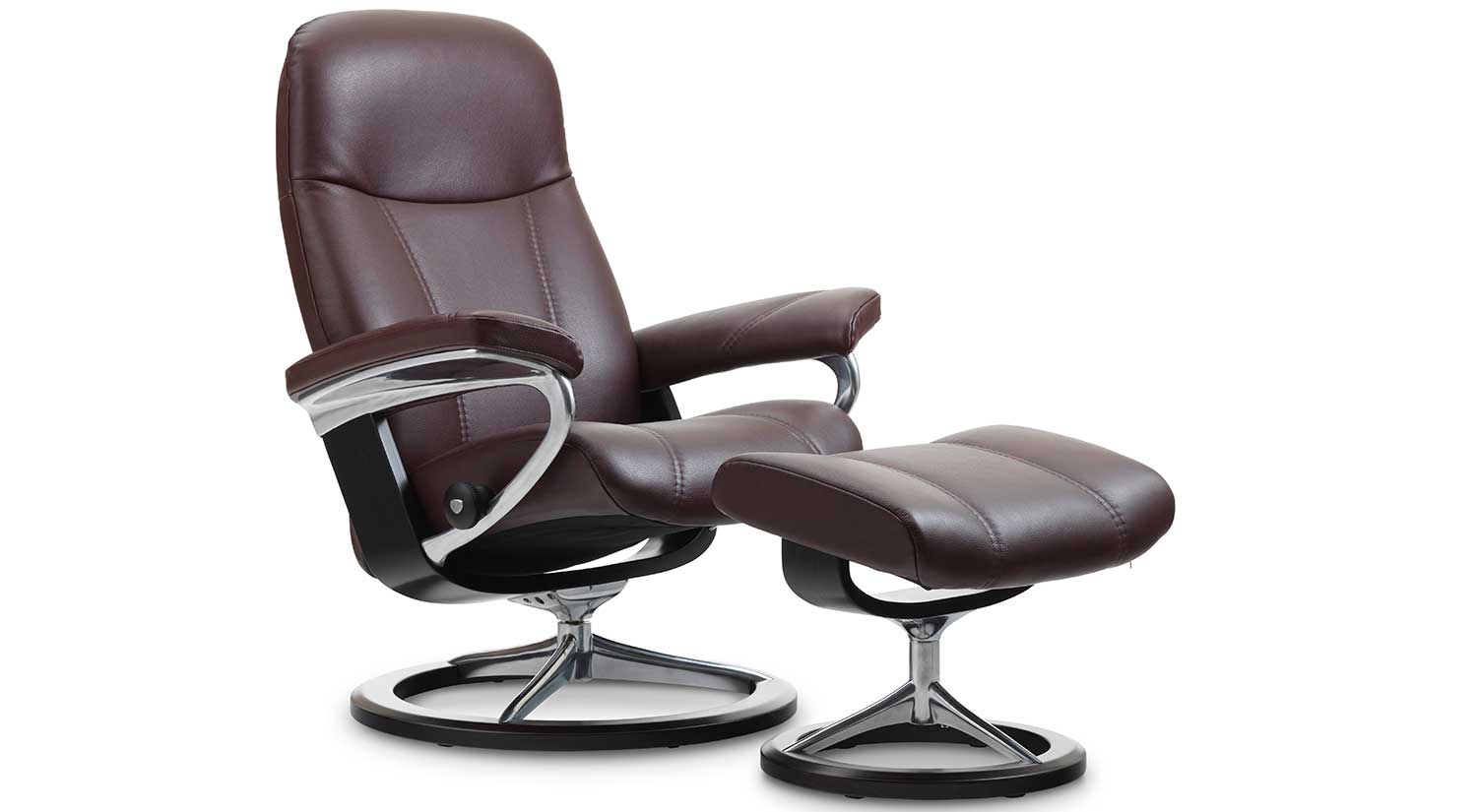 The Signature Base combines wood and a metallic accent in its design. You can choose your finish as well as your metal, either black matte or chrome.
A benefit of this base is its BalanceAdapt™ system, which allows the recliner to automatically adjust with your movements. Its 360-degree swivel comes from the seat of the chair rather than the base, meaning it will swivel easily whether it's on carpet or hardwood floors.
If you don't like the metal element of the design, the Signature Base may not be for you.
Power Leg and Back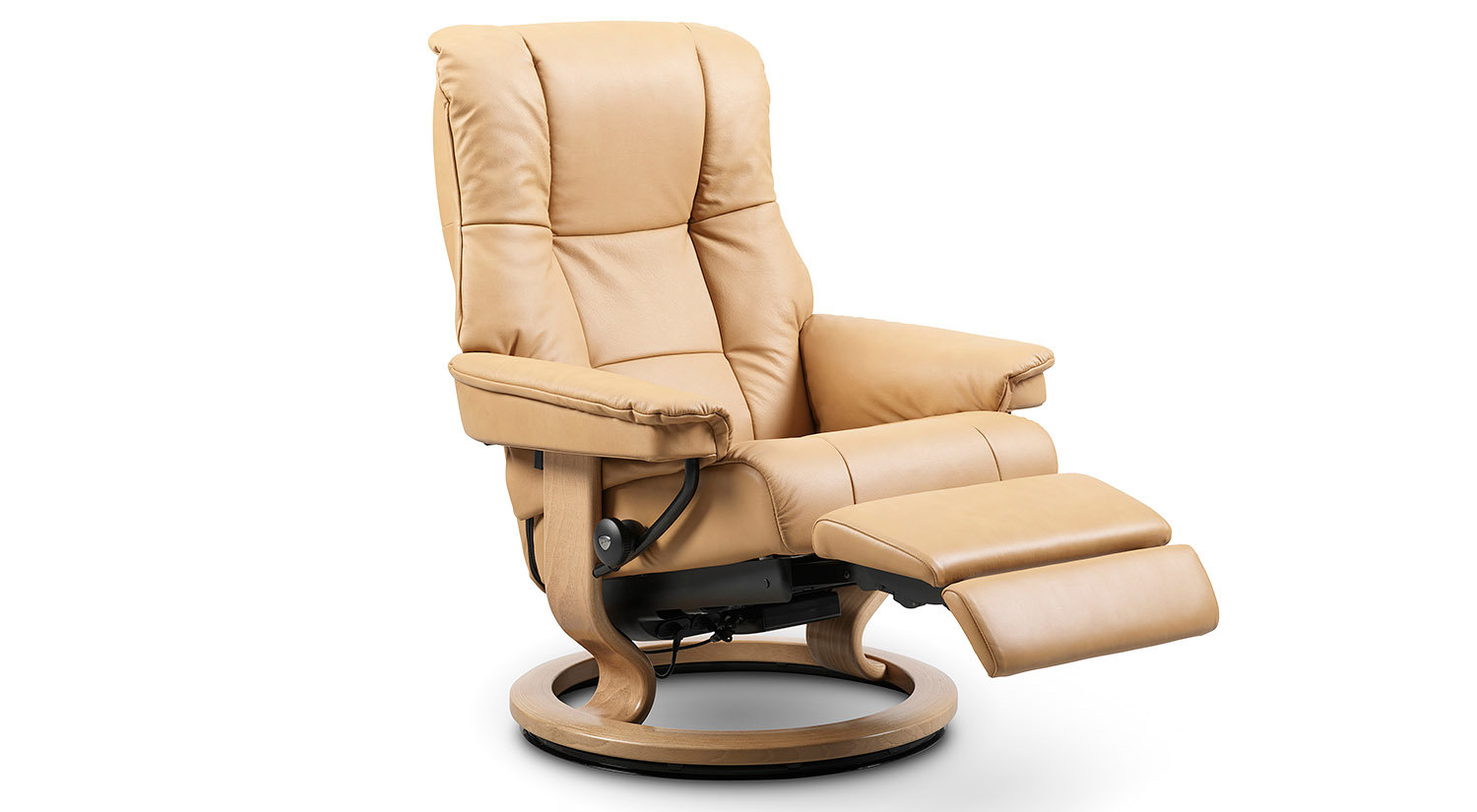 The Power Leg and Back option comes with a built-in, automated footrest that extends with the push of a button located on the side of the recliner. This feature makes it a great option for smaller spaces. The leg and back are independent of each other, meaning they can be powered individually for a customized seating experience.
You can float your Power Leg and Back by purchasing a separate battery pack or you can plug it into a wall outlet. It's also available in medium and large sizes.
Something to consider is that this chair is heavier than options that come with a separate ottoman, and the added weight may make it harder to recline. It's also higher in price due to its power functionality and you can only get it with a Classic Base.
Office Base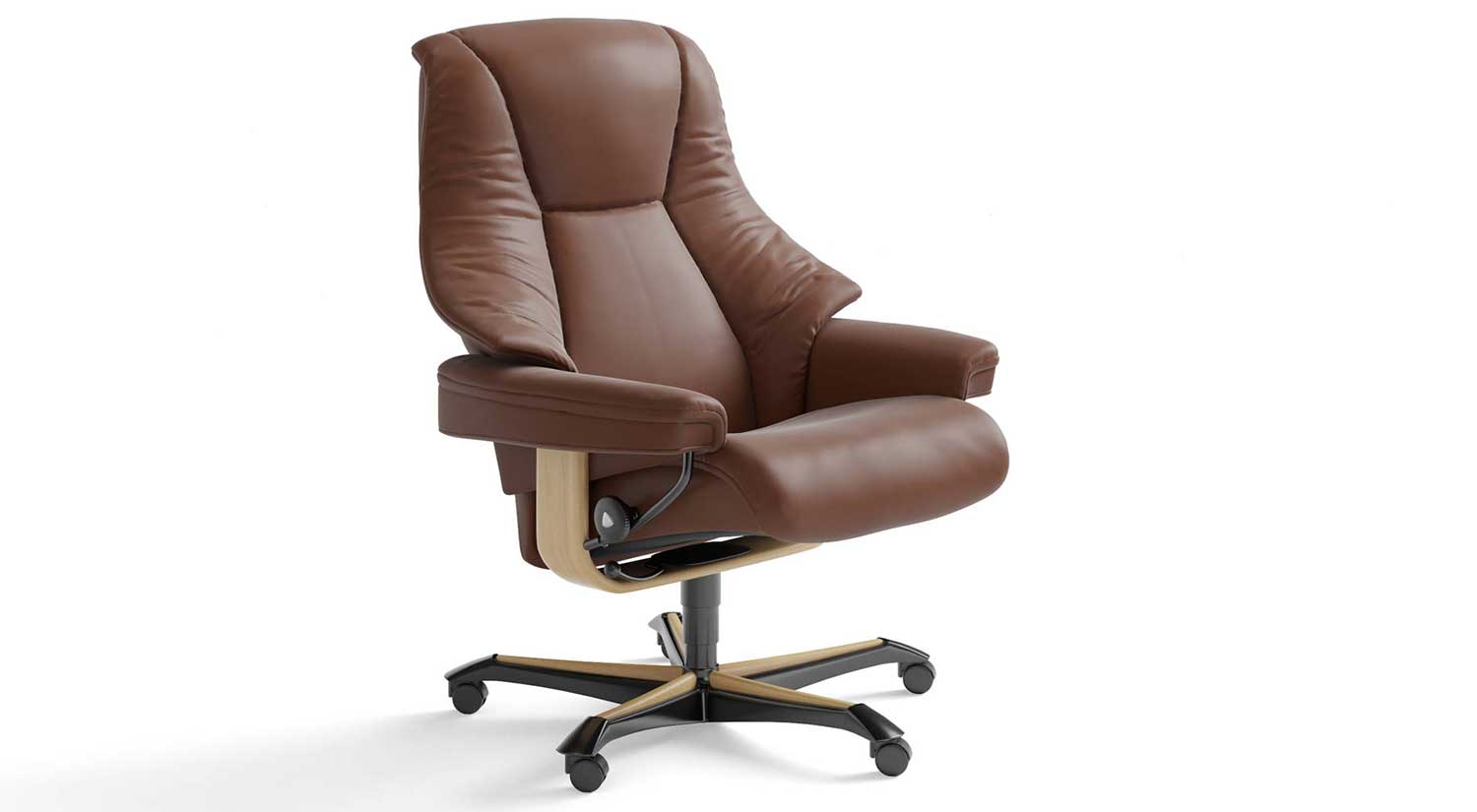 Give your home office an upgrade with the Office Base. You get the same therapeutic comfort of a Stressless recliner, but in the form of an office chair on wheels. It features height adjustment so you get your perfect seat and swivels 360 degrees.
The Office Base is site specific and recommended for non-carpet use. It's also only available on select Stressless chair models.
Star Base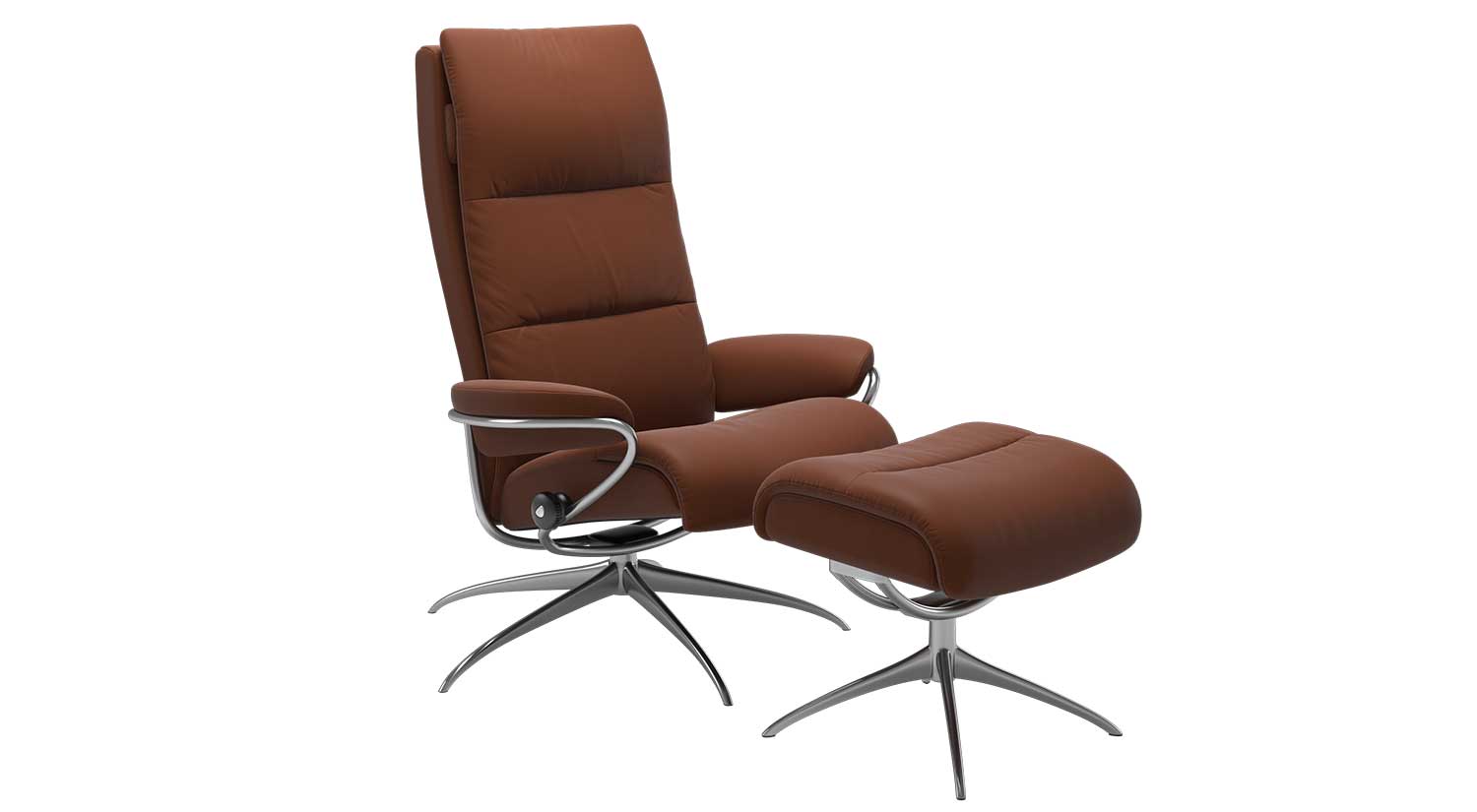 As its name suggests, the Star Base is in the shape of a star. It has the most modern design out of all the base options and swivels 360 degrees. It features the BalanceAdapt™ system, allowing for easy mobility when you need to adjust your position, and comes in a black matte or chrome finish.
The Star Base is only offered on certain models, making your selection limited.
Which Stressless recliner base is right for you?
When choosing a base for your recliner, you should consider both function and style. It's important to also consider the other pieces in your space to determine whether you prefer a wooden style or something with a more modern feel.
*Please keep in mind that not all bases are available in all chair styles. One of our Design Consultants will be happy to show you which ones go with what models.
Seeing the different Stressless base options in person and testing them out will be a great way to know which one best suits your needs and preferences. Stop by one of our showroom locations and one of our Design Consultants will help you customize your perfect Stressless recliner!
Read more: How to Care for Leather Furniture: In-Depth Guide