We're excited to introduce a new power sectional from the Roma collection, the Tivoli Sectional. We met up with the team in Middleton to chat about features, benefits, and why they love this addition to our upholstery collection.
What is it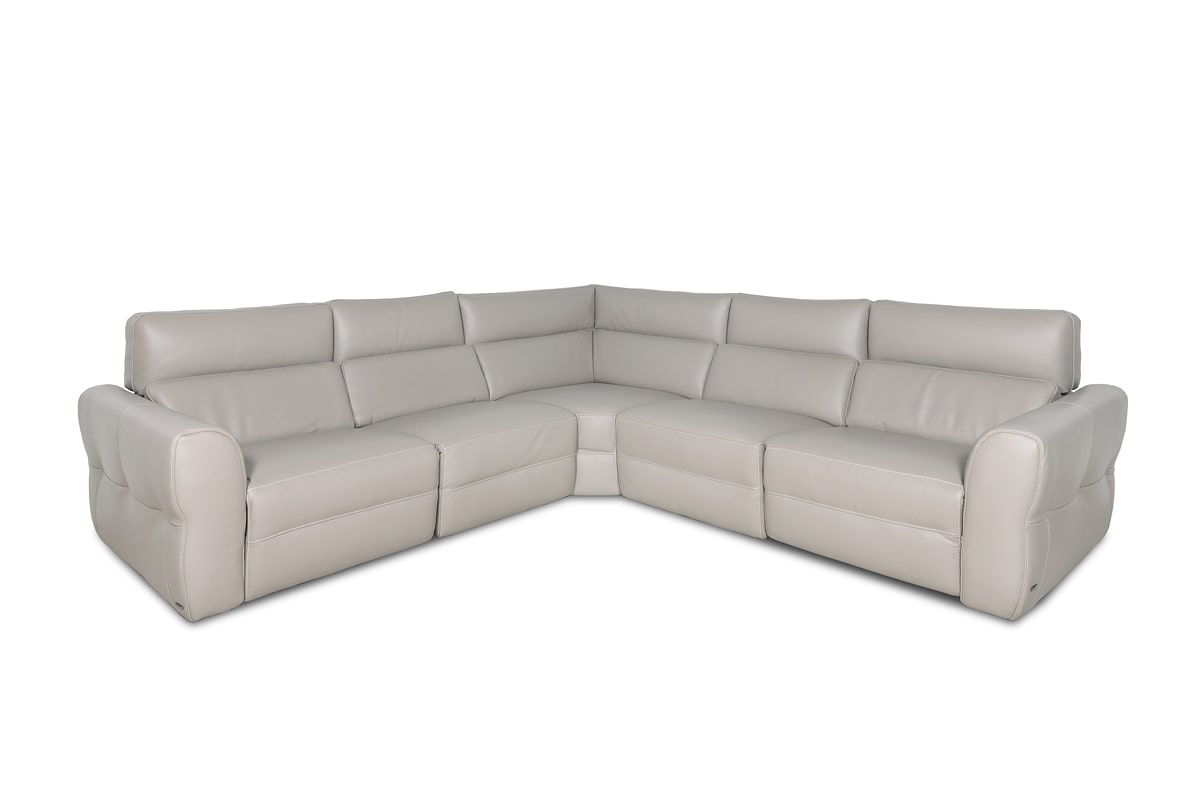 The Tivoli is a leather sofa available in a sofa, loveseat, and sectional and it comes with or without a power recliner. There's also the option to get a chaise lounge on your sectional. The Tivoli is highly customizable, you can choose the configuration of the sectional as well as where you want the recliner sections to go. It starts at $8,190 in a sectional with three recliners.
Because it's so customizable, it's a great option for smaller homes and unique spaces. Cindy Rubenfeld, our Store Manager in Middleton, adds, "It comes in parts so it should be easier to get through doorways and into your home."
The sectional is a tight seat and tight back and there are two widths you can choose from for the seat. Speaking of the seat, it has a 2.2. density foam core, making it ultra-comfortable.
The Tivoli features Parelli webbing which is a support suspension system. "Think of it as a basket weave," Cindy says. It's an extremely durable high-quality construction that cradles you in comfort. The Roma Collection is made with an eco-friendly manufacturing process, using sustainably-sourced European hardwoods for the frames.
Features and Benefits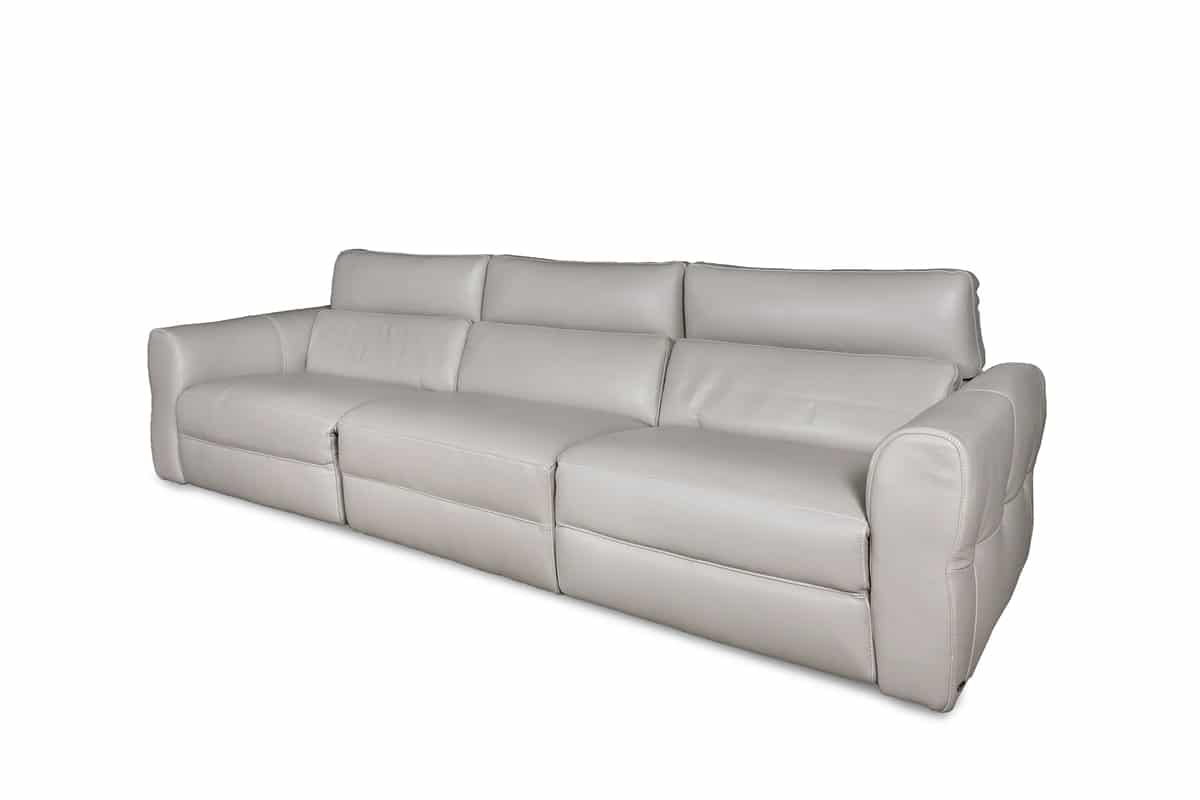 The Tivoli is available in world-renowned Italian leather""both natural and protected options""in an array of neutrals and a few pops of color. Valerie Folan, a Design Consultant in Middleton, says, "If you scratch the leather there won't be a white mark; that's a really good hallmark of quality leather."
The mechanism of the recliner is seamless and quiet. It has hidden buttons in the cushions to move both the headrest and the leg. Valerie explains, "There's a piston headrest which is a second motor, along with the motor for the leg. Most recliners only offer one motor."
One of Valerie's favorite aspects of the recliner is that it's a wall hugger. "When it reclines," she says, "not only does it go back but it also moves forward on the frame. So you're able to put it right against the wall which is a great feature if you're trying to save space in your home."
"On the other hand, if you have an open-concept and you want to float the sectional, it's flush in the back so it looks pretty from every angle." The Tivoli also features pinch stitched sides, which is a special detail that they've added. "It's really beautiful," Valerie says.
Who is it for
The Tivoli is built for comfort and relaxation so it's for someone who likes to sit, back, relax, and put their feet up. Isn't that what a power sofa is all about The luxury of the recliner would make it a perfect choice for a home theater.
The ease of the recliner system and the accessible buttons makes it a great option for someone with limited mobility and it offers excellent lumbar support; so if you're someone who experiences back pain, the Tivoli might be for you.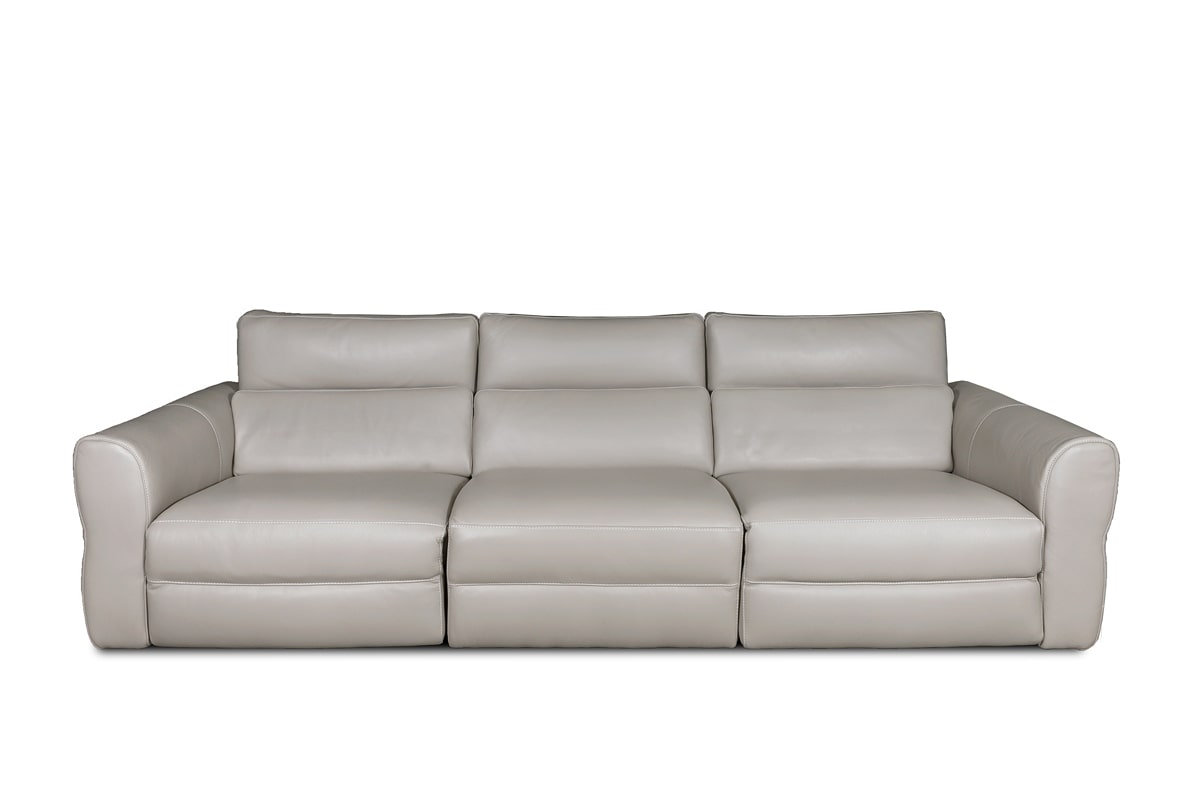 Cindy sums up her feelings about the Tivoli, saying, "I think for the price, the feel, and the comfort, it's my favorite reclining sectional that we sell." Valerie loves it as well, especially the details like the contrast stitching and the dual-motor system.
However, the look of the sectional won't be for everyone. Cindy explains, "It's probably not for someone who's looking for a more formal appearance. I wouldn't put it in a formal living room. It depends on what you're looking for but it does have an edge towards contemporary and transitional."
Read More: The Best Recliners (and Sofas) for Back Pain in 2019
Come into a showroom!
The Tivoli excels in comfort, ease of use, and has a beautiful clean look. We're excited about the Tivoli Sectional but that doesn't necessarily mean it's the best option for you. We always recommend coming into a showroom near you to try it out for yourself and talk to a designer about what you're looking for.
They can help steer you in the right direction, whether you want something cozy, soft, and lived-in, or a more sleek and polished look. Get to know our team of designers!
Curious about whether or not to invest in a power sofa Check out: Power Sofas: Are They Right for You