When an area of your home feels a little lifeless, all you may need is some light to give it a completely new vibe - one that radiates warmth and invites you to cozy up. Achieving this requires careful consideration of the different areas in your home and what they need light for.
Take wall sconces, for example. These versatile fixtures work well for accent lighting, task lighting, or illuminating a dark hallway with their beautiful glow. They help to enhance a room, or a specific area of that room, so you aren't relying solely on overhead fixtures to brighten things up.
"I like using them for task lighting in either a living/family room above end tables or in a bedroom above the nightstands to keep surfaces open, creating a lighter, more tidy feel," shared Laura Nickerson, our Merchandising Manager.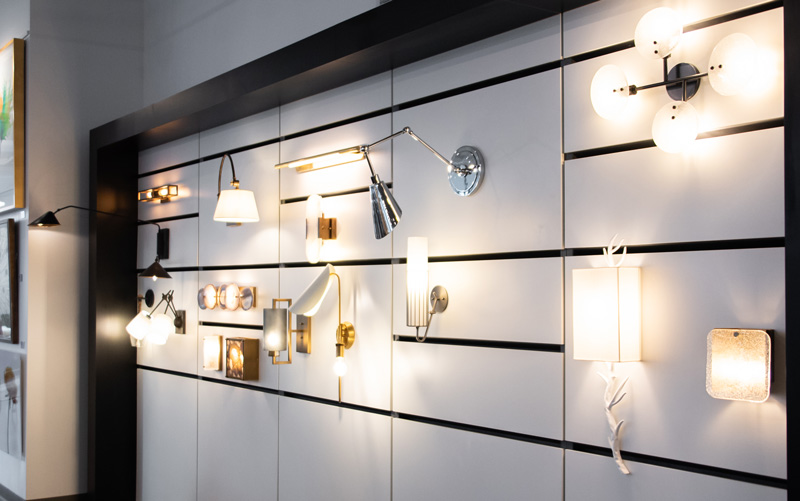 Wall sconces come in all shapes, sizes, and styles (aka: there's something for everyone). Flush mounts, candle sconces, armed sconces, and picture lights are just a few of the diverse style options out there so you can find ones that you absolutely love to go with your home's design.
A fun fact about wall sconces is they were one of the earliest forms of light fixtures. Don't let that deter you, though. Just because they've been around for years doesn't mean they're outdated. They're incredibly useful in the home and you'll be able to find ones that fit a more modern or contemporary style.
Decorating with wall sconces
The purpose of wall sconces is, of course, to add light to a room, yet their versatility is what really makes them shine. There aren't any limitations on where you can use them, which means they can be hung in any area of the home - even outside.
Bedrooms
Instead of table lamps, free up space on your nightstands and mount sconces above them.
Bathrooms
Illuminate your vanity mirror with a sconce on either side so you have a clear view when you're getting ready.
Corners/nooks
If there's a small area of a room that's darker than the rest, add light so you can use that spot as a dedicated reading corner.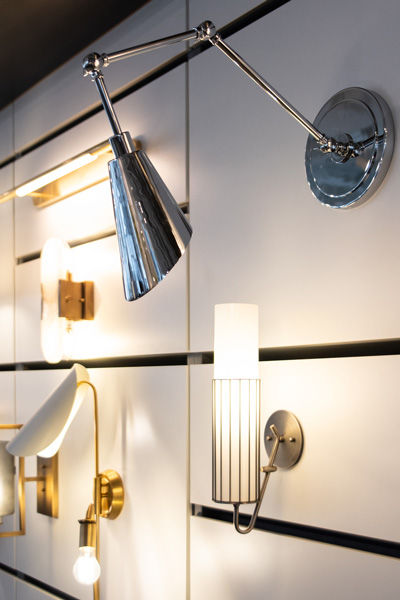 Hallways, entryways, or foyers
Sconces will give light to a dark hallway or foyer so your guests step into a well-lit area when they arrive.
Around wall art
If you have a favorite piece of wall art, highlight it with a couple of wall sconces so that it stands out.
Outdoors
Sconces can flank exterior doors, especially if you want additional light on your deck or patio, and you can even add them to the fencing around your yard.
Along with being completely functional, sconces give you the opportunity to enhance your wall space or the overall design of a room if you want to add a little color or personality. A piece like the Trinity Wall Sconce is decorative on its own, but doubles as a source of light where needed.
Tips for hanging wall sconces
Before any wall sconces are put up in your home, consider this:
"The height to install sconces will depend on the function and room you are using them in," Laura explained. "A bedroom will dictate that they are installed at a lower height than when installed in a bathroom or hallway." If you're looking to hang a pair of sconces over your bedroom nightstands, she advised that they should be about 4-7 inches above your shoulder when you're sitting on your bed.
Hallways can often look and feel dark. Fortunately, wall sconces are perfect solutions to bring a little warmth to an otherwise uninviting area of the home. They should be installed 60-72 inches above the floor, depending on how high your ceiling is. The same rule applies if you're flanking a mirror or piece of artwork.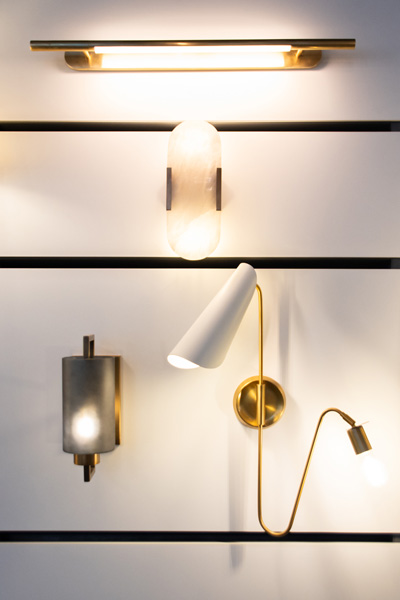 Another suggestion Laura made was to think about the functionality of your wall sconces:
"You may love a bare bulb sconce, but that won't be the best choice for task lighting. You would want to consider something with a shade." Bare bulb fixtures might be too harsh and a shade would help soften its light so you aren't hurting your eyes while performing tasks.
Finally, Laura explained that you should consider the depth of the sconces in relation to where you're going to use them. A swing-arm sconce in the hallway wouldn't be ideal since there's already little space to work with, but would make sense in a more open area like your bedroom or living room.
Read more: What to Consider When Shopping for Lighting
Shop wall sconces at Circle Furniture
If you're looking for a pair of wall sconces to flank your fireplace, mount above your nightstands, or illuminate an undesirably dark hallway, stop by your nearest design center. One of our Design Consultants can help you decide on the right pair for your space.
Author: Marycatherine Karcich