Few elements are as beloved as the accent chair in interior design. They provide extra seating and serve as statement pieces, allowing us to break free from some of the strictest design rules.
Adding accent chairs — in their many shapes, colors, sizes, and styles — to any room creates interest. Some design enthusiasts find they offer an opportunity to step outside their comfort zones and fill a space with color and personality.
These six chairs make the best accent pieces if you've been looking to spruce up a particular room in your house.
1. Vintage-Style Chair
Vintage-style accent chairs are perfect for a contemporary or transitional home. Tying in the old with the new is an ideal way to add warmth and definition to any design.
Vintage-style accent chairs are also rather versatile and come in several styles and fabrics. For example, wingback chairs were quite popular in England in the 1600s. Reupholster one in florals or geometric patterns to suit your design tastes.
You can also opt for an American Colonial-era ladderback chair in the corner of your kitchen for a more rustic look.
2. Oversized Armchair
Oversized armchairs are like a warm hug. Their ultrawide seat and comfortable arms make them perfect for sinking into plush cushioning on a cold night.
These chairs tend to stand out in mid-century modern homes where you can choose from deep jeweled tones, tufting, and rolled pillows. With this said, there are many different styles of oversized armchairs. There are some that are more contemporary or simplistic, which styles perfectly in modern homes. Designers often refer to them as timeless furnishings for any space.
A more simplified oversized armchair could also add color to a neutral room, becoming a show-stopping element of the overall look.
3. Cozy Swivel Chair
Every reading nook needs a cozy swivel chair to curl up with the latest bestseller. Swivel chairs come in various sizes and forms, taking elements of a more minimalist style or the oversized armchair, depending on your preference.
Swivel accent chairs fit various design trends — from traditional to mid-century modern to luxe — and can be purchased in several stylish fabrics and textures that tie into a room's existing color palette.
Some swivel accent chairs have a basic squared design while others lean into unique structural shapes that might include curvy silhouettes. They help break up larger rooms and go well with different types of sofa sets. Other times, they work perfectly as part of a bedroom reading corner or by a window.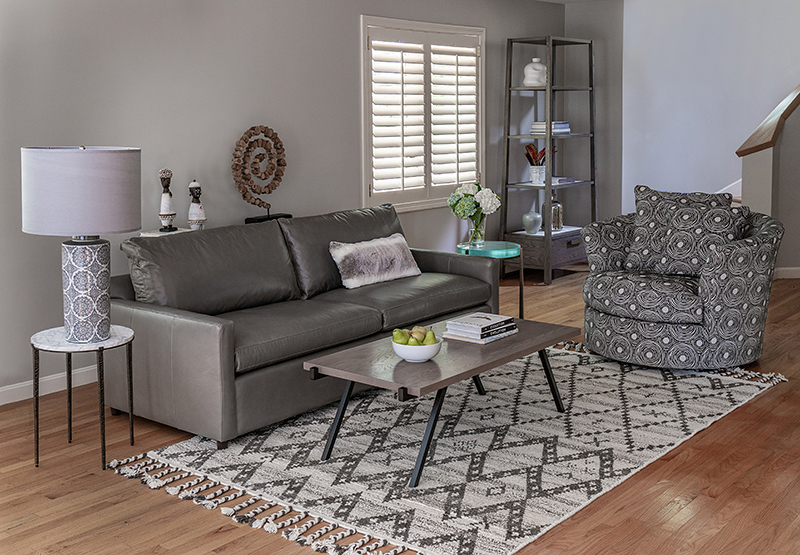 4. Rattan Chair
A rattan accent chair might bode well for boho designs and modern farmhouse interiors. Including one in your space adds an organic feel with beautiful contrast and texture.
Lighter-toned rattan chairs pop against dark walls or may deliver an extra layer of coastal chic to a design. Those with an affinity for indoor plants might also appreciate how the woven look adds to their natural, outdoorsy aesthetic.
Rattan is a pliable, lightweight material that is easily bent and curved to create stunning forms for furnishings. It can also withstand humidity and heat and is pest-resistant, making it the best accent piece for an outdoor seating area.
The more whimsical design enthusiast might even consider a hanging rattan chair in a corner.
5. Armless Accent Chair
Minimalists will rejoice with an armless accent chair that adds function and value to their room's simplistic design.
Armless accent chairs typically follow the rules of minimalism — understated designs that lack ornate elements and decorations. Those who appreciate minimalist interiors agree that the barest forms reveal a piece's true architectural nature.
While armless chairs come in various colors, textures, and cushion densities, many prefer a sleeker look with leather seating. You could always decide to drape a throw blanket over the back to soften the look and enhance the no-frills design.
6. Lounge Chair
Beachcombers may search for ways to incorporate their love for the sea without turning their interiors into a coastal theme. Fortunately, the lounge chair is an ideal accent piece for this situation.
Lounge chairs are casual, modern furnishings that ooze warmth and texture. Some might say these ergonomically unique pieces are reminiscent of Adirondack chairs, but with chicer structures and more comfortable seating.
Place a natural wood lounge chair with solid fabric cushions in a living room or bedroom. They tend to help tone down spaces with many patterns and colors. Additionally, you can pay homage to the coast by choosing saturated green, blue, and gray fabrics.
Add an accent chair to enhance any room
Accent chairs add an extra dimension to a room while creating a more cohesive look. With so many styles, colors, and shapes to choose from, you can find the best accent chair for anywhere in your home.
Olivia Elsher is a Senior Writer & Editorial Manager at Renovated. She has 5+ years of experience writing about interior design, renovation, and home improvement.