Push-back recliners allow for the ease and relaxation of a motorized recliner without the need for a motorized system. They float beautifully and act not only as a functional and comfortable seat but as a beautiful design addition to the home.
We decided to compare two of our favorite push-back recliners: The Thayer Coggin Viceroy and the American Leather Reinvented Recliner.
Catherine Willey, our store manager in Framingham, gives us her take on both to help you get a feel for which one may be the right choice for you.
Thayer Coggin Viceroy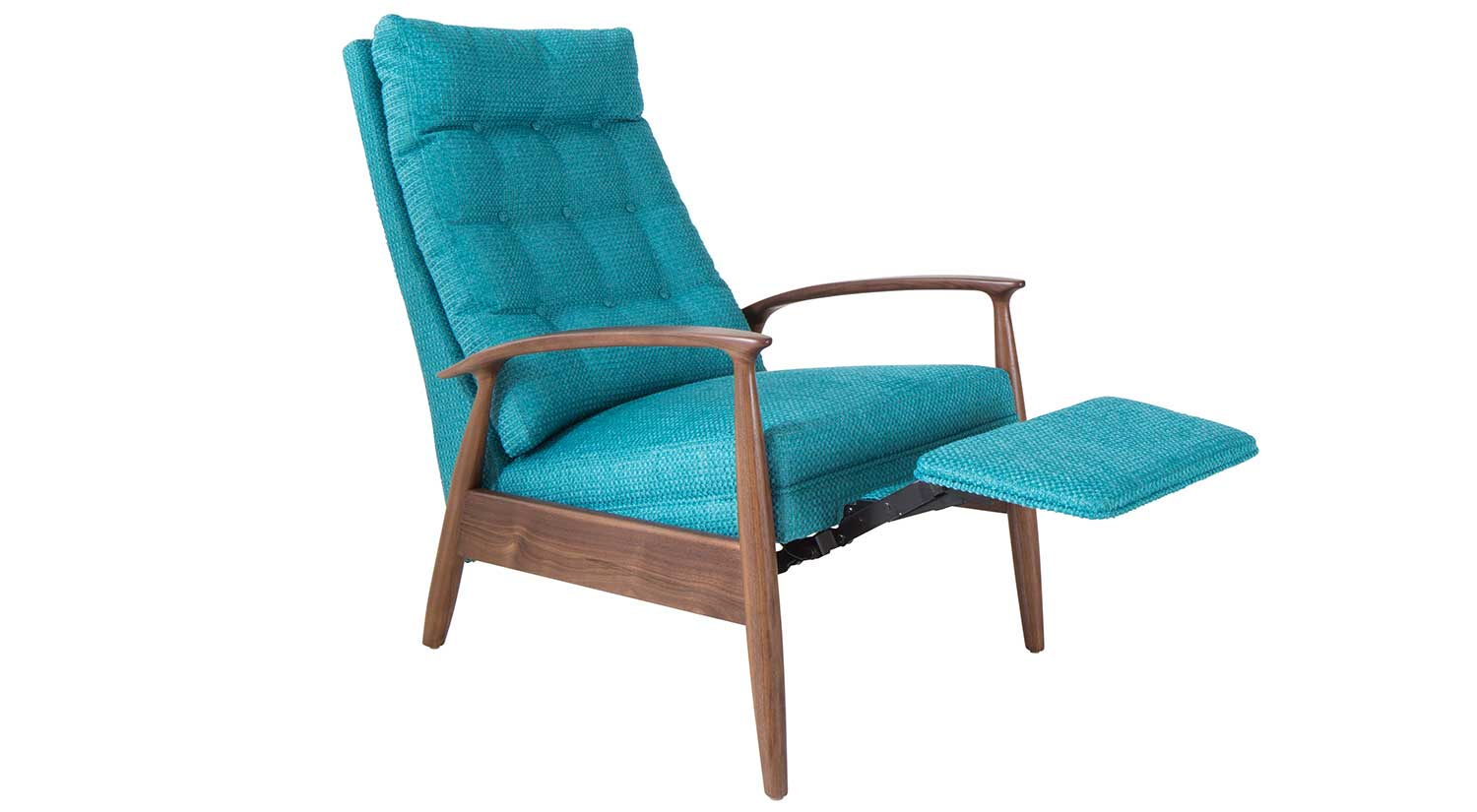 The Thayer Coggin Viceroy, designed in 1965 by Milo Baughman, is an American-made classic and iconic design. Catherine says, "It's a really well loved mid-century chair and it has the classic solid walnut frame. It's designed to look good from every angle, so it floats beautifully in a room."
The appeal of the Viceroy is not only in its simple design and easy comfort but also in its history. Milo Baughman is a prominent figure in mid-century modern American design and has created designs for numerous furniture companies. Most notably, he was associated with Thayer Coggin, where he designed the Viceroy among many other classic pieces.
He's known for his simple approach to design as is obvious in one of his more famous quotes: "Furniture that is too obviously designed is very interesting, but too often belongs only in museums."
One of the most notable features of the Viceroy is that it's comfortable for a wide range of people. Catherine explains, "You can put your feet on the floor when you sit on it. Really petite people tend to love this chair as much as someone with a taller frame."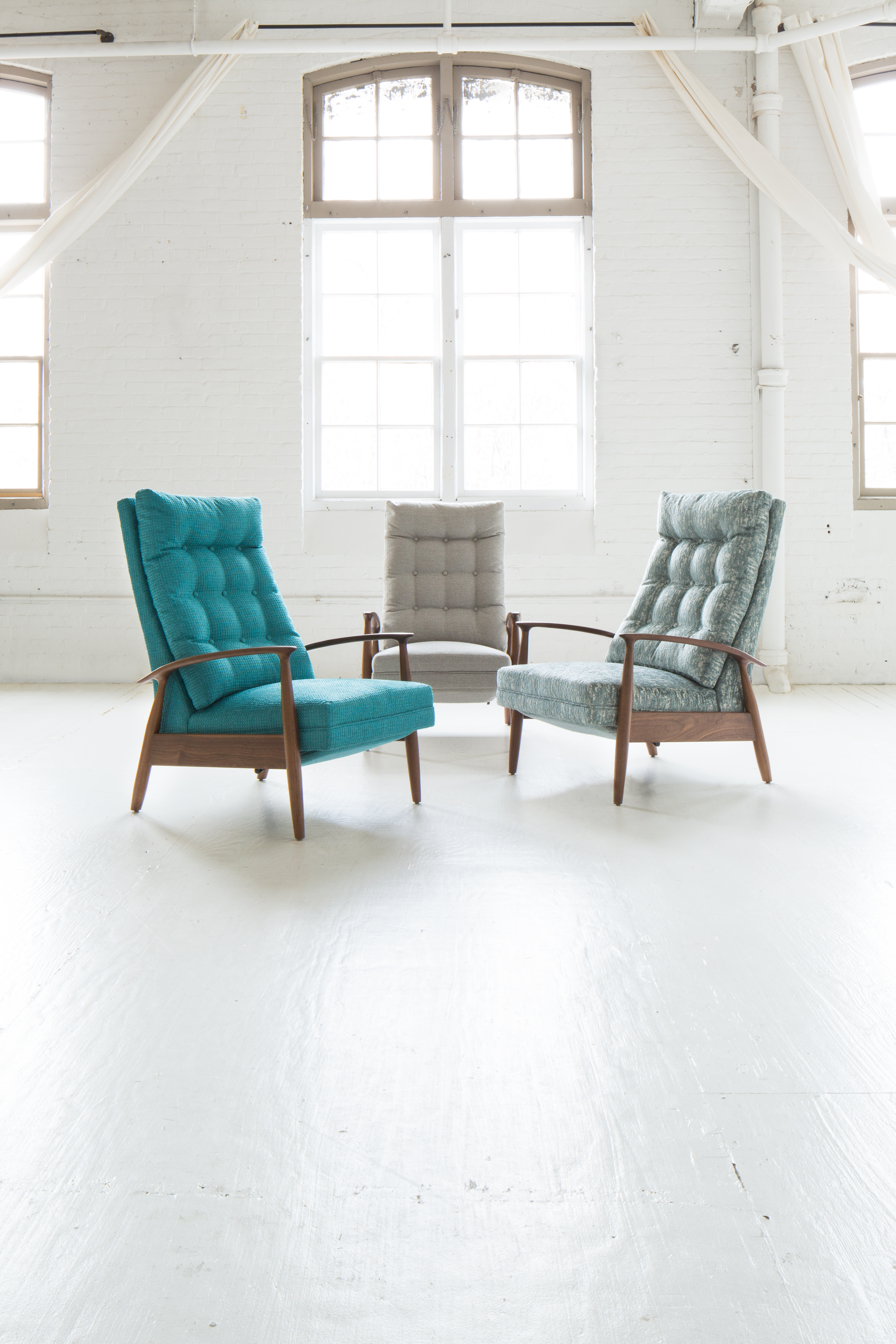 The frame on the Viceroy comes in two finishes: natural and espresso and it comes in both fabrics and leathers. It has beautiful topstitching and the attention to detail in the design is very apparent. It has a heavy-duty steel mechanism and three set positions, allowing you to sit, partially recline, and fully recline to your comfort level.
When it comes to price, there is a fairly large discrepancy when it comes to fabrics versus leather. The Viceroy starts in fabric at $2,799 and in top grain leather, it can cost up to $4,999. It's also available in a tight back, the aptly named Tighten Up.
American Leather Reinvented Recliner
The American Leather Reinvented Recliner comes in a handful of designs, including the Burke, the Simon, and the Quinton. Depending on your style preference, you're able to choose a chair that fits the look of your home.
Catherine describes, "There's down in the cushion and it has a deeper seat than the Viceroy. It doesn't have the wood frame but it does have solid walnut legs." The reinvented recliner has similar functionality to the Viceroy in that it's a push arm recliner with multiple positions, although the mechanism feels a little more continuous than the Viceroy.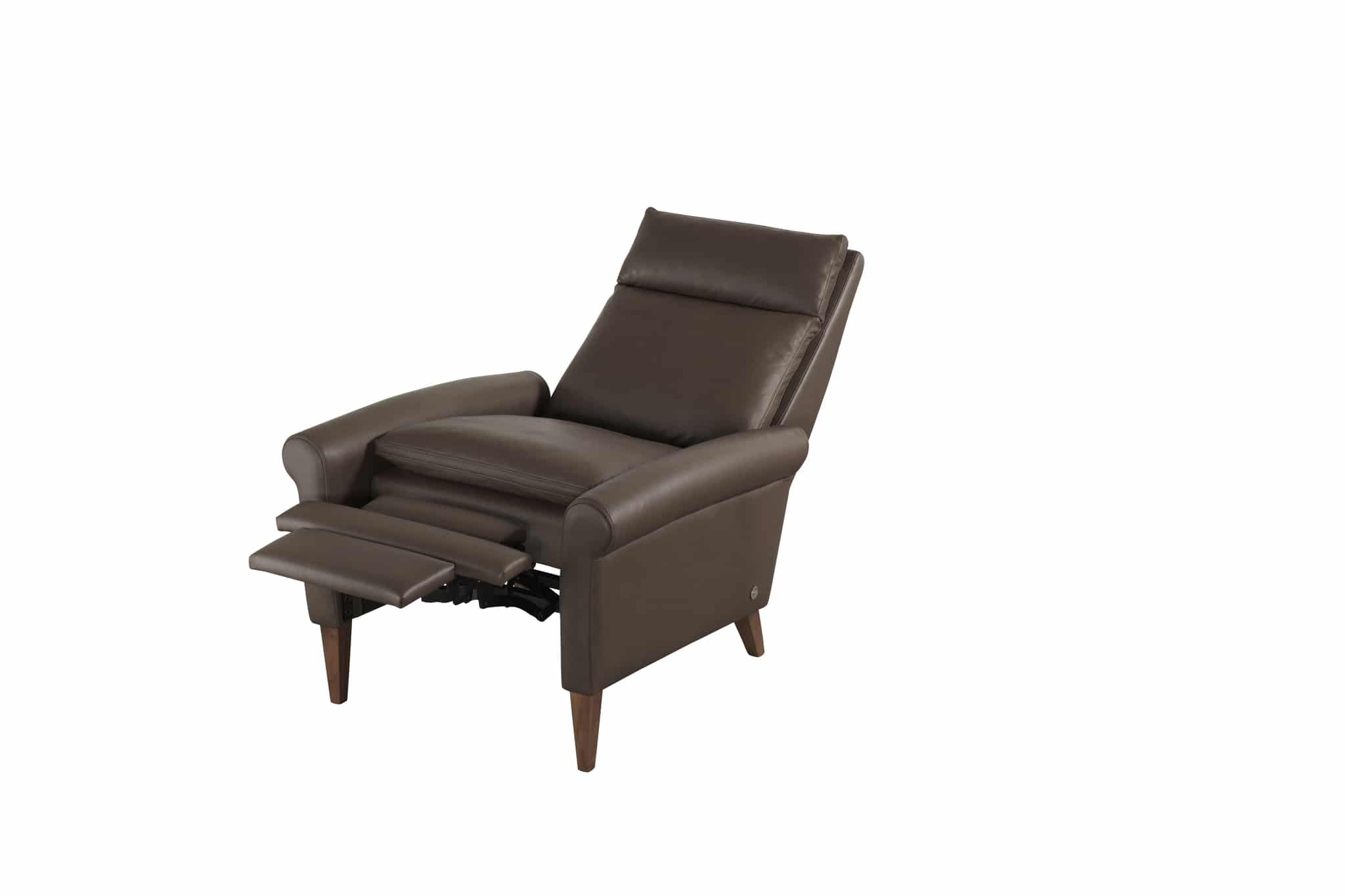 Like the Viceroy, the reinvented recliner features a single-needle top-stitch and is available in fabric and leather. It's made in the USA with solid wood legs that are available in Natural Walnut or Gray Ash. Catherine says of the style, "Some styles have a very modern look but you can also go more transitional."
You can opt for a cushion or a tight back option, depending on your preference. Something to note is that because the chair doesn't sit as low to the ground, a petite person may not feel as comfortable. The reinvented recliner starts at $2,299 in fabric.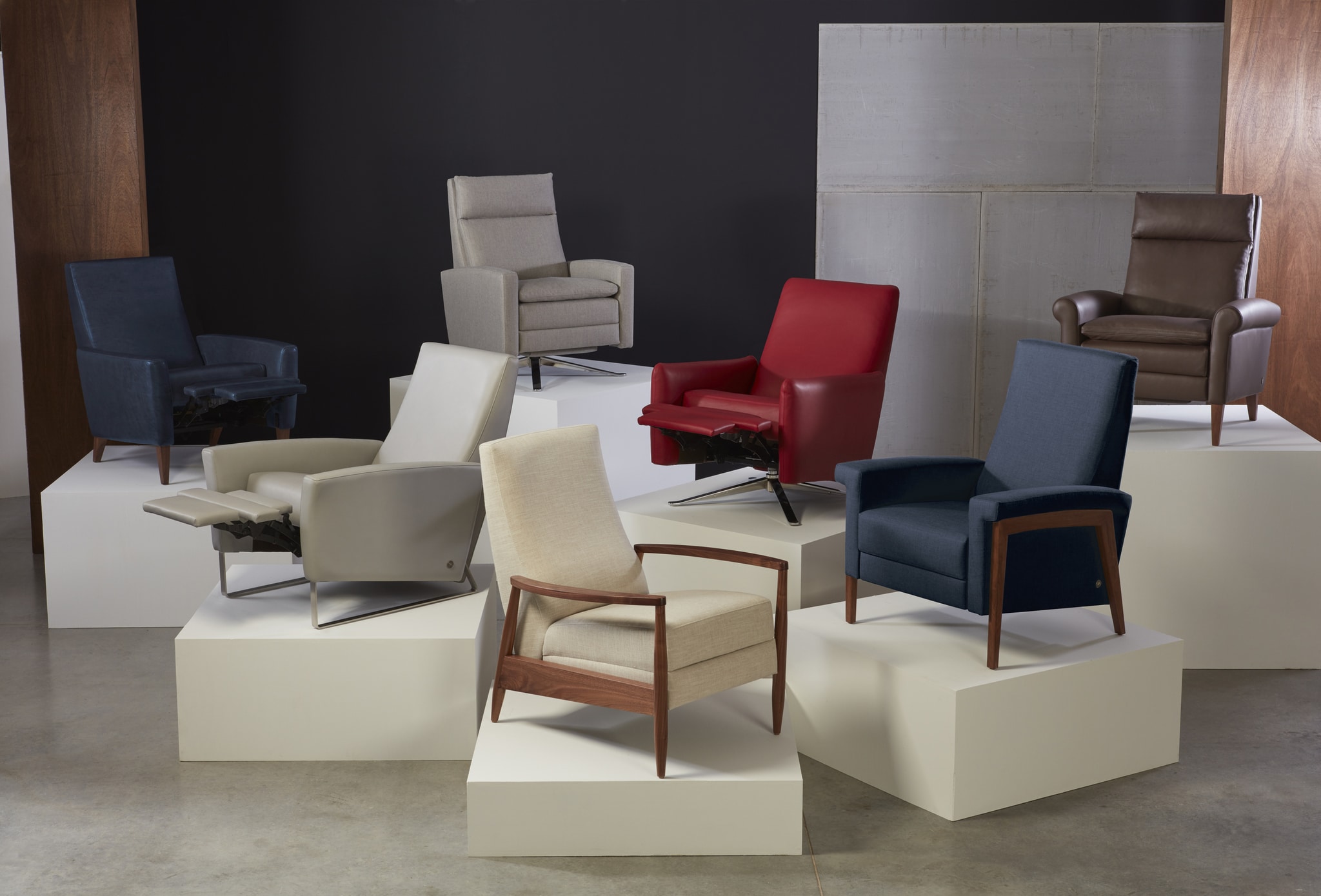 Making your decision
If you're deciding between the Viceroy and the Reinvented Recliner, a lot of your decision will simply come down to style preference. Catherine describes, "If you like the mid-century modern style, then it really doesn't get more beautiful and functional than the Viceroy."
However, she says, "There's a little more variation in style when it comes to the reinvented recliner. So if you don't love that mid-century modern look, it's a great option." The seats on the reinvented recliner are also overall deeper, and it does have a lower price range than the Viceroy, although not dramatically.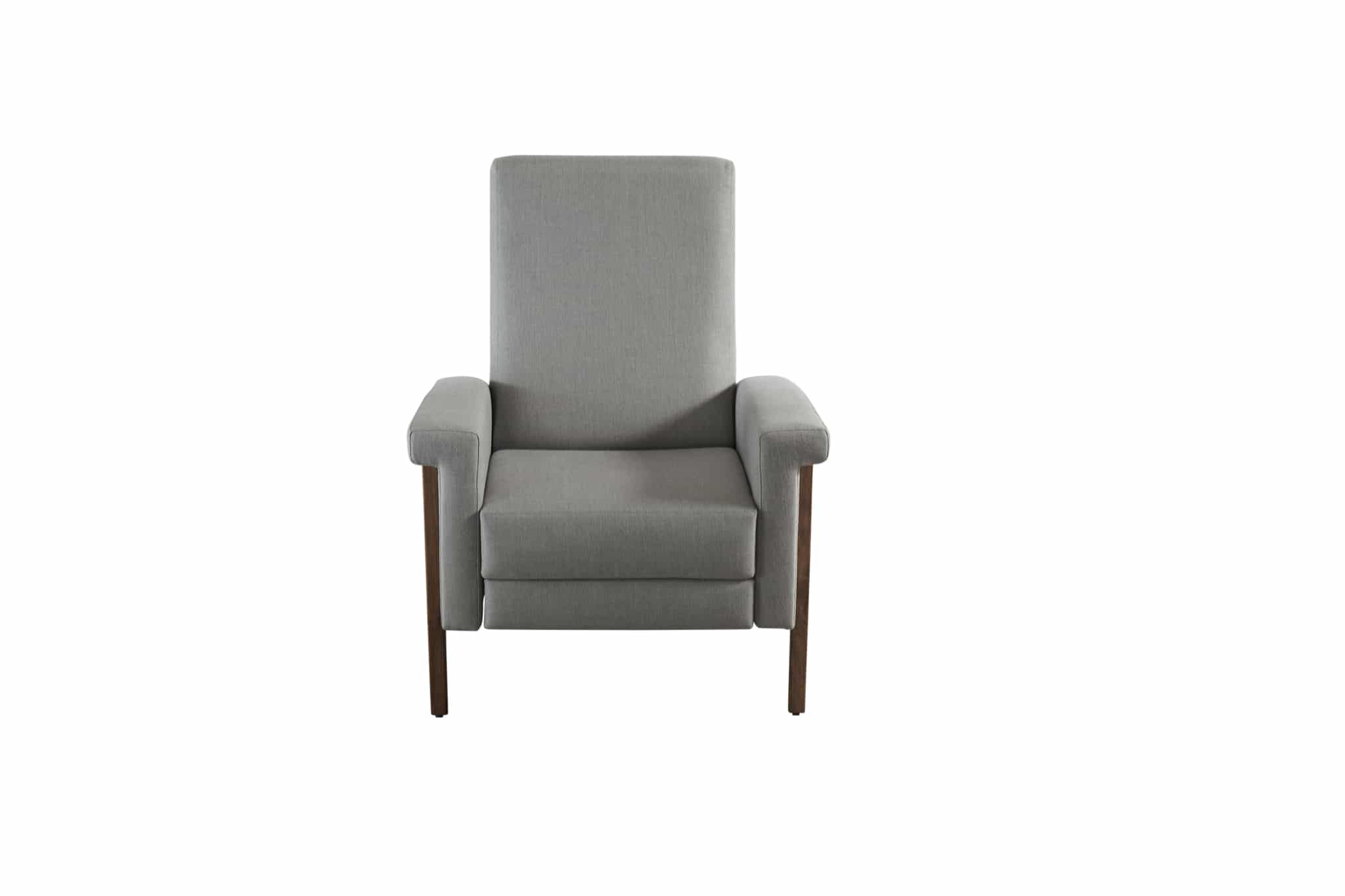 In both instances, Catherine says, "Fabrics are a little more relatable whereas the leather will increase the price of both a fair amount."
Most importantly, you want your recliner to be functional and comfortable. Trying them out in person is truly the only way to determine which one is right for you; or if you prefer a different type of chair entirely.
Come into any of our showrooms to try them out, along with a vast collection of cozy recliners, hip swivels, and other seating options that might suit your fancy.