The open-concept dining area is in these days, and therefore so are islands and bar stools. You might be gathering quickly around your island to eat, rather than sitting down for a formal meal. Or, you may bring out the bar stools when you're hosting a party. Either way, it's important to choose bar stools that are both comfortable and attractive. Although this seems like a simple task, you may find yourself asking some questions. How many should you get What height should they be Should you get a bar stool with a back We're here to answer all these questions and more. Read on for our complete guide to choosing the perfect bar stools for you.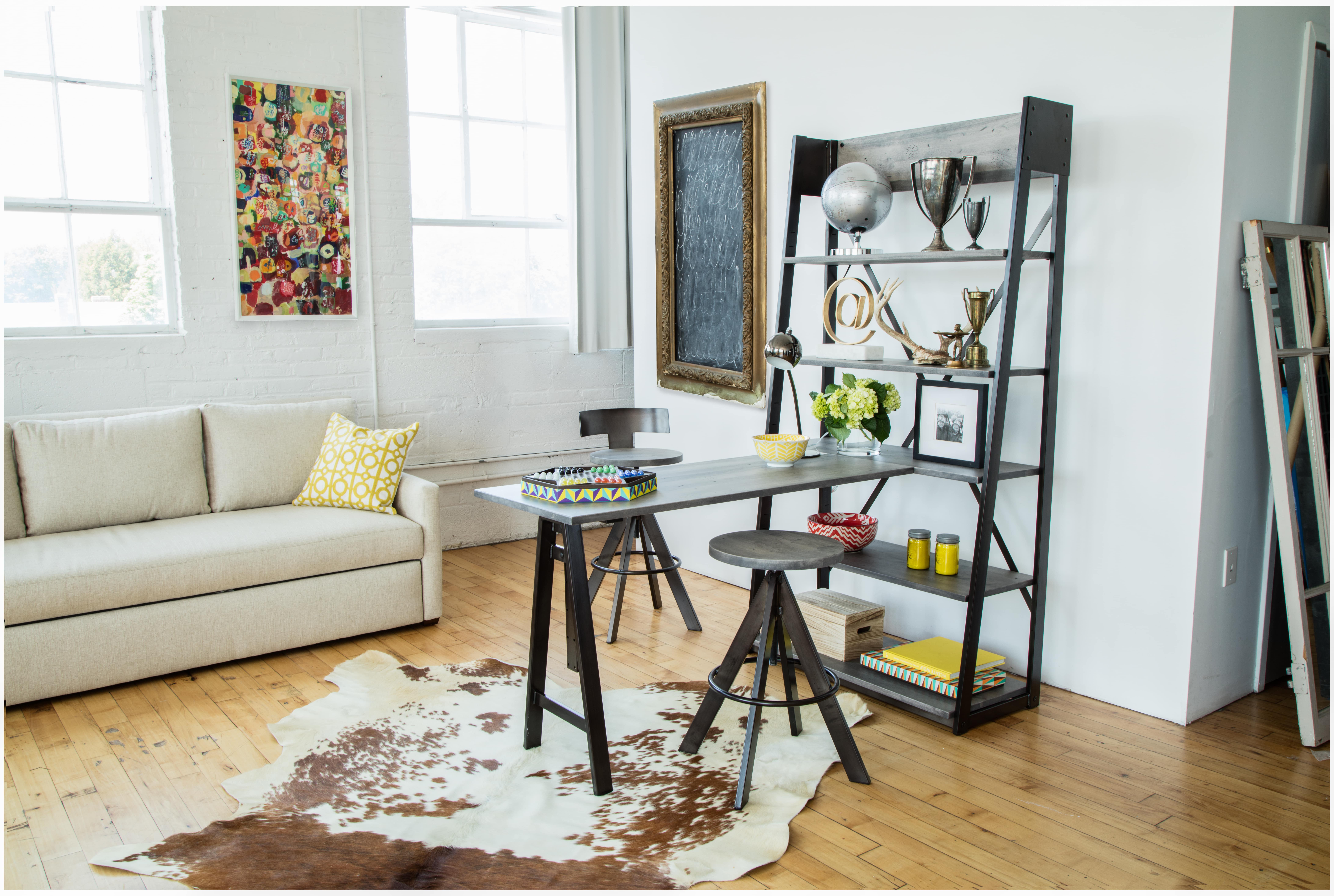 What's the price range
Before thinking about the number of bar stools you need, you're probably thinking of the price. A bar stool can cost you anywhere between $159 to upwards of $1,300, depending on the quality of construction, style, and fabric. The mid-range price for a bar stool is between $299 and $450. How much you decide to spend will vary greatly depending on your budget, style preferences, and how many bar stools you need.
How many bar stools do you need
The number of bar stools you choose will depend on the size of your island and how much space between chairs feels comfortable to you. For reference, a bar stool with a back is anywhere between 18" to 22" wide. In general, you want roughly a 1/2 foot between your chairs, although depending on your size and comfort you may want more space. You can also place a bar stool at one or either end, if you have room in your walkways. If your island is 5 ft. long, you might choose to have 3 chairs and one on each end if you have space, for a total of 3-5 chairs. If you have kids you might want more room in between chairs to allow for more space to climb in and out.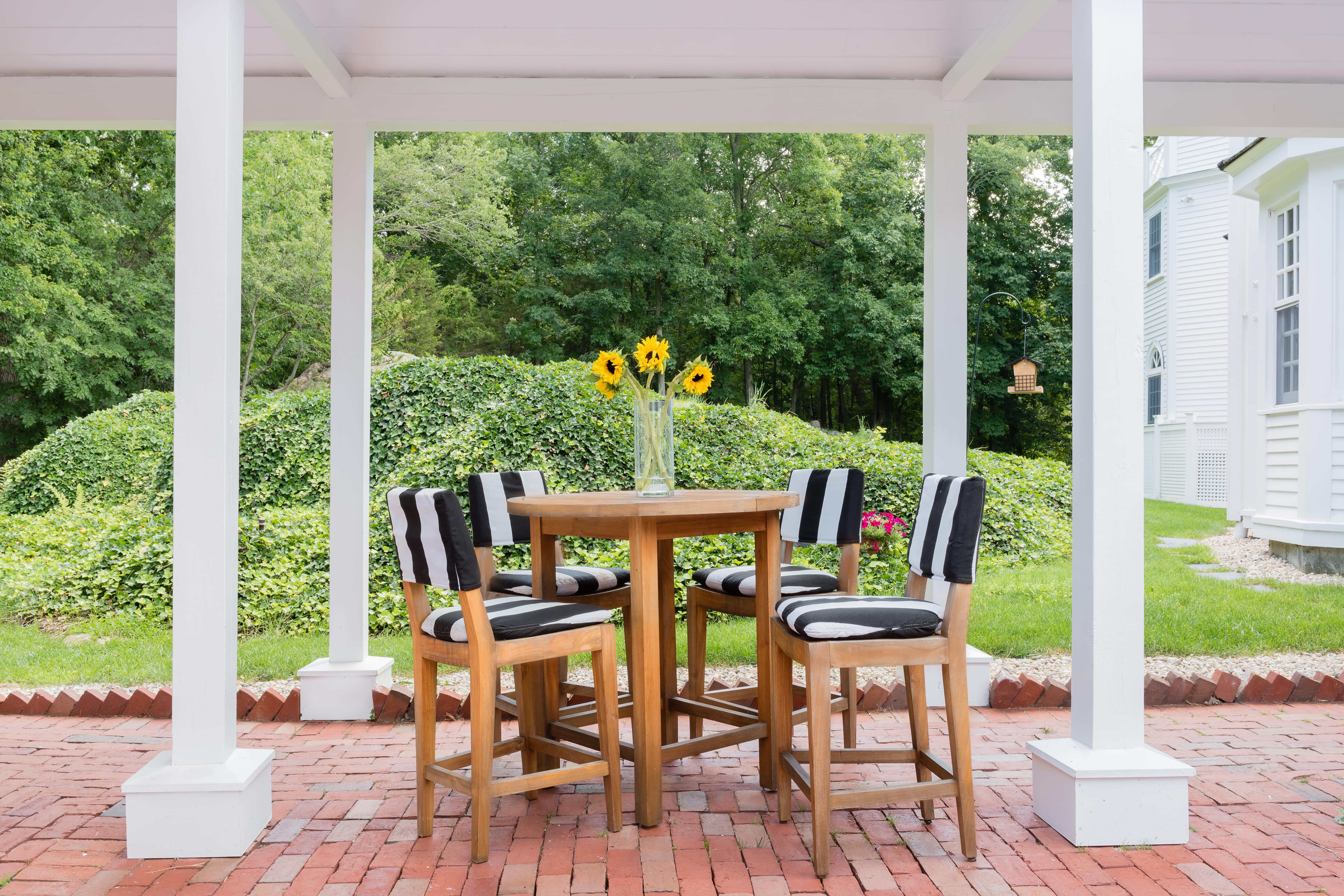 Choosing the height
Choosing the height of your bar stool depends on the height of the island. Islands are generally either 36" or 42" tall. For a 36" island you want your bar stool to be between 24" to 26" tall. For a 42" island, you'll want a stool that's between 30" and 32" tall. If you want versatility, some stools have adjustable height options.
Back or no back
When deciding between a backless bar stool or a bar stool with a back, you should consider not only style but comfort as well. A bar stool with a back is great if you have kids climbing in and out, as they're generally a sturdier and safer option. They're also the best option if you'll be using them on a daily basis and prefer the comfort and support of a back. If you want to visually open up space in a small kitchen or dining area, a backless bar stool is the best choice. Read More: How to Decorate a Small Space: The Best Ways to Visually Expand a Room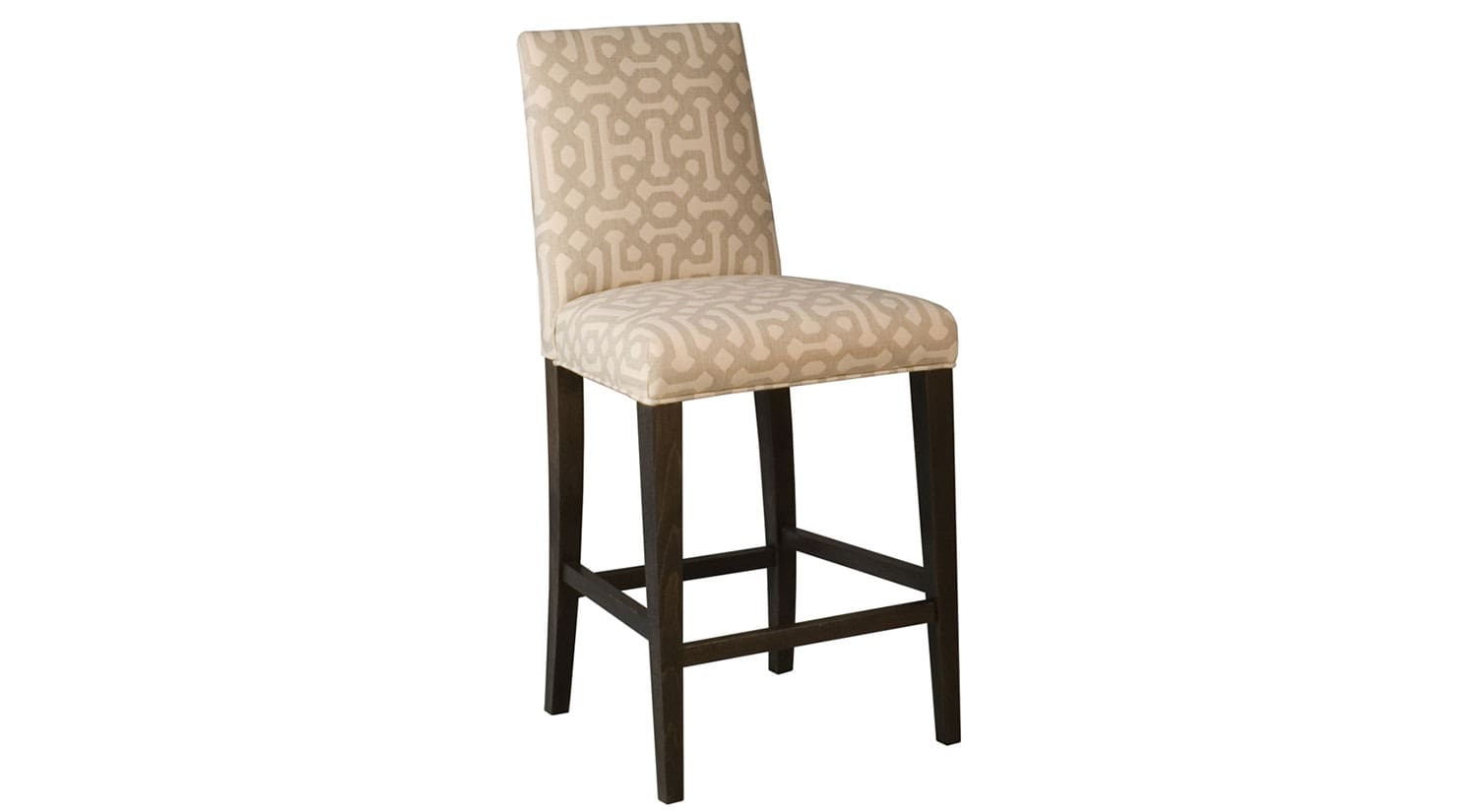 Beau Counter Stool
Thinking about style
Much like a dining chair, bar stools can be found in a range of sizes, styles, and materials. You can choose from a solid wood bar stool, like the Dean Counter Stool, or an upholstered option, like the Beau Counter Stool. There are also wood chairs with upholstered seats, like the Cade Counter Stool. An upholstered or slipcovered bar stool tends to have a more formal look. Wood stools can vary from very modern, like the Axis Bar Stool, to very traditional like the Tate Bar Stool. If you're after an industrial style, look for bar stools with metal elements, like the Ronny Swivel Bar Stool. Another fun option is a counter bench on one or both sides of the island. You can sometimes choose between a swivel chair, a memory swivel that comes back to center, or a non-swivel option. This comes down to personal preference and some styles may not have all these options. When it comes to the style of your bar stool, look through home décor magazines, Pinterest, and find inspiration wherever you can!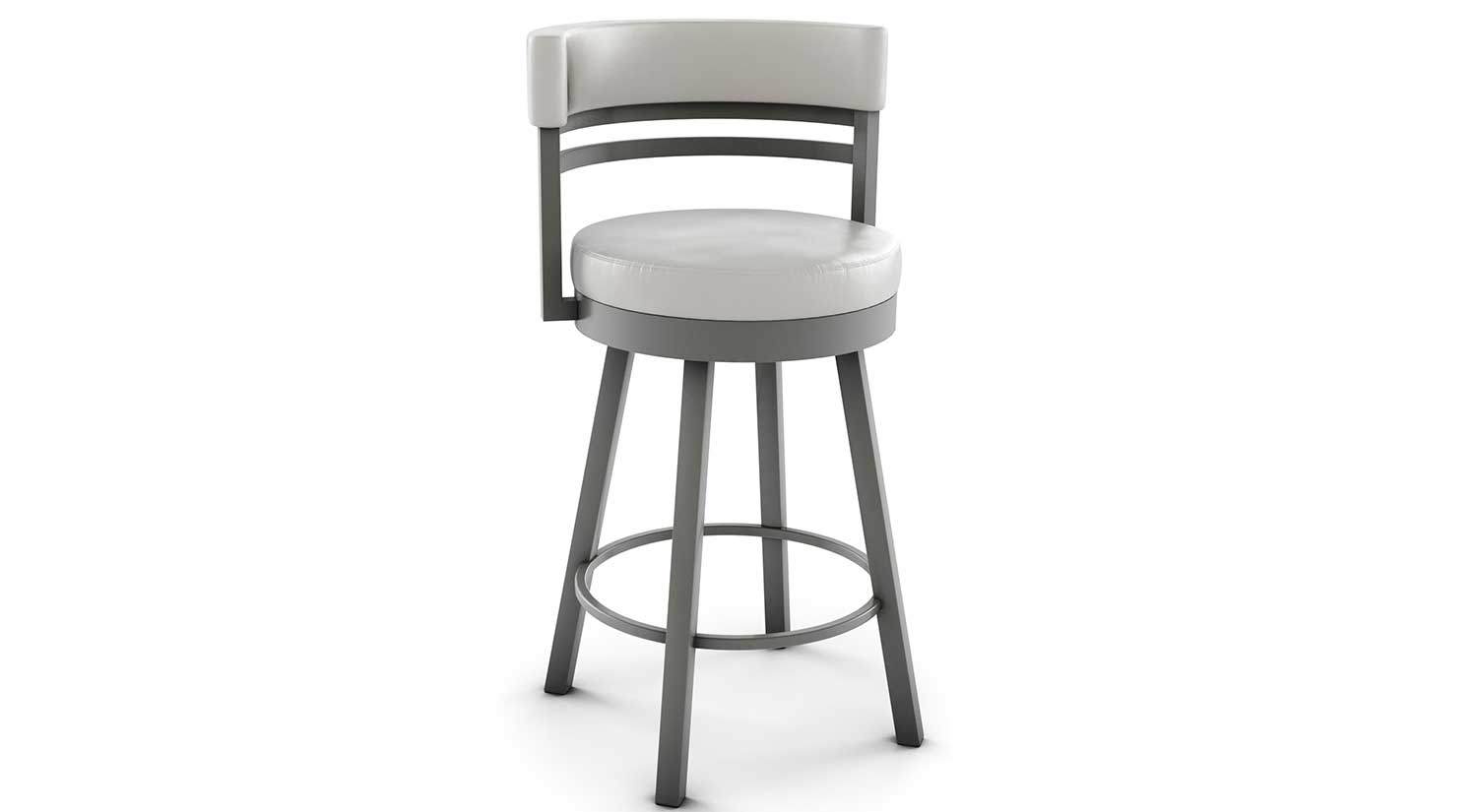 Ronny Swivel Bar Stool
Do your bar stools have to match your kitchen
The idea that you have to match your bar stools perfectly to your kitchen isn't outdated, but it also isn't necessary. There are a lot of great ways to tie your bar stools into the design of the room. The best way to start is to find an accent color in the room or adjacent rooms, and use it as a pop of color in your bar stools. You can also tie the room together by using metal tones that are in your kitchen, like brass or copper, as an accent in the frame of your chair. If you consider that the seat upholstery of your bar stools will be mostly hidden, it might inspire you to add a pop of color or a fun fabric on the seat. On the other hand, neutrals never go out of style. There's also the option of matching your dining table chairs to your bar stools if you prefer a more cohesive look.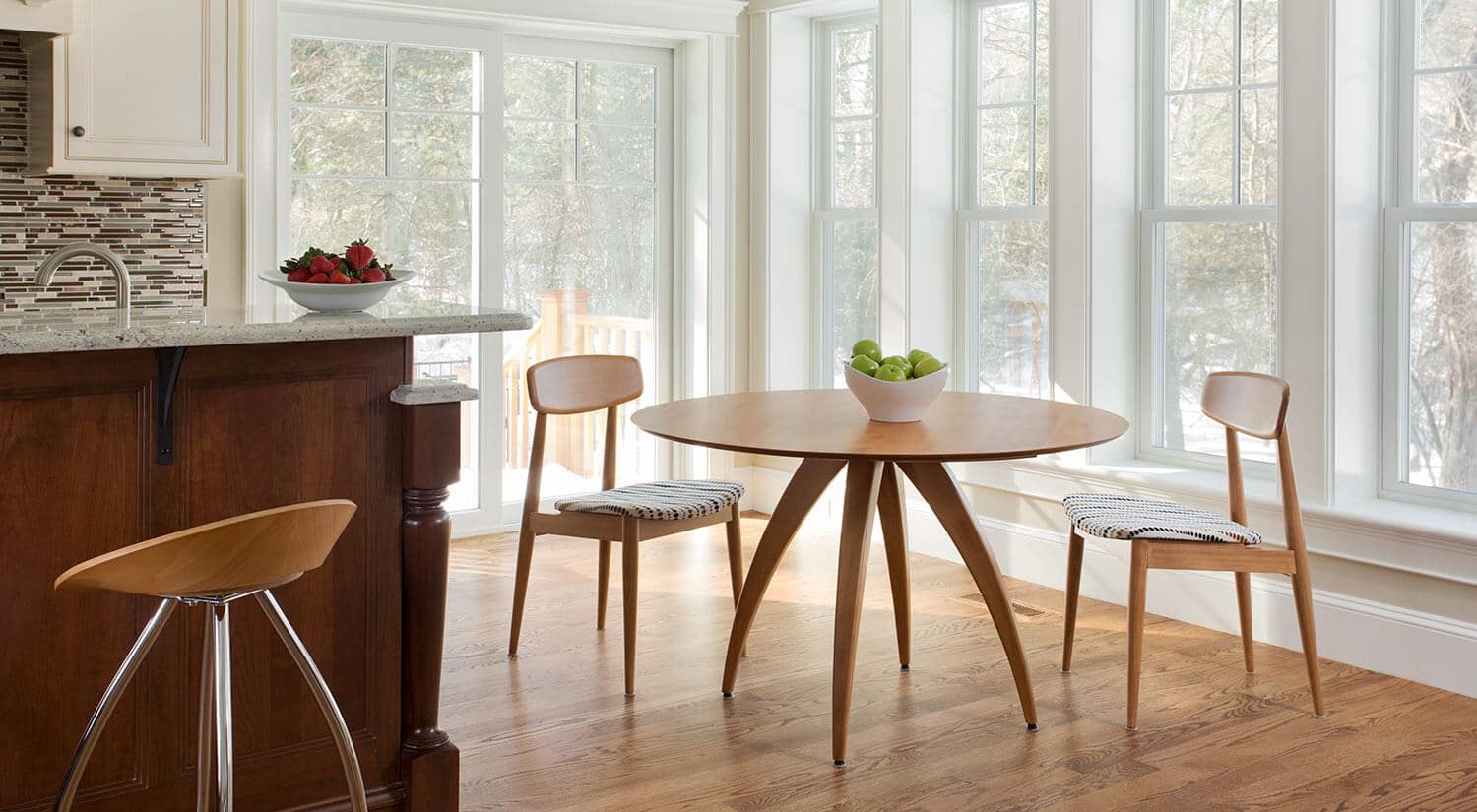 Conclusion
Whether your island or counter is your quick gathering space or the place where you have your daily meals, your bar stools can make or break the experience. You want them to be comfortable, fit within your budget and lifestyle, and compliment the style of your kitchen. Come into a showroom to get inspired and talk to a designer. They can guide you through the process and help you choose the best bar stools for you.
Looking for more inspiration
Author: Julia Maiman
Julia is a writer, blogger, and believer in the smell of old books. She has been crafting stories since she could put pen to paper. She is also a lover of dogs, traveling, and Led Zeppelin.