There are many interior design tactics you can use if you're looking for how to make your bedroom feel bigger. The walls of your home are a fixed reality, so much as you may want a larger room to sleep in, that may not be an option.
The way you decorate, however, has a huge impact on how large your room feels. And how a space feels is a critical aspect of how much pleasure it gives you.
Circle Furniture's Boston store manager Linda Maguire provides several easy-to-implement ideas to give your bedroom a more spacious appearance.
Light, Light, and More Light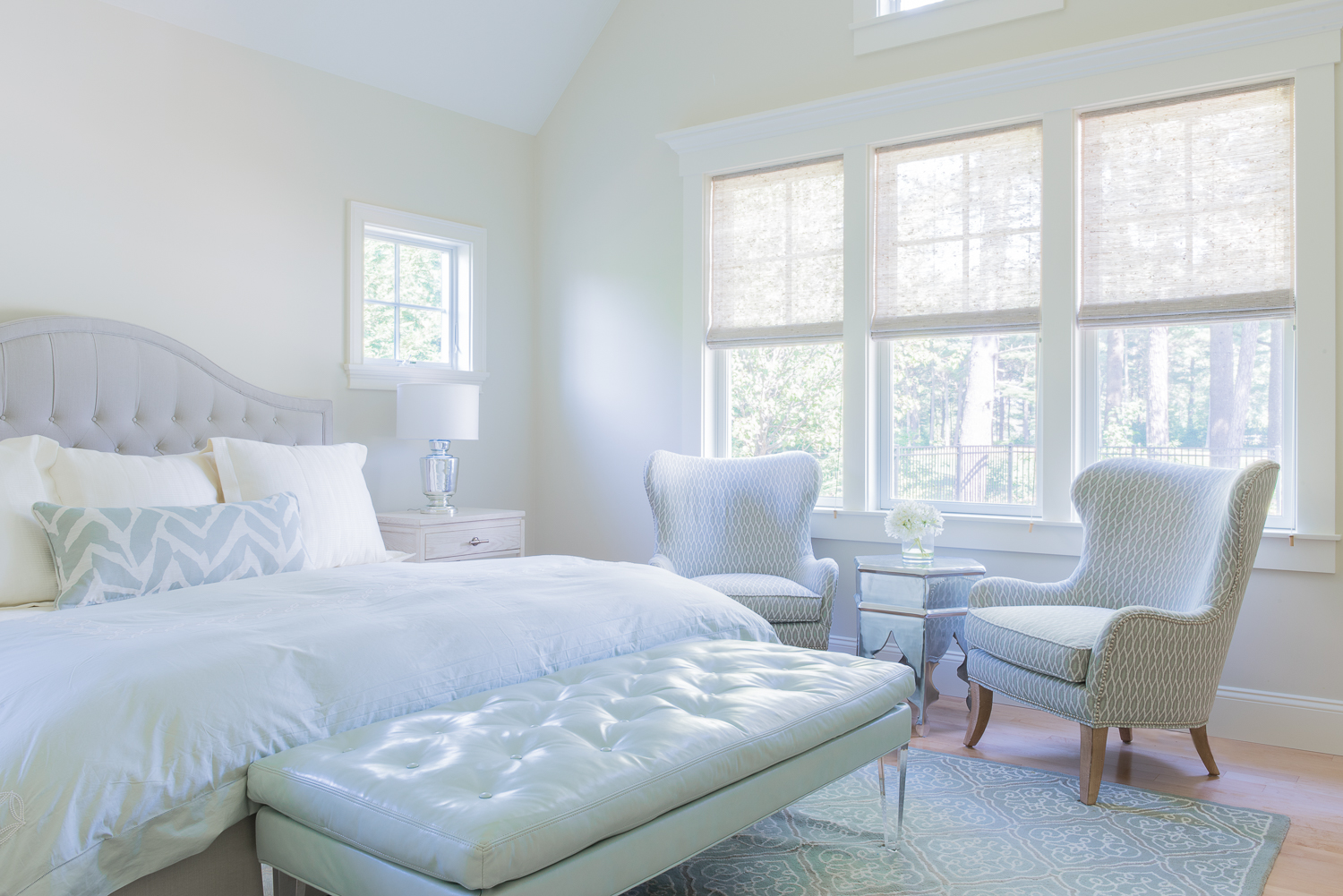 You're going to see a thread throughout these suggestions: more light, less dark. Lighter always looks bigger; darker always looks smaller.
Here we mean light and dark in many of their various iterations.
Lighter Colors
When considering the colors for your walls, flooring, linens, and curtains, go lighter. You don't have to make everything shades of white; an all-white room may feel large, but it may also tend toward feeling sterile. Keep your palette on the lighter side, with an eye towards making it welcoming.
This also means looking for furniture that is made of lighter types of wood, or is painted and upholstered in lighter colors. On the flip side, steer clear of heavy, dark woods and rich, deep colors.
Lighter Weight Fabrics on Your Windows
When considering window treatments and curtains, sheer and lightweight is your lane. Flowing, airy—that's the direction that will keep your space feeling open. Again, heavy, thick drapes are unwelcome in this design scheme.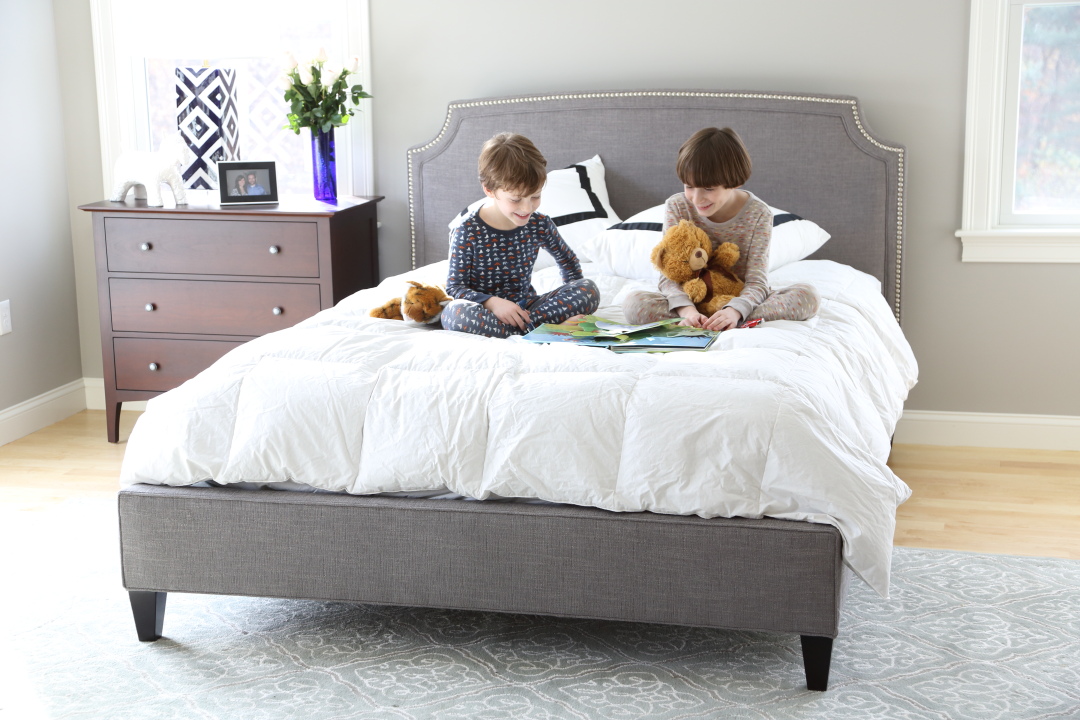 Let the Light In
Whenever possible, allow for as much natural light as possible. In rooms where natural light isn't abundant, make sure the space has ample lighting. Add candles for a warm glow. Check to make sure that you leave no dark corners. A dark space or space tends to disappear; you want to fully embrace your entire room.
Choose Lighter, Less Bulky Furniture
In interior design realms you'll hear the phrase "visual space." This refers to how large something appears to be. For instance, you may have two sofas that are the same measurements—that is, they physically take up the same amount of room. But they may appear more or less "abundant."
In your mind's eye, imagine a traditional sofa with rounded, overstuffed arms and cushions. Now imagine a more contemporary sofa, with narrow arms and crisp, squared-off cushions. Which one would you think takes up less visual space? Of course, it's the contemporary option.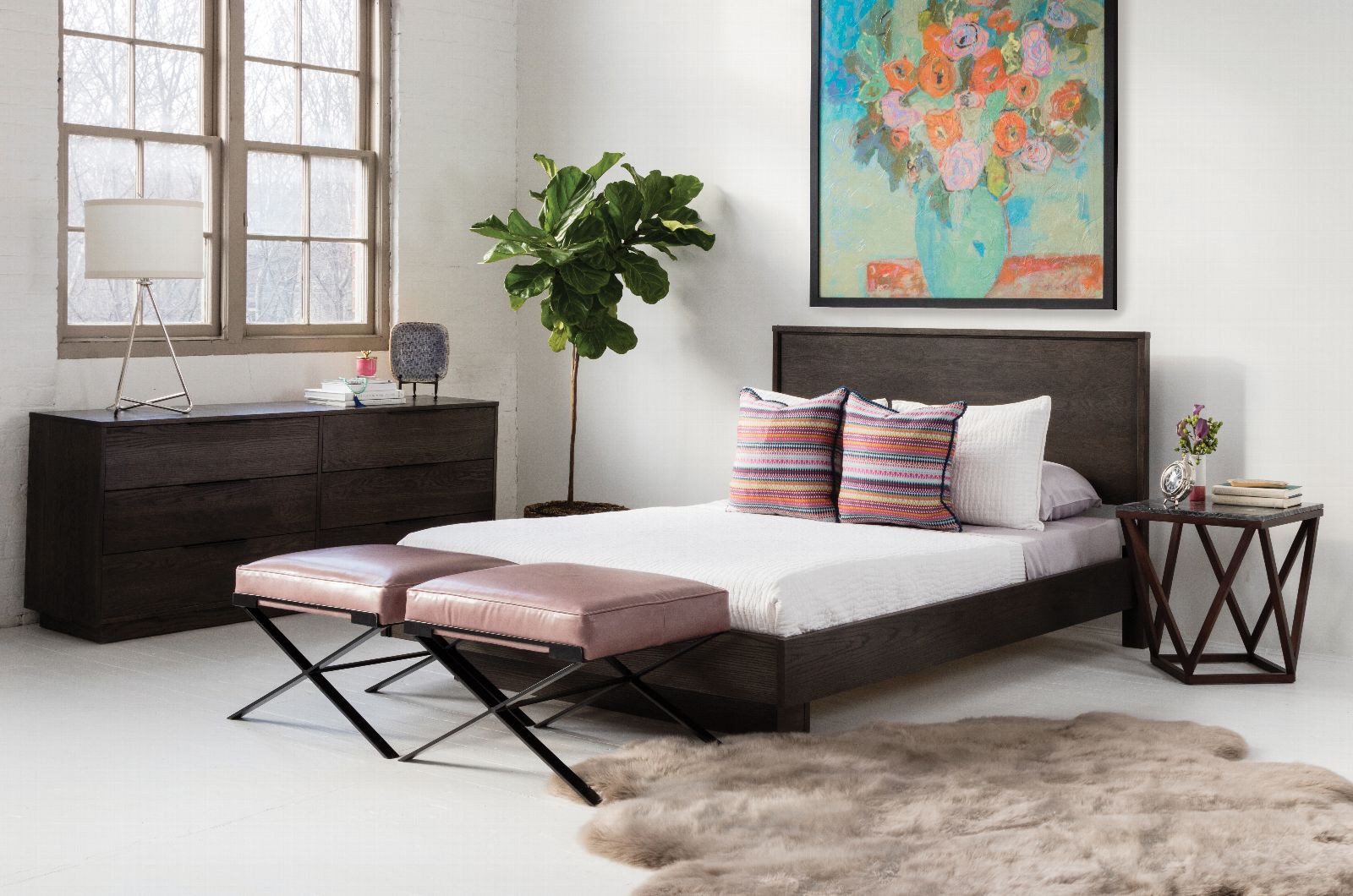 A general rule here is, items that are narrower and feature clean lines will take up less visual space than dense, thick, rounded items. To make your bedroom feel spacious, choose furniture that takes up less visual space.
Not only do you want your furniture to take us less visual space, but you do also want it make sure your furniture doesn't take up too much actual space. Scale your furniture appropriately. Big pieces, even if they are visually lighter, can overwhelm a space.
Don't Focus on What's Detailed
There are elements to consider outside of the dark-and-light arena. Items with a lot of detail add visual weight to your space. As you are likely keen to by this point, that is not what you'll want in a space you are looking to visually enlarge. So do away with heavily patterned prints or ornate additions.
This goes for fabrics, wallpapers, furniture features, picture frames, and the rest of it. Keep to those clean, simple lines.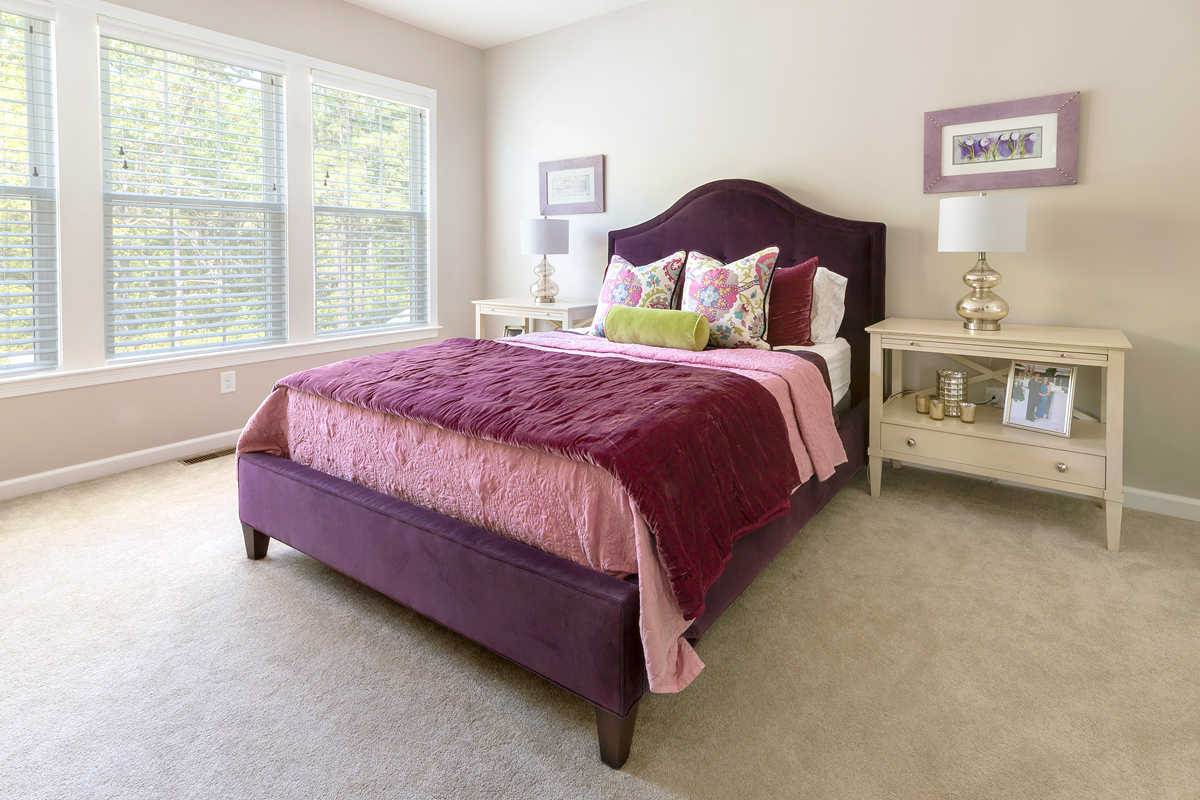 Picture Paradise
When you're looking to add artwork and decorations, think photos of dream vacations spots or places you love to visit. Choose images that make you smile or evoke happy memories.
Are there phrases that resonate with you and inspire you to be your best self? You may be able to find one or two on readymade plaques or have them custom-made. Or choose other types of art that bring you joy.
You could say here that we're also thinking of lightening, but this is in terms of uplifting the mood.
Mirror Your Intention
Making rooms look bigger with mirrors is common because it works. This is most effective if your mirror reflects a large, open space. So make sure it reflects as much of the open space of the room as possible, or place it opposite a window, to reflect natural light and a cheerful outdoor scene.
Of course, your bedroom mirror doubles as a way to check your appearance. These are indeed just a couple of the many ways to use mirrors in your home; reflective surfaces are multiuse tools in interior design.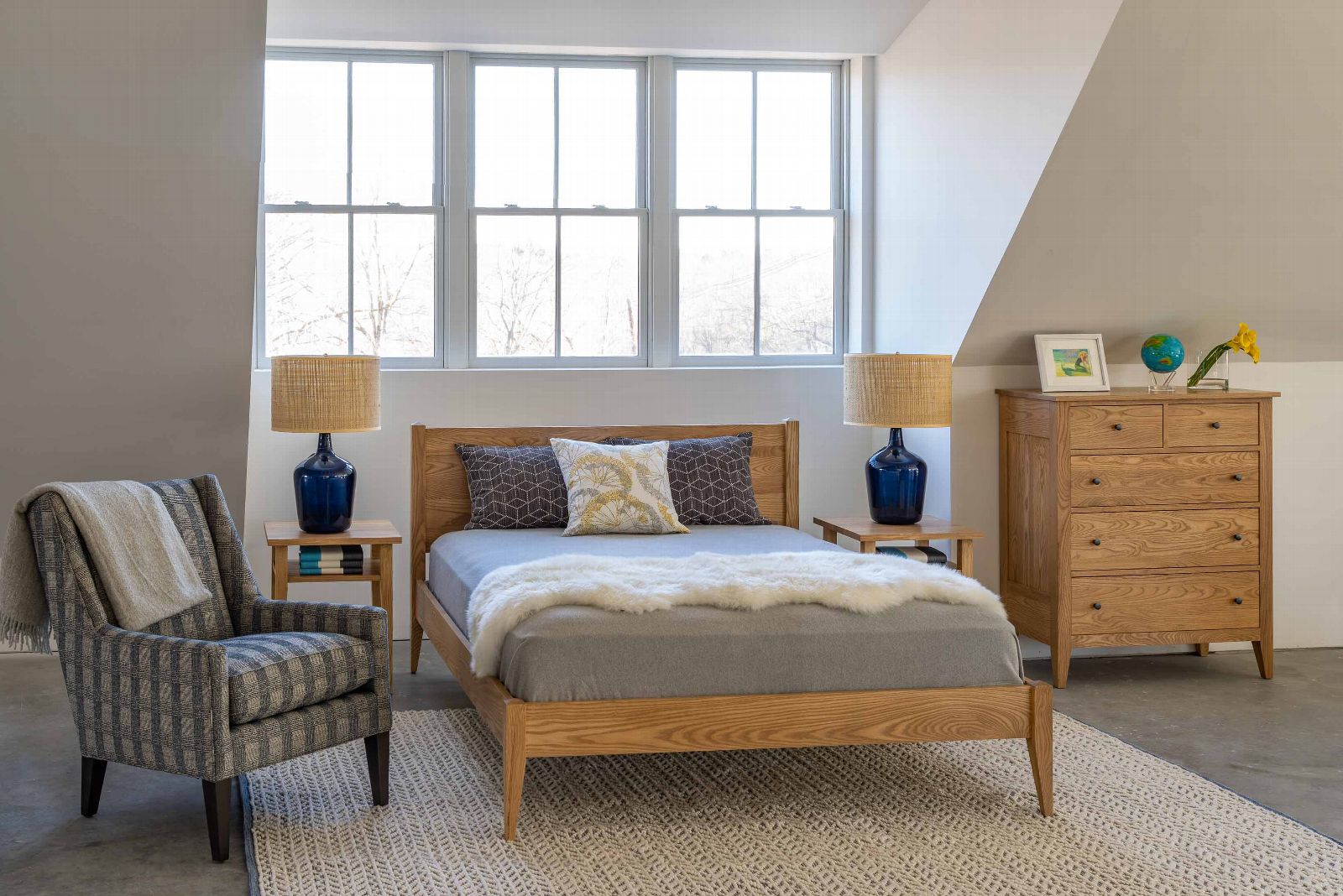 Clutter Clearing
Be mindful of how many objects you put into your space. Too many items in a room can start to make it look crowded, or cluttered. A cluttered, or visually overwhelming, space does indeed make it feel smaller.
This follows the same reasoning as reducing details and ornate décor.
Make a Space You Love to Experience
Of course, the guiding force in any redecorating or sprucing up project is to make sure the end result is a space that you and others who use it will enjoy, day after day.
Use these tips on how to make your bedroom feel bigger, along with your design instincts, to make sure your space brings you prolonged comfort and joy.