Light wears many different hats in the home: it can set the mood, help you accomplish a task, and bring much-needed brightness to a space that may otherwise come off as cold and uninviting.
Of course, you want your home's lighting to do its job effectively. How you light each room is going to depend on its purpose and what sort of look/feel you want it to have. To start, here are some general tips you can follow:
Light up the corners of a room

Think about layered illumination and not just overhead lighting

Consider the layout of your furniture

Make note of wall paint color as darker colors reflect less light

Play with ambiance and utilize dimmers
Next, we want to take you through some best practices on how to light the different rooms and areas in your home with insight from Linda Taylor, our Seaport Store Manager.
Read more: Types of Lighting and When to Use Them
Lighting in the home: Room by room
Living room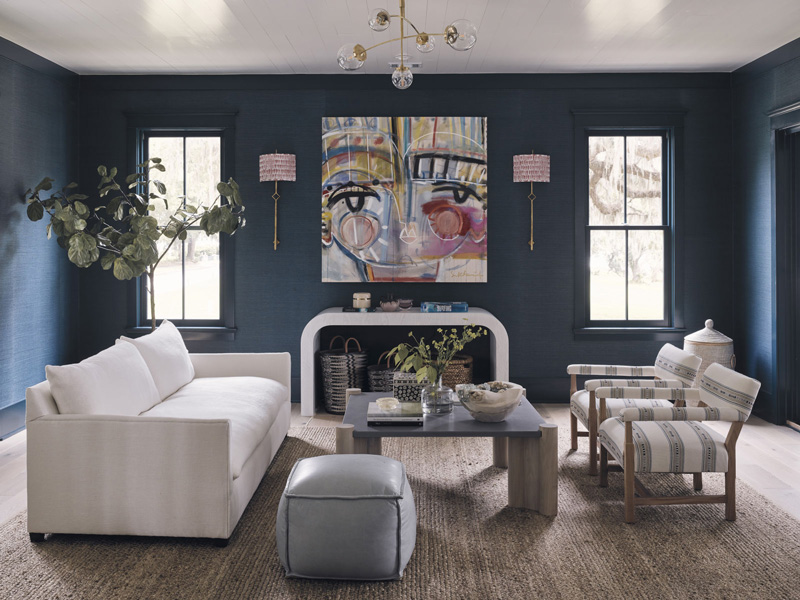 The living or family room is a common area where people gather for long stretches of time and engage in an array of activities. Lighting can make a difference in how comfortable you and your guests are in this space. The number of fixtures will depend on its size; otherwise, you'll want to think about overall illumination, task lighting, and mood lighting.
The problem? More often than not, the last two get overlooked.
"What I think most people tend to do is they stop at their recessed lighting and they don't think of the decorative aspect of our spaces," Linda shared. "No matter what size the room, it's not up to just the recessed lighting or overhead lighting to create the mood or look of your room.
"There are layers of lighting that are needed," she continued. "Decorative lighting can absolutely help accomplish that."
Recessed lighting works for overall illumination, but what about the spot on your sofa next to the end table? A table or floor lamp would be necessary if you wanted to read or simply create a more relaxed mood. Accent lighting may be used to highlight an architectural element, such as a fireplace or bookcase, or even a painting or sculpture.
Now some people prefer to stray from recessed downlighting and use lights that bounce off the ceiling for more ambient illumination. This helps to create a sense of brightness and avoid shadows. It also suits the human tendency to visually perceive vertical planes (looking up) versus looking at our feet.
Dining room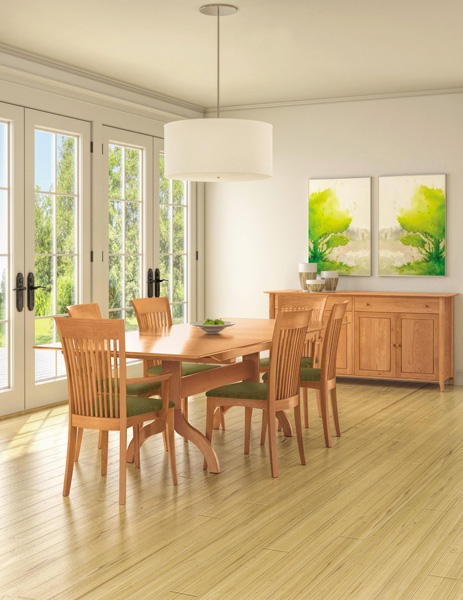 Similar to a living room, the dining area is another spot in the home that's meant for gathering. Chandeliers, wall sconces, and even recessed lighting are all commonly used to provide sufficient light and help create a certain mood, no matter what the occasion. For example, a chandelier would typically go above the table and sconces can frame a mirror hanging above a sideboard.
Dimmers are also desirable so you have flexibility in establishing a relaxing atmosphere. You'll be able to find a balance between creating the right vibe while making sure there's still plenty of light for mealtime and hosting.
"Many people like to create a mood in their dining room, but be careful - if it's too dark, you're not going to be able to see what you're eating!" said Linda.
Bedroom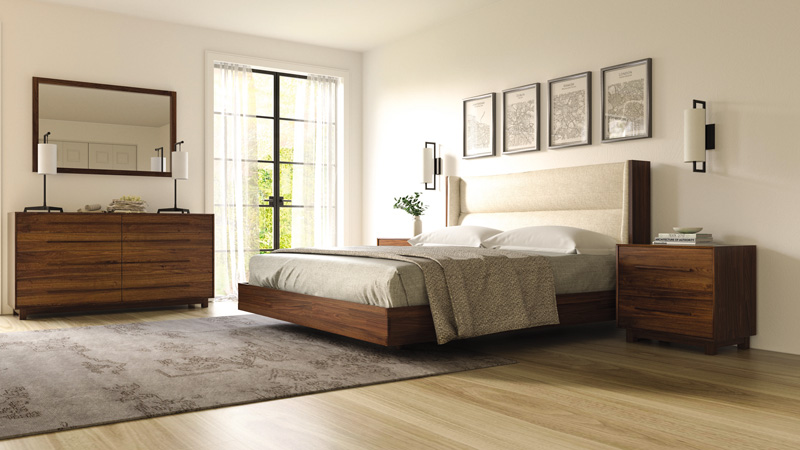 In a space that's meant to be comfortable and tranquil, ceiling-mounted fixtures might feel a little harsh. For this reason, it's possible you'll want to avoid this type of lighting in your bedroom and focus more on task and mood lighting (although closet space should use a ceiling-mounted or recessed fixture).
If you're a "reads in bed" type, wall sconces with adjustable arms are recommended so you can position the light above your book. And if possible, each bedside light should operate on its own easy-to-reach switch. There's nothing like getting cozy in bed and then having to get up, walk across the room to the opposite wall, and turn off the lights.
Other ways to light your bedroom? Table lamps can go on nightstands and/or the dresser (tip: find one with a 3-way switch so you have more control over the light). You could also flank the mirror above your dresser with wall sconces or bring in a floor lamp.
One last note: don't be afraid to have fun! Besides needing light for certain tasks or general illumination, you can use it in a decorative way. Table lamps, for example, are great for light and decorative purposes. Find something with a fun pattern or in a shade of your favorite color.
"It is your bedroom; you should love where you sleep!" Linda said.
Read more: What to Consider When Shopping for Lighting
Office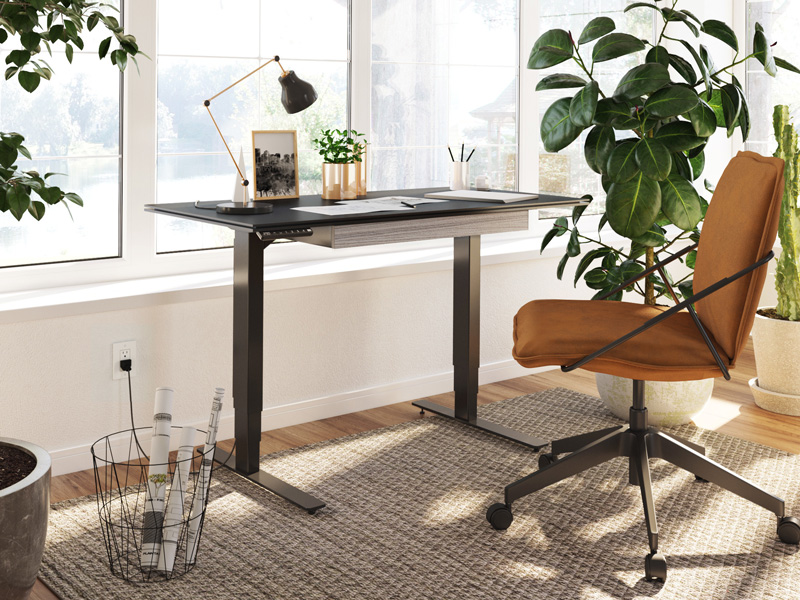 For anyone with a home office, the appropriate type and amount of lighting will make a difference in your productivity. Think about what sort of tasks you perform regularly: Are you at your computer often? Do you read a lot? Will you be on video calls throughout the week?
If the space receives a lot of natural light, you can put a reading chair or even your desk close to the window. On cloudy days or when evening rolls around and you're still plugging away, a table lamp can provide task lighting.
Something you might consider is making sure light doesn't reflect off of your computer screen. If you have that small table lamp on your desk, you may need to play around with different positions to help minimize shadows and glares.
Entries and hallways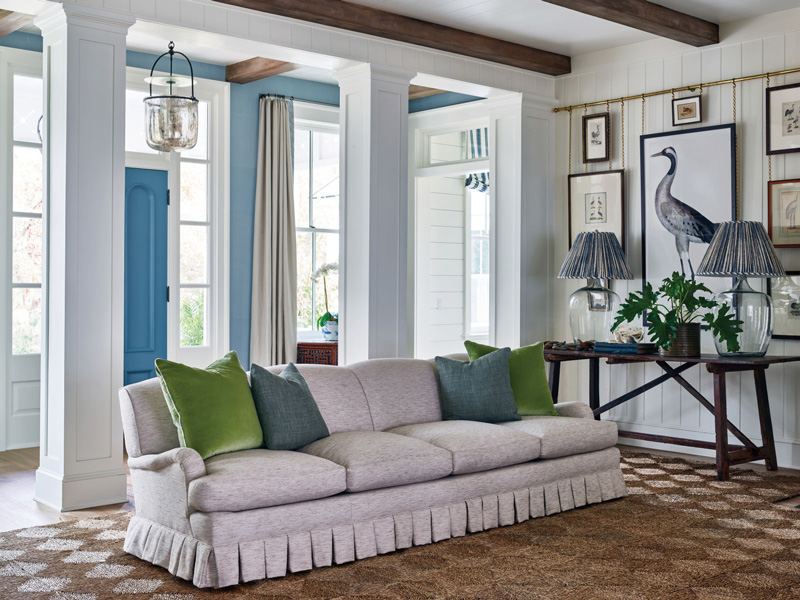 Along with the different rooms in your home, other areas like entries and hallways also require appropriate lighting - typically nothing more than ambient lighting.
A small entry may be sufficiently lit by a ceiling-mounted or recessed fixture or a wall sconce. A double-height entry or stairway may require a chandelier with lighting controls at both the bottom and top of the staircase.
For hallways, you can also use recessed fixtures, ceiling-mounted fixtures, or wall sconces. If there are any focal points, like a gallery of artwork or photographs, accent lighting is the way to go. Consider getting adjustable fixtures so you can position them directly at those pieces.
Shop lighting with Circle Furniture
Our lighting collection consists of beautiful chandeliers, wall sconces, table lamps, and floor lamps to fulfill whatever needs you may have. You can work with one of our Design Consultants to understand what sort of lighting is required for your space and how to effectively light each room in your home.
Find your nearest design center location
Author: Marycatherine Karcich