Performance fabrics are more than your favorite Dri-Fit running tee. In fact, these durable, comfortable fabrics are arguably best used on upholstery.
If you wonder whether or not a performance fabric would be a good fit for your furniture, or maybe you're not sure what they are, read on to learn more.
A Review of Performance Fabrics and Leading Brands
What are performance fabrics?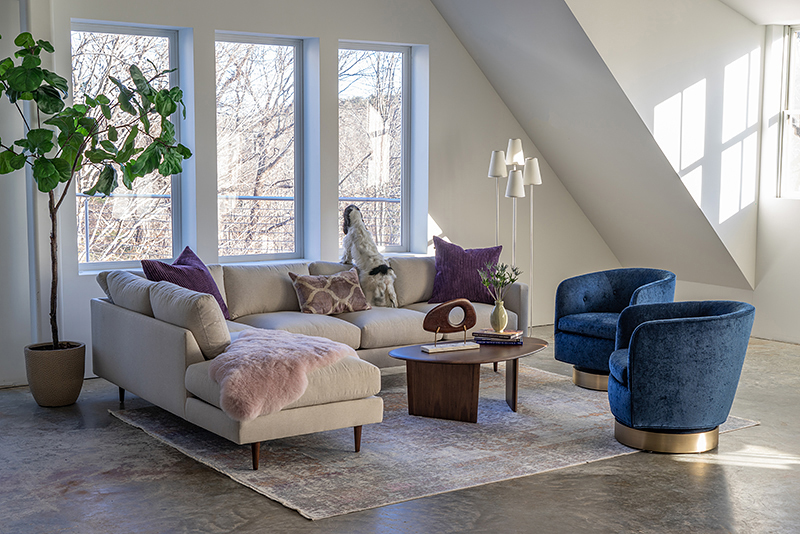 Generally speaking, performance fabrics are engineered to perform, whether you're in hot or cold weather, running a marathon, or playing a game of pick-up basketball. They also provide extra comfort and protection.
In the case of upholstered textiles, performance fabrics go a few steps further: they're long-lasting, easy to clean, and they hold up against wear and tear (plus they look great doing it). When it comes to furniture, they help you get the most out of your investment. You can go worry-free knowing that your cozy living room sofa or beautiful outdoor patio set can withstand everyday living.
Performance fabrics brands to know
Ultrasuede®
Widely regarded as one of the best performance fabrics on the market, Ultrasuede® has earned itself a place in multiple industries such as electronics, automotive, footwear and apparel, and home furnishings. It's made of ultra-fine polyester fibers that are spun together, resulting in a high-performance, non-woven fabric.
Ultrasuede® is lightweight yet durable, breathes well, and maintains a comfortable surface temperature. It also uses recycled resources and plant-based materials. Even better: it's difficult for your pet's claws to get through the fabric since there's no weave (Ultrasuede®: 1, Your Cat: 0).
Crypton
Crypton Home Fabric's performance technology is resistant to stains, odor, and moisture, making it easy to clean up spills. It's sustainable, too: Crypton was awarded the GREENGUARD Gold Certification, meaning it has low chemical emissions for healthier indoor air quality. These fabrics are also free from potentially harmful levels of PFOS, PFOA, formaldehyde, heavy metals, phenols, phthalates, and odor and skin sensitizers.
If you're looking to furnish an outdoor space, look no further than Crypton Outdoor, which has all of the stain-resistant features of Crypton Home in addition to enhanced anti-microbial protection and fibers that are UV-resistant for up to 1,000 hours.
InsideOut®
InsideOut Performance Fabrics® are resistant to stains, mildew, and fading from sunlight. To clean everyday stains, you just need a mixture of soap and water, but something a little tougher requires bleach and water. They also hold up against disinfectant spray if you want protection against germs.
Sunbrella®
Over the years, Sunbrella® fabrics have been adapted for interior and exterior upholstery in addition to marine textiles. They're resistant to stains, mold and mildew, chemicals, and UV light. They can be power-washed, bleached, and sanitized, and they're available in a range of styles that are both comfortable and beautiful.
Sunbrella® fabrics can be used to make window treatments, cushion and pillow covers, awnings, and, of course, fully upholstered furniture. Whether a deck or living room, you can furnish entire spaces knowing just how long the fabric will last and how easy it'll be to clean.
Is it worthwhile to invest in a performance fabric?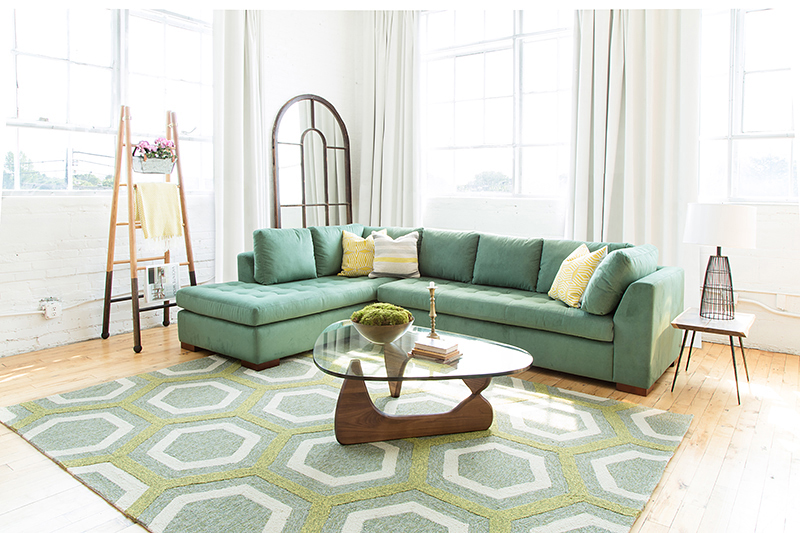 Ultimately, if you could buy a long-lasting fabric that's resistant to stains, fading, mold, and mildew, why wouldn't you?
Not only does a performance fabric last (Crypton's fibers resist fading for at least 1,000 hours, for example), but it'll continue looking just as good over time as it did the day you bought it.
If you have kids and/or pets, you'll value the ability to clean your upholstery thoroughly and easily. If you live in regions that get a lot of sun or rain and you enjoy spending time outside, then it would make sense to get a performance fabric for your outdoor furniture.
What performance fabrics do we offer at Circle Furniture?
We currently offer the following performance fabrics online and in our design centers:
Ultrasuede®

Crypton

InsideOut

Sunbrella®

Revolution

Bella-Dura
You can stop by any of our design centers to speak with a Design Consultant about performance fabrics and which one would best suit your lifestyle.
Already got your upholstery? Here's how to keep it clean.