If you invest in vinyl then it only makes sense that eventually you're going to need to invest in storage. We met up with Eric, our Marketing Coordinator and resident audiophile, to get his top picks for vinyl storage – from low-end to high-end.
He says, "Vinyl is coming back in a big way. Rather than storing them in boxes, people are looking for better storage solutions that keep their vinyl and equipment safe."
Whether you're just starting your collection and you're looking for the most basic option or you want all the bells and whistles, we curated a list of the 7 best options.
Low-End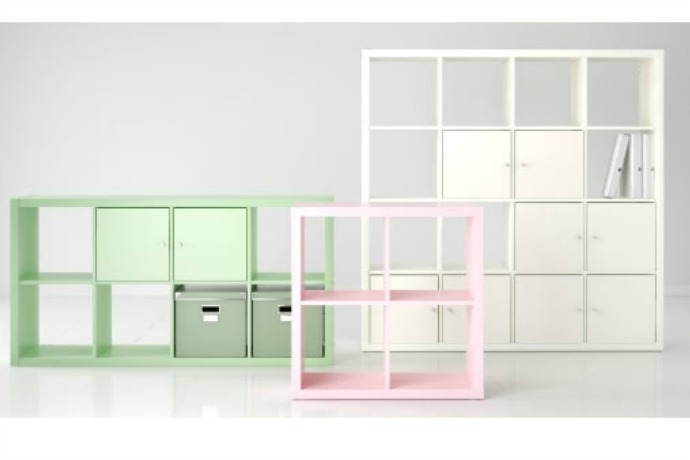 image: Ikea
His first pick is the Kallax storage system from Ikea. This is what Eric uses and he loves it for its affordability and simplicity. He says, "This system has perfect dimensions for vinyl storage, 13-inch compartments. You're able to pick and choose the number of cubes you need based on your collection."
The most basic option is $38.99, with four cubes spaces, and you can stack a receiver or turntable on top.
You should keep in mind that it requires DIY assembly and, as Eric says, "you get what you pay for" in terms of quality. "It's functional, it works, but it won't add much in terms of style to your home."
His next pick is the Bellwood Multimedia Dowel Rack from Wayfair. "It's priced well at $80 and has a narrower width, so it's best suited for someone with less space or the casual listener."
He adds "I don't recommend stacking your receiver and turntable on it due to the dimensions of the top and its materials. Keep it to storage only."
And again, keep in mind that these options require assembly.
Mid-range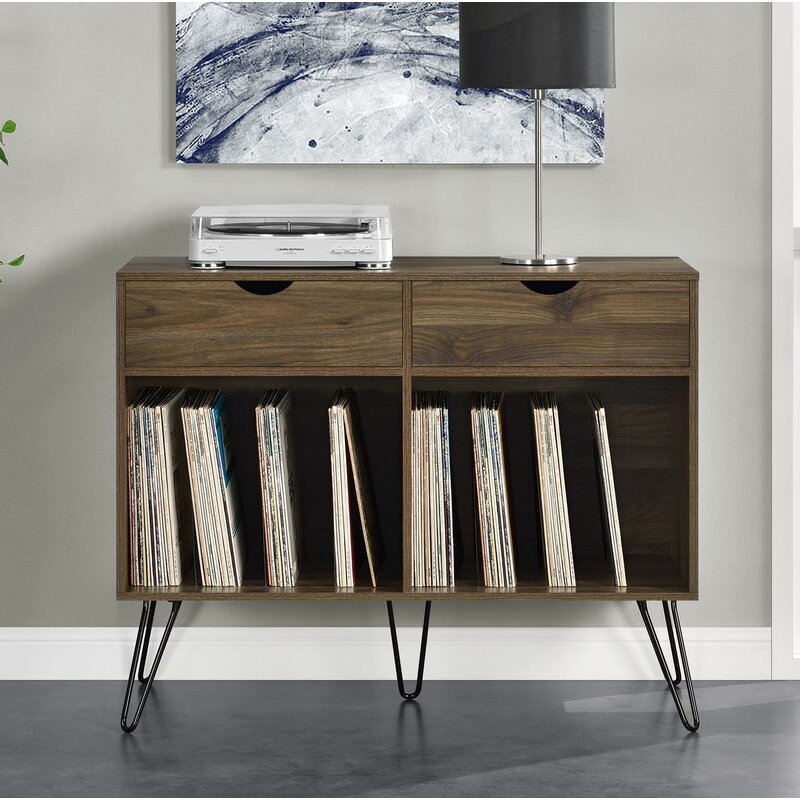 image: Wayfair
For a mid-range option, Eric chose the Concord Audio Rack from Wayfair, $129. He says, "This is a console table designed specifically for vinyl storage, with a wide top for your receiver and turntable. It has a more stylized look and a mid-century modern design."
When you pay more for vinyl storage, you'll get something that is specified for this purpose and has a more interesting design.
Next up, the LP Record Storage Rack by Boltz Furniture, $499. This option has a stainless steel industrial design, with two shelves, each able to hold 180 albums.
Eric describes, "I like this option because the materials will hold the weight of the vinyl. In theory, you'd never have to buy another one. And it's made in America."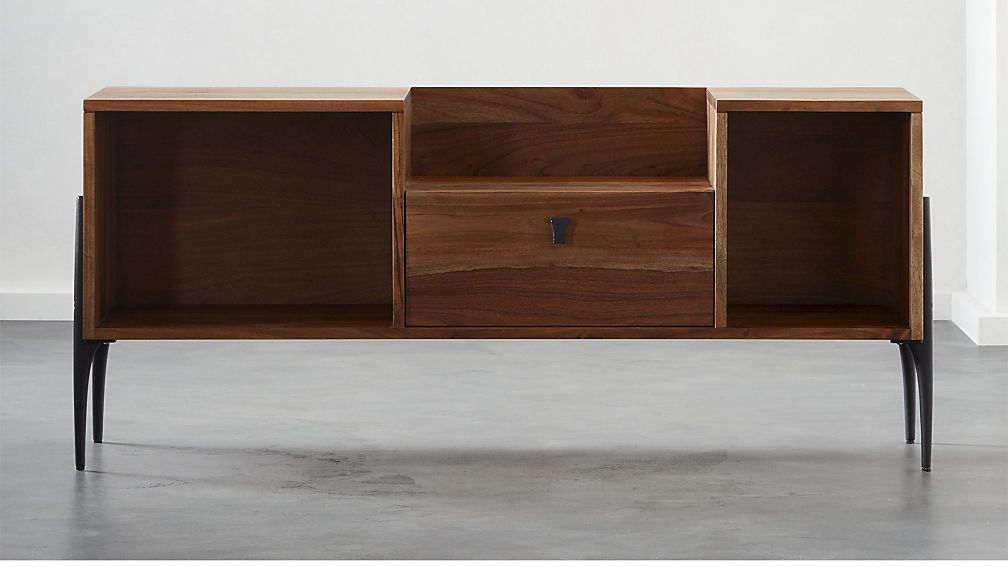 image: Pinterest
Last in the mid-range is the Form Acacia Wood Media Credenza from cb2 which comes in at $599. Eric says, "This is built to house everything you need. It's designed for vinyl storage and has a clean, modern look."
It has designated areas to put your receiver and turntable and a spot to hide cords.
High-End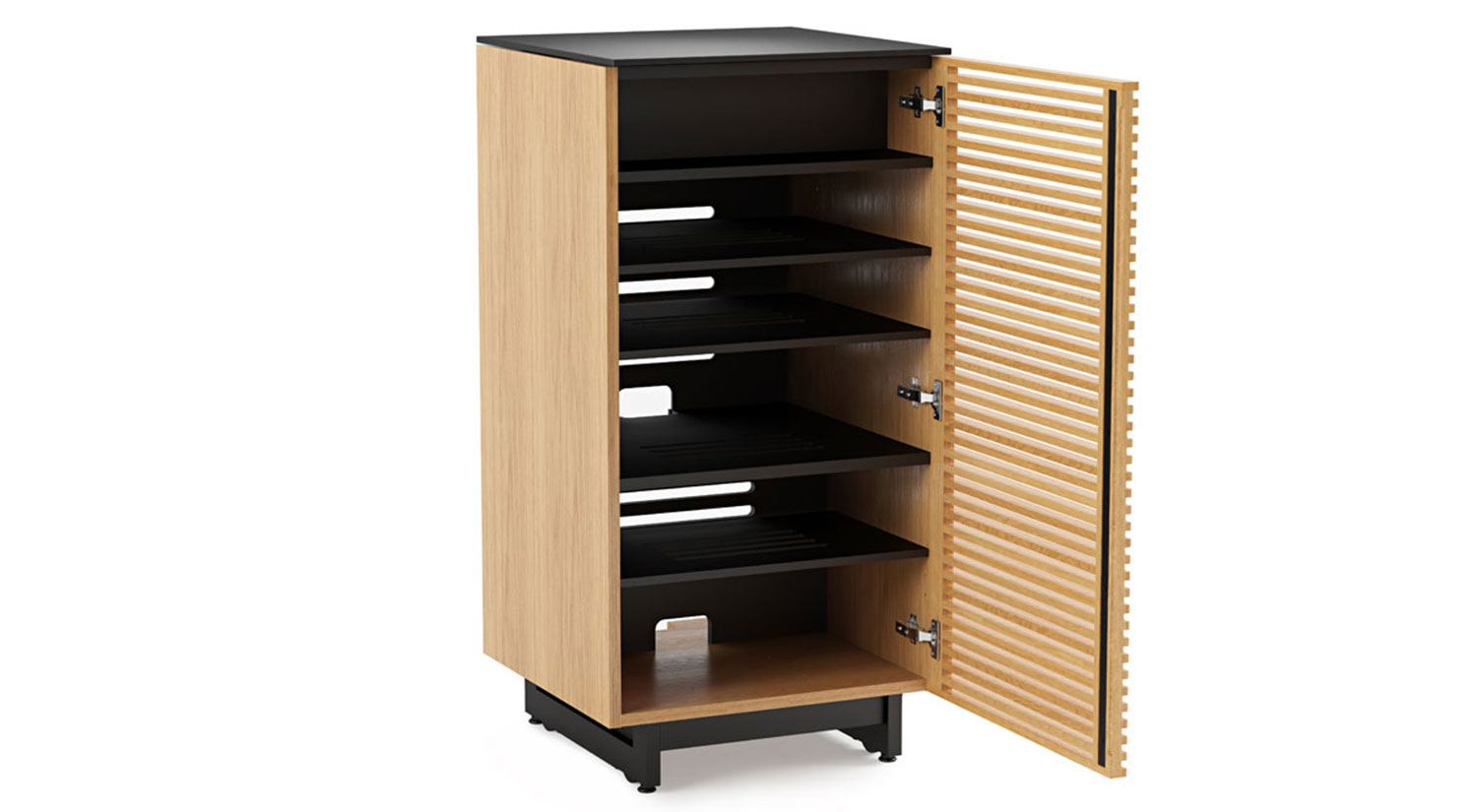 Moving into the high-end options, Eric chose the Corridor Audio Tower from BDI which starts at $1,929. It has compact storage that allows you to house your stereo system, minus the speakers, in the cabinet.
Eric says, "This is a great smaller option with adjustable shelves, tons of ventilation, and a hidden power strip component. It's specifically made for a stereo system with a ton of attention to detail."
He adds, "It doesn't take up as much space as a full console, so it's great if you have a smaller area. It might not be for someone who's going to have a big collection."
Next, he chose the Elements Media Console from BDI. He says, "This is a beautiful piece. It has tons of surface area to show off your equipment, and adjustable shelves so you can choose where to store your vinyl. It comes in two sizes and you get your choice of 3 door styles to match your home."
"BDI excels in functionality. Once again, you get what you pay for."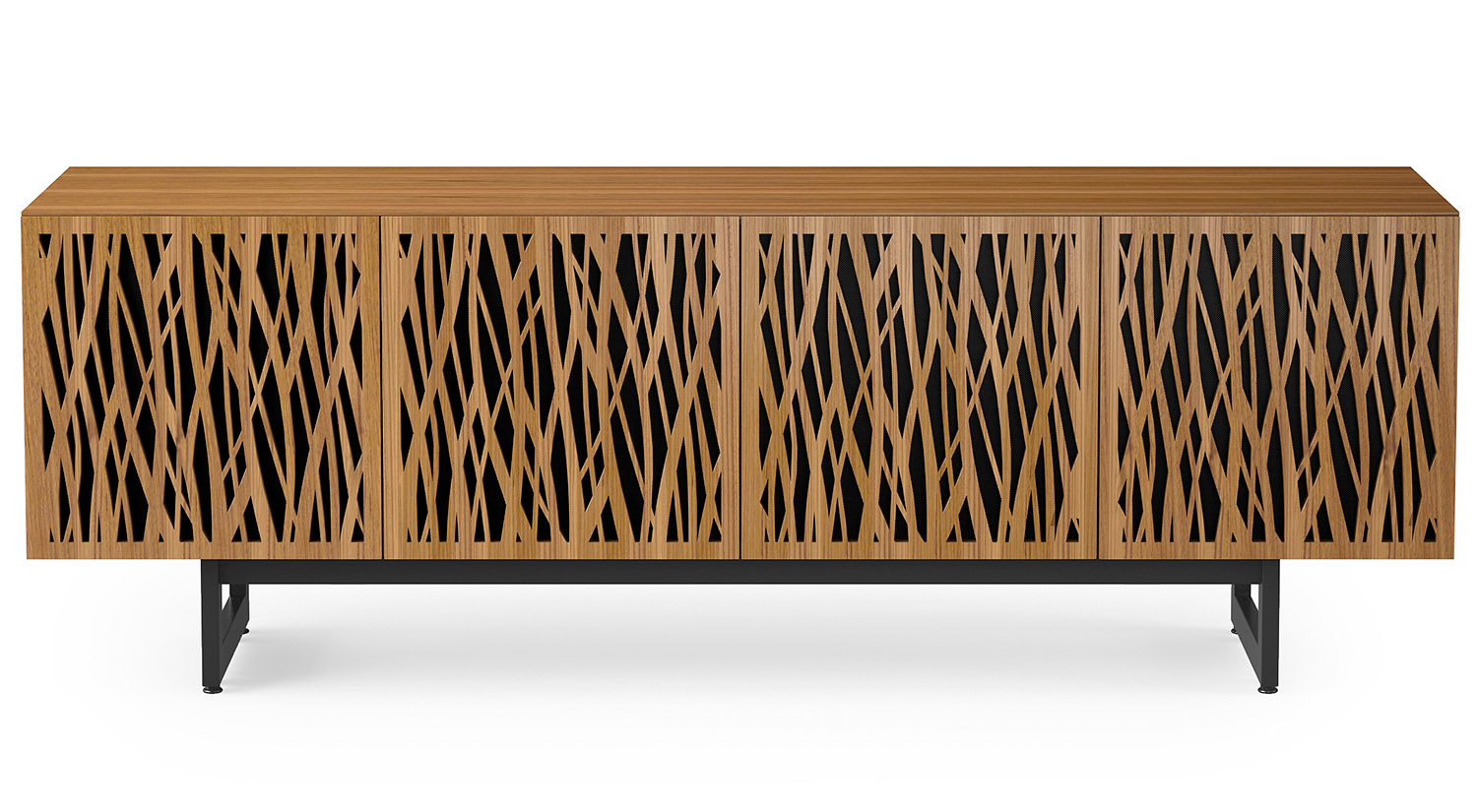 Final thoughts
As far as what to avoid, Eric has some opinions. "I didn't mention display racks," he says, "because they tend to be exposed on the top, so there ends up being dust. You also can't store your stereo equipment with them so they wouldn't be my first pick."
He also cautions that if you want to store your album in album frames that they won't be protected from the sun. "The sleeves of vinyl aren't printed with inks meant for long-term display. The sun will eventually fade the art."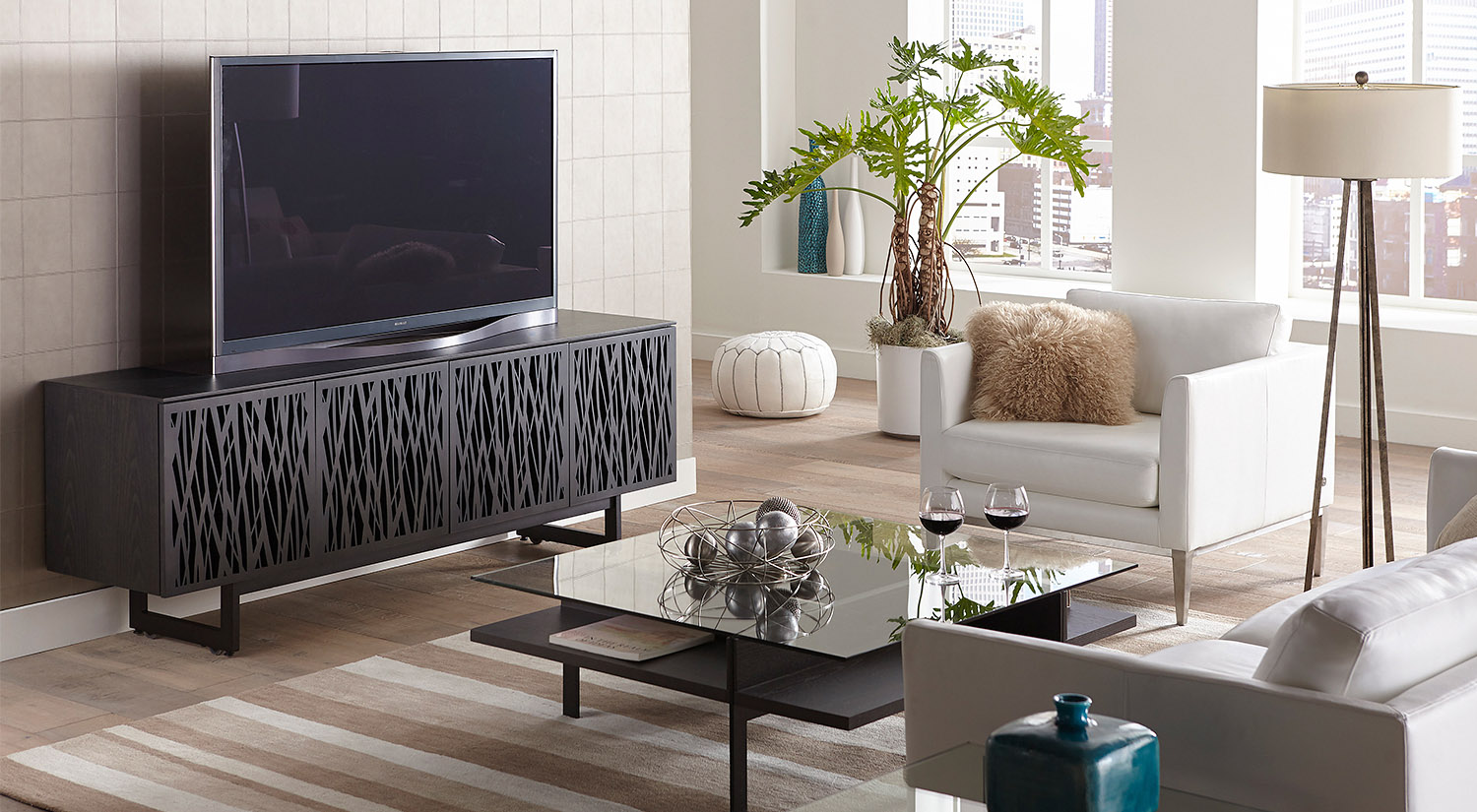 Deciding where to store your vinyl will depend on your budget, your style, and how invested you are in collecting.
We always aim to be transparent in helping you find answers to all of your home and furniture-related questions. For more tips and tricks, head to our YouTube Channel and connect with us on Instagram.
Author: Julia Maiman
Julia is a writer, blogger, and believer in the smell of old books. She has been crafting stories since she could put pen to paper. She is also a lover of dogs, traveling, and Led Zeppelin.