An often-overlooked element of ordering a new mattress is considering what should go underneath it. A bunkie board or a foundation (i.e. a box spring)? Never heard of a bunkie board? You're not alone!
We talked to Anita, a Design Consultant in our Cambridge showroom to get the low-down on the differences between Bunkie board and foundations and how to choose the best option for you.
Let's start with the basics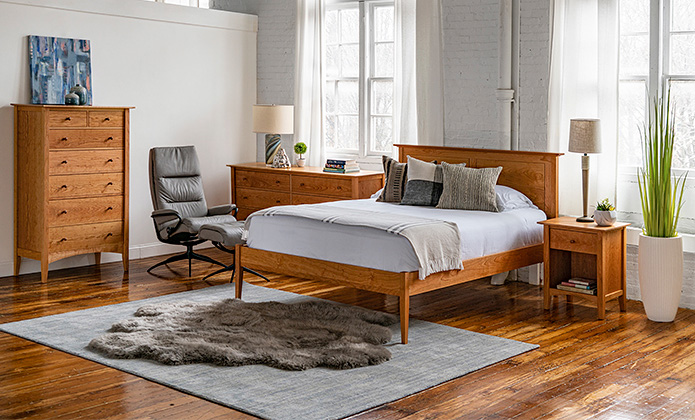 Today's mattresses use advanced materials, foams, coil systems and many are non-flippable. Box springs were in use when mattress construction and materials were bulky, dense, and heavy and were not supportive in their own right – the springs in a box spring helped to make them comfortable.
Today, all foundations are static – fabric-wrapped MDF or ply in one of 3 heights typically:
Low: Bunkie board 1 ¾" – 2" height – this fills the space between cleat and top of the side rail and offers a flat surface for a mattress to sit on.
Mid: 4.5" - this can be used on a platform bed depending on the thickness of the mattress and overall height desired.
Full: 8.75" - this is the traditional 'box spring' height. It's used on a mattress and box configuration, which means side rails are lower to the ground, and under-bed storage drawers would not fit.
Foundation (Box Spring)
A foundation is a supportive platform that protects the mattress by absorbing impact and provides a flat surface. They come in different heights to accommodate the thickness of the mattress.
One thing to consider about opting for a frame that uses a foundation is that they're made to sit lower on the headboard and footboard. "This means you won't be able to include storage underneath," Anita says.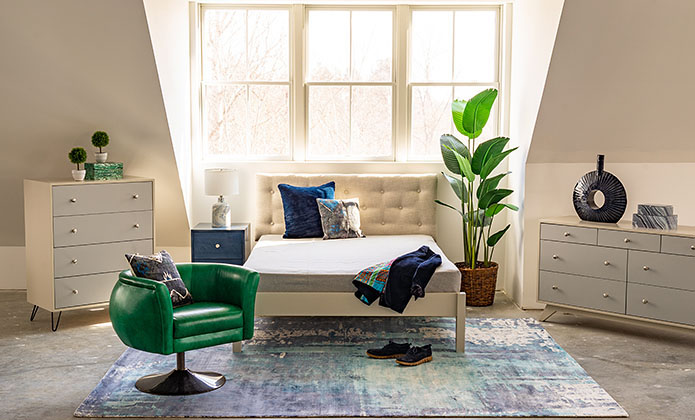 Bunkie Board
Anita describes, "A bunkie board is a wood or MDF frame covered in fabric to protect the mattress. Some can be made in plastic and other pliable materials."
Bunkie boards got their name because they were originally used as the support system for mattresses on bunk beds. They're generally cheaper than a box spring, and they're used in situations where you already have a strong platform support system in your bed – the bunkie board simply provides a flat surface.
The flat surface extends the life of a mattress, so if you're investing in a new mattress – it's worth considering a bunkie board.
As far as which mattresses to pair with a bunkie board, foam or latex mattresses need the support that a bunkie board provides. Without one, they tend to sink between the slats. Other beds come with a metal or wood frame and don't necessarily need a bunkie board in between the bed frame and mattress. Certain mattress types or mattress manufacturers may require a flat foundation surface to validate warranty, ie; no spacing (non-supportive) between slats.
Aesthetically, you may want the additional height (1 ¾" – 2") that a Bunkie board offers to raise the mattress and prevent a gap where the bottom of the headboard might be higher than the mattress top.
Making your decision
Choosing between a foundation and a bunkie board depends on the style of bed frame you choose, your mattress, and how high you want your bed to be. The bottom line is that your mattress needs a support system.
Still in the early stages of buying a bed? Read our article on Everything You Should Know Before You Buy a Bed.
Need help rounding out your bedroom or choosing the perfect bed frame or mattress? Our designers can help! Visit us in one of our showrooms or make an appointment for a free virtual design consultation.