A bed, like a dining table or a living room sofa, is usually a long-term purchase. Which means you want to be sure exactly what you need before you buy.
We met up with Georgianna, our Store Manager in Cambridge, to discuss everything you should consider before making a decision, from whether or not you need storage to what size mattress is right for you.
Storage Bed vs. No Storage
First, storage bed vs. no storage. Georgianna says, "It's determined mainly as a matter of need. I recommend customers consider whether they want storage to be separate or not and how much storage they need."
There's also the question of style. Storage beds, although very functional, tend to have a heavier, bulkier look – just by nature of the drawers on the bottom. Some love this look and some don't. But, if you have a smaller bedroom, those extra drawers might make all the difference.
On the other hand, if you prefer a clean, off-the-ground look, you can opt to buy storage containers to put under your bed. There's also the matter of cost, as storage beds tend to be more costly than a classic bed with no storage.
Upholstered Bed vs. Wood Bed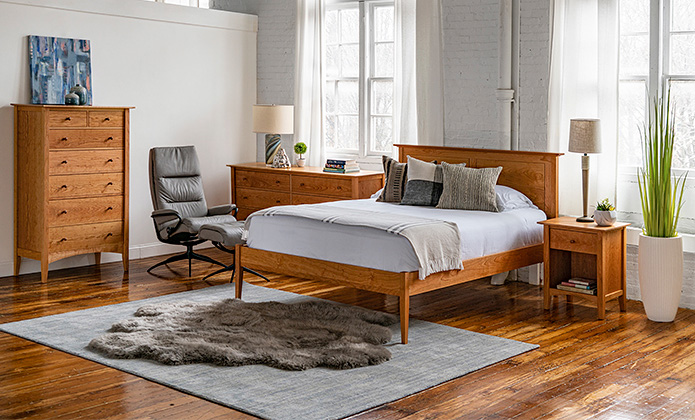 Next, the question of upholstered vs. wood. Unsurprisingly, this mostly comes down to personal preference.
But, there are some factors to consider. Georgianna explains, "Are you someone who wears a lot of hair product or goes to bed with wet hair? If so, an upholstered headboard may be inviting trouble."
"On the other hand, if you like reading in bed then an upholstered headboard might be the cozier, more comfortable option. Either way, a canted (slightly slanted) headboard will offer more comfort."
Upholstered beds offer texture and a slightly more contemporary look. In a carpeted room, a wood bed might offer some contrast. Alternatively, an upholstered bed can add a cozier look to a very wood-heavy space.
How high should your headboard be?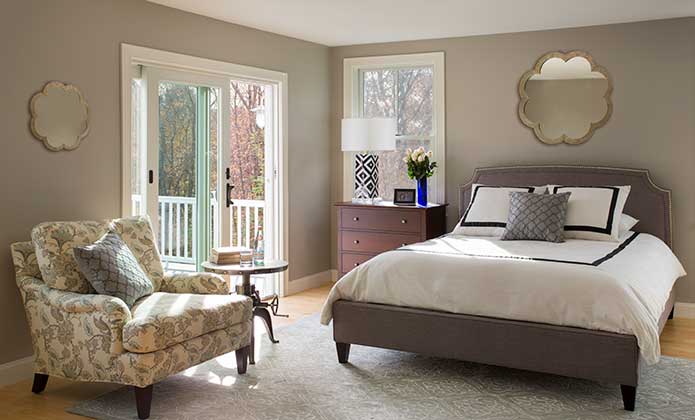 A question you may not have considered is how high your headboard should be. And that's because it's more often determined by the architectural limitations of your room – for example, window sill height – than it is by personal preference.
There aren't set standards when it comes to headboard height. Georgianna says, "Once you understand the look you're going for, the first question to ask yourself is, 'am I obstructing anything important?' If so, you'll know what adjustments need to be made. If not, then ask yourself, 'does the scale of the bed fit the room?'"
"If the headboard is too high and your bed too large, the room will feel cramped. If it's too small, it could get lost in the room."
And, it's not only height to consider, it's depth too! She explains, "Many people are surprised to find that the depth of their bed or headboard is significantly greater than they expected because they didn't account for the pitch of the head or footboard. It's important to consider all of the bed's dimensions."
Establishing the right scale is key to creating any beautiful and functional space, and it can often be the most confusing element to figure out on your own. For that reason, we always recommend enlisting the help of a designer.
Read More: How Much Does it Cost to Furnish a Bedroom?
Platform Bed vs. Boxspring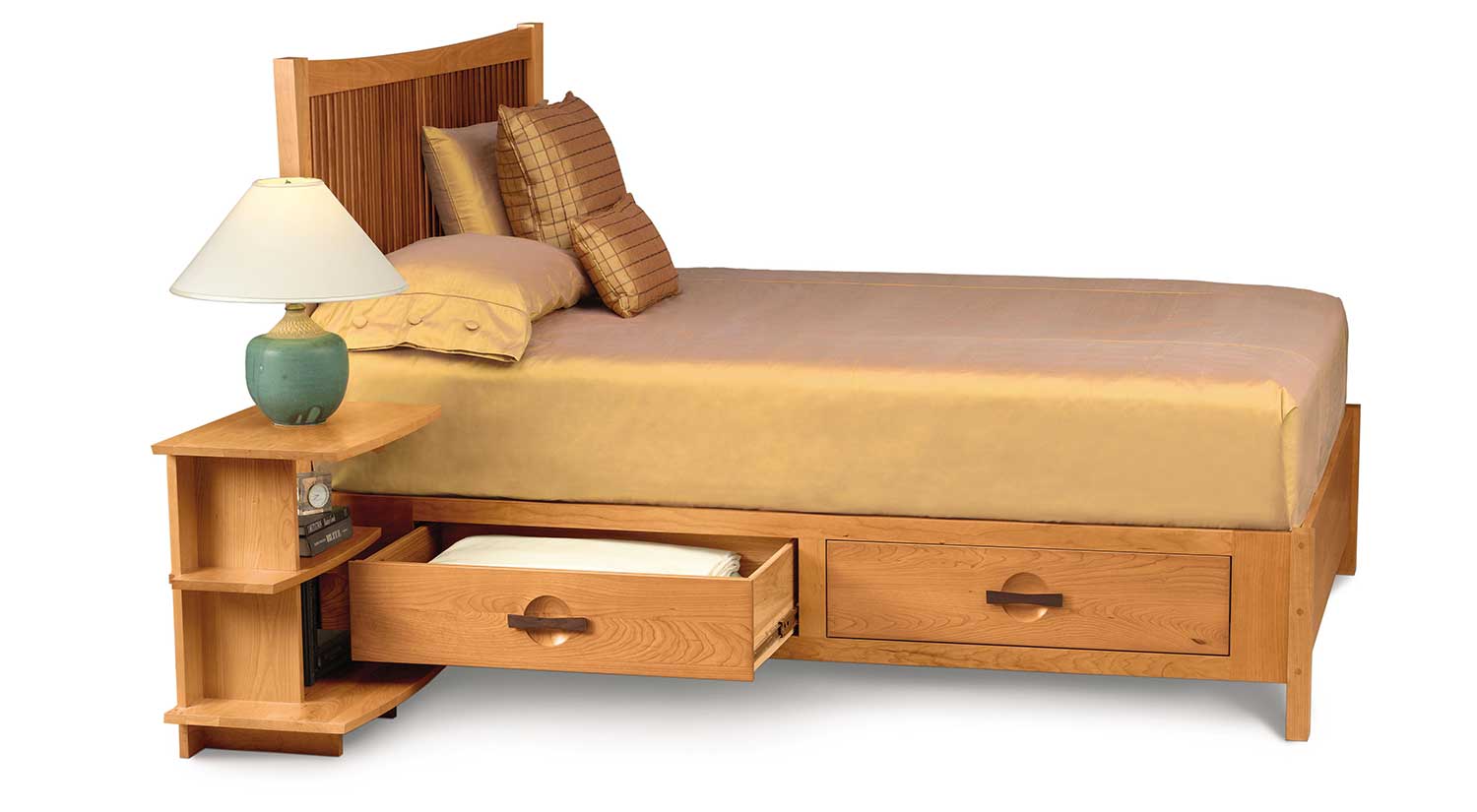 Should you opt for a platform bed or a boxspring? In terms of functionality, there's no real difference and both should offer a great night's sleep. Some beds allow you to do both, others don't.
A platform allows you to place any mattress on top and is generally lower to the ground than a mattress and boxspring.
"Typically with a standard mattress and box spring your bed will be a little higher," Georgianna says, "this can be a better option for anyone with less mobility as they're easier to get into at night and out of in the morning."
What about the mattress?
And finally, the mattress. As we all know, mattresses are highly personal choices. It's worthwhile to research on your own, try them in person, and invest in a high-quality mattress for a good night's sleep.
But before you do that, you'll probably be considering size. Here's a simple guide to help:
Size reference guide
A Twin or Single mattress is 39" wide and 75" long.
A twin bed is narrow and generally works great for children's rooms. They can be too short for the average adult.
A Full or Double mattress is 54" wide and 75" long.
Full mattresses, also known as double, are 15" wider than a Twin bed. They are a great option for guest rooms but may be too narrow for couples.
A Queen mattress is 60" wide and 80" long.
A queen-size bed is generally a great option for a master bedroom.
A King mattress is 76" wide and 80" long.
If you prefer a larger bed for the master bedroom, a King size bed will be perfect for you.
A California King mattress is 72" wide and 84" long.
A California king is a slightly narrower and longer version of a king bed, making it a perfect choice for tall people who need the extra space.
Visit a showroom!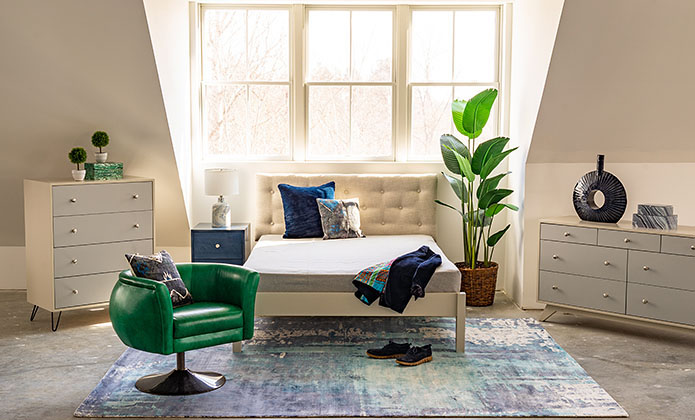 There's a lot to consider when it comes to purchasing a bed. Once you consider functionality, it comes down to style and personal preference. The best way to discover the beds you love and the ones you don't? See them in person!
With an investment like a bed, it's worth taking the time to talk to a designer you trust, create a room plan for scale, and see multiple options in person.
Need more help designing your bedroom? Check out these articles: