"Green furniture" has become an all-encompassing term to describe retailers and manufacturers that sell and sustainably produce furniture.
As a Silver Exemplary member of the Sustainable Furnishings Council, it's something we take very seriously. We partner with companies that use green practices whenever possible - from where they source their materials to how they manufacture their upholstery.
But what, exactly, does it mean for furniture to be green? We talked with our resident expert, Catherine Willey, to break down everything you need to know.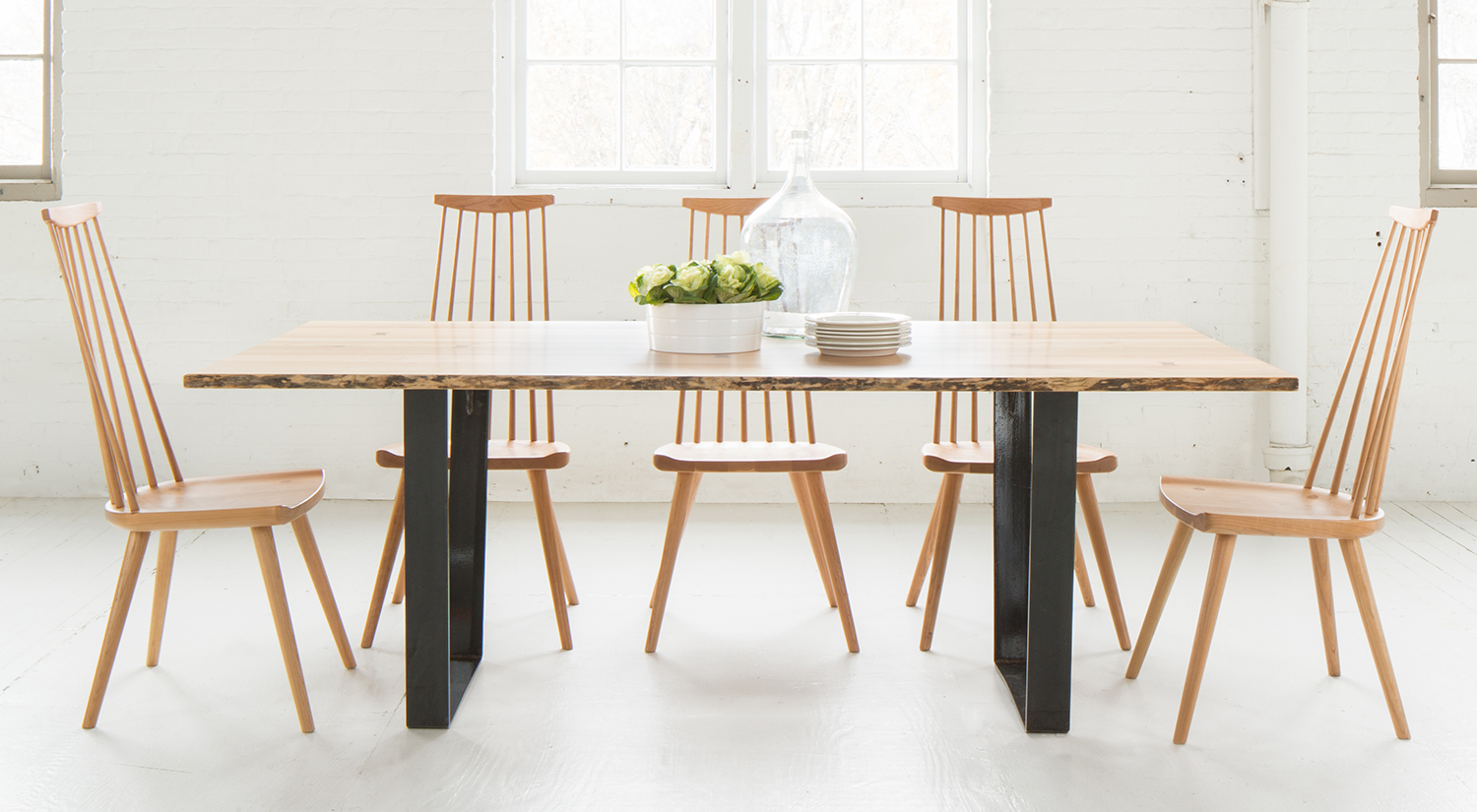 What is "green furniture"?
Over the years, we've all become more aware of how our purchases and actions affect the environment. And, as it should be, there's a lot of attention paid to "being green" in the furniture industry. The interest in sustainability has grown exponentially.
So, what is green furniture?
Catherine says, "Green is the philosophy of getting your raw materials close to your factory so you're not adding to your carbon footprint. It also means using finishing processes that are low VOC and don't off-gas chemicals into your home."
Going green is holistic. For companies that take it seriously, it means looking at all of their materials and practices to ensure the manufacturing process from start to finish is as sustainable as possible.
Catherine adds, "For hardwood furniture, it means using sustainable forests and replanting trees after they're harvested so these raw materials will be available for generations to come."
When you buy green, you're investing in the earth as well as your health.
What does it mean to buy green?
When you think about what it means on a micro-level to buy green, you can look towards some of the questions the Sustainable Furnishings Council asks to determine whether a retailer or factory can be qualified as sustainable:
What types of chemicals are used in the manufacturing process?
How is the furniture manufactured?
Where is the lumber sourced?
What type of foam is used in the upholstery? (Soy-based is a more sustainable option)
Is there a lack of fire retardants?
Where is fabric sourced from and what are the finishes used?
As you can see, there's a lot that goes into producing and selling green furniture. Catherine explains, "Every aspect of what we do in home furnishings has practices that can be made more sustainable."
To provide a small insight into these practices, we'll break it down by the material.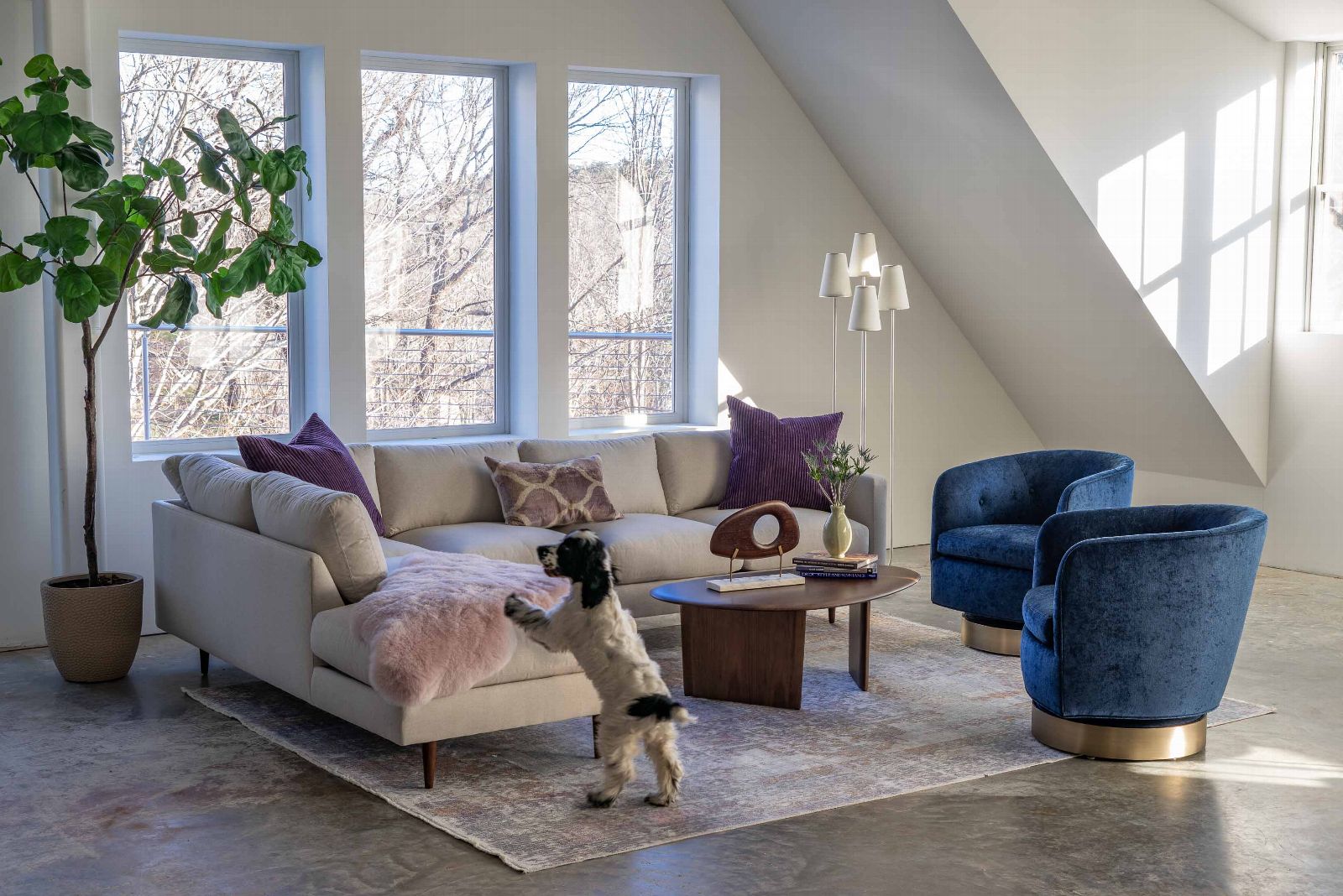 Fabric
Catherine says, "In terms of fabric, we used to use fabrics that were Teflon based. We learned it wasn't the best option so we moved towards alternatives like Crypton that have a water-based finish. It's kinder to your home and your family but still offers the stain-repellent properties many are looking for."
Hardwood furniture
There are many ways hardwood furniture can be made sustainably—from the forests the lumbers source from to how excess wood shavings and byproducts are given back to farms or schools.
Another aspect of wood furniture is the finishing products that are used. Water-based and wax-based are low VOC (volatile organic compounds) options that emit less off-gas into your home. Another option growing in popularity is pre-catalyzed lacquer, which is a finish used for shine and durability.
The water-based and wax-based options may be a better for you if you have allergies, respiratory issues, or kids. Another important thing to note is that hardwood furniture is greener than MDF or particle-board, which often uses formaldehyde glues to hold them together.
Upholstery
Seat cushions are now available in 30% soy foam which reduces to the number of chemicals used in the foam as well as saves millions of gallons of petroleum. Polyurethane foam is a product of the petroleum industry.
Additionally, when you're shopping with a green company, you can choose options that have no foam—like down cushions or polyester fiber cushions.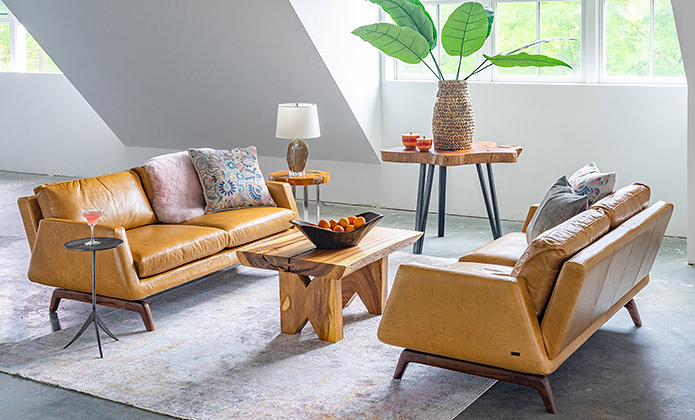 Mattresses
There are also green and organic mattresses available. Catherine says, "A more traditional mattress has polyurethane foam in it and a man-made fiber cover. We have mattress options here that have a cotton or bamboo fiber cover. They also use a process that eliminates harmful chemicals from the manufacturing of the foam."
Read more: Organic Mattresses vs. Sustainable Mattresses
Good for the earth, good for your home
If you're curious about cost, buying green is always going to be more expensive. Factories and retailers that sell green furniture go out of their way to make sustainable furniture that reduces their carbon footprint and is healthier for your home.
Little by little, when you're furnishing your home, you can make a difference and invest your money in companies that care. We encourage you to do your research, find what you're comfortable with, and shop green where you can.
To learn more, visit our sustainability page and check out the Sustainable Furnishings Council to read more about what they do.