It's not unusual to wonder why wood furniture is so costly. In fact, we got the question enough that we answered it in a blog! Read it here.
The fact is, high-quality, hand-made furniture is more expensive than poorly-made furniture made with MDF and veneers. But, even on the higher-end, there are variations in how much you'll pay for a piece of hardwood furniture.
That's what we're delving into today, with the help of Renee, our Store Manager in Acton. We compared the Canterbury Dresser from Maple Corners to the Shaker Dresser from Woodforms to find out what accounts for the difference in cost, and which might be the best option for you.
How are they similar?
At first glance, these dressers are very similar. Both feature a shaker style and are made from natural cherry. With a streamlined and classic New England look, they're a staple for the bedroom and the type of furniture you'll have in your home for years or decades.
Finally, they're both handcrafted locally, the Shaker in Massachusetts, and the Canterbury in Vermont.
Canterbury 6 Drawer Dresser, $3,045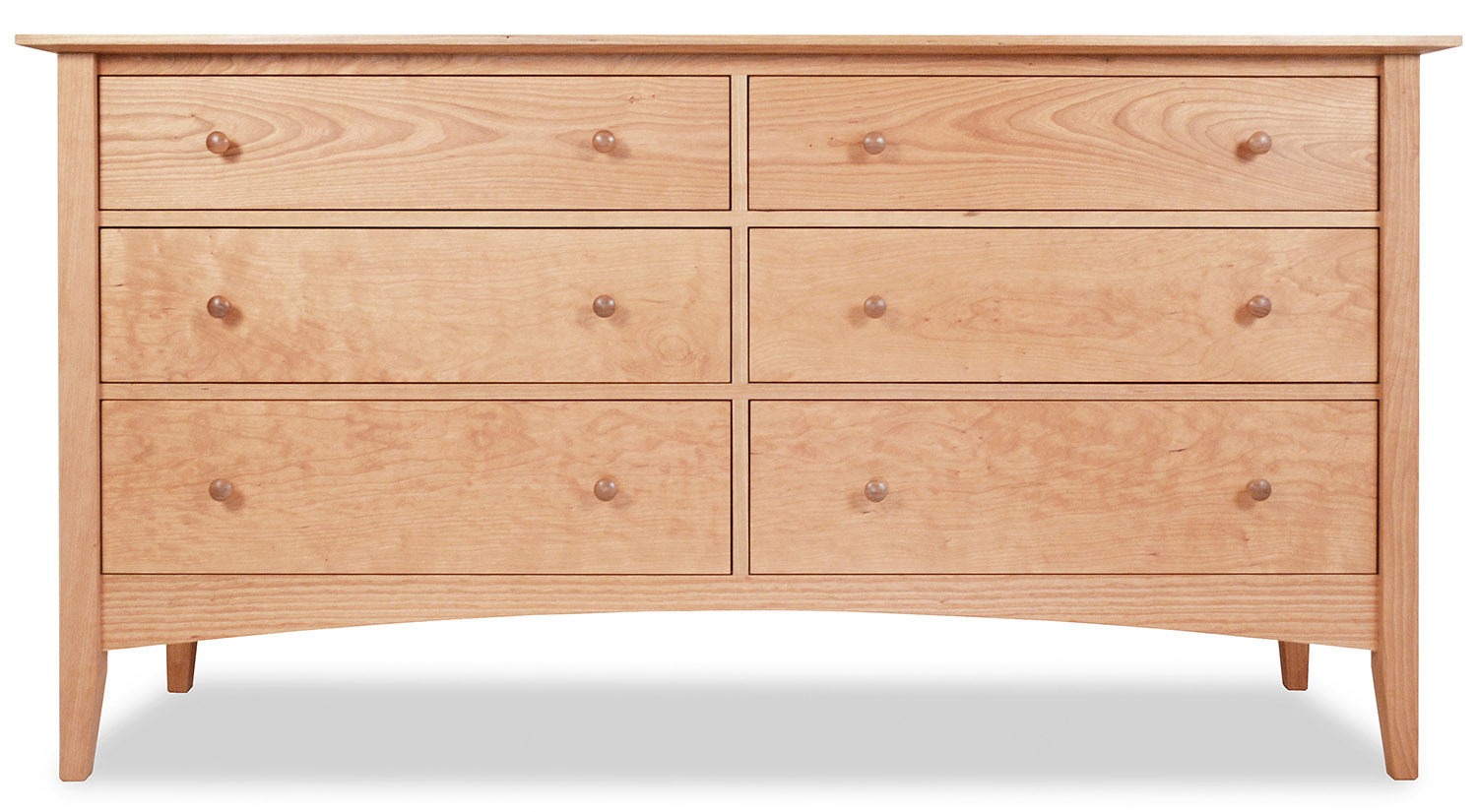 As for differences, the most obvious is the disparity in cost. The Canterbury, starting at $3,045 is what Renee calls the "crème de la crème." It's handcrafted at a small woodshop in Vermont with attention to detail from start to finish.
It has soft-close drawers and is made of heartwood cherry that's hand-picked to ensure the best quality for each piece. The boxes of the drawers are also made from hardwood.
Renee explains, "They hand-select the pieces of the wood on the drawer front so they match perfectly. It's an heirloom dresser that you can pass on for generations. It's a gorgeous piece of furniture."
Shaker 6 Drawer Dresser, $1,399
The Shaker from Woodforms starts at $1,399, making it a much more affordable option.
Renee explains the difference in cost: "There are a few corners they cut around to make it more affordable. The construction isn't as fine-tuned. The box of the drawers is made of pine and they use all of the pieces of the cherry rather than hand-selecting the heartwood."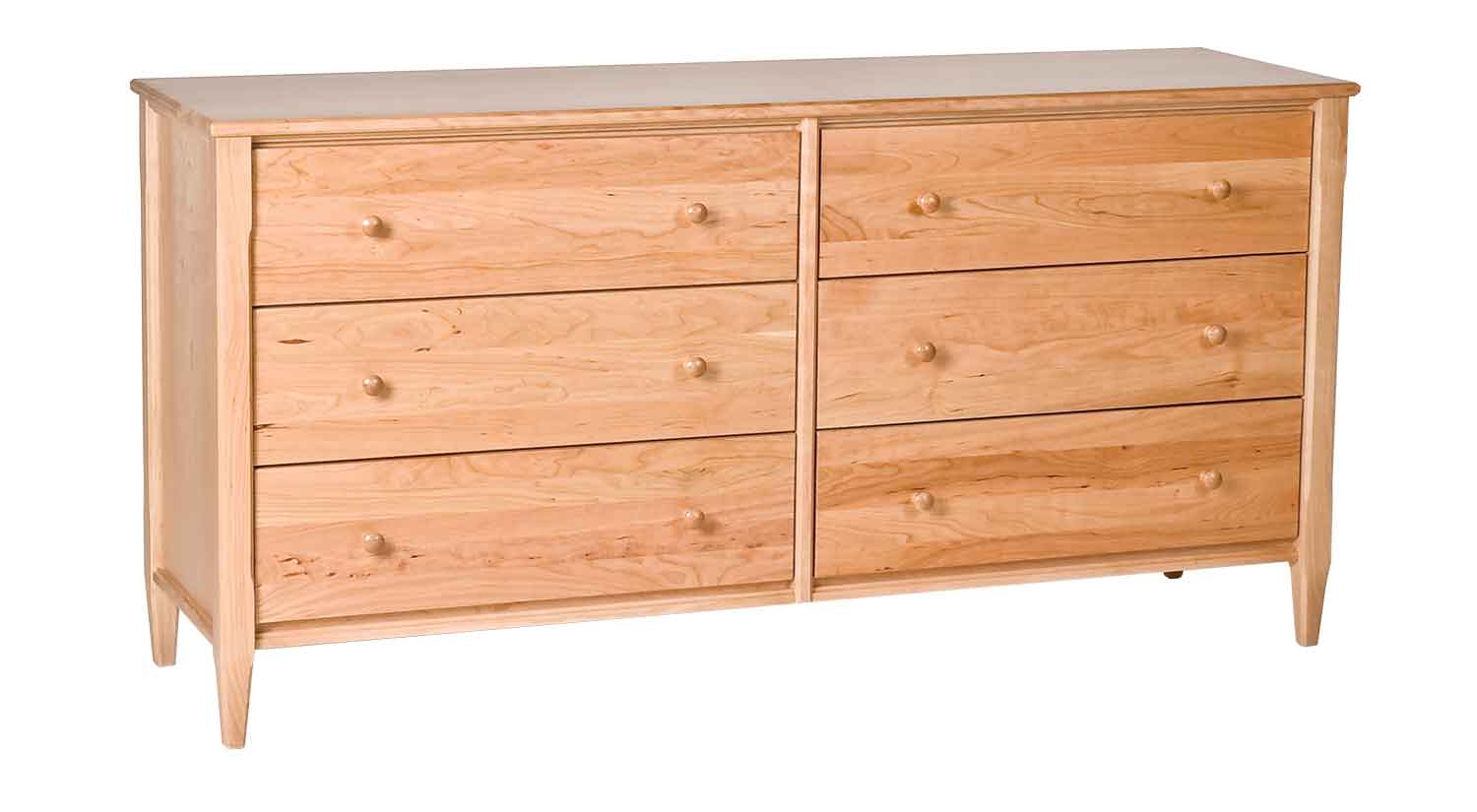 So, what does this mean as far as how the piece looks? You might find sap streaks, knots, and variations. But, this isn't necessarily a con. These are beautiful characteristics of natural wood and can be a reason someone prefers the Shaker over the Canterbury.
The Shaker also doesn't feature soft-close drawers and has a slightly more simple style. These are small differences and whether or not they matter to you comes down to personal preference.
Which is right for you?
Ultimately, both are handmade, beautiful pieces of furniture. So, the decision comes down to style, budget, and what you're looking to achieve in your home.
Renee says, "Both pieces will last just as long if you take care of them. I have customers that mix and match these two collections all the time. Someone might buy a more affordable bed but then want to invest in a beautiful dresser to look at."
Or, on the other hand, you may find after budgeting your bedroom that you'd rather save on your dresser so you can splurge on your dream bed.
Which item do you want to be the focal point? Are you concerned more with functionality and cost or with fine attention to detail and craftsmanship?
These are the questions you'll be asking yourself. Thankfully, we have a team of knowledgeable design consultants to work through these questions and find the best option for your home.
Visit us in-store to see the Shaker and Canterbury collections in person.