A model unit has a big role to play: it's purpose is to appeal to potential buyers and show them how it could suit their lifestyle. It should help them say, "Yes, I can see myself living here."
This was the goal for our Commercial Properties Interior Designer, Teri Carrier, and her team. Their challenge was to furnish and design a 1-bedroom with den model unit for EchelonSeaport, a luxury condominium complex located in Boston's Seaport District.
Urban living has its limitations and its benefits. In an area like Boston, you want a space that gives you a break from the hustle and bustle that comes with city life. Units can be especially challenging, but if designed properly can feel bigger than they are. The Circle team worked with EchelonSeaport to help transform their model unit into a calm, inviting home.
Reimagining the model unit layout
The original challenge with this particular unit was that buyers had a hard time imagining its potential. Initial reaction was that the floor plan felt small and lacked work-from-home space, which is essential in today's market.
To improve the unit's flow and layout, the EchelonSeaport team opened up a 4-foot doorway from the living area into the second bedroom and then closed off the entry door from the hallway. Not only did this help make the space feel bigger and brighter, but it allowed for a sizable home office that could double as a guest room.
The Circle team worked with EchelonSeaport's marketing team, The Collaborative Companies, to gather insight into demographics as well as what buyers are looking for in today's market. This gave then the direction they needed to show how the unit could be furnished in a way that was both functional and comfortable.
Here's a look at how the unit was designed.
Room by room: A home in the city
Living room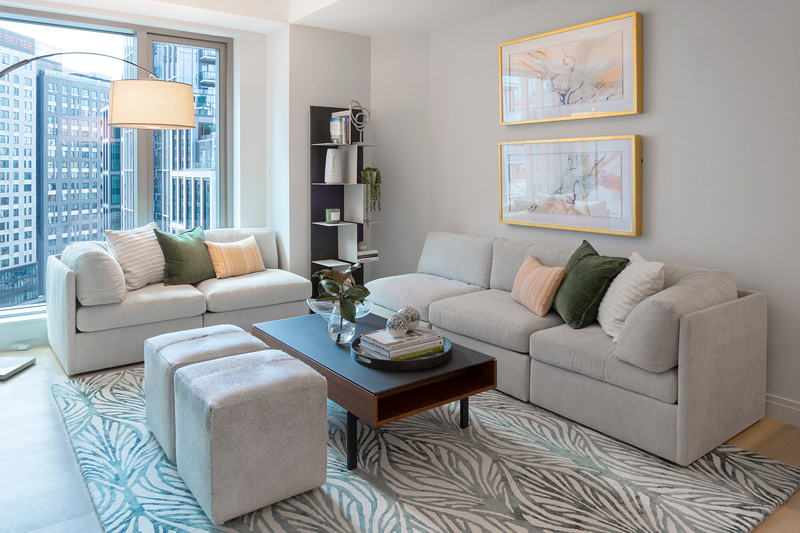 Condo and apartment units may not always feature an entryway, but the Circle team found a way to create one. They chose the Cooper Console Table with a glass top to identify where it was and "feel like you've arrived as opposed to just walking into your space."
The entryway led to the living area where the furniture was pushed to the room's perimeter, creating a more open atmosphere. A structural column in one corner posed a design challenge, but there was a way to work with it. The Pit Sectional from Thayer Coggin gave the Circle team flexibility to make configurations based on the size and shape of the room. They then put a bookshelf against the column to help make it feel more intentional and cohesive with the design.
When it came to a table for the living room, BDI's Reveal Lift Coffee Table was a practical choice. This piece lifts open into a functional workspace, if needed, or even a dining table. Since the unit didn't have a designated dining area, the Reveal offered another option in addition to the kitchen countertop.
While the living area received a lot of natural light, the Archer Floor Lamp provided additional lighting without taking up too much space. Greens and peaches were pulled from pieces like the Belladonna Rug and artwork above the sectional to further enhance the decor.
Home office / Guest room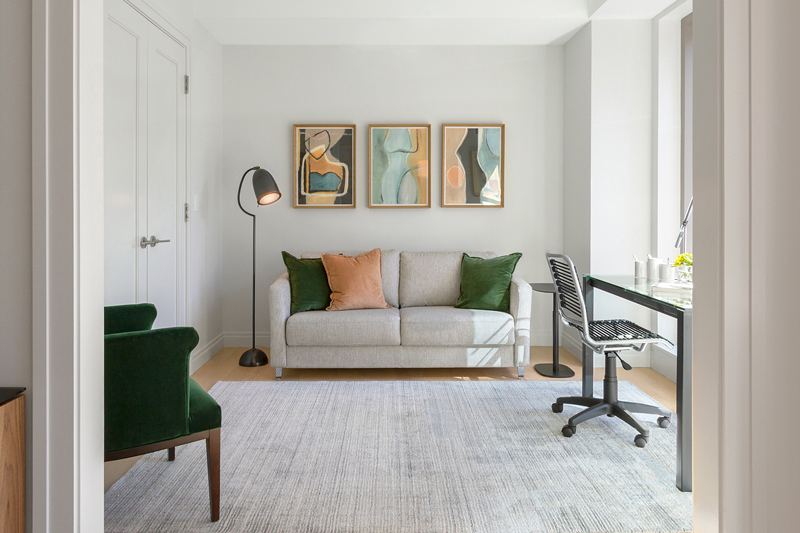 With a new dedicated office in the unit, a glass tabletop desk was placed in front of the windows to take advantage of the views and natural light. Glass works well in a smaller home because it gives the illusion that the space is bigger.
The Monika Sleeper was brought in as a convenient sleep option that doesn't take up additional space as well as a green accent chair so that the office could also serve as a guest room.
Bedroom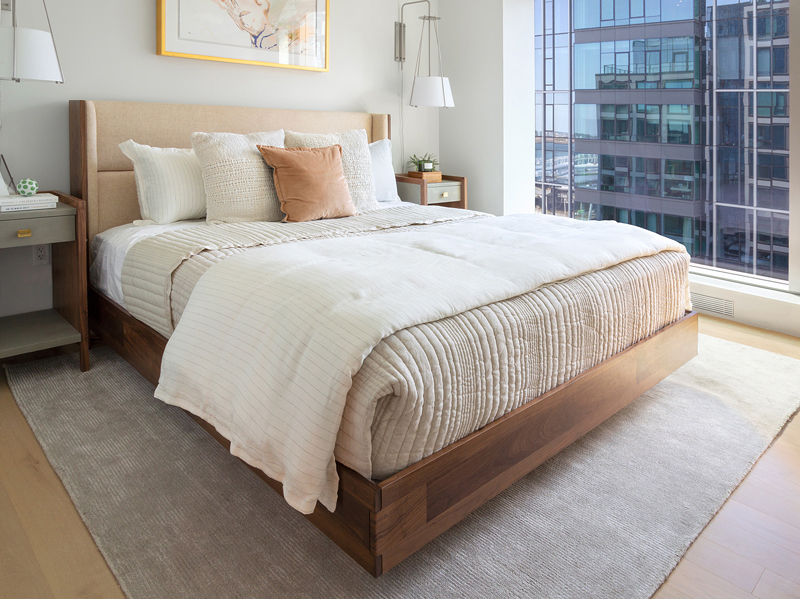 The bedroom was transformed into a relaxed oasis where soft colors and textural organic bedding created a sense of comfort. The Sloane Floating Bed, a platform bed from Copeland Furniture, combined linen upholstery with walnut woods for warmth. It sat facing the room's window, allowing one to gaze over the city skyline.
Using coordinating pieces in the bedroom can create a sense of individuality. The 8-drawer dresser is another Copeland piece while the nightstands from Made Goods feature an accent of shagreen with walnut. The addition of modern wall mounted sconces helps keep the nightstands open for other essentials.
Kitchen / Bathroom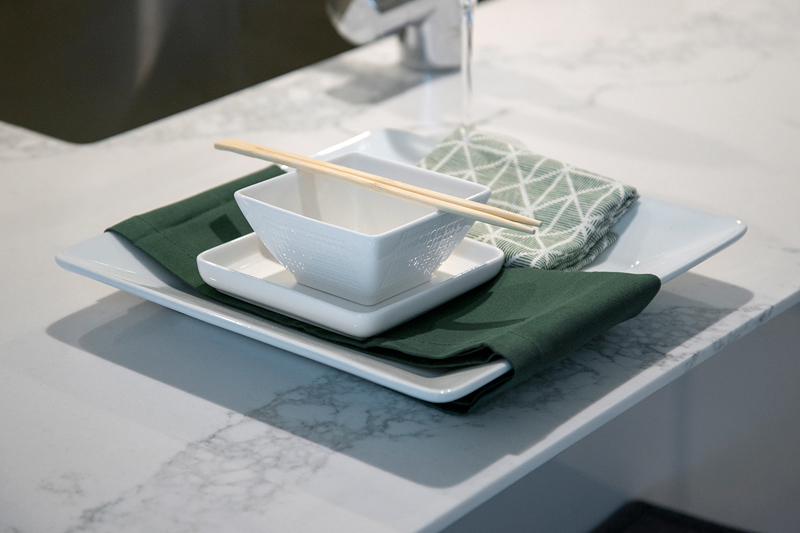 The unit had a galley-style kitchen with a clean and simple design. Two Bocca Stools were placed at the counter along with elegant plate settings complemented by green napkins for a pop of color.
There were also two bathrooms that featured floor-to-ceiling shower doors along with free floating shelves that offered storage space for essentials like linens and towels.
Read more: Introducing: Commercial Design at Circle Furniture
Collaborate with the Commercial Design team at Circle Furniture
While designing this unit, the Circle team featured "memory points," or what potential buyers would remember when thinking back to what they liked about the space.
"Everybody's going to remember that entry piece because it is so fabulous," Teri explained. "In the living room, it's the corner bookcase so you don't notice that you have a structural column there. In the primary bedroom, it was the lamps. And everybody will remember those sorts of things about those rooms and I think that's what people always come back for."
Whether it's a model unit or an office where you meet with clients, Teri and her team will work to design a space that everyone will remember. Don't hesitate to reach out and connect with them about your next commercial design project! You can also opt in to our Commercial Design newsletter here.
Author: Marycatherine Karcich