Having furniture that allows you to relax and enjoy quality time with friends and family is important. When it comes to sectionals, the Napa Motion Sofa and the Emily Stressless Power Sofa are viable options that offer plenty of comfort with customizable options.
But how do you choose between the two?
Keep reading to dive into the features and functionalities of both sofas as well as what makes them different from each other.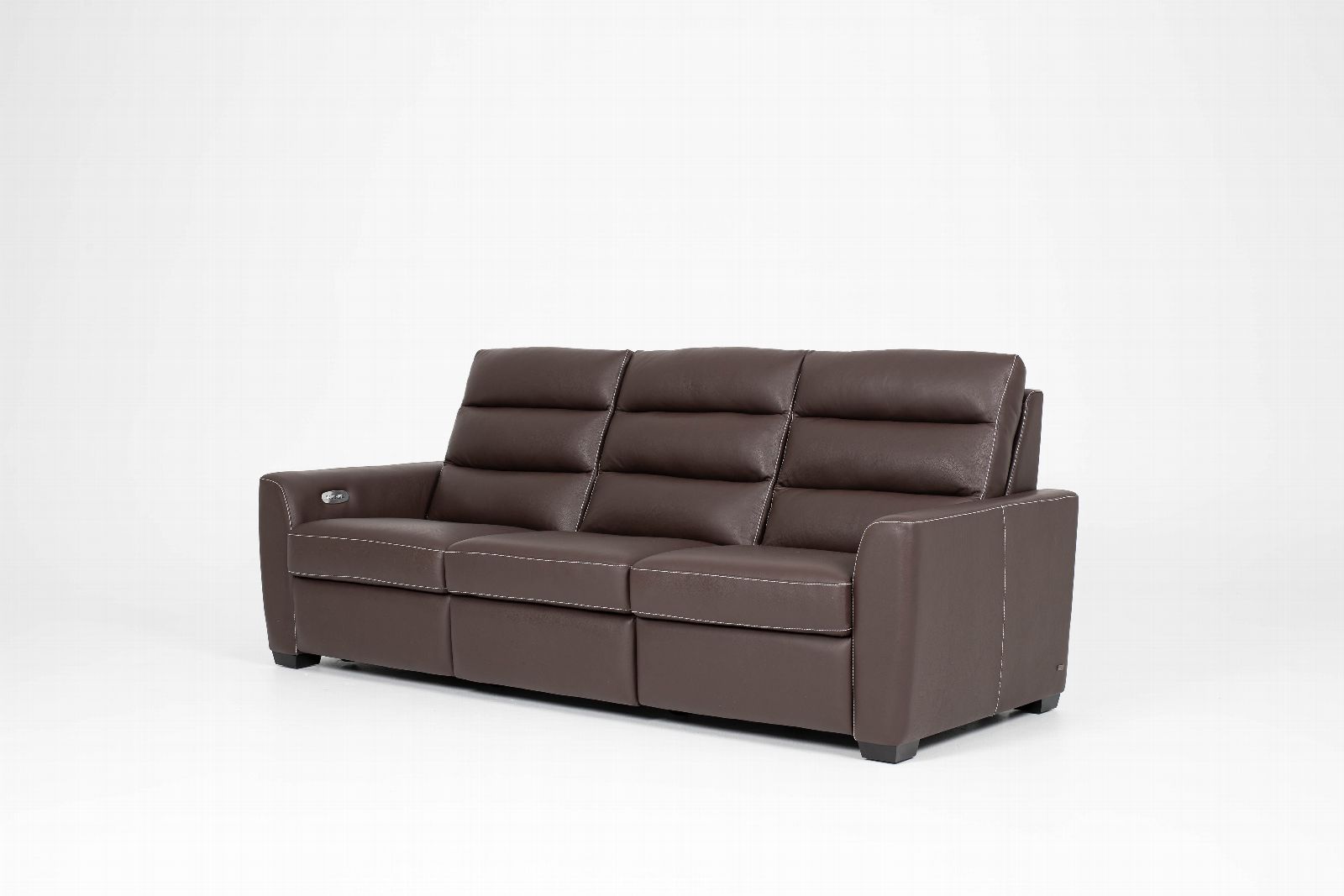 What similarities do the Napa and the Emily share?
Power
The Napa and the Emily are power sofas, meaning they recline with the simple push of a button. There's power in the arms, but you can add power to seats without arms (like the middle seat) if you choose.
If you're looking for flexibility to put your sofa anywhere in the room, you can opt for cordless function by purchasing separate battery packs for each seat on your sofa. If you don't mind being plugged into the wall, this isn't necessary. You'll still enjoy your power sofa so long as you can reach those outlets.
The Napa and the Emily also feature power headrests that move individually from the seats. If you want to lay back while watching TV or a movie, you can recline and then adjust the headrest to position your head forward so you can easily see the screen.
Customizable
Both the Napa and the Emily have a contemporary look with customizable features so you can design your perfect sofa. They're both available in leather and Ultrasuede; however, the Napa also comes in fabric while the Emily is limited to leather and Ultrasuede.
The Napa has three style options for the back cushions along with a couple of finishes for the legs while the arm details on the Emily come in steel or wood.
In addition to a sofa, you can get either Napa or Emily as a chair, loveseat, or sectional. You can also choose to customize them with a chaise.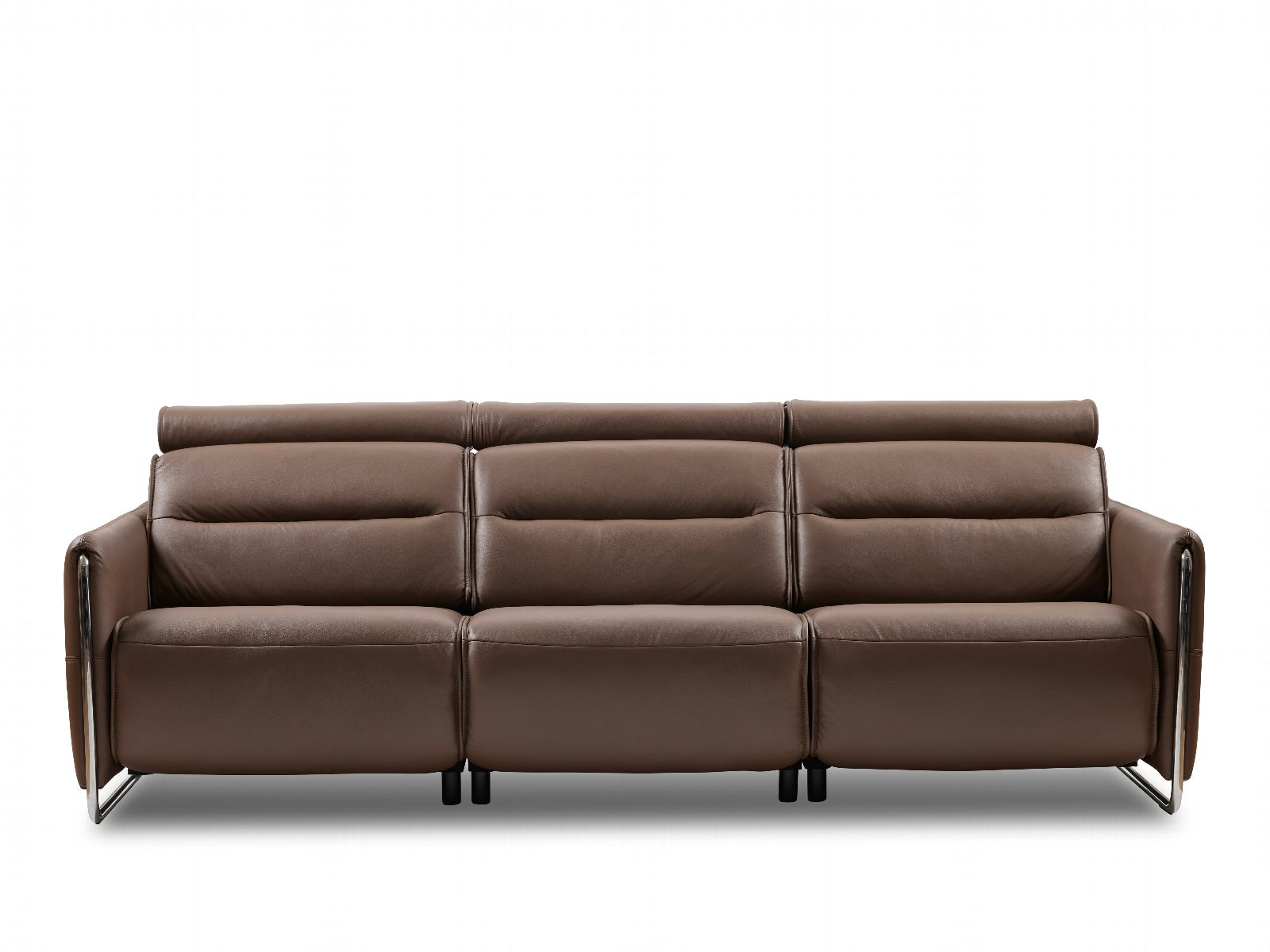 How do the Napa and Emily differ?
A standout feature of the Napa is that it comes with a pull-out sleeper option, which is great if you need additional sleep space in your home. It has a foam mattress that's available in any size from cot to king. You can also choose to customize the Napa with a chaise.
The Napa is bulkier than the Emily due to its higher back and deeper seats. It sits lower to the floor whereas the Emily's sleeker legs offer more space between the floor and bottom of the sofa.
As we mentioned earlier, the Napa has more upholstery options than the Emily with your choice of leather or fabric while the Emily is available in leather or Ultrasuede.
The Emily is interchangeable, meaning you're not set on one configuration. While the sofa only has three pieces to move around, the sectional would allow you to move multiple pieces to create a different look. The Napa, on the other hand, stays the same and the configuration you purchase cannot be arranged.
The Emily also comes with an end module, or a console piece, where you can put a tray to place things like drinks and snacks, your book, or the remote on. It's like having an extra table nearby.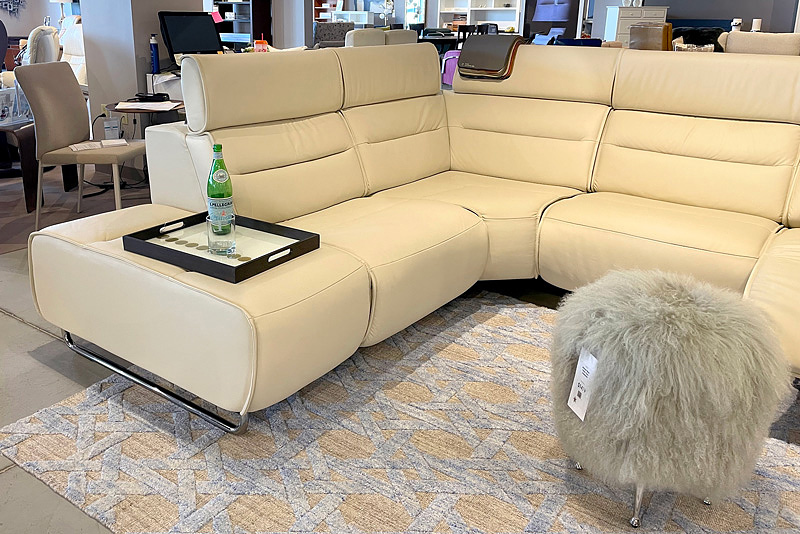 How do you choose which one is right for you?
To really get a sense of the Napa and the Emily sofas, our Online Store Manager, Stephanie Birchenough, recommends trying them both out:
"You have to test drive them - see which one you like better," she said. "You want to know, 'How does it fit on me?' Theoretically, I'm 5'4 and my husband is 6'4 and we want to find something that fits both of us. Sometimes it's better to try it and to feel it."
It's also important to think about what you're going to be using it for, the size of the room it's going in, and what you're looking for in terms of comfort. These details could influence which sofa you get.
To try out the Napa Motion Sofa and Emily Stressless Power Sofa, stop by our Middleton showroom. Our Design Consultants will be happy to help you figure out which one will work best in your home!
Author: Marycatherine Karcich