An extension table offers a convenient way to accommodate guests comfortably. Instead of pulling out that old folding table from the closet, you have a functional alternative that gives your friends and family plenty of space when you entertain.
Two extension tables we love are the K-Base Dining Table from Saloom and the Catalina Round Extension Table from Copeland. Each is a high-quality, locally made piece that will look beautiful in your home for years to come.
We caught up with our Online Store Manager, Stephanie Birchenough, to get details on the similarities, differences, and pros and cons of both tables. Read on to learn more!
What similarities do the K-Base Dining Table and the Catalina Round Extension Table share?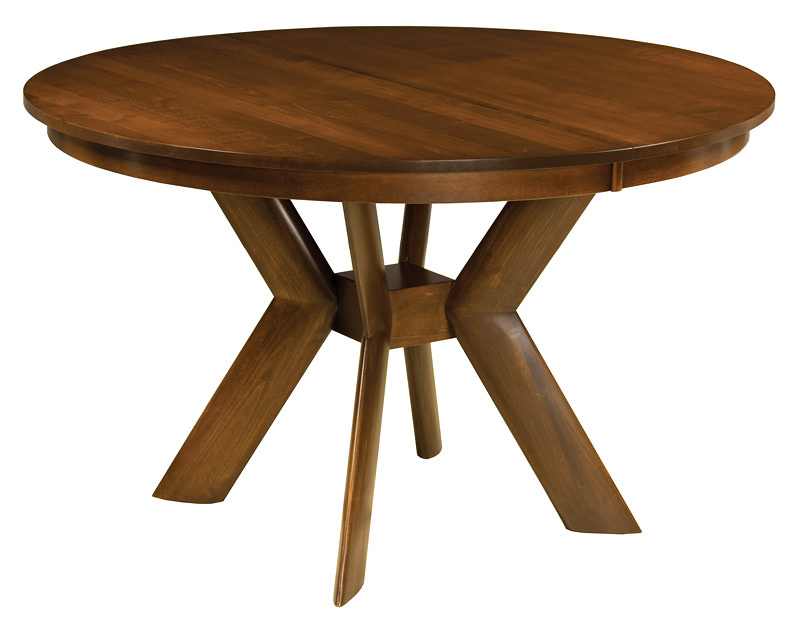 Manufacturing
The K-Base table and the Catalina table are made out of solid hardwood - maple for the K-Base and cherry for the Catalina. They feature round tabletops that extend into an ovular shape (also known as a racetrack) and bases with a contemporary feel. Each table comes in a variety of eco-friendly finishes and has a catalyzed varnish finish on top for protection.
Locking systems
Since the Catalina and K-Base tables slide apart to fit a leaf, they're designed with locking mechanisms to hold them in place. The K-base has a hook and eye-like lock whereas the Catalina has a small lever that flips up or down to lock and unlock. Whether or not you have the leaf in, you won't have to worry about your table sliding open while you're using it.
Care/maintenance
To care for the K-Base and Catalina tables, Stephanie said:
"I would suggest cleaning them with a little mild soap and a damp cloth. Don't put furniture polish or things like that on them. Just a damp cloth is all they really need."
It's also important to protect the table tops. Immediately clean up spills, avoid dragging objects across their surfaces, and always use trivets for anything hot or coasters for cold beverages.
For additional protection, you can buy a tablecloth or table runner. A table pad is another great option that can sit underneath a tablecloth while you and your guests wine and dine.
Watch now: How to Care for Your Wood Furniture
It's also worthwhile to note that neither table is suitable for outdoor use. If that's what you're looking for, we recommend the Teak Bok Round Outdoor Dining Table.
How do the K-Base Dining Table and the Catalina Round Extension Table differ?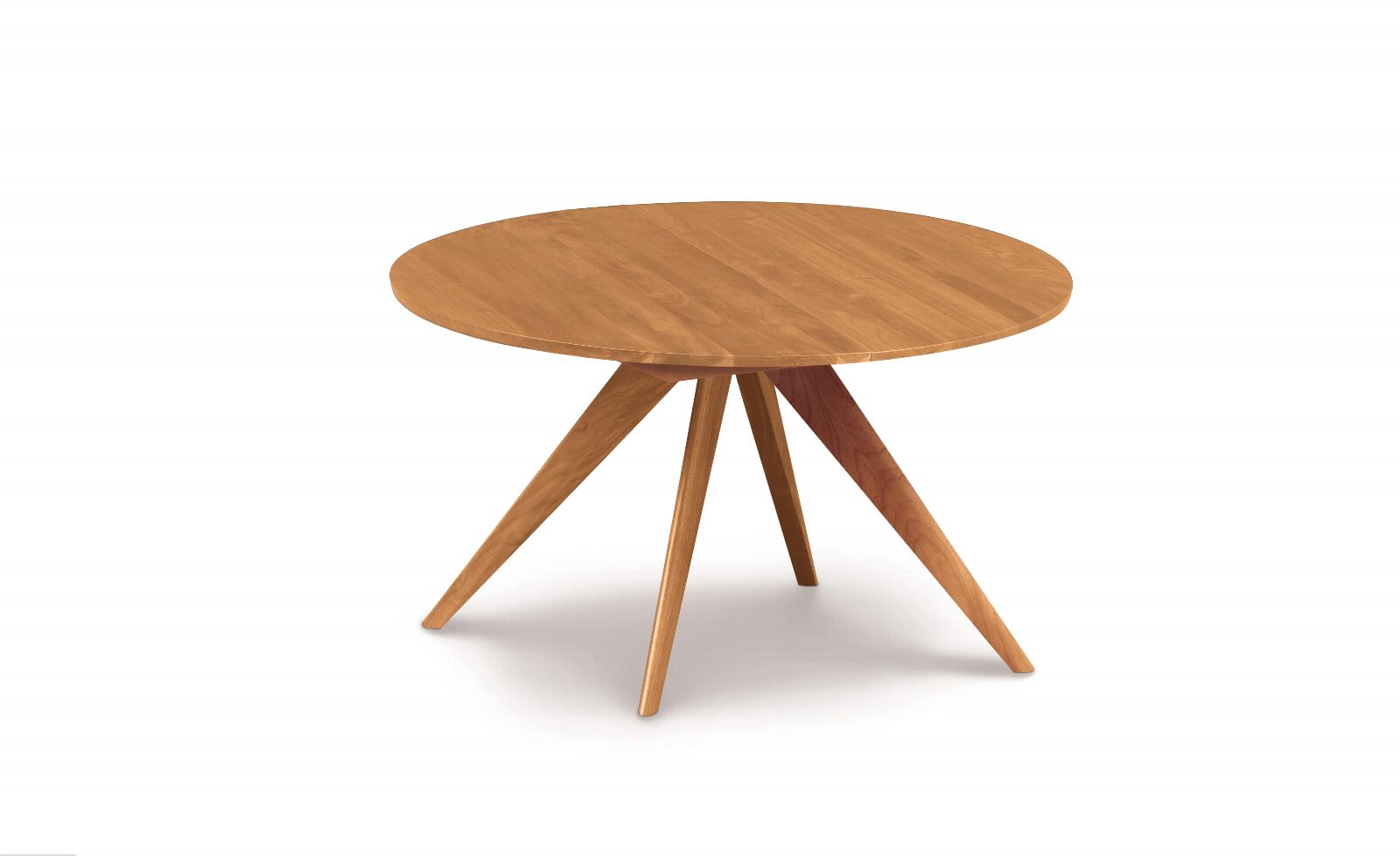 While both tables come with a leaf, the major difference is that the K-Base leaf has to be removed and then stored, whether it's under your bed or in a closet, when you're not using it. The Catalina has a self-storing butterfly leaf that unfolds and then folds back into the table. No additional storage is necessary, which is convenient for those who don't have a lot of room in their home.
"I do love the fact that if you live in a small space, the Catalina table might be the answer because you don't have to store the leaf anywhere; it stores inside of the table," said Stephanie.
When it comes to pricing, the K-Base starts at $1,579. The Catalina, on the other hand, starts at $2,969 due to its butterfly leaf and cherry hardwood construction.
The tables also differ in size. The Catalina comes in three different sizes: 48" round, 54" round, and 60" round with a 24" leaf that fits all tables. The K-Base table is available in 36" round, 42" round, and 48" round with an 18" leaf.
Another difference is that the K-Base features a table apron, which just means that the design is constructed with a piece of wood that sits directly beneath the top.
Watch now: 4 Decisions to Make Before You Buy a New Dining Table
Pros and cons of the K-Base Dining Table and the Catalina Round Extension Table
The design of the K-Base and the Catalina makes it easier to seat more people. Since the legs extend from the center, you don't have to worry about hitting one when you go to sit down.
You also don't need multiple people to open and close the tables; one person could do it on their own. The butterfly leaf in the Catalina easily folds and unfolds while the K-Base has a gear system inside that allows you to open and close it with minimal effort.
As for cons, both tables have a more modern style; they're not traditional. If you prefer the latter, neither of these tables may be for you. For something that leans more traditional, you can check out the Woodstock Dining Table or the Duncan Phyfe Table.
Come visit a showroom
Choosing between the K-Base table and the Catalina table is going to come down to your personal preference as well as budget. If you'd like to see them, the K-Base is displayed in our Middleton showroom and the Catalina is in our Cambridge showroom.
Although we don't have both tables in all of our showrooms, you can still visit any of our locations to see a Copeland table with a butterfly leaf as well as a round table with the same mechanism as the K-Base to get an idea of how they function!
Author: Marycatherine Karcich