As we become more health conscious as a society, lift desks have become more popular. It's common knowledge that sitting all day is not the best for your long-term health, and sit-stand desks are an excellent way to have the flexibility to stand when you want to.
Because lift desks are an investment in your health and your work lifestyle, it's important to do your research before purchasing one. We talked to Catherine Willey, our store manager in Framingham, about the Copeland Invigo Sit-Stand Desk and the BDI Sola Lift Desk.
Copeland Invigo Sit-Stand Desk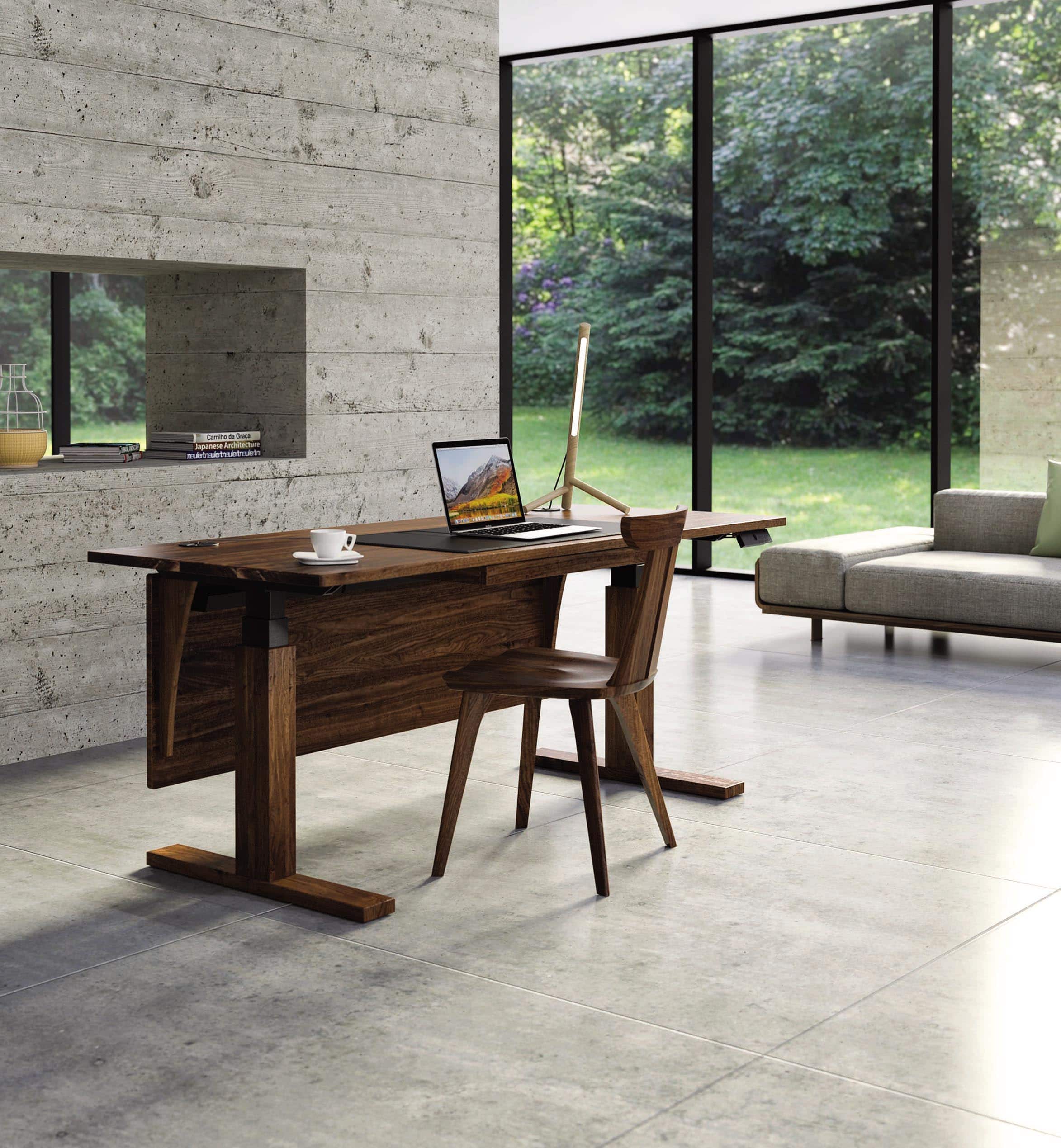 The Invigo desk is, in Copeland's words, "a highly configurable series of sit to stand desks that can be specified in a range of sizes and finishes." It has a dual motor lift base with three programmable positions and it ranges from 25" to 51" in height.
The Invigo desk is crafted in solid cherry, walnut, or ash hardwood in several finishes; all of which are greenguard certified. Besides being an aesthetically beautiful desk, the Invigo excels in its versatility.
Catherine explains, "They offer shaping options so you can do a straight edge or an oval cut in. There are also options for a pencil drawer, a keyboard tray, and a grommet with a plug inset."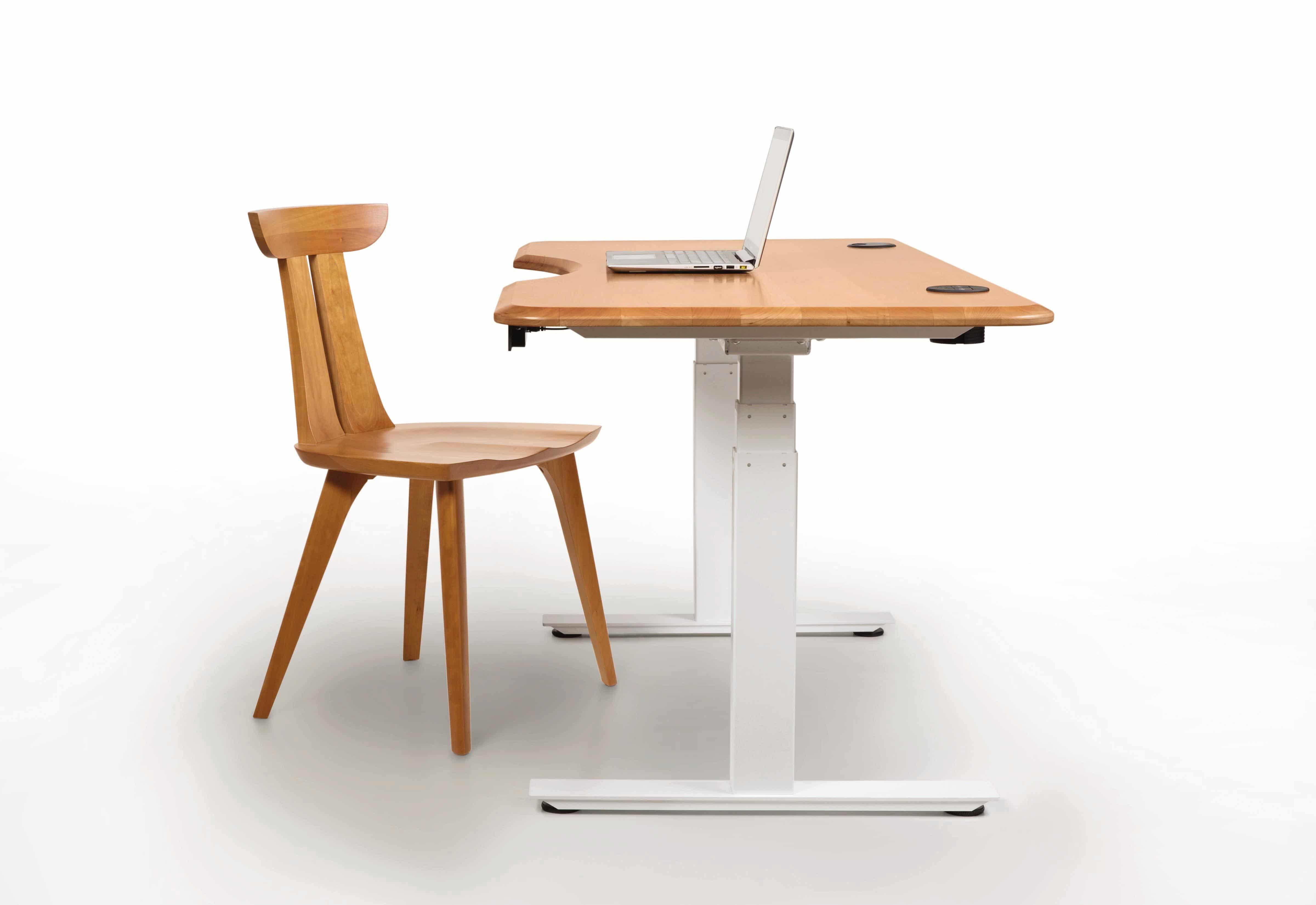 There are wire management capabilities, as well as storage options, and other accessories. You're also able to choose between surround wood legs or metal legs. Catherine says, "They also offer a modesty panel which many other lift desks do not."
For those who care about shopping locally and being eco-conscious, the Invigo is a wonderful option. Copeland is a Vermont based company and both sustainability and sourcing local are at the forefront of their mission statement.
When it comes to cost, because of the different options, the price will range from $1,399 at the bare minimum to $1,899 with a pencil drawer and keyboard tray. If you opt for walnut that will add to the cost. Catherine describes, "The desk in walnut with the pencil drawer and other features will be around $2,100."
Read More: Copeland Furniture Company: A Talk on Quality and Design
BDI Sola Lift Desk
Like the Invigo desk, the Sola is a high-quality programmable lift base with multiple set positions. The Sola has a solid walnut top and unlike the Invigo, it only comes in one finish option. It has a short modesty panel and is available in a square shape or a with an oval cut in.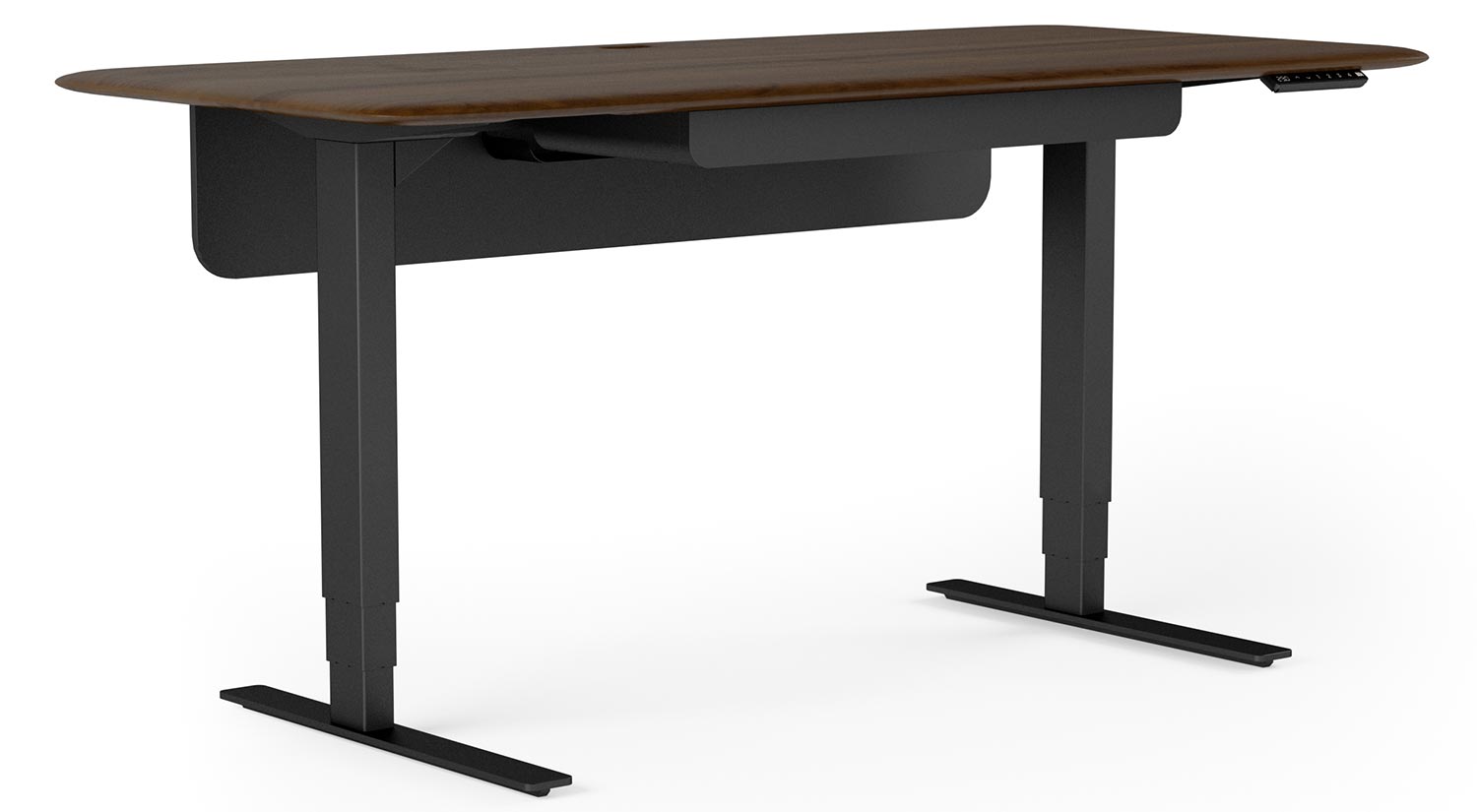 The sola has wire management channels, a grommet, a keyboard tray or a storage drawer option. Of the price, Catherine says, "The sola costs $2,499 which is more costly than the Copeland desk, but with that price you get the keyboard tray or storage drawer as well as the grommet""all of which are extra fees on the Copeland desk."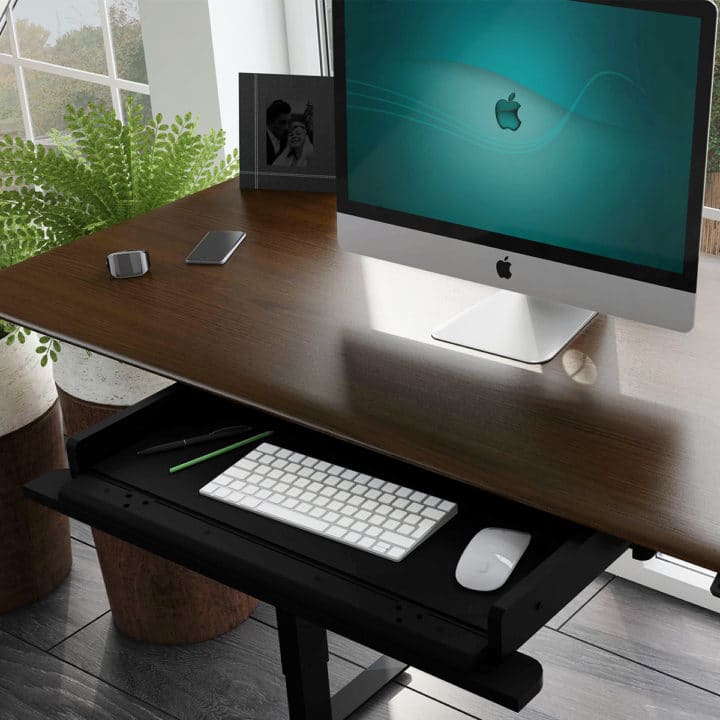 The legs are only available in metal and the Sola has, in general, a more modern, contemporary look. One of the great features of the Sola""and of BDI in general""is the accompanying office furniture. The Sola has a coordinating multi-function cabinet that is $1,459.
Making your decision
When it comes to deciding between sit-stand desks, you'll want to consider not only style but how you work and what's important for you to be comfortable at your desk.
Catherine says, "Sometimes it's a matter of whether or not you want coordinating pieces. Within BDI there's more flexibility in terms of lift desks; they also have the Chronos which is a white option, and the Centro which is white and grey. The Sola is comparable to the Invigo in that it's a walnut top, but you may prefer the micro-etched glass tops on the other BDI desks."
If you want an extensive office along with the lift desks, you'll find more coordinating pieces within BDI. However, they have less wood finish options and the style is somewhat limited. Catherine explains, "With the Copeland Invigo you can create your own desk and choose a wood finish that you love."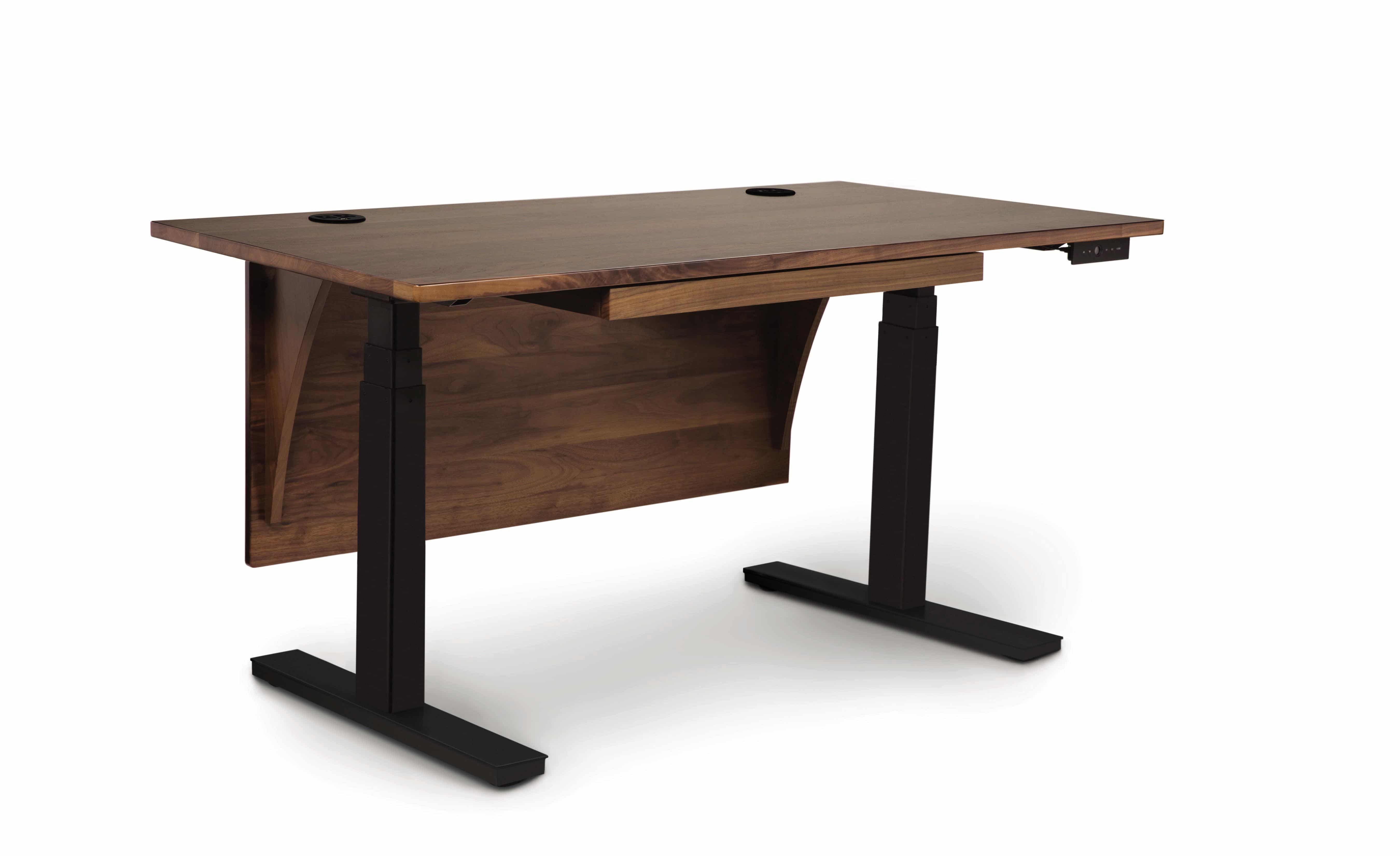 Because of the nature of a lift desk, both have a little more of a contemporary feel, although there's more customization available with Copeland. If sustainability is at the top of your list and you want to ensure your furniture is crafted with local hardwood, Copeland is the clear choice.
Finally, you'll be considering your budget. BDI is pricier and it has a somewhat fixed cost, but it does come with features that you'll pay extra for with the Copeland desk.
As with most furniture pieces, your best bet is to come in store and try them out in person to get a feel for the style. What's important to you may only become apparent when you try out a desk in person, so we always recommend coming in and chatting with one of our knowledgeable designers.


Author: Julia Maiman
Julia is a writer, blogger, and believer in the smell of old books. She has been crafting stories since she could put pen to paper. She is also a lover of dogs, traveling, and Led Zeppelin.