Perhaps you've heard tales of the luxurious comfort that Stressless provides. Perhaps you, too, want to sink deep into a recliner while reading your favorite book. Or maybe you simply want to know how much Stressless furniture costs.
The cost of furniture is need-to-know information when it comes to making informed decisions. And, as you probably know, finding it online can be a challenge. Here at Circle Furniture, we strive for transparency and promise to answer the questions that other companies won't.
What is Stressless furniture?
Stressless is a line of furniture dedicated to ultra-comfort, made by the company Ekornes. Ekornes has been crafting quality furniture since 1971; a tradition that has been passed down from generation to generation.
They take pride in their Nordic roots and continue to make their furniture in the epicenter of Norwegian furniture manufacturing, a town called Sykkylven. They're passionate about creating the most comfortable recliners, sofas, and chairs on the market.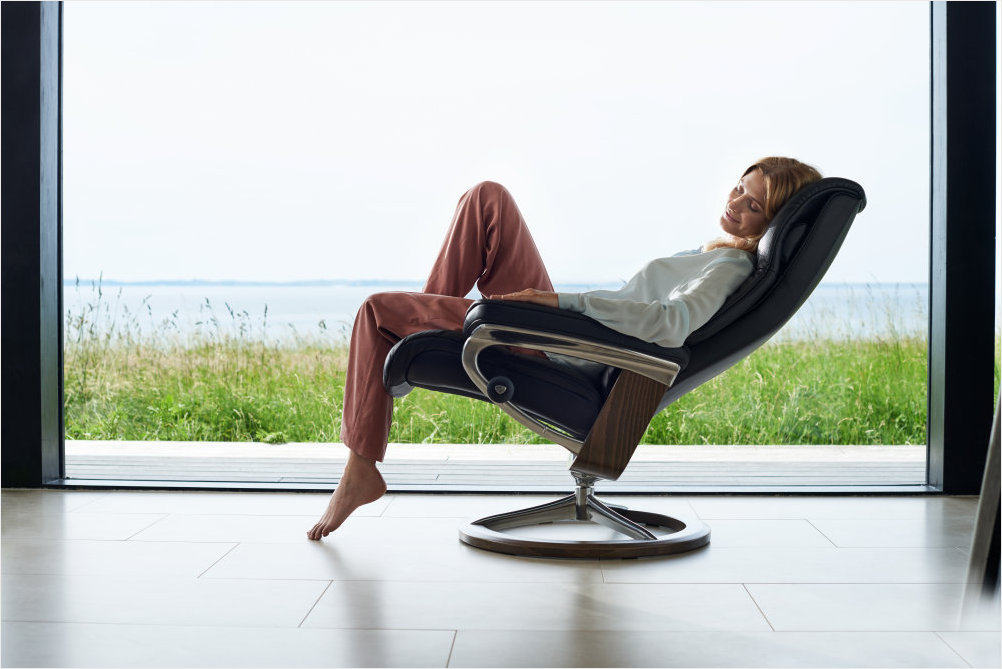 Through a lengthy vetting process, the Stressless line produces only the best in quality, comfort, and design. The cream of the crop, if you will. They use top quality materials and each Stressless piece is crafted first by robots and then constructed, sewn, and inspected by hand.
Ekornes also stresses the importance of being eco-conscious: leaving a minimal ecological footprint, protecting the land, and paving the way for a better future. They recycle at every opportunity, even using excess wood chips to burn and heat their facilities. Read more here about their efforts to be eco-conscious efforts.
How much will Stressless furniture cost you?
So, you know that Stressless is a premium line known for its ultra-comfortable furniture. But you might be wondering, how much does it cost?
Well, it depends on what you're looking for:
If it's a recliner you're in the market for, they range from $1,695 to $4,895 at the premium end. The Consul and Garda Stressless Chairs are entry-level options, while the Magic Stressless Chair is a more luxury chair.
If you're looking to update your home office, a Stressless office chair will start at $1,695. The most luxury office chair is the Magic Office Chair which is $3,395. The Consul Office Chair is a more affordable option at $1,795.
The sofas come in multiple designs, sizes and recline options. The price of a sofa is dependent on these factors. A Stressless sofa starts at $2,595 and goes up to $6,295. The Legend Sofa is a luxury option, offering deep cushions and lumbar support. A 2 piece sectional starts at $5,476.
Between the price points, you can expect differences in the quality of the materials, as well as the intricacy of the sewing and the size of the furniture. Naturally, the larger a sofa is the more it will cost. The same goes for the recliners, which come in small, medium, and large.
Although the entire Stressless line goes through a strict process which promises ultra-comfort, the more expensive pieces will have the finest grade leather, cushions that you'll sink deeply into, and neck and lumbar support.
What are you paying for?
Investing money in furniture is a big deal. It's important to know what you're paying for.
Stressless focuses foremost on quality; in both material and construction. Ekornes pays attention to every detail, from the several layers of specialty foam to the fabric and leather.
They mold perforated foam directly over the base, enabling you to sink deeply into the chair.
The steel rod base is cold bent, a special process that creates more durability and support that lasts.
They use top-grain leather, which they source from the finest tanneries in Italy and Brazil.
Each step in the process of construction is carefully designed to produce furniture that is high quality. You could consider their line the Rolls Royce of comfort. And perhaps most importantly, it's going to last. Stressless products are built with durability and longevity in mind.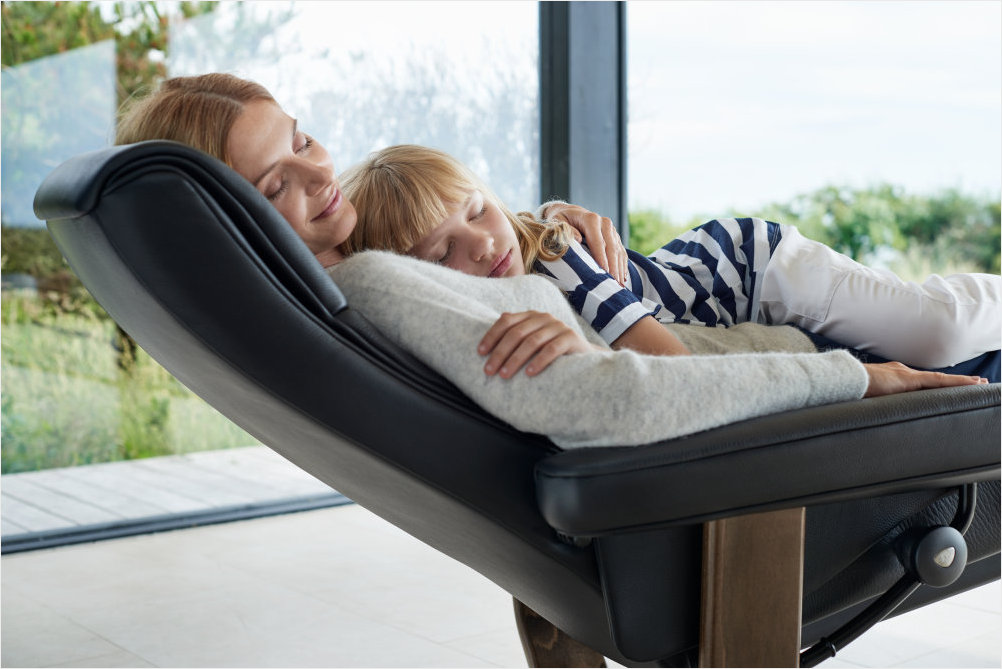 How to decide which Stressless is right for you:
If you're in the market for a Stressless, you'll want to consider how to budget. It all depends on what fits best into your lifestyle. Like any piece of furniture, it's important that it meets your requirements of design, comfort, and functionality.
The Stressless line is unparalleled in terms of both comfort and longevity. It's an investment that (with proper care) will last upwards of 20 years. Rather than spending money on multiple recliners or chairs that will lose quality rather quickly, investing in a Stressless will provide you comfort for decades.
The best course of action is to test out the different styles in person and determine what fits best with your lifestyle and budget. Visit one of our stores to check out the Stressless line and see if it's right for you.
Read more: How to Care for Leather Furniture: In-Depth Guide


Author: Julia Maiman
Julia is a writer, blogger, and believer in the smell of old books. She has been crafting stories since she could put pen to paper. She is also a lover of dogs, traveling, and Led Zeppelin.