Stressless is unparalleled in terms of comfort, quality, and longevity. Rather than spending money on multiple recliners or chairs that will lose quality rather quickly, Stressless will provide you with long-lasting comfort.
Because Stressless furniture is high-quality, it can be an investment. The cost of furniture is need-to-know information when it comes to making informed decisions, so we wanted to dive a little deeper into Stressless furniture so you can get an idea of how much it may cost you and what you're paying for.
What is Stressless furniture?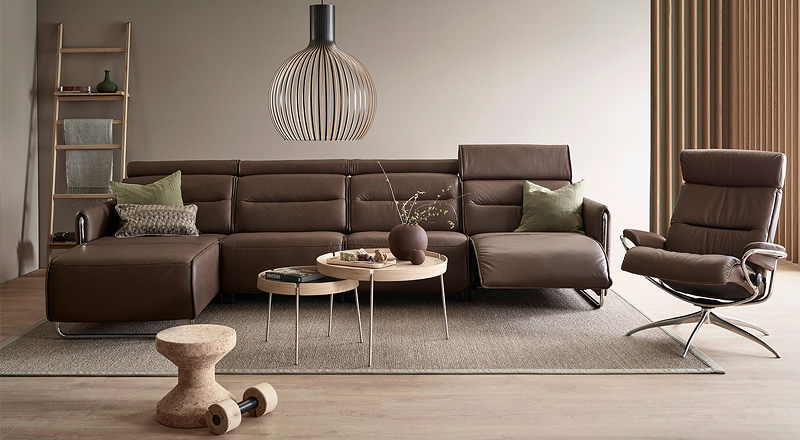 Stressless is a line of recliners, sofas, and chairs made by Ekornes using high-grade materials. The cream of the crop, if you will.
Not only has Stressless become a trailblazer for quality, comfortable furniture, but they do so in an eco-conscious way to protect their native land and leave a minimal ecological footprint. They recycle at every opportunity, like using excess wood chips to heat their facilities or selling leather scraps to other companies so that nothing gets wasted.
If you're interested in learning more about Ekornes and their sustainability mission, click here.
How much does Stressless furniture cost?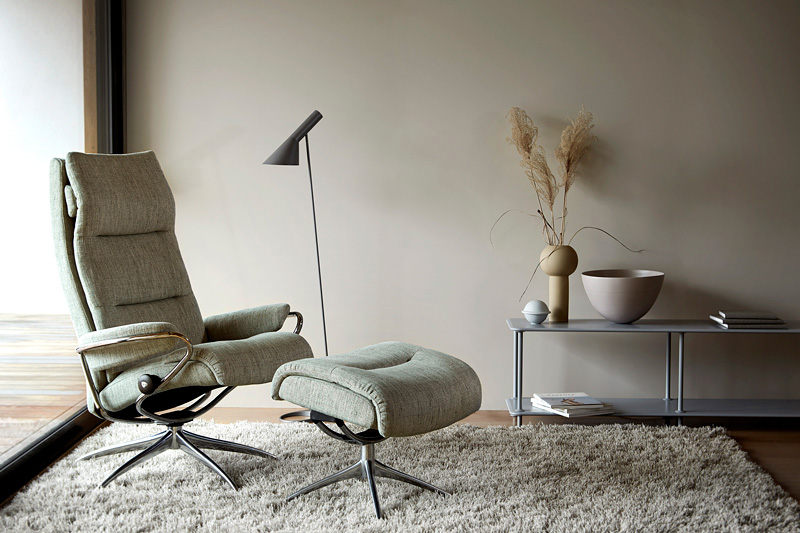 Pricing for Stressless furniture varies, and it will depend greatly on what you're looking for:
Price ranges for a recliner start around $1,895 up to $4,495 on the premium end. The Consul Stressless Chair is an entry-level option while the Magic Stressless Chair is more luxurious.

If you're looking to update your home office, a Stressless office chair will start at $1,695. A luxury option like the Magic Office Chair is priced at $3,795. The Consul Office Chair is $1,995 for something more affordable.

Stressless sofas come in multiple designs, sizes, and recline options, and their price depends on these factors. They start around $2,295 and go up to $9,390.
Between the price points, you can expect differences in the quality of materials as well as the intricacy of the sewing and the size of the furniture. Naturally, the larger a piece is, the more it will cost. More expensive pieces will feature the finest grade leather, cushions you'll sink into, and neck and lumbar support - ultimately influencing their prices.
What are you paying for?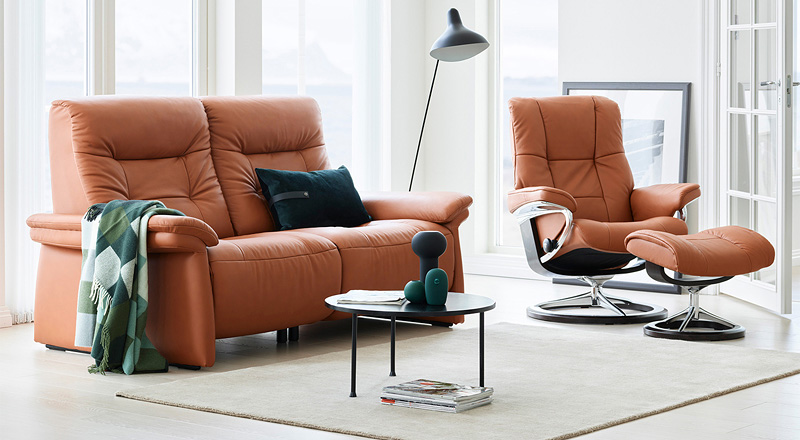 Buying furniture is a big deal, and it's important to know what you're paying for.
Stressless focuses foremost on quality, in both material and construction, to deliver furniture that's going to last. From trend forecasting to maintaining a deep understanding of comfort and design, Stressless furniture goes through an extensive production process where every detail matters.
Here's a look at the construction of Stressless furniture and the different features that make it an ideal choice for a luxury seating experience:
Stressless® Plus™-System provides neck and back support and features a sleep function.
Stressless® BalanceAdapt™ adjusts with your movements so you're positioned comfortably no matter what.
Layers of foam deliver long-lasting, maximum comfort with the ability to conform to your body.
Top-grain leather, sourced from the finest tanneries around the world, are tested for consistency, durability, and elasticity.
Bases are made of European beech wood, a strong and sturdy option for furniture.
Single steel rods (also used in bases) are cold bent for more durability.
How to decide if Stressless is right for you
Choosing and budgeting for Stressless furniture is going to depend on what will work in your home and lifestyle. Like any piece of furniture, it's important that it meets your requirements for design, comfort, and functionality.
If you're unsure of whether or not you want to invest in Stressless, the best course of action is to test out the different styles and determine what would fit your lifestyle and budget. When you visit one of our showrooms, our Design Consultants will take the time to understand what exactly it is you're looking for to see if the Stressless line is right for you.