We spoke to Cindy Rubenfeld, our manager in Middleton about florals and how she likes to incorporate them into the home in a modern way. She describes, "Florals continue to come back every spring. Keeping the look modern is all about the type of floral pattern and how you pair it with your decor."
When you think of florals as an overarching category, you may also associate it with an outdated style. But the truth is, 'florals' is a blanket term that encompasses many different styles of prints; from the ultra-feminine and dainty to more abstract bold patterns.
Regardless of your style, you can find a way to incorporate florals into your home in a way that's unique to you.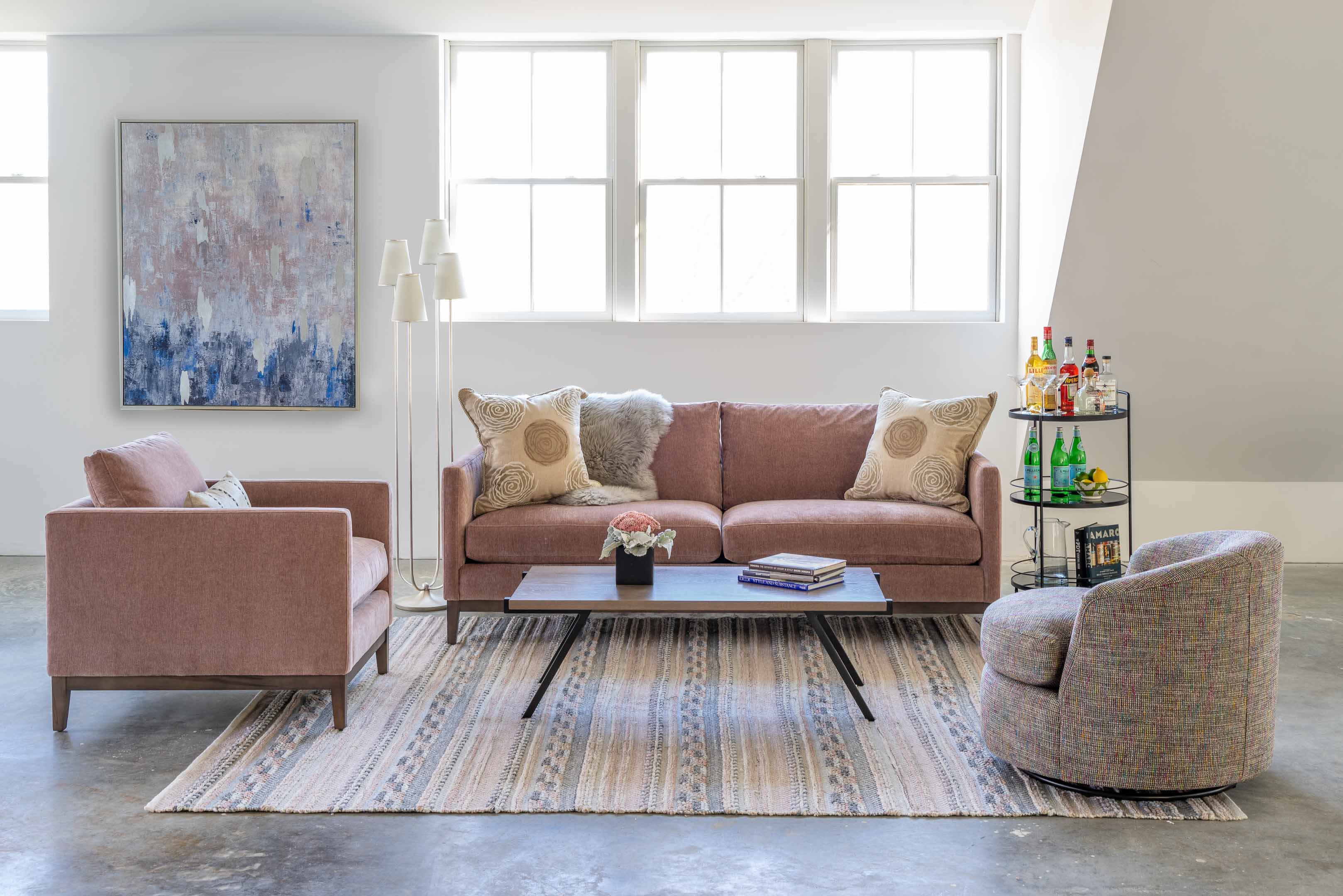 A modern take on florals
If you have any preconceived notions about florals in your home, we're here to urge you to stay open-minded. There are numerous ways to bring in florals in your home in a way that's modern, updated, and fresh.
Cindy explains, "A modern take on florals usually has at most three colors in the print." So what makes a floral look dated Cindy says, "Smaller patterns can look somewhat dated. It's a bigger, bolder look these days." For example, she loves the look of a black and white floral for a dramatic effect.
Florals nowadays are varied in color, pattern, and abstractness. There are more masculine versions that are abstract and feature vivid, bold colors as well feminine versions. Ultimately, like Cindy says, "florals are always going to be in," and the wonderful thing about recurring trends is that they continue to be updated and modernized.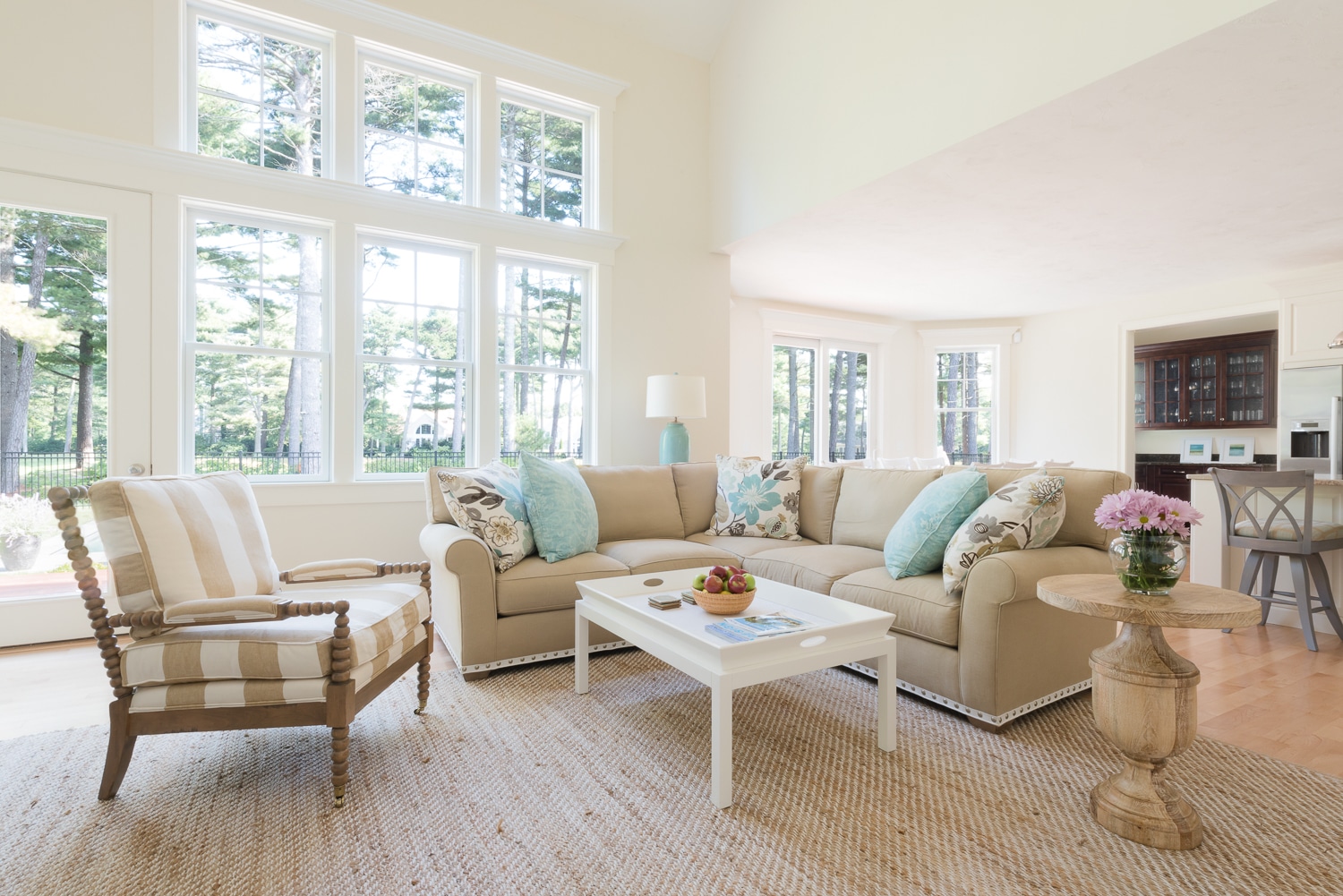 Start small
When it comes to patterns in general, but especially florals, you want to start small. Cindy usually incorporates floral patterns on pillows, chairs, or ottomans. As opposed to putting it on an entire sofa, using florals sparingly as a fun accent will have more of an impact.
She recommends integrating colors from your sofa and other chairs into the floral pattern to tie the color scheme together. You can also pull colors from a rug or a painting and incorporate those colors into a floral pattern in a pillow or ottoman.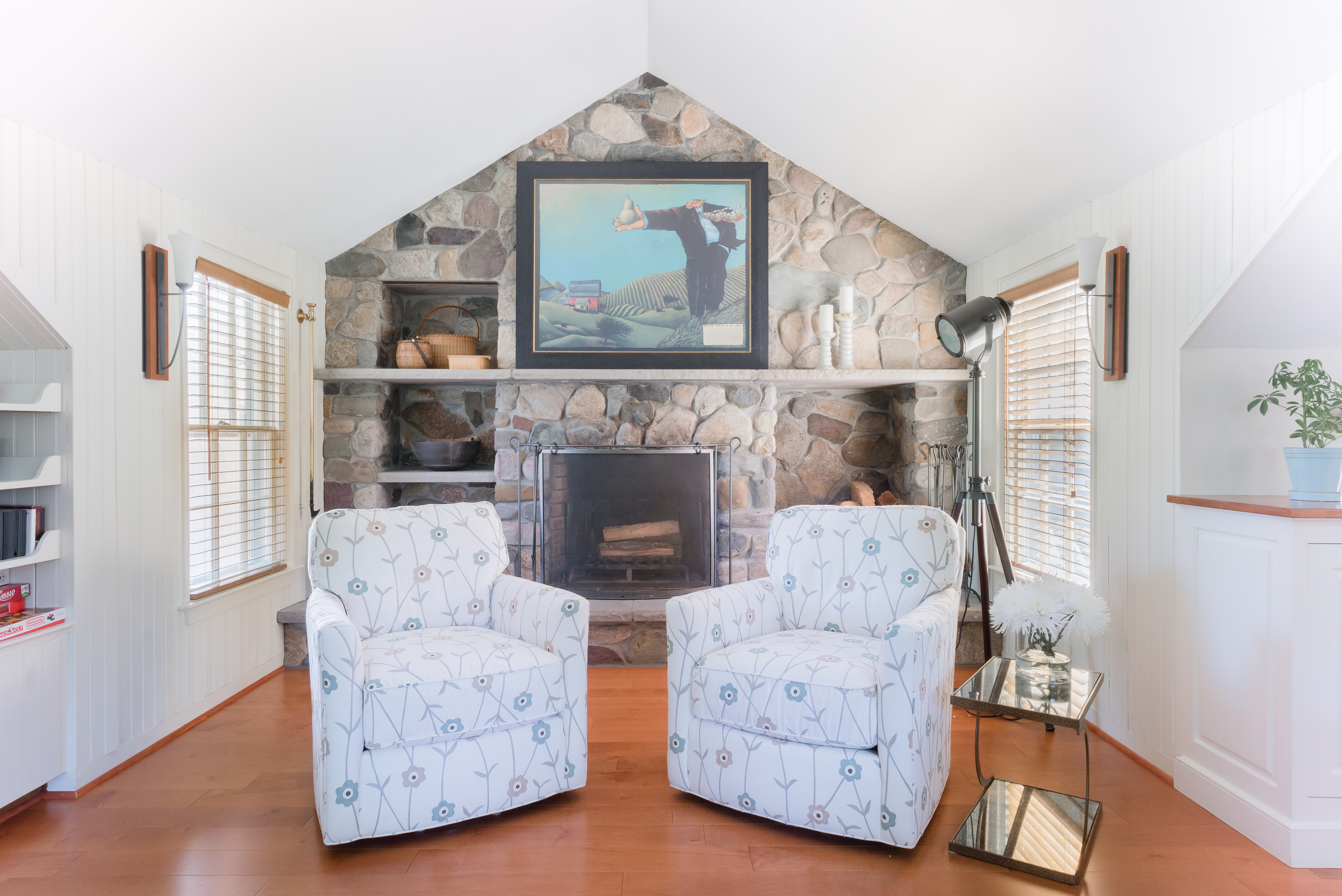 If you want to go bolder, there's always the option of bringing a floral pattern into your sofa in a softer, neutral color story. Michele, a designer in Middleton, has used floral patterns on the pillow and seat of a chair and then a solid fabric on the exterior. This is a great option if you're afraid of pattern and want to keep things minimal while adding a fun pop of color and pattern.
Florals for every style
In some ways, florals are a very easy print to incorporate into your home because the options are really endless in terms of color and style. Regardless of your home decor style, you can find one that you'll love.
For a traditional style, you might want to incorporate several patterns in a room. Cindy says, "A lot of the traditionalists might have four florals used in a room. Small prints all the way up to large scale prints that are tied together with a color or a coordinating rug." You can also incorporate toile for a vintage effect.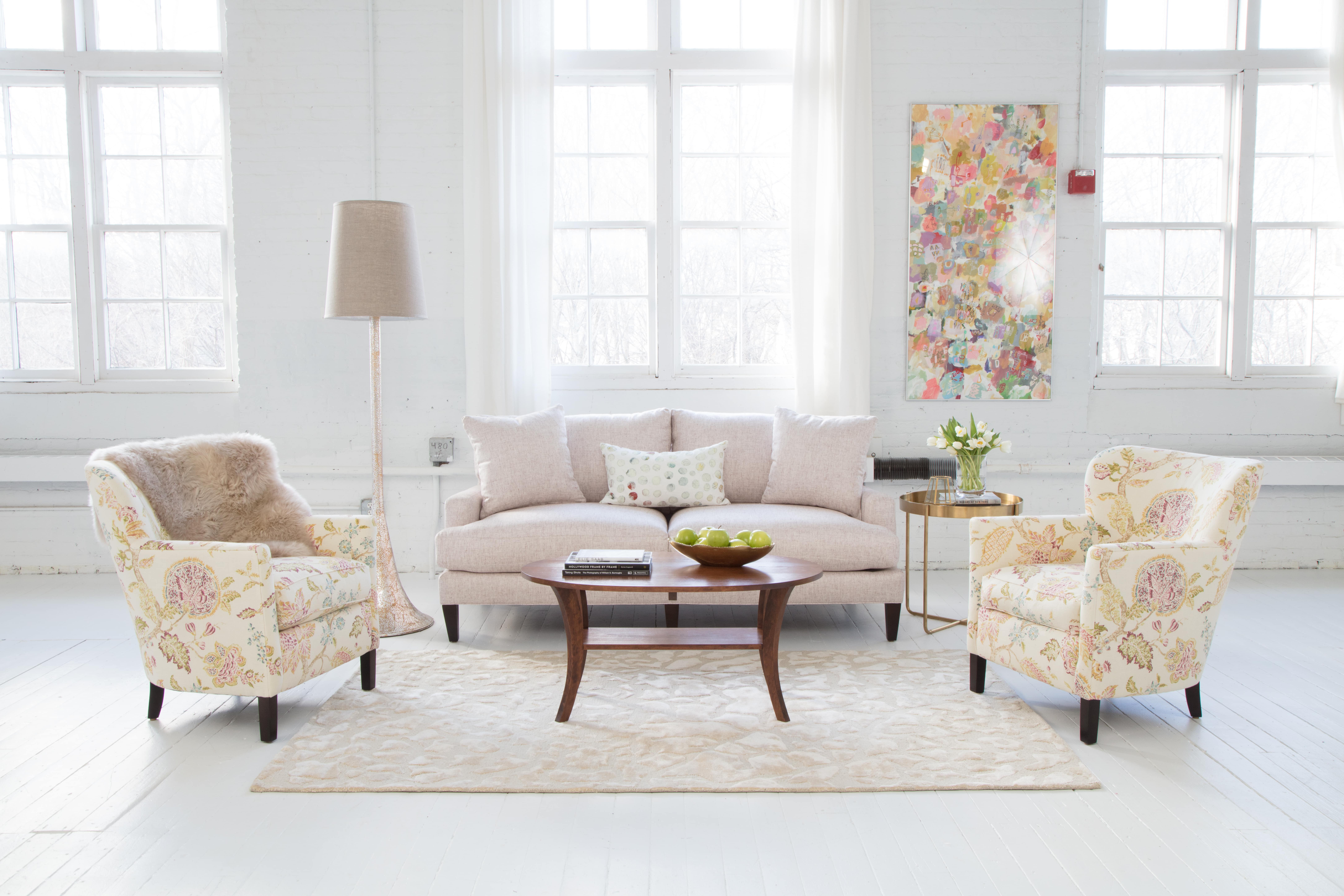 In a more modern space, a larger, more dramatic print will look more at home. For a modern or transitional look, use a floral print as an accent rather than the main event to create drama and interest.
You can also find multi-toned bohemian florals with saturated colors. Cindy explains, "You can really incorporate florals into any home. And if you don't love the idea of floral print, bring in real or fake flowers! This is a beautiful way to add florals in a minimal way."
Find inspiration
Although we've outlined some general guidelines when it comes to a modern take on florals, there are no rules and it's important to follow your instincts when it comes to home decor. The most important piece of advice when it comes to florals is to start small and not overdo it.
Cindy summarizes it well by saying, "Keep it simple and trust your instincts. You'll know when the room feels just right. Designing your home is an adventure and you never know where it'll take you."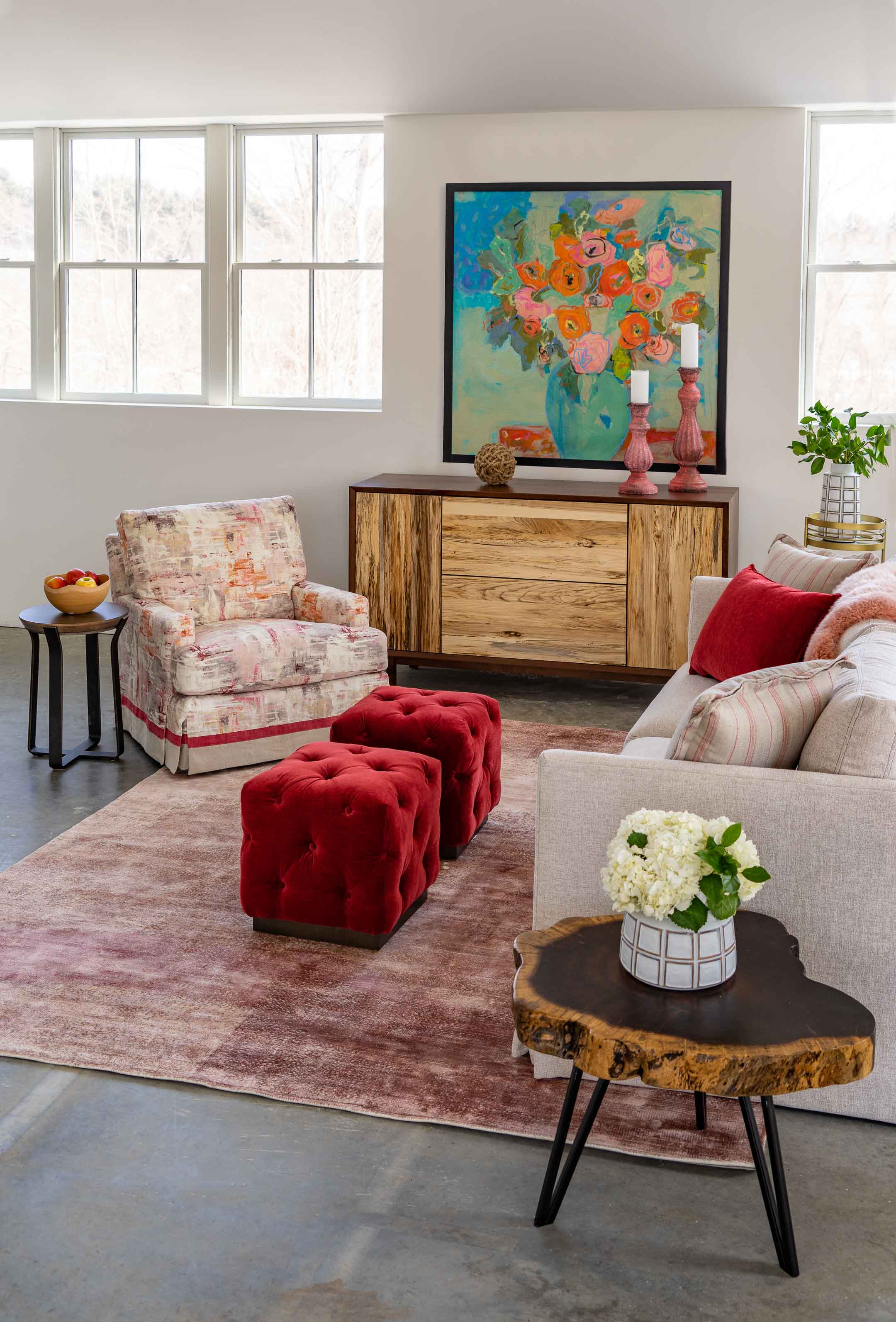 Take the process step by step and start with smaller pieces like pillows, chair, ottomans, or even bedding. Florals can add a lot to your space; whether it's a bold, dramatic pop of color or a vintage, refined, and delicate look. They can bring energy or impart a sense of calm, depending on what you're looking for.
Find inspiration and scour magazines, Pinterest, Instagram, and Houzz to get an idea of the style of florals that speak to you. And then come into a showroom to chat with a designer about our varied fabric selection and how you can bring pattern into the home.
Get inspired to refresh the look in your home this spring:



Author: Julia Maiman
Julia is a writer, blogger, and believer in the smell of old books. She has been crafting stories since she could put pen to paper. She is also a lover of dogs, traveling, and Led Zeppelin.