It's coming on fall and that means cooler weather and shorter days, snuggling up with a good book and time in front of the fire. And there is no more perfect place to experience this than in the excellent comfort of a quality sofa.
We're not certain that's why design professional Valerie Folan at our Middleton location chose the Savoy Sofa by American Leather for her pick of the week, but it certainly meets that need. Valerie did tell us many other reasons she loves this piece.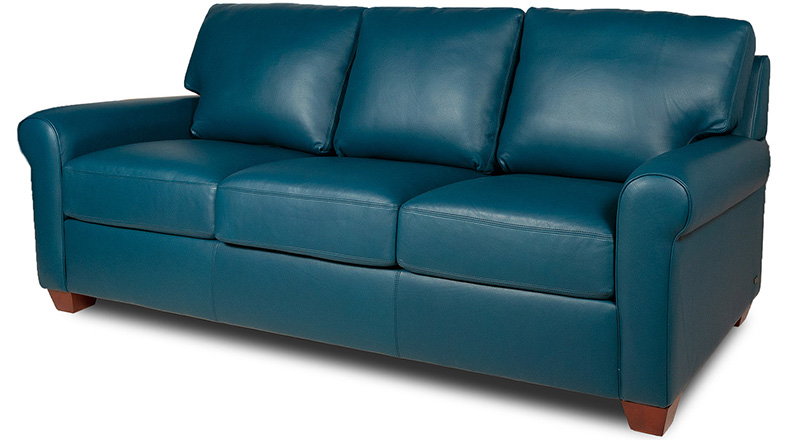 Features and Benefits
Folan started with the fit. She noted that this sofa doesn't sit too high (20 inches), so someone who is shorter can still get their feet on the floor. But you can also sit back into this piece, so it also accommodates tall people too. For the couple with a significant height discrepancy between them, for instance, this is an excellent choice.
The length of the couch also appeals to Folan: it's longer than a loveseat, but it's not as long as other standard couch sizes, by about seven to ten inches. So it has the benefit of being comfortable for multiple people, or to lay down on, without taking up too much space. Or, it's able to fit in a smaller room without dominating.
Then there is the leather. Valerie dreamily mentioned the supple, buttery softness. "I get all my customers to feel it," she says. The deeply saturated color options are luscious.
"Navy is very hot right now," Folan says. The teal is gorgeous as well, and green or orange can add an elegant pop. The double-needle top stitching with matching thread color provides a clean, quality, finished look.

Style Options
This sofa features an understated roll arm, so it fits well in a traditional style design scheme or in a transitional home. For those looking for a more contemporary look, Valerie suggests the Carson, a similar sofa in many regards, but with a track, or squared, arm instead.
The piece sits atop low, wide wooden legs, making this a study, strong couch. The innards feature unidirectional suspension, which is highly durable and provides excellent support. All said, this sofa will stand up to years of use.
The cushions, seat and back, are loose, so you can fluff and flip as needed. They feature a high-resiliency, high-density foam that can be encased in down for a more plush look and feel, or come extra-firm for those who like a more supportive experience. You have options.
Speaking of options, the Savoy offers many more. In addition to choosing the firmness of your cushions and various leather colors, you have a choice of leg colors—acorn, walnut, or espresso—and this piece can be a part of a sectional. "You can design just about whatever you want," says Valerie. And if you don't favor leather, there are fabric and high-performance name-brand upholstery options as well.
"This is one of the most versatile pieces on our showroom floor," says Valerie.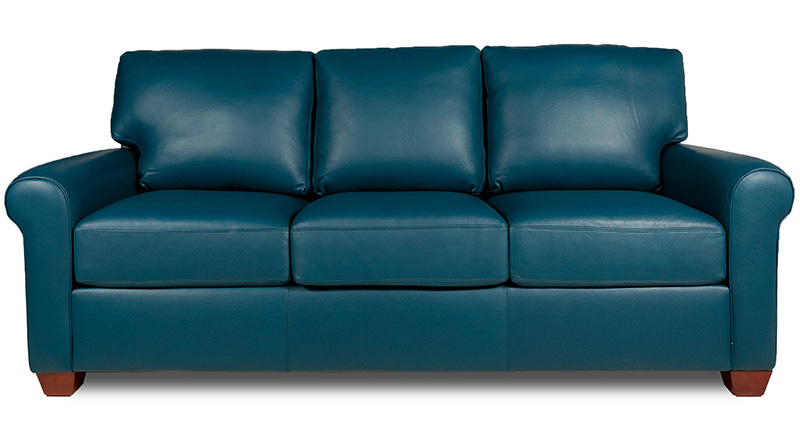 Come Visit Us
Any piece of furniture is best experienced in person; Valerie and the rest of the Circle Furniture team welcome you in to feel the buttery soft leather and embracing comfort for yourself. This sofa, in leather, is currently on special at $2,999 (please call ahead to ensure that a floor model is on hand at your preferred Circle Furniture location).