The master bedroom is an important part of how rested and rejuvenated you feel on a daily basis. Unfortunately, it's often an area of the home that's designed and then forgotten, leaving you with the same set-up you had 15 years ago.
We're here to give you simple tips on how to decorate your master bedroom and give it the attention it deserves, whether you're starting from scratch or updating an older room.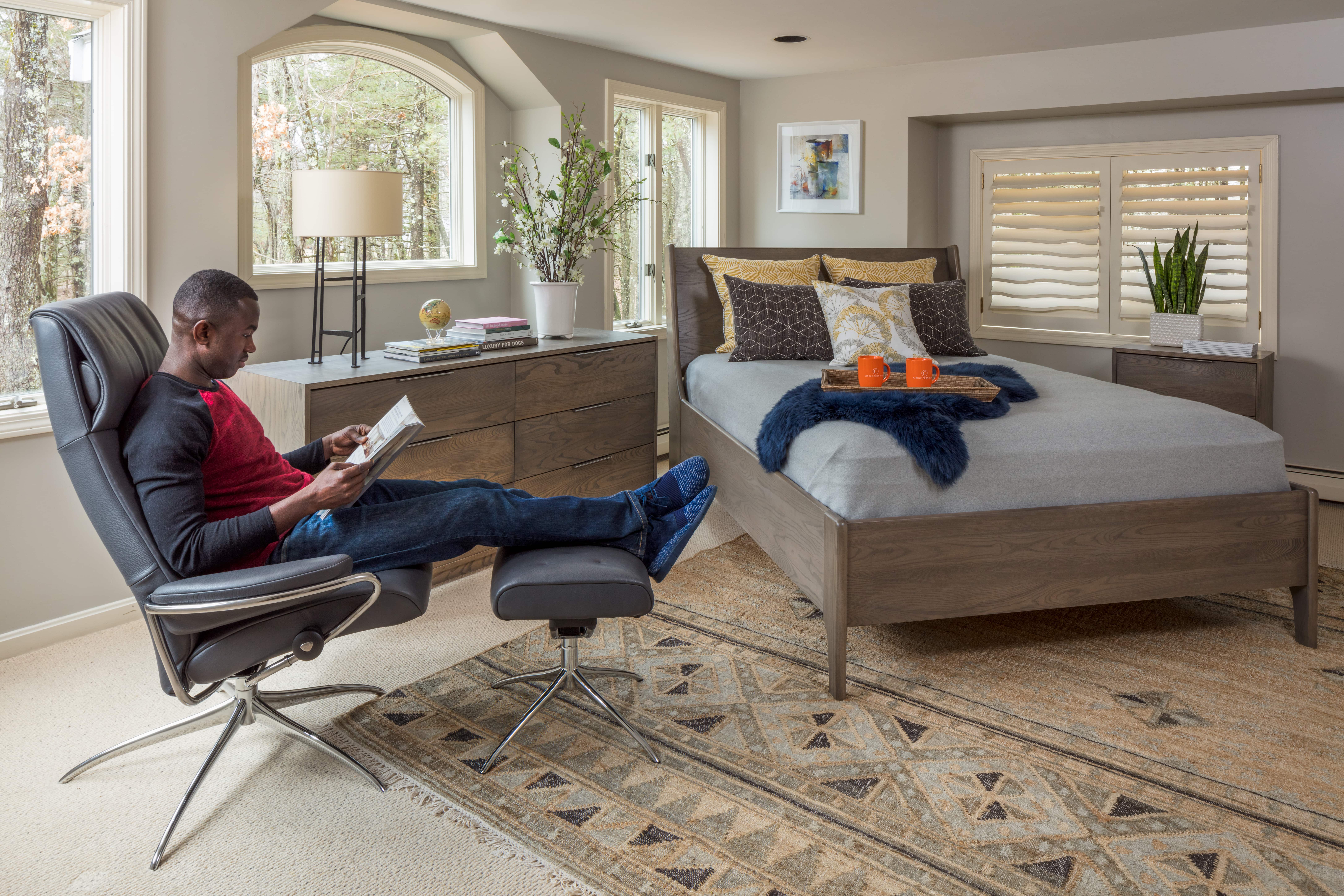 First steps
Even if you're not starting from scratch, decorating is often intimidating if you don't know where to start. We suggest asking yourself a few questions before you begin.
First, what are you keeping? Take inventory of everything that's staying in the room. Next, think about color and mood. What tone do you want to set for the room? What colors soothe you?
Finally, take time to find inspiration online, on Pinterest, and in magazines. Asking yourself these questions will provide a framework for how you design and decorate your space. Lucia, our manager in Pembroke, suggests, "If you're unsure where to begin, start with bedding or a piece of artwork that inspires you."
Key features in a modern master bedroom
Color
Color has an incredible effect on our mood and it's especially important in a room where you should be relaxing. Although it's subjective, in general, soothing colors tend to be paler, cooler tones, like pale blue or grey.
If you don't get a lot of natural light in your room, pale golden shades will add warmth. If you're going for a calming effect, avoid a color scheme that's too bright or busy. Although some might love a monochrome look, pops of color will add depth and dimension to the room.
You can add in pops of color in your artwork, throw pillows or blankets, or a small area rug.
Read More: How to Choose the Perfect Color Palette for Your Home Decor
The bed
The focal point of the room is the bed, and it's important to get a style that speaks to you. An upholstered bed is a beautiful modern choice, and it gives the room a soft, textured, and romantic feel. If you prefer the look of wood, you might choose a sleek, low bed like the Leila Bed or the Wave Bed.
Read More: Organic Mattresses vs. Conventional Mattresses
Separate seating
A separate seating area is an important element of a modern master bedroom. Not only does it create a cozy environment, but it gives you a place to check your phone before bed, read, or drink your coffee in the morning.
A large master bedroom can look barren without a seating area. If you have the room, always do a pair of chairs, either comfortable recliners or upholstered chairs with ottomans. A chaise lounge is also a great option for the bedroom. Some master bedrooms have space for a settee or a loveseat at the foot of the bed.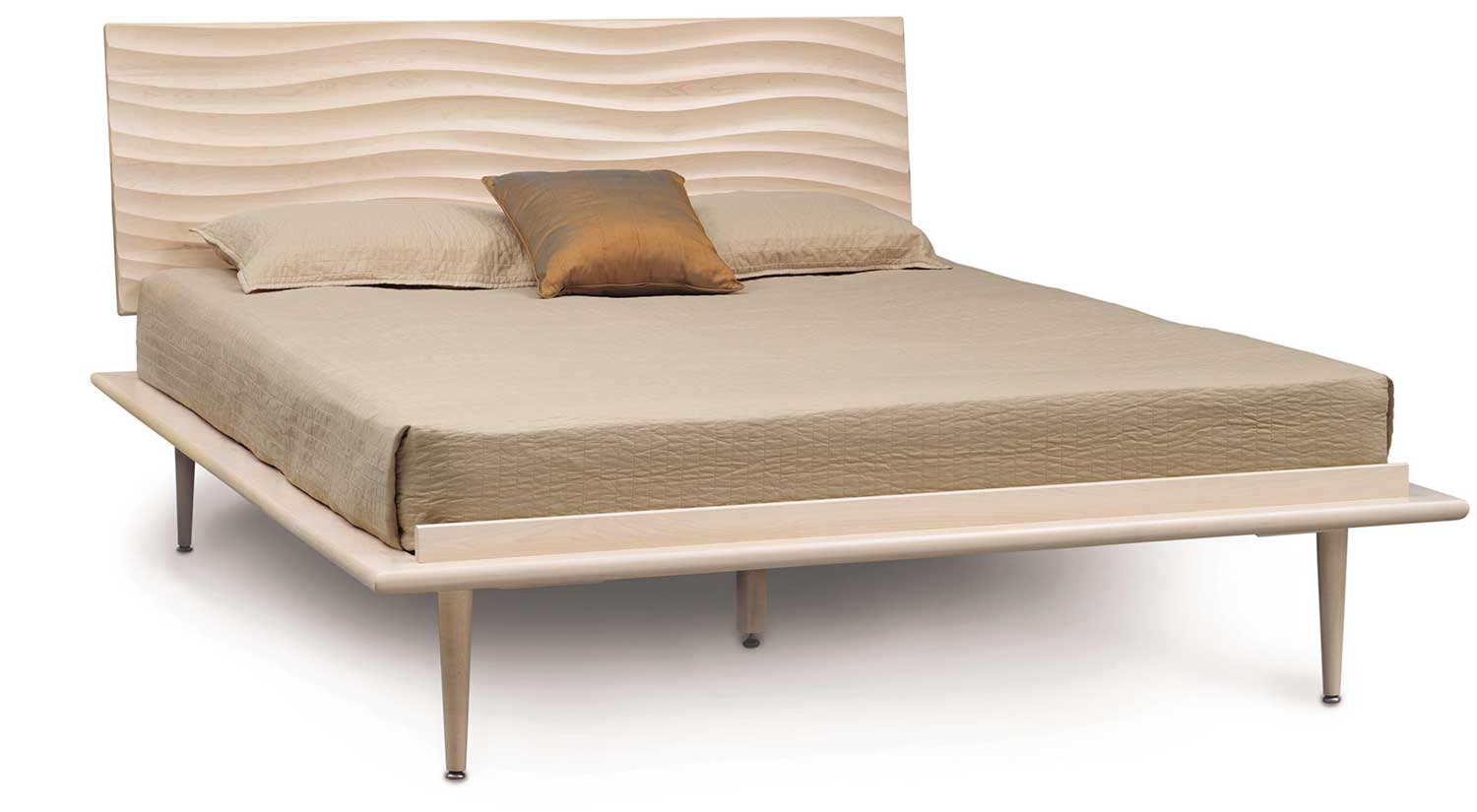 Wave Bed in Parchment Maple
Texture
Texture gives life to your space and creates a cozy environment. Add animal hides, faux fur throws, and fuzzy textures to add warmth to your decor. The easiest way to modernize a master bedroom? Simplify your bedding. Neutral colors, organic textures, and softer patterns are a more modern take on bedding.
You can also add in texture with your window treatments, whether you prefer woven woods blinds or a sheer decorative side panel. For a modern look, opt for a smaller rug in your bedroom to make your room appear bigger. Having a small rug to step out on to from your bed lets a hardwood floor take center stage.
Lighting and Accents
An important element of romance and mood? Good lighting. Ambient, warm-toned lighting, either 3-way lamps or lighting with a dimmer will set the tone. Be sure you have adequate lighting on both nightstands.
Add in unique accents, like a chandelier at the foot of your bed, or a feature wall in a different color or wallpaper. For a simple update, change the knobs on your dresser to a sleeker design.
Read More: How Much Does it Cost to Furnish a Bedroom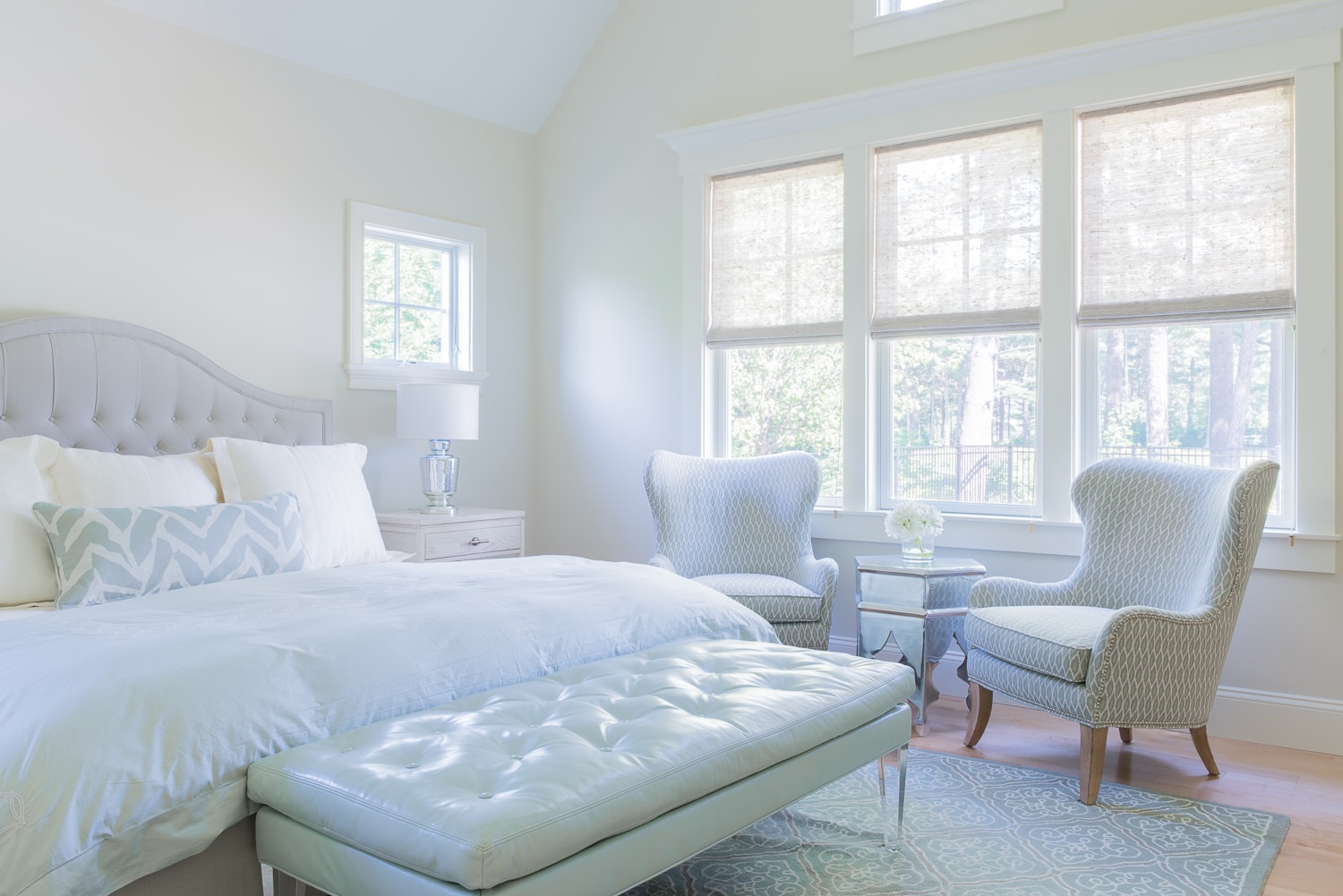 Simple design tips
Add in mirrors to visually expand the space in your room. Consider a decorative mirror over your bureau instead of a matching one. A floor to ceiling mirror is a useful and attractive addition.
You should have a nightstand on either side of the bed to keep the balance in the room. Depending on your needs, you can use a simple table for your nightstand, or a small bureau if you have the room and need extra storage.
Let's talk electronics. If you have a TV it's best if it's enclosed in a cabinet. And if you can help it, keep your electronics away from the bed and plugged in across the room. If you're concerned about romance in your master bedroom, this is an important tip.
Don't forget the importance of height! Your lampshade should be at eye level when you're sitting up in bed and your nightstand should be even with your mattress or 1-2 inches higher, but never lower.
Avoid overloading the room with too much furniture, or furniture that's too big for the room. Create a floor plan and be sure you can walk around the room comfortably.
Read More: Bedroom Design Tips: Best Height for a Nightstand and More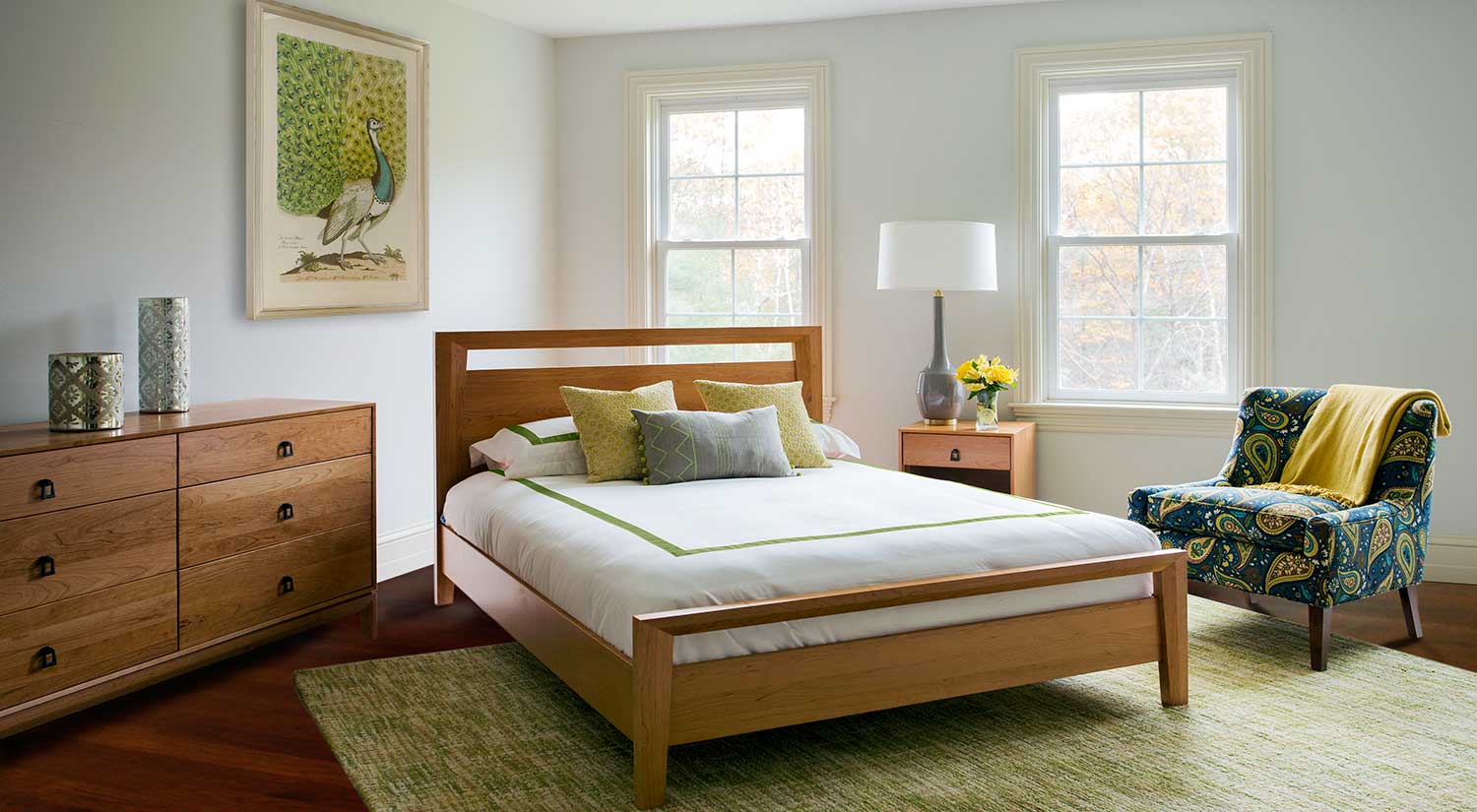 Talk to a Designer
The bedroom should feel relaxing when you go to sleep and refreshing when you wake up. Luckily for you, it only takes a few simple changes to make your master bedroom modern, soothing, and beautiful.
When you're ready to start updating your master bedroom, come into a showroom near you and talk to a designer. They'll ask the important questions and can help you at any stage of the design process.
Concerned about storage? Learn how to maximize space in a smaller bedroom.
Author: Julia Maiman
Julia is a writer, blogger, and believer in the smell of old books. She has been crafting stories since she could put pen to paper. She is also a lover of dogs, traveling, and Led Zeppelin.