We always love to hear what our Design Consultants are loving in the showrooms. This month, we met up with Valerie, a Design Consultant in Middleton, to chat about her pick of the month: the Exeter Desk Wall Unit.
Made in New Hampshire, the Exeter Desk Wall Unit from our Manchester Collection is a fully customizable wall unit, perfect for a home office or guest room.
Details and features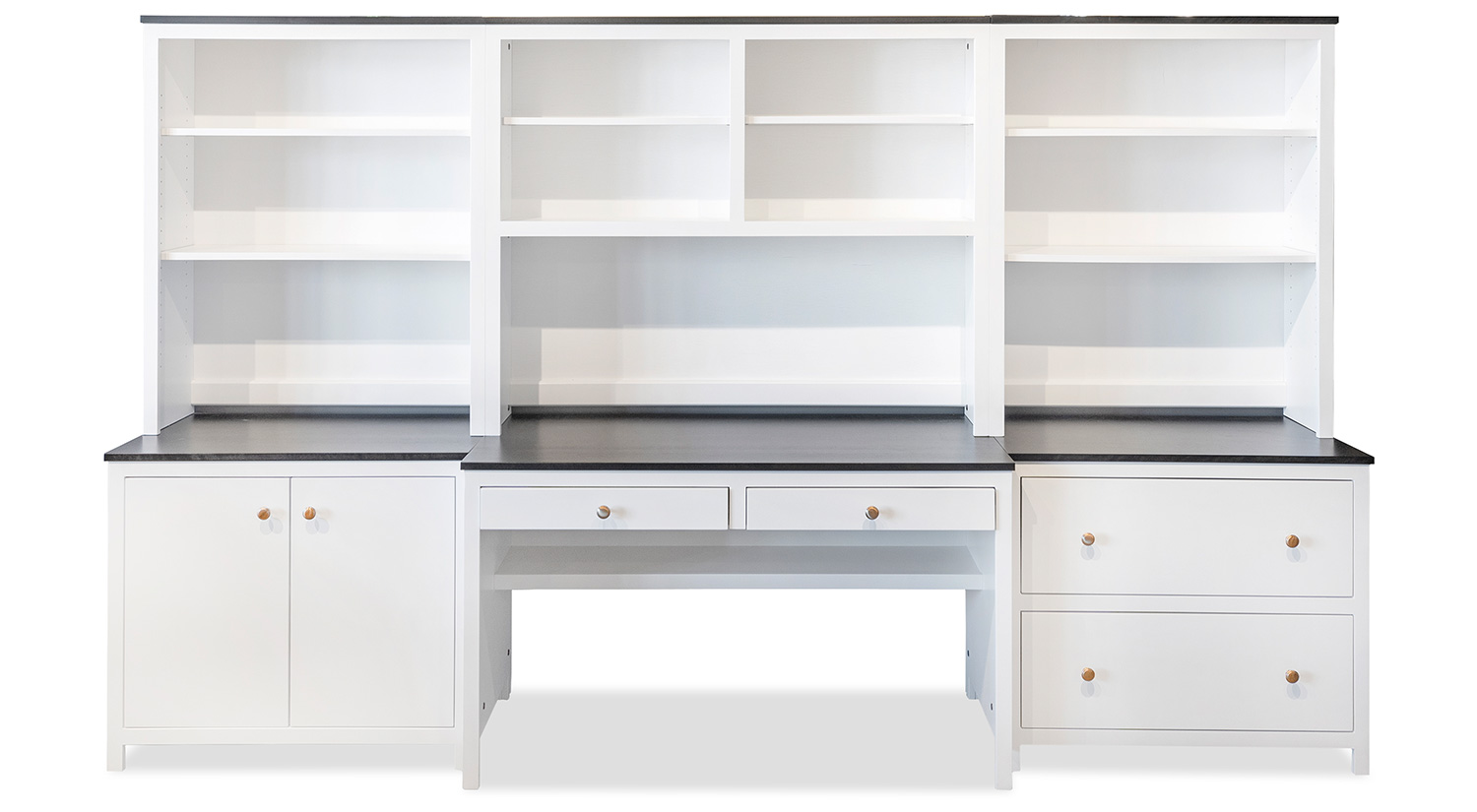 We show the Exeter Wall Unit online at a fixed price in a pre-designed configuration, but it's available in multiple configurations, style options, size options, and more.
It can range from around $2,000 to $5,200 or more, depending on how large the unit is and how many additional features you choose, like crown molding. It's made in solid birch with high-grade plywood on the inside of the drawers, although you can pay for a premium option with solid birch in the drawers as well.
The Exeter is customizable in both style and price. Valerie says, "I love it because some people don't want that ultra-modern, glass look in their home office like you get with BDI. This wall unit has a more transitional style, you can make it fancy or keep it sleek and modern."
"It's also a great option if you have a small space or an office upstairs or in the attics. It comes in separate pieces, you can bring it through narrow spaces and then put it together in the room. You can also make it into an L shape for a corner."
Create-your-own perfect wall unit
Valerie loves it for its clean, beautiful look but also because of the number of customizations there available.
She says, "You can think about what you need for your home office and customize the wall unit to be perfect for you. You can bring the desk out further for more space, and you're able to choose cabinets, shelves, or files depending on what kind of work you do."
"A hutch is a great option if you have books or you want more decorative storage, but you can also get the base without the hutch. And you can put doors on all the cabinets for a cleaner appearance."
It's customizable not just in its basic features, but in its style as well. There are options for a natural finishes, stains, and paints. The Middleton showroom features the unit in a two-tone, which makes for a beautiful modern look.
"But you could also go more traditional," Valerie says, "with crown molding and a neutral color paint or stain."
Come into a store to see all the options
A wall unit is often something you order online with no ability to customize it to suit your home or preferences. So, the luxury in the Exeter is the ability to get exactly what you want – creating the perfect wall unit to make your work-from-home experience as seamless and comfortable as possible.
"It's simple, elegant, and completely customizable. Another benefit of this wall unit is that the lead time isn't currently too long, only 6-8 weeks."
Check it out online or for the full experience, visit our Middleton showroom to see it in action and talk to a designer about all the options.
Not ready for an in-store visit? Set up a virtual design consultation to get started on your next design project.