It's a new year and we're excited to show you all of our new, exciting products. From cozy, transitional sofas to a counter table that's perfect for spills, we have a range of beautiful and functional products. Stephanie Birchenough and Brian Bechard, our Visual Merchandisers, give us their thoughts and a full review of a selection of their favorite new products.
Westport Sofa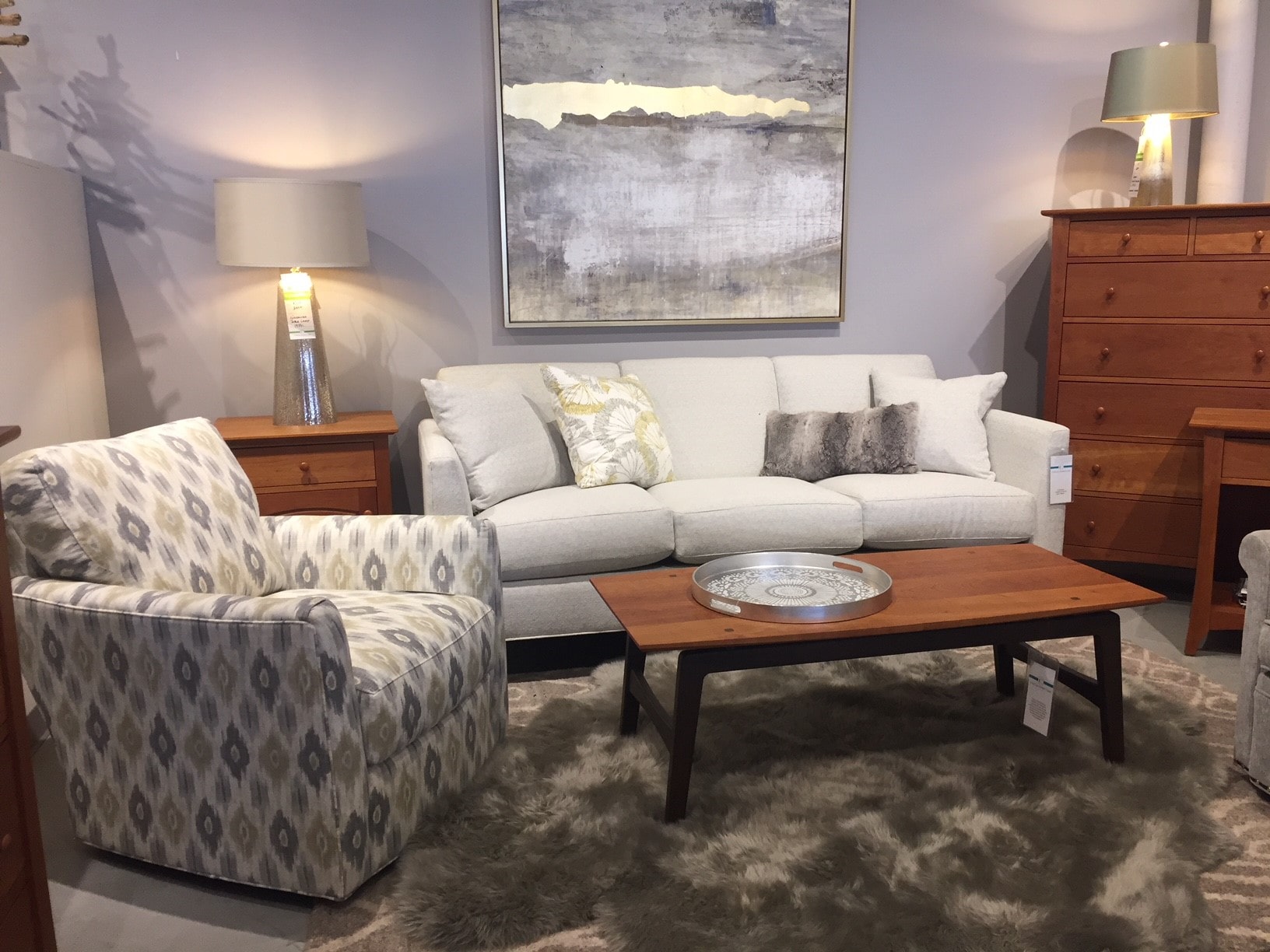 Westport Sofa and Murphey Swivel[/caption] Brian says, "The Westport is a little more contemporary with the tapered track arm." It's available in multiple styles of fabric and leather and comes with two toss pillows. You can also choose from several finishes on the tapered wood legs. It's available in so many configurations," Brian explains "You can get it in a sofa, chair, sectional, loveseat, or apartment size sofa." It's a transitional style so it's "great for anyone" and can easily fit into any home décor. The tight back makes it perfect for those who don't want to fix or fuss with cushions. It's shown in an apartment size with Crypton fabric, a great option for a smaller family room.
Who is it not for
The Westport is a versatile and comfortable sofa so it would suit most people's needs. However, it's not available as a sleeper and it does have a clean style, so it's not for you if you prefer a more traditional sofa.
Murphey Swivel
Besides a swivel, the Murphey is also available in a non-swivel chair, a sofa, a long sofa, and an ottoman. You can choose from multiple options of leather and fabric. Brian says, "It's a smaller scale which makes it a great choice for small spaces. And it's adaptable, the chair could fit into a transitional, traditional, or contemporary space depending on the fabric you choose."
Who is it not for
Because it's a petite swivel, it's best to try it out in person and see if it's the right fit for you. Currently, the Murphey is only currently being shown in our Middleton, Cambridge, and Boston showrooms. But call your local showroom to see if it's in because we're constantly rotating products.
Infinite Exeter Table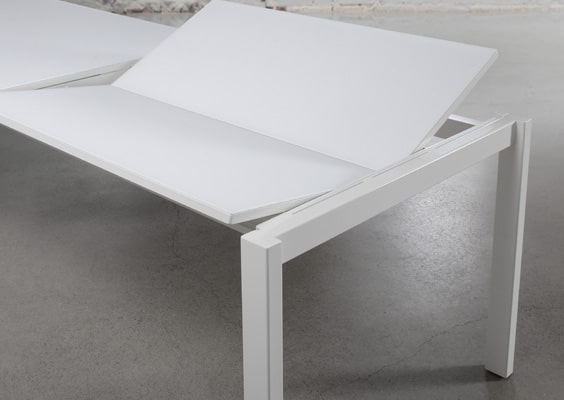 Stephanie notes, "It's a really cool option for someone who wants a glass table that's an easy extend. It's more contemporary than some of the wood options." The easy extension is the most impressive feature of this table, the butterfly leaf mechanism opens and closes with minimal effort. The glass top is tempered and has a matte etched effect which makes it extremely durable, anti-glare, and anti-fingerprint. No need to be afraid of putting hot plates down on this table!
Who is it not for
The most obvious point is that it's a contemporary, clean look so you have to love the style. It's also a better option for hardwood or concrete floors as it doesn't go well on a carpet. Finally, the top when it's extended is split, so although it's an even surface it's important to love the look when it's open and closed.
Tilda Sectional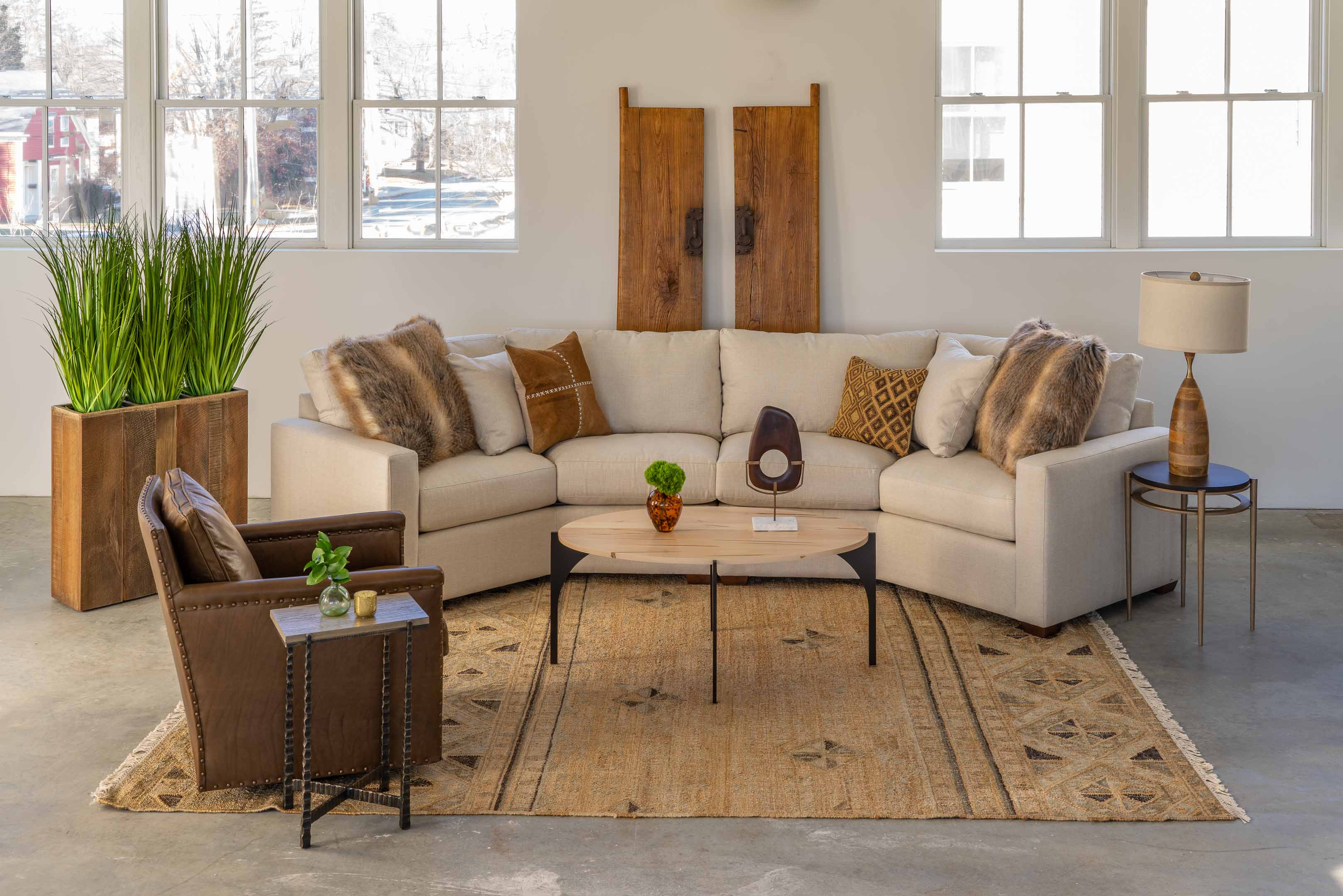 Brian says of the sofa, "It's a great sofa for a family. It's clean-lined with a track arm and a transitional style." And it's on the smaller side for a sectional so it won't overwhelm a small living room. The Tilda may seem like a relatively simple sectional but, as Stephanie explains it packs a punch. "You get the chaise, the storage bumper underneath, and the pull out sleeper all in only 92"."
Who is it not for
It's a traditional sleeper system which makes it more affordable, but it doesn't rival the support of a more advanced sleeper like American Leather Comfort Sleeper.
Fayerweather Swivel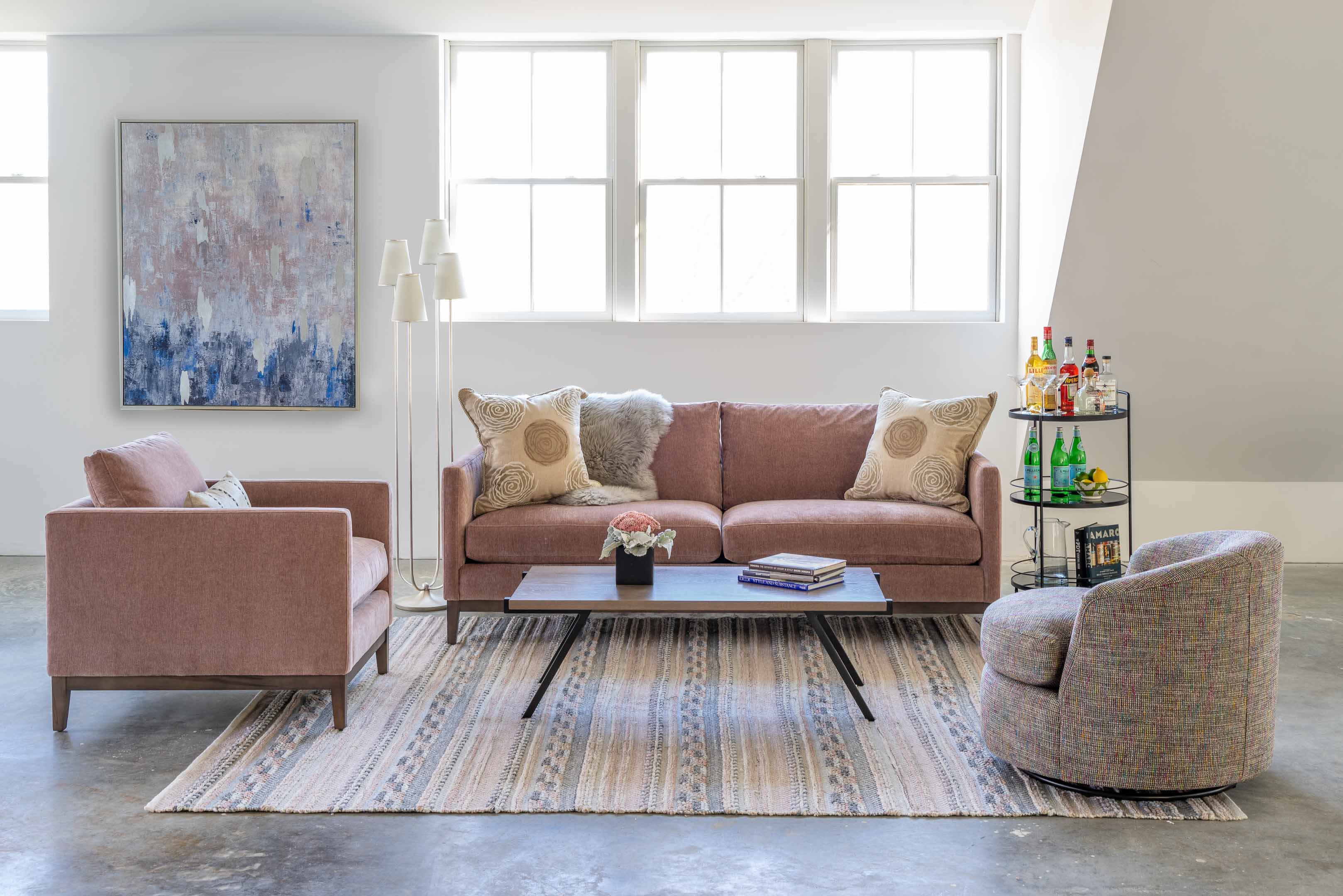 The Fayerweather Swivel features fun tufting accents and it has a low back so it's great for keeping a smaller space open.
Who is it not for
As long as you love the style, the Fayerweather is for everyone! By changing the fabric to something a little more traditional or contemporary you can really tailor the look to fit effortlessly in your space.
Hangover Sectional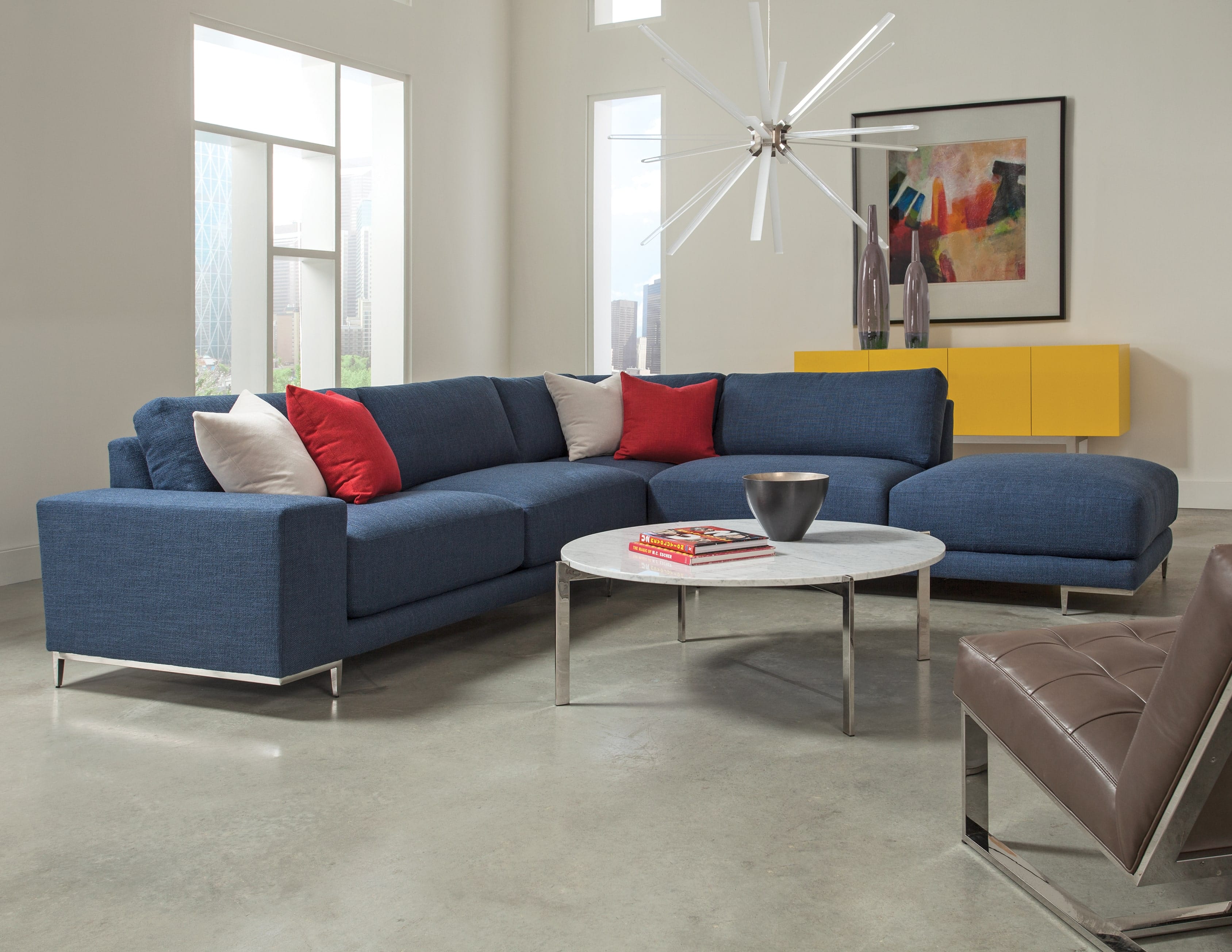 It's only available as a sectional, but it can be taken apart and reconfigured. True to the Thayer Coggin style, it has a Mid-Century Modern feeling, with clean lines, thick deep cushions, and a low profile. The base comes in several metal finishes and it's available in both fabric and leather. Stephanie explains, "It's deep and comfy but it doesn't have that relaxed look. It's a beautiful sofa to float, it looks stunning at all angles"
Who is it not for
Because it's a Thayer Coggin, you're making an investment for a classic, timeless design from a world-renowned designer. But it is an investment. "It's not for someone on a budget," Brian explains.
Harrison Counter Table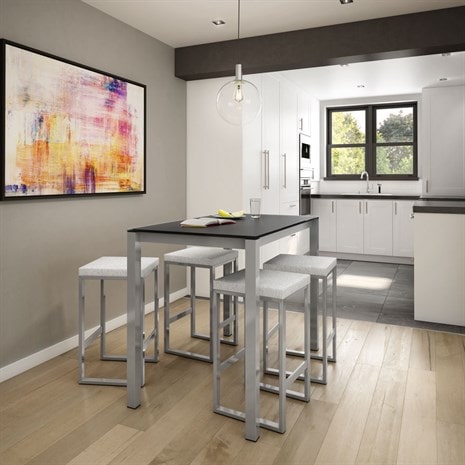 It has a non-porous porcelain top and metal legs that come in a variety of different finishes. Stephanie says, "If you spill red wine, you can easily clean it. It's great for the kitchen. It wears well and you don't have to use a tablecloth. And you won't want to with the gorgeous, unique veining." The non-porous porcelain is sturdy, scratch-resistant, and capable of withstanding heat from hot pots and pans.
Who is it not for
Brian says, "It's a little contemporary, and it's not a great option for small kids because it has that hard glass edge." The texture of the top is something you may want to feel in person as it's unique and you'll either love it or not.
Come into a showroom
We're constantly bringing in new, exciting products into our showrooms. To check out our selection and escape from the cold, come into any of our 6 showrooms across Massachusetts. Haven't visited yet Take a virtual tour of our showrooms and meet our designers!
Author: Julia Maiman
Julia is a writer, blogger, and believer in the smell of old books. She has been crafting stories since she could put pen to paper. She is also a lover of dogs, traveling, and Led Zeppelin.