Leather furniture is a joy to own; comfortable, smooth, and attractive. And long-lasting, too. But only if you take care of it. If you have leather furniture or you're looking into buying it, it's important to know how to maintain it.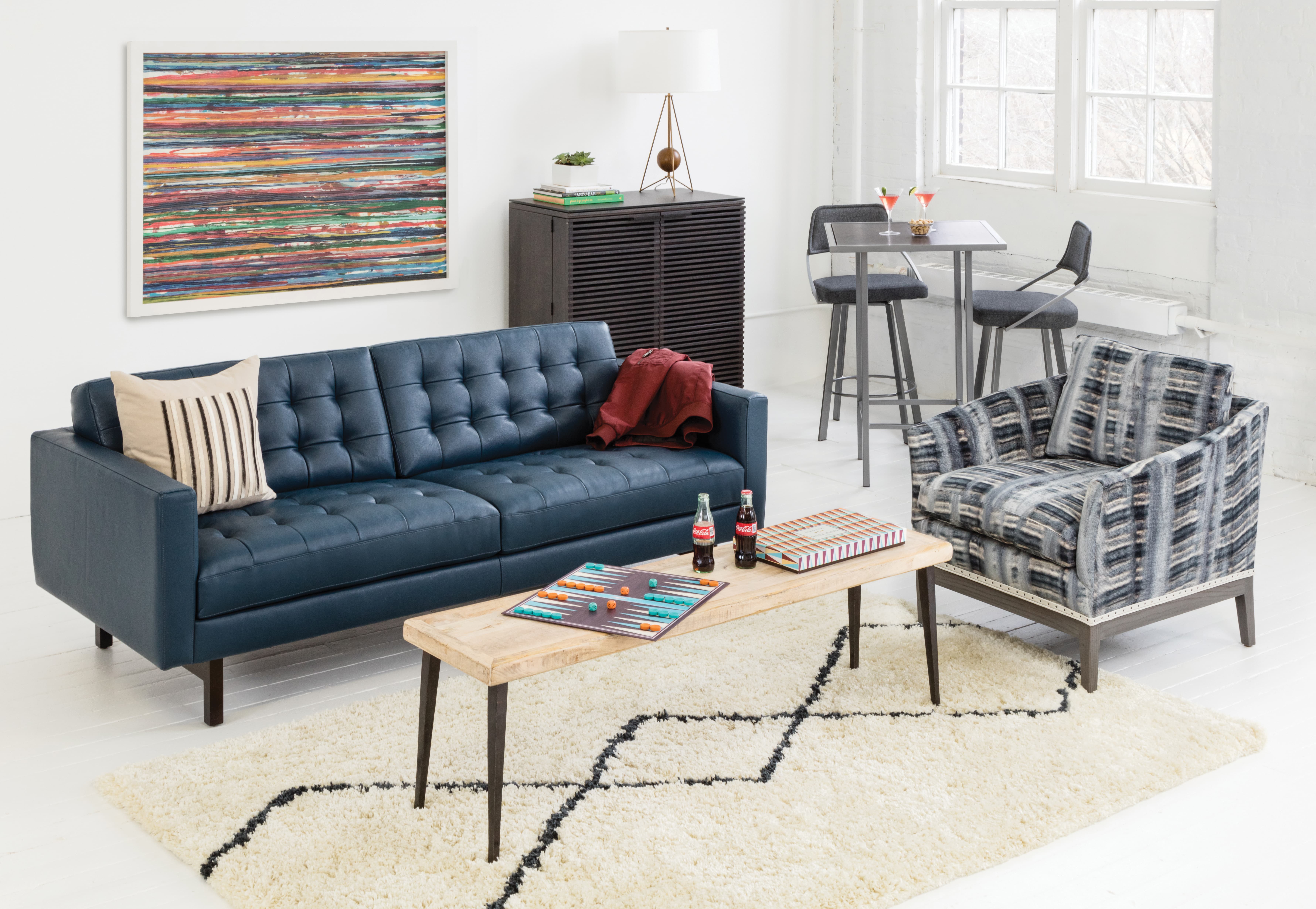 As with any upholstered furniture, leather requires attention and care. In the same way that you wipe down your kitchen table and make your bed, cleaning your furniture and taking care of your leather should be a ritual. It is an investment, so it's worth trying to elongate the life of your leather as much as possible.
First, let's talk about leather
Leather is porous, which means that extra care must be taken to prevent liquids, dirt, and oils from seeping in.

There are a few different categories of leather but to simplify it, leather is either protected or unprotected.

Unprotected leather, otherwise known as aniline, has no coating and is soft and buttery to the touch. However, it is more difficult to take care of and is not as durable as protected leather.

Protected leather is finished with a coating that helps to protect it from the outside world and makes it longer lasting than aniline leather.

Protected leather can be cleaned with a mild detergent or soap, but first, read the label or instructions that come with your leather furniture. If you do choose to use anything other than a damp cloth to clean, spot test it first in an inconspicuous place.
Bottom line: Err on the side of caution when it comes to taking care of your leather, and carefully read the manufacturer's instructions before cleaning. It may be a good idea to inquire if there's a furniture protection plan for the piece of furniture you're buying.
Having some insurance in case accidents happen is never a bad idea. We offer a plan here at Circle Furniture, but do your own research and decide what works best for you.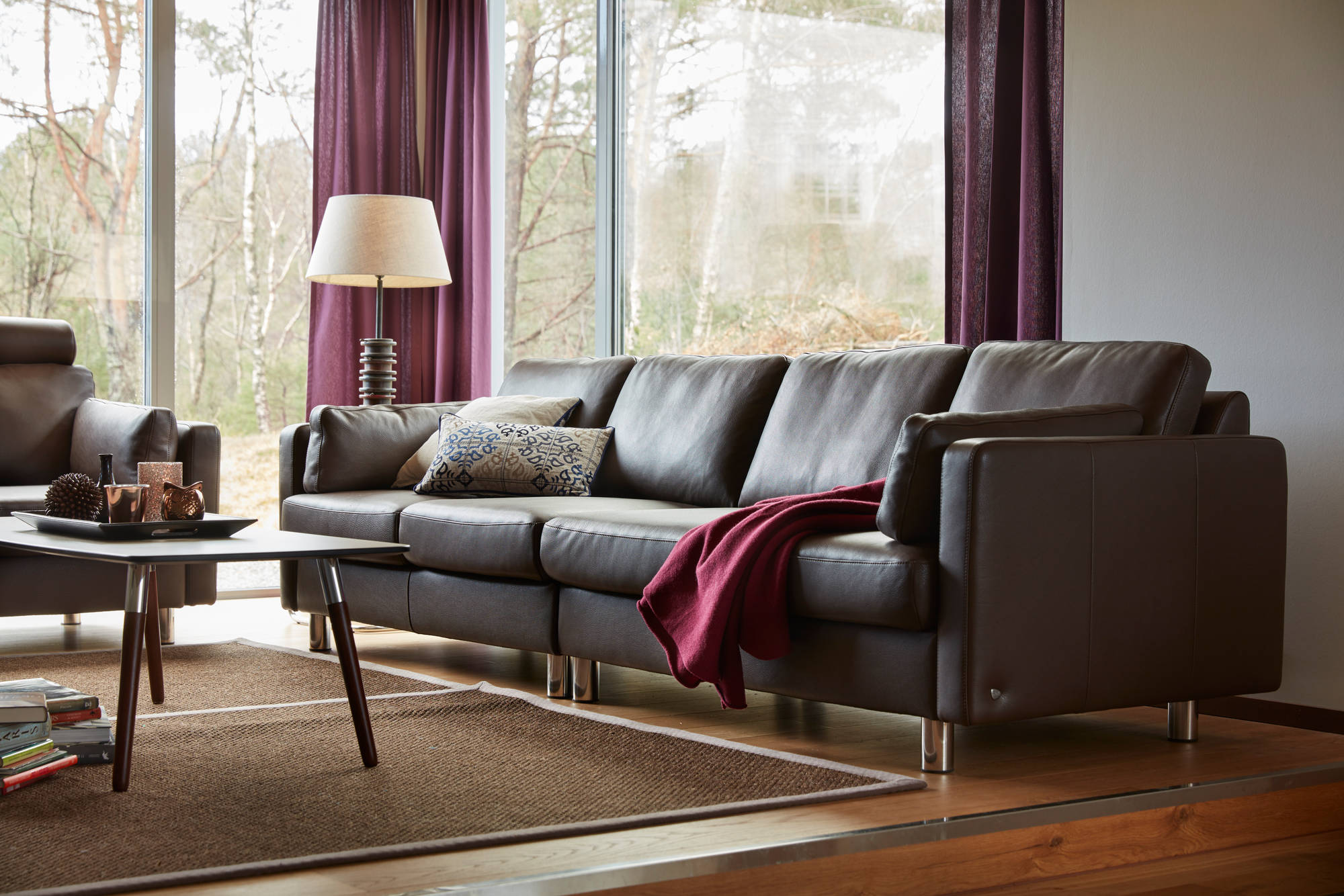 Daily and weekly care:
Weekly care comes down to maintenance and will depend on how much use your sofa or chair gets.
Wipe it down with a damp cloth and blot or wipe away spills.

If you have a serious spill like oil or wine, contact the manufacturer or take it to a professional leather cleaner.

You can choose to use head caps to protect the leather from oils in your hair.

Vacuum to pick up dust and crumbs.

Watch for scratches. Leather scratches easily so be mindful of sharp objects near the leather. Even the zipper on the back of your boots can cause scratches in your leather.
Long-term care:
Get it professionally cleaned every so often to maintain, how often will depend on your lifestyle. If you're in the Boston area, we recommend Hub Leather in Framingham.

Applying a leather conditioner every six to twelve months can help to prevent the leather from drying out and cracking. Be aware that if you live in a drier climate, your leather furniture may dry out faster.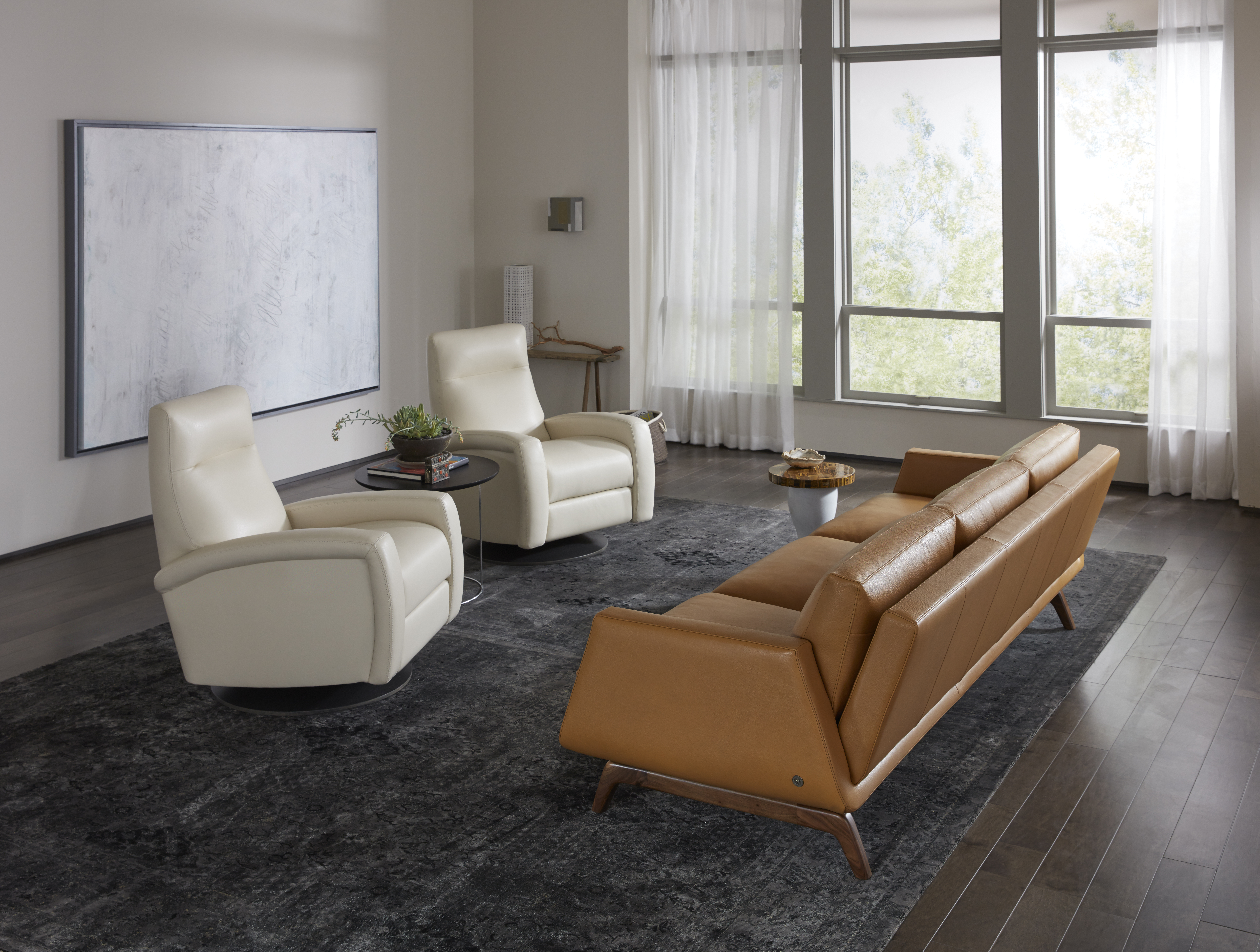 What not to do:
Try not to eat on your leather furniture. Greasy foods and crumbs may leave a lasting impression.

Be cautious about letting your pets on your leather furniture. Whether they're sitting on top of the backside of the couch and weighing down the cushions or scratching - animals will generally wear down leather furniture.

Be mindful of where you place your leather furniture. For example, a green room is not the best choice. Sunlight will fade leather and cause it to dry and crack.

If you have a pool, position your furniture so that it won't be the first thing you'll sit on coming out of a pool. The chemicals from the pool will stain, and excess water is not good for the leather.

If you have children, be wary that jumping on the cushions will inevitably cause the furniture to wear faster.
Overview:
Taking care of your leather furniture can be a simple ritual of daily maintenance and being aware of how you use it. If you do want to have a more relaxed lifestyle and aren't bothered about whether your pets take a nap on your sofa, then having it professionally cleaned every so often is the way to go.
But regardless of the type of lifestyle you have, taking care of your leather furniture will elongate its life. So first and foremost, read the instructions that your manufacturer provides and understand what kind of leather you are buying and how to best take care of it.
When you have it in your home, think about where you're placing it and how it's going to be used and plan accordingly. The great thing about leather is that if it's treated well, it'll age beautifully.
If you want to check out Circle Furniture's selection of leather furniture, come into any of our design centers.
Read more: How Much Does Stressless Furniture Cost? A Comprehensive Breakdown