Home design can be an entire project that needs a space plan, budget, and time. It can yield incredible results, but in this world of instant gratification, sometimes you don't want to do a massive overhaul. Fortunately, all you may need to do is make small, simple changes that will end up having a significant impact on how your space looks.
We're taking you room by room to show you what small changes you can make to your home that have a big reward.
Dining room and kitchen
Beginning with the dining room, Catherine Willey, our VP of Stores, suggested using art or accent pieces to incorporate color or pattern.
"It can be as simple as changing the upholstered seats on your chairs," she said. A fresh new color on any chairs or stools that ties into your area rug or artwork will inject life into the space.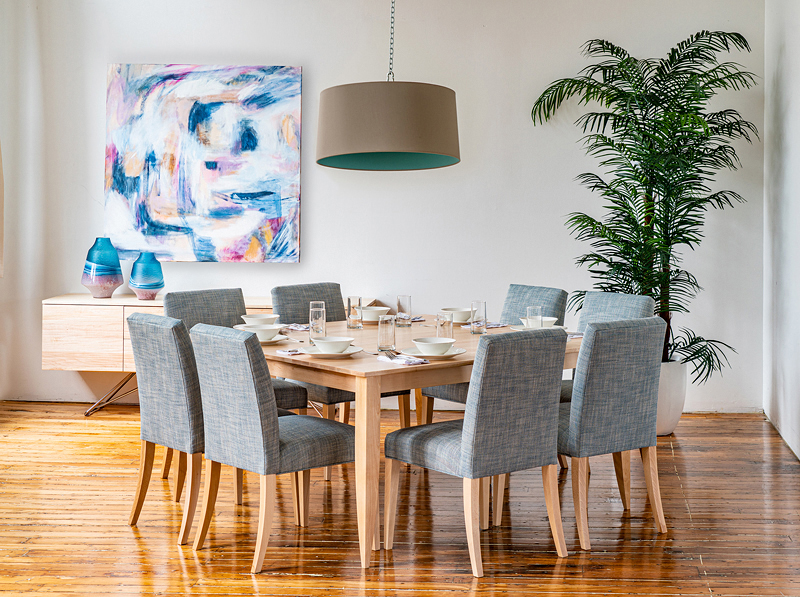 Another simple change? "You may choose to add a mirror on the walls to move the color around the space, soften the room, and create a warm glow," Catherine said.
As far as the kitchen goes, she suggested adding a Chilewich woven floor mat and tying in the colors to other accents in your kitchen. It's a practical addition if you're looking for texture and color.
Here are a few more simple ideas to change the look of your dining area or kitchen:
Add textured pottery as the centerpiece of your dining table

Change pendant lighting and hanging light fixtures

Switch out any hardware to incorporate different metals and finishes

Update window treatments you may have in these areas
Read more: How to Update a Traditional Dining Room
Living room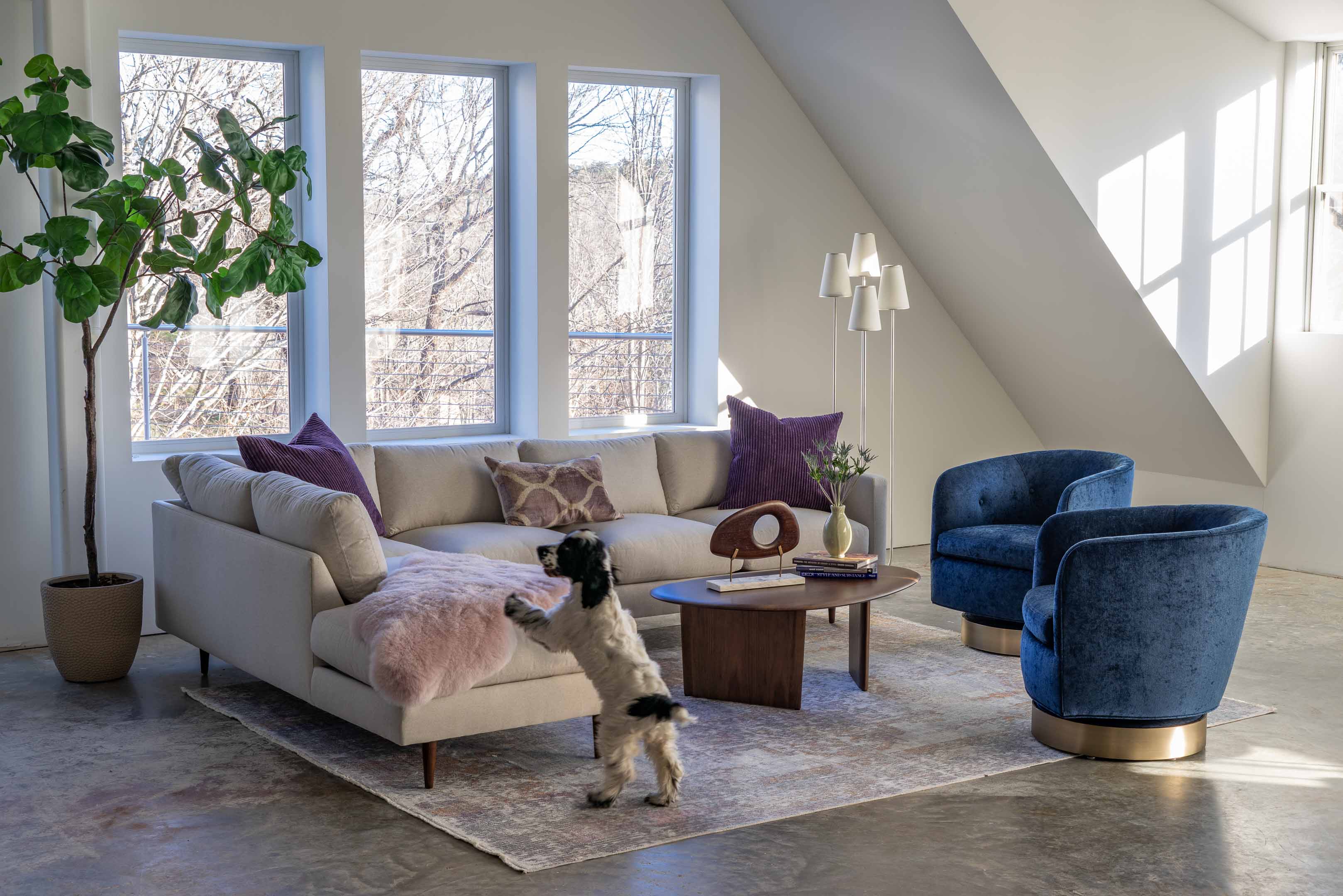 The living room is often where you spend the most time, and you can make simple changes for a sense of newness. As Catherine noted: "It's the perfect place to bring in textures like furs, even on a more contemporary piece to soften it."
Although the configuration of your living room may be limited due to traffic flow, you can easily change its look by bringing in a different rug. If it works for your space, you can switch out a bulkier storage piece for an etagere to create a more open concept feeling. On the other hand, it could act as a room divider.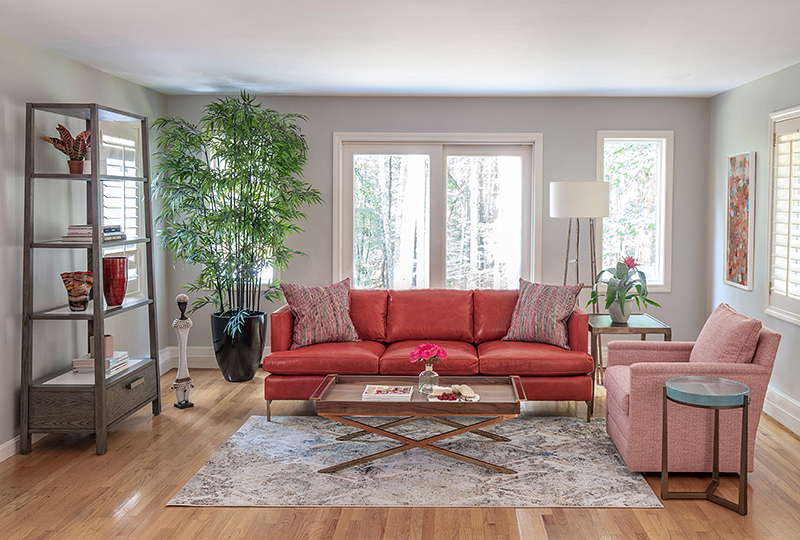 Accent pieces and details like ornate stitching or flange detail on a throw pillow, although small, will make a big impact on the dimensional quality of your living room. In an otherwise neutral space, new textures, patterns, and colors will breathe life into the room.
Finally, many people underestimate a dedicated reading area where you can curl up with a good book or just hang out. It may be that all you need is an accent table paired with a table lamp or floor lamp. Laura Nickerson, our Merchandising Manager, recommended the Zephyr Floor Lamp, a multifunctional lamp with a built-in table. It makes a statement and brings a touch of modern flair.
Read more: How to Add Color, Texture, and Life to Your Home
Bedroom
In many ways, the bedroom is the simplest area of the home to change. Pick up a new throw or furry pelt, drape it over your bed, and you've instantly added warmth, texture, and color.
If you prefer a bigger change, swap out your bedding. Even if you love a monochromatic white look, you can place a neutral Moroccan blanket on top of your duvet and change the style while adding an extra layer of warmth.
Catherine also suggested changing your window treatments and adding a bench or ottoman at the foot of the bed in a fun texture or color.
Speaking of color, changing your wall paint is the simplest trick in the book to completely transform a room. If painting all of your walls doesn't appeal to you, do a statement wall and use the opportunity to blow up your favorite photos and hang them in a group.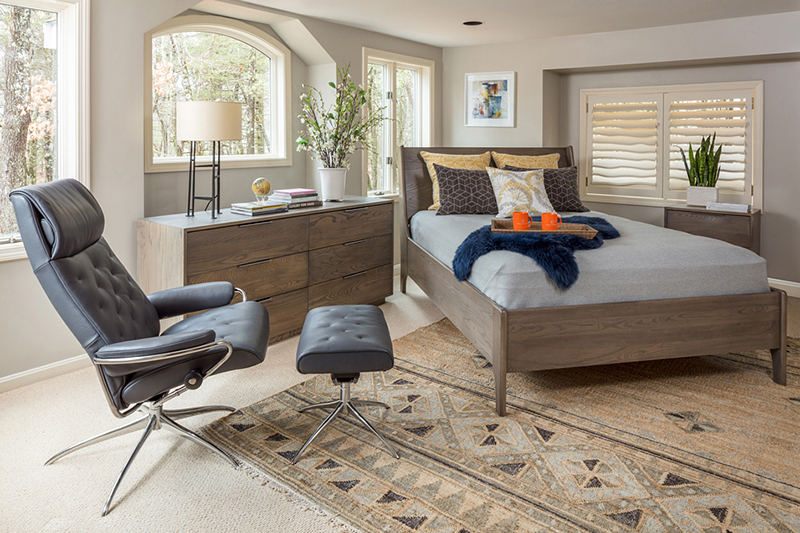 Read more: How to Decorate a Modern Primary Bedroom
Shop your home
The "shop your home" concept is a fun, creative way to update your space with what you already own. Laura explained that having quality, timeless foundation pieces and neutral walls allows you to move the pieces from room to room for a fresh look.
"I like to keep everything in my home cohesive so I can easily pull things from one room to another without it looking out of place and feeling like I need to revamp the whole space because I switched out the rug. Shop your home."
A console table like the Terrace or Sling is the perfect example of how you can shop your home. If you have one and it's currently resting behind your sofa, you can change things up and place it under a window or move it to a different area like the hallway.
Talk to a designer
There are many ways to make a big impact with small changes throughout your home. For some, choosing the perfect statement chair is the only change necessary. For others looking to warm up their space, textural elements and a fresh take on color can offer just the transformation they need.
Regardless of your goals and needs, we're here to help. Our Design Consultants are equipped with years of knowledge, and sometimes all it takes is a walk through one of our beautiful design centers to get inspiration for your next home project.