There's nothing more invigorating than a freshly painted wall. Your wall color sets the scene for the rest of the décor and it can instantly change the mood of your home.
A spacious dining room can turn cozy and romantic with the addition of a rich wall color like dark mulberry or evening sky blue. A bedroom can be made instantly relaxing when painted a soothing shade of greige or creamy white.
Color is, of course, subjective. But we thought we'd put together a list of our favorite paint colors for 2021. We met up with Cheryl, a Design Consultant in Pembroke to hear her favorite colors and her tips on color combinations.
Colors of the year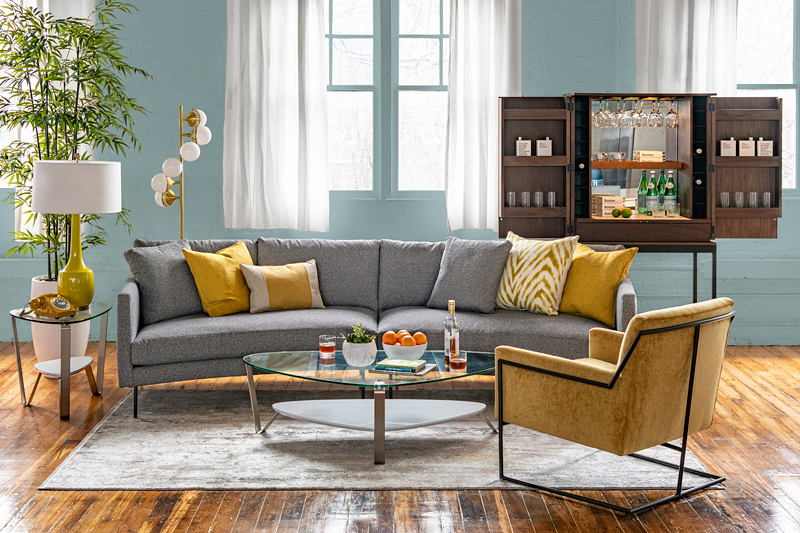 To start, there's no talking about trends without mentioning the color of the year from both Benjamin Moore and Pantone. The Benjamin Moore color of the year is Aegean Teal, a muted soothing teal shade. Cheryl calls it "very pretty and fresh" especially when paired with white woodwork.
The Pantone colors of the year are Ultimate Gray and Illuminating, a classic gray, and a brightly energetic yellow. It isn't a new or unique pairing, but it is an interesting dichotomy and a reflection of the year we've had – we're all looking to find the illumination.
Cheryl says, "The yellow reminds you of sunny days to come. It's a little bit of happiness in your home to offset the gray."
In addition to the colors of the year forecasting trends to come, the trend that continues to grow stronger is bringing the outdoors in. Whether that's with real or fake plants, natural textures, or colors that mimic nature.
Colors like mushroom taupe, organic brown and red tones, greens, and caramel shades bring color, energy, and a peaceful feeling to the home.
White and caramel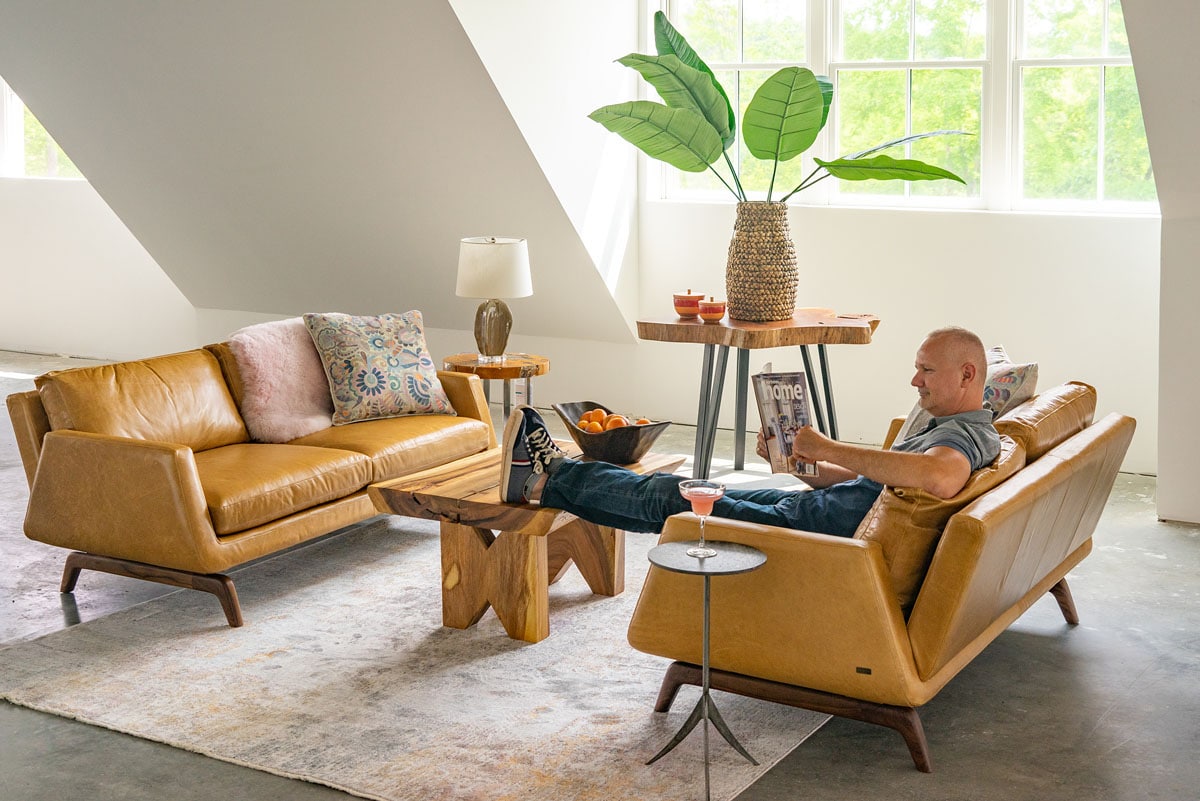 When the world is chaotic, we often want to find simplicity in our homes. And there's nothing more simplistically beautiful than a creamy white or neutral sand tone.
Cheryl's top picks for the ultimate neutral look? White Sand and White Dove. "White sand is a true sand color and looks beautiful with anything. It looks gorgeous contrasted against white dove woodwork. I also love white dove on the walls for a clean and fresh feeling."
To go along with creamy white, instead of opting for cool accents, Cheryl's seeing warm tones pop up like clay and caramel on a leather sofa or accent chair.
"Everything was white and gray for a while," she says, "it's nice to see people adding that warm element, whether it's on the walls or your furniture."
While we love the pairing of a rich and creamy caramel leather with a crisp white, the best thing about these neutrals is that anything goes! Regardless of your current décor, opting for a neutral is an easy way to liven up a space without having to change much else.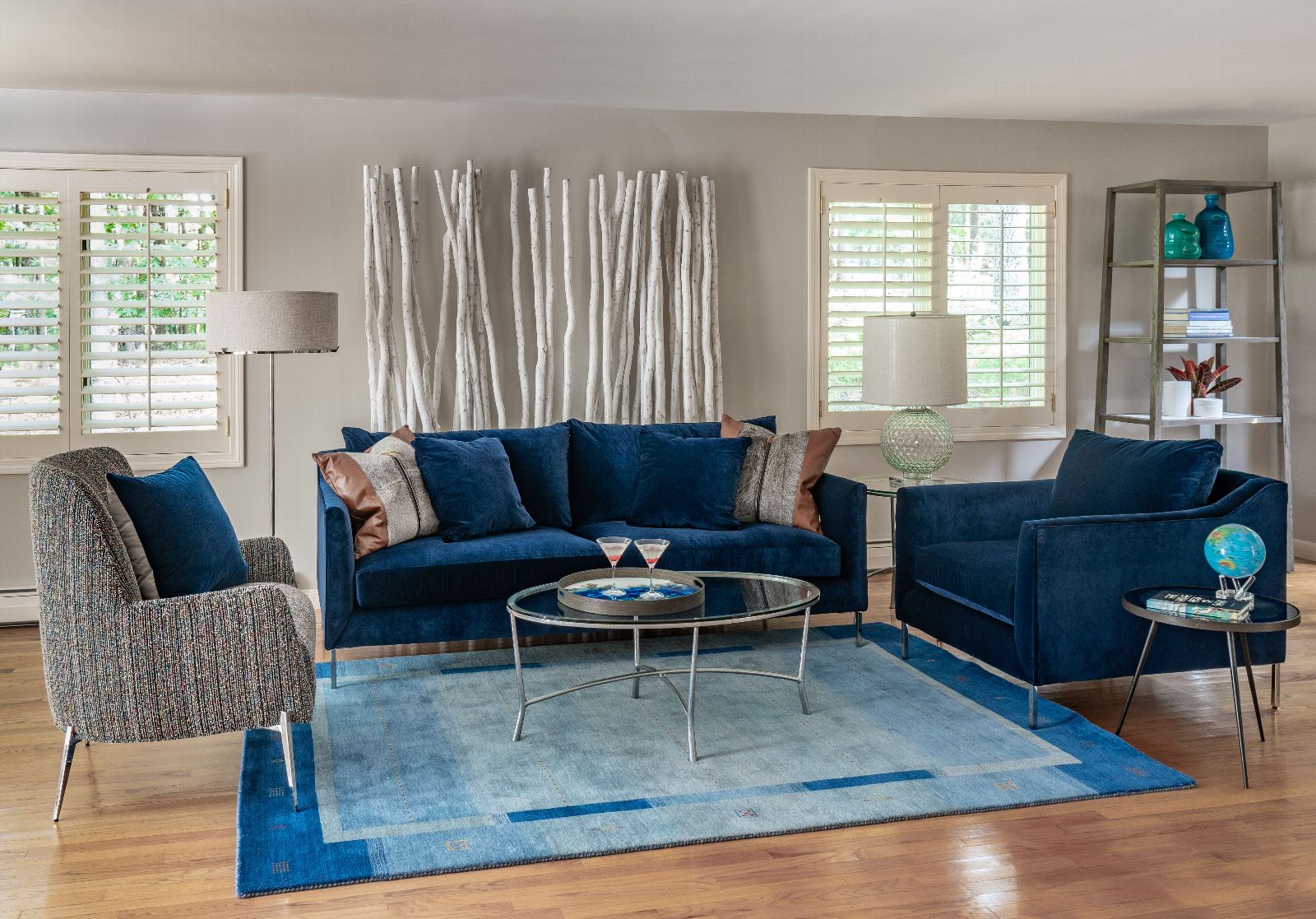 A navy contrast
On the opposite end of the spectrum, Cheryl loves navy as a paint color to add depth and contrast to the home. Her color of choice is Hale Navy which Benjamin Moore describes as "a timeless classic" that "evokes rich maritime traditions and storied exploits at sea."
Storied exploits at sea sound pretty fantastical these days when we're all mostly staying in our homes. But why not bring some richness and interest to your home?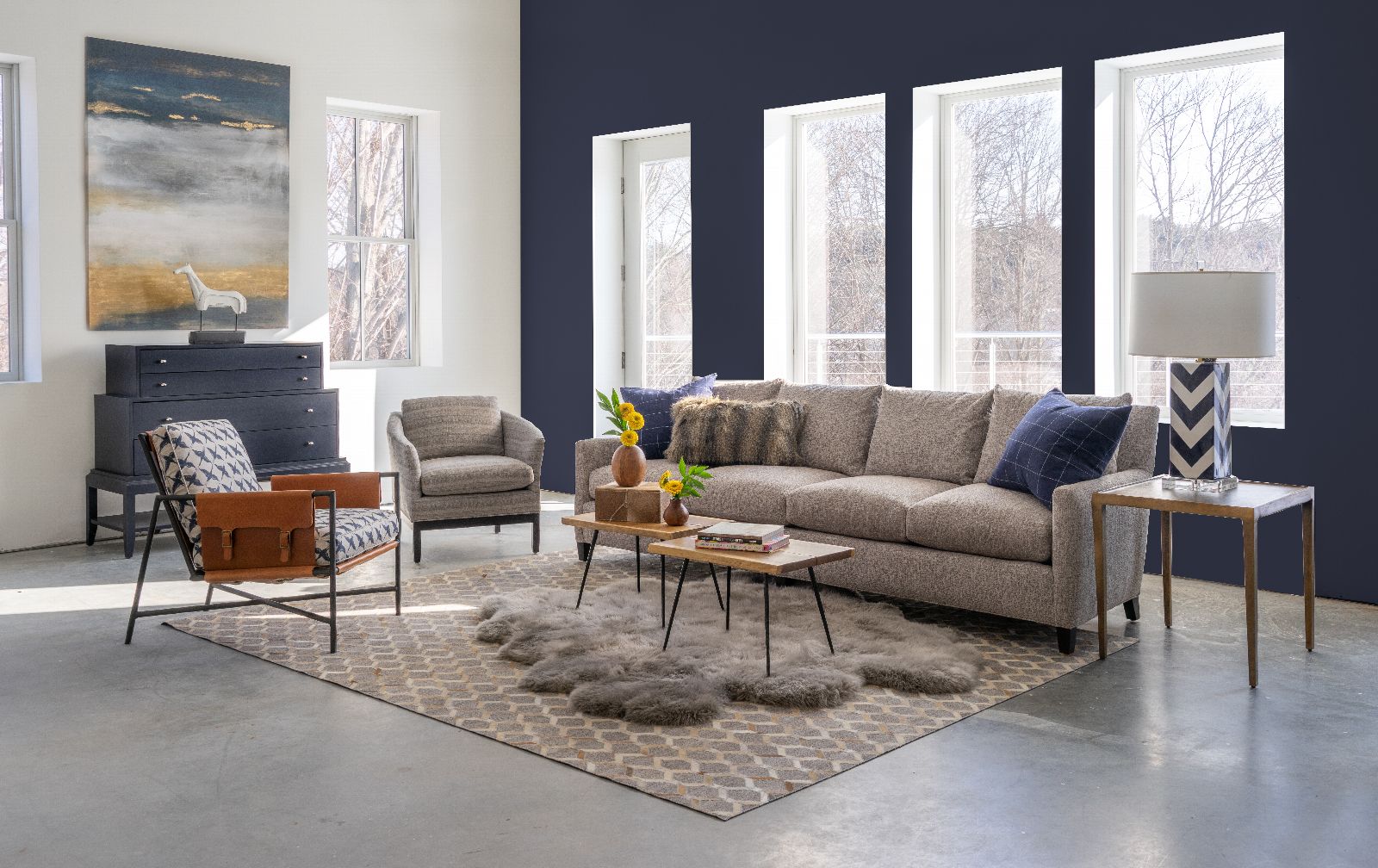 One of the great things about navy is that although it's a deep color, it's fairly neutral and goes along beautifully with royal green, lime green for a fun pop, and white for a coastal feel.
Cheryl also loves navy paired with fuchsia, which is a great option if you want to introduce an energetic contrast in your space.
Bring the outdoors in with green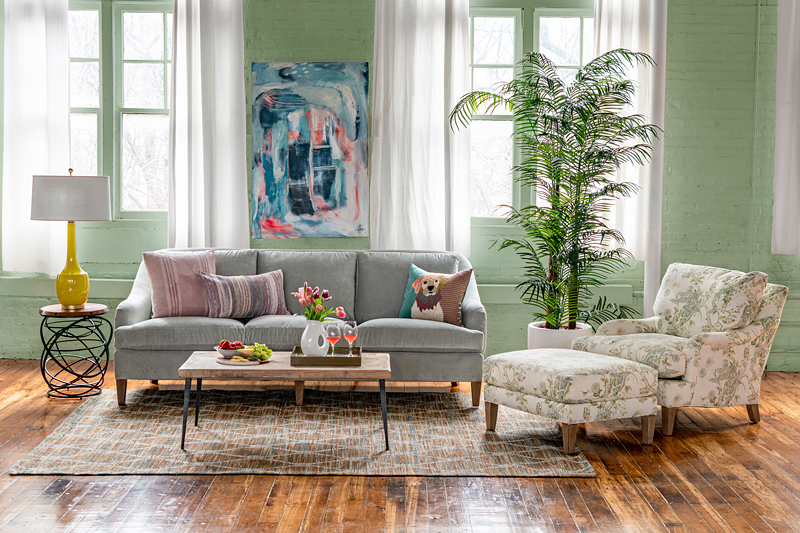 Green may have gone out of fashion for a few years, but it's fully back in now. It's a versatile color that can introduce a lot of different feelings in a space; soothing with a muted tone, energetic with kelly green, or royal and expensive with forest green.
Cheryl chose Courtyard Green, a muted and timeless option, but she also loves richer tones like Cactus Green or Kelly Green paired with bright white accents.
"I love the pairing of a green wall with a sisal or beachgrass rug and plants to bring the feeling of nature indoors."
Mushroom tones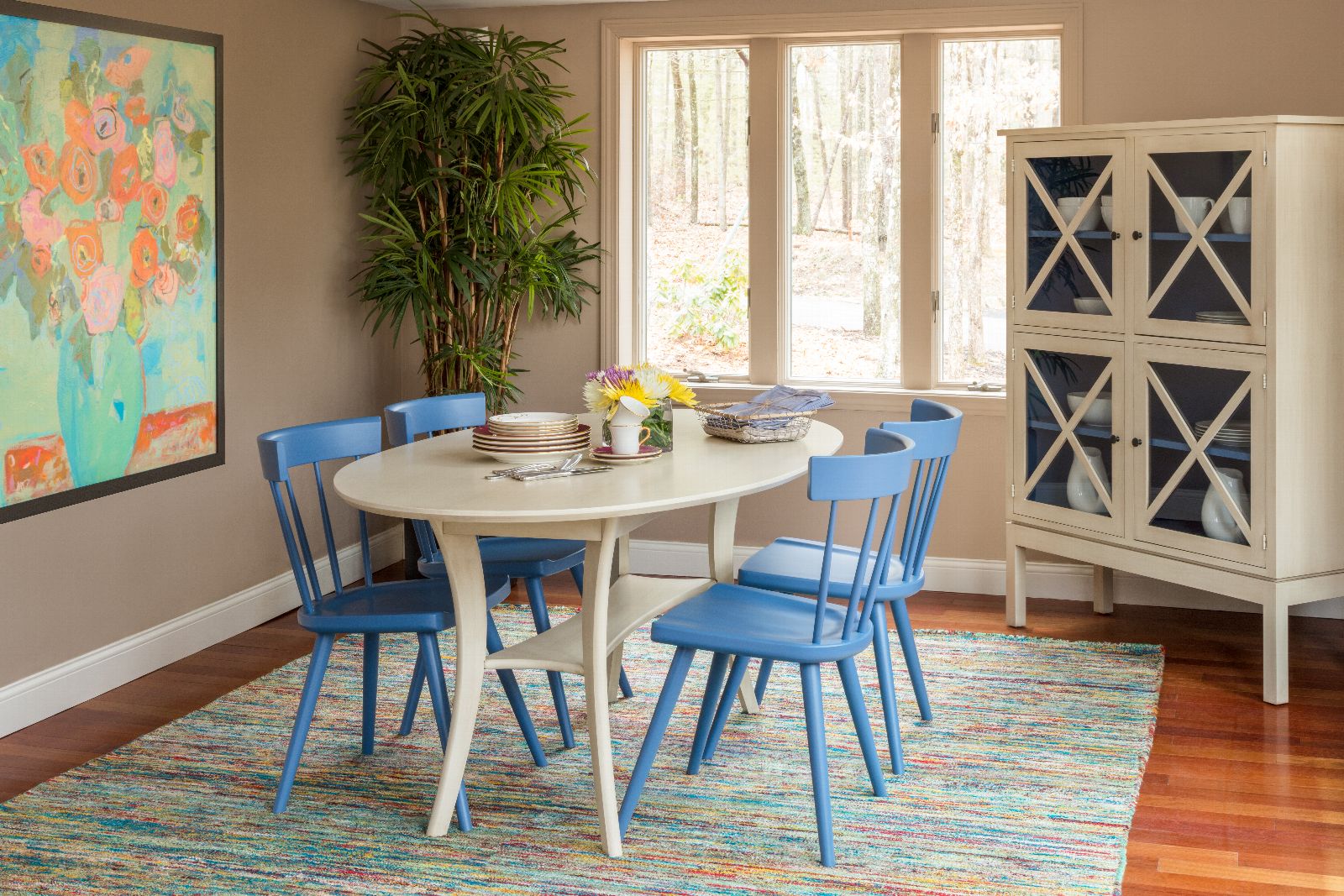 Mushroom may be just another way of describing a taupe-y warm gray, but why not lean in? Who doesn't want their home to resemble the inside of a mushroom? Benjamin Moore seems to be on board with the color aptly named Shiitake Mushroom, which they describe as a "rich, earthy color [with] a natural, organic appeal."
It's all about the natural organic feel this year, whether you opt for a greige mushroom tone or terracotta clay.
Cheryl's favorites in this family are Revere Pewter (a warm greige that looks beautiful in sunny rooms), and Edgecomb Gray which is a modern yet timeless gray tone.
To pair with these mushroom tones, Cheryll says, "Monochromatic is beautiful, but I also love greige paired with warm tones to offset the gray. Aegean Teal is another great option to pair with gray for a stormy feel."
Explore and have fun with color
2021 is the year of bringing earthy, organic tones into the home in a fresh and sophisticated way. But as always, color is personal. It's about finding what you love and what works for your home. Cheryl recommends thinking about the lighting in your house and also thinking about the color wheel to add some contrast.
Complimentary colors are a failsafe when it comes to pairing colors in your home. But don't be afraid to take a risk! You can always change your small accent pieces to suit a new wall color.
This year is the perfect time to add a little color, some interest, and some warmth to the home – whatever that means for you. Cheryl says, "Trends are fun, but it's about what colors feel inviting to you and which ones make you feel like you're home."
As always, the help of a trusted designer is invaluable when it comes to making decisions about color in your home. Meet with Cheryl in Pembroke, or get in touch with any of our designers to start thinking about your next design project.